Tom Grealy – Philippines as a Global Centre of Excellence for Outsourcing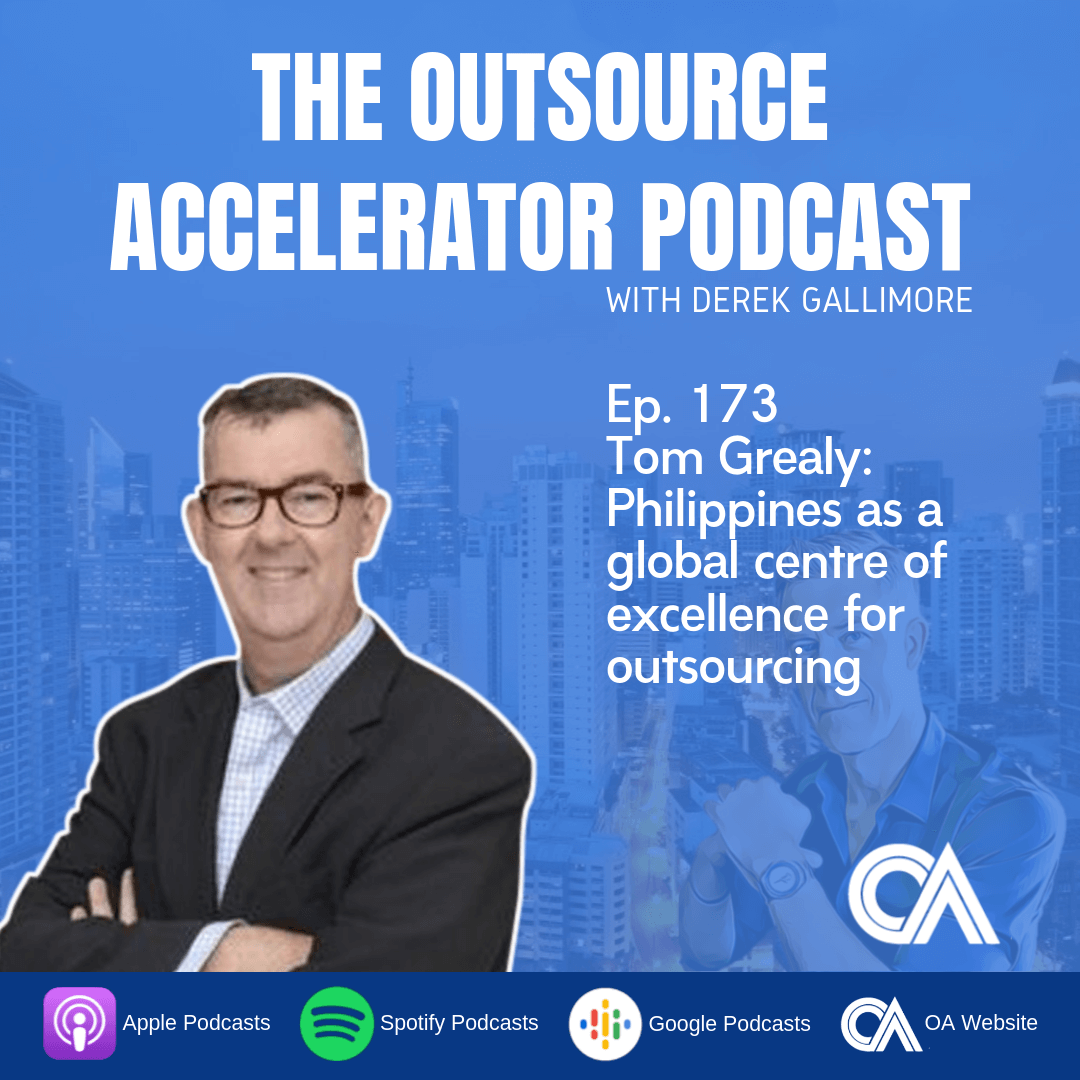 Ep 173 Tom Grealy
Host, Derek Gallimore interviews guest, Tom Grealy, currently president of Grealy Consulting.
Tom previously worked with Australia's largest telecommunication company, Telstra, and was also involved with ANZHAM, the Australian-New Zealand Chamber of Commerce.
 Summary
During his stint with Telstra, Tom was with the sale and service group with 350 people doing re-work for customer orders, when he heard about the Philippines. He came to the Philippines and was amazed at the global best practices, and state-of-the-art technologies of the BPO industry in the country, coupled with the legendary Filipino service culture.
Among other things, he saw that Filipino call centre employees are paid higher than the national average, are enjoying more perks like superior office facilities, better health care programs, and more employee trainings. He was surprised to learn that the Philippines is number seven or nine in the world for gender equity in executive roles, while Australia is only number 45.
Tom first came to the Philippines in 2005 for Telstra and went live from the Philippines in 2007. With his suggestion Telstra set up a country office in the Philippines in 2009, with tremendous growth in workforce, from 350 people to 15,000 in five years, with 70-80% customer interactions.
Offshore companies like Telstra have to adjust and adapt in the way they operate because they have to be dealing across multiple geographies and multiple cultures, process and structural differences. There is a need to plan and define strategies for successful transition, and risk mitigation.
He left Telstra in 2014 to set up his own management consulting company in the business process industry, Grealy Consulting. Tom is based in the Philippines and his company is based out of Hong Kong
Key Points
The Philippines is a competent outsourcing hub with its best global practices, state-of-the-art technologies, quality workforce and the legendary Filipino service culture.
To be successful like Telstra, offshoring companies should adapt and define strategies for successful transition and risk mitigation.
Offshore companies should also exercise high levels of due diligence and leadership.
Resources:
Expand transcript
Listen to more podcast episodes here: