Tom Grealy – Outsourcing Differences between SME and Big Enterprises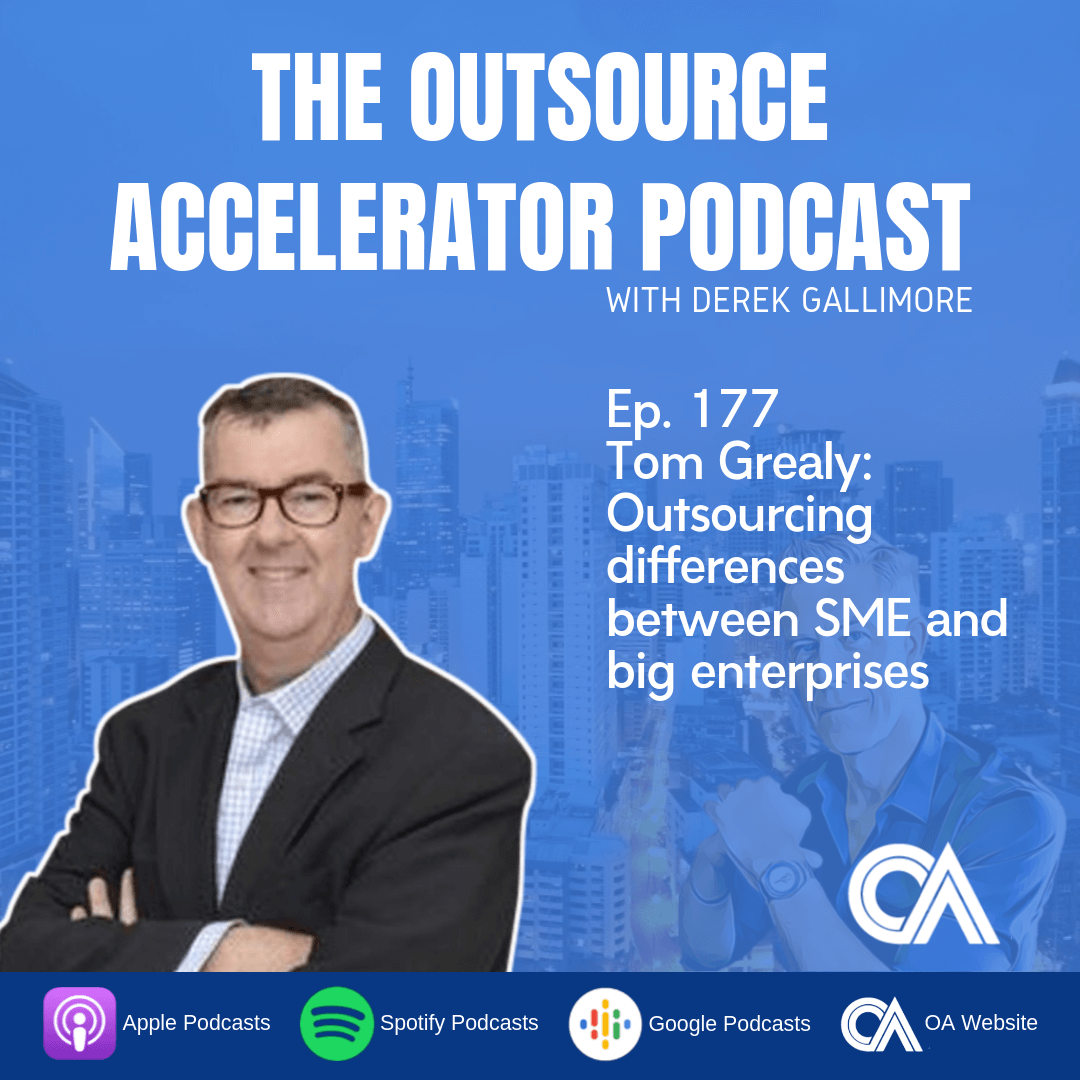 Ep 177 Tom Grealy
Second time guest, Tom Grealy shares deeper insights in big enterprise and SME outsourcing, with host Derek Gallimore.
Tom Grealy is an outsourcing expert. He has worked extensively across regions in Indonesia, Malaysia, Singapore, the USA and has served clients from   Australia, India, Thailand, Hongkong and South Africa. Half of the engagements are for work related to the Philippines. To know more about Tom Grealy, you may visit Episode no. 173.
Summary
Tom highlights the difference between big corporations and SMEs in terms of organizational structure, resources and management capabilities.
The complexity of a big corporation is usually around internal stakeholder management and management alignment.
SMEs are more nimble and can make decisions a lot more faster, but they are not in the same position of big corporations, which can act with the higher level of surety and certainty because they can easily bring in expertise.
The hybrid model of outsourcing, which is co-sourcing, seat sharing model where a BPO offers office facility, IT, payroll, and basic HR, while the business owner directs the work and oversee day to day performance may encourage SMEs to offshore to the Philippines, where it is becoming popular with Australian and US companies.
There are 1.35 million people in the Philippines who are working in the BPO industry. The competency of these BPO people and the lower cost of operation makes the Philippines a pretty good choice for SMEs.
Key Points
The hybrid model of outsourcing will work well for most SMEs who wants to supervise day to day performance of offshore operations.
Outsourcing maybe a successful strategy for SMEs to be operating within the framework of operational excellence.
Every business is unique, and for every business model, there can be a matching outsourcing model that can help the business grow.
Resources
https://www.outsourceaccelerator.com/177
Expand transcript
Listen to more podcast episodes here: