Sohan David – Inception of TBS Global, an Australian Owned Outsourcing Company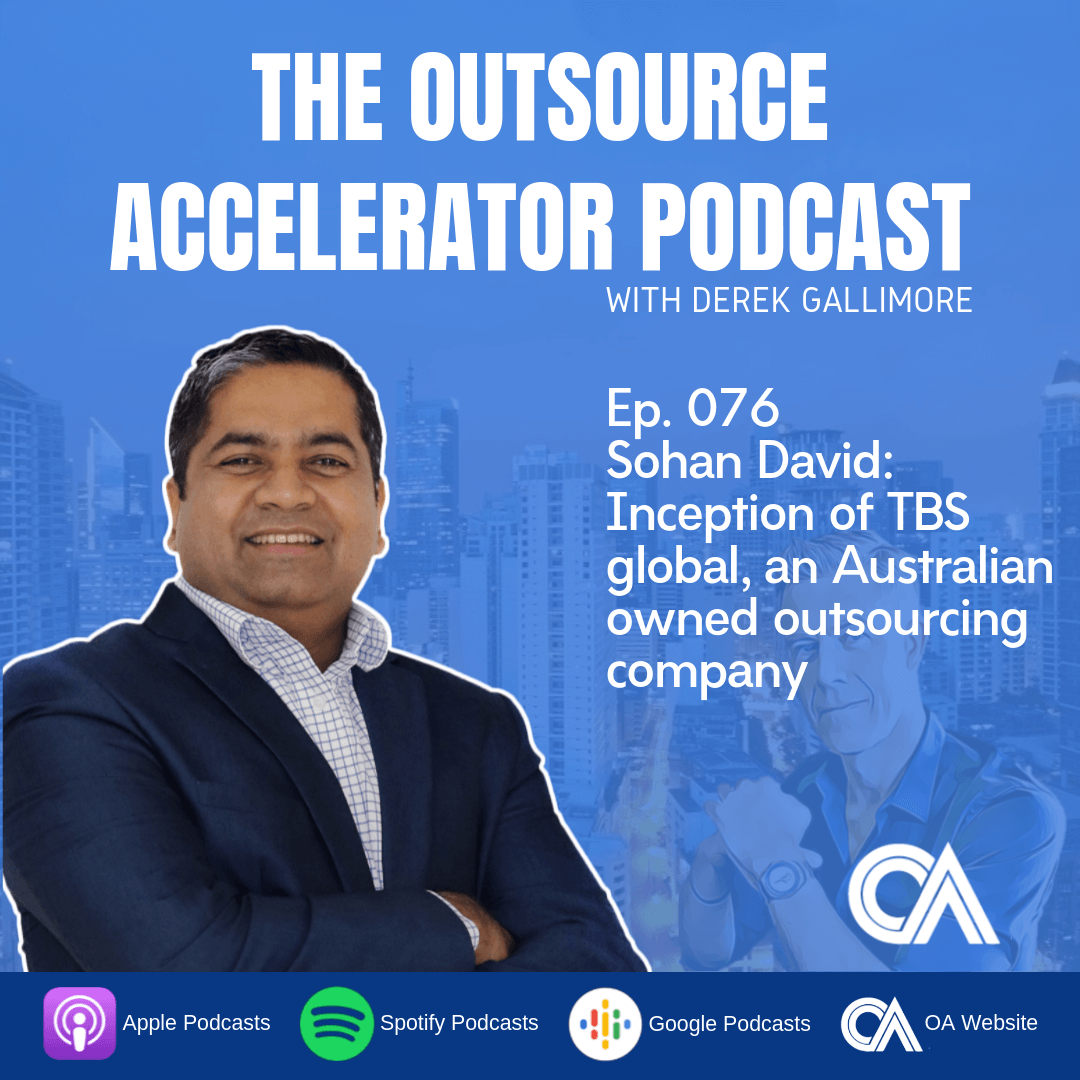 Ep 076 Sohan David
In this podcast, Derek is joined by Sohan David, a Sri Lankan born but Australian raised business guy and he shares his generalist business experience and insight.  Sohan owns and founded TBS Global, an outsourcing firm which is based in the Philippines with two other international locations.  In the discussion, Derek taps into Sohan's vast business and outsourcing experience to give listeners a little bit of insight into outsourcing but also business mastery.
Summary
Sohan shares that running a multi-country outsourcing company is both strategic and accidental. The concept started as a pure backup of his financial service provider, which is very early at that stage.
Philippines wasn't really the top destination when TBS Global considered taking their business model to an offshore site.
When TBS Global outsourced to the Philippines, it helped them reach other markets quite quickly because the Philippines is like the Swiss banking of outsourcing because of The Philippine's experience in BPO.
There's very localized specific knowledge in the Philippines which is increasingly valuable for outsourcing.
Sohan states that Australia is so far away from everyone else that they have become a nation that depends on each other and gets the job done. Australian market fears outsourcing because their thought is Australians would lose their jobs if the job is outsourced to other countries.
There will be more opportunities for Philippine organizations and the rest of the outsourcing world to provide services for the UK and Europe in general.
Sohan discusses that they manage client's expectation very clearly prior to the onboarding stage using the 80/20 rule.
TBS Global takes their clients through that journey and explains to them that from their perspective, they are an extension of their client's business rather than just an extended third party solution provider.
Key Points
In the BPO setting in the Philippines, the challenges lie within the perceived lack of control.
The added value of every BPO and outsourcing provider is in the transition management and business cooperation management analytics, and these are unquantifiable values that the BPO adds to the business.
In taking on new clients in the BPO industry in the Philippines, there's a period where there's considerable handholding required just so that they are able to get the best out of their teams.
Knowing how to meet the customers' requirements is a win-win situation for any BPO because you're both aligned in terms of outcomes.
One of the challenges is the attention that's required for an SME. A BPO needs to adjust to the needs of the SME.
Resources
http://www.tbsglobal.net/
Transcript
Expand transcript