Shafi Aboobaker – Inception of Asiatel Outsourcing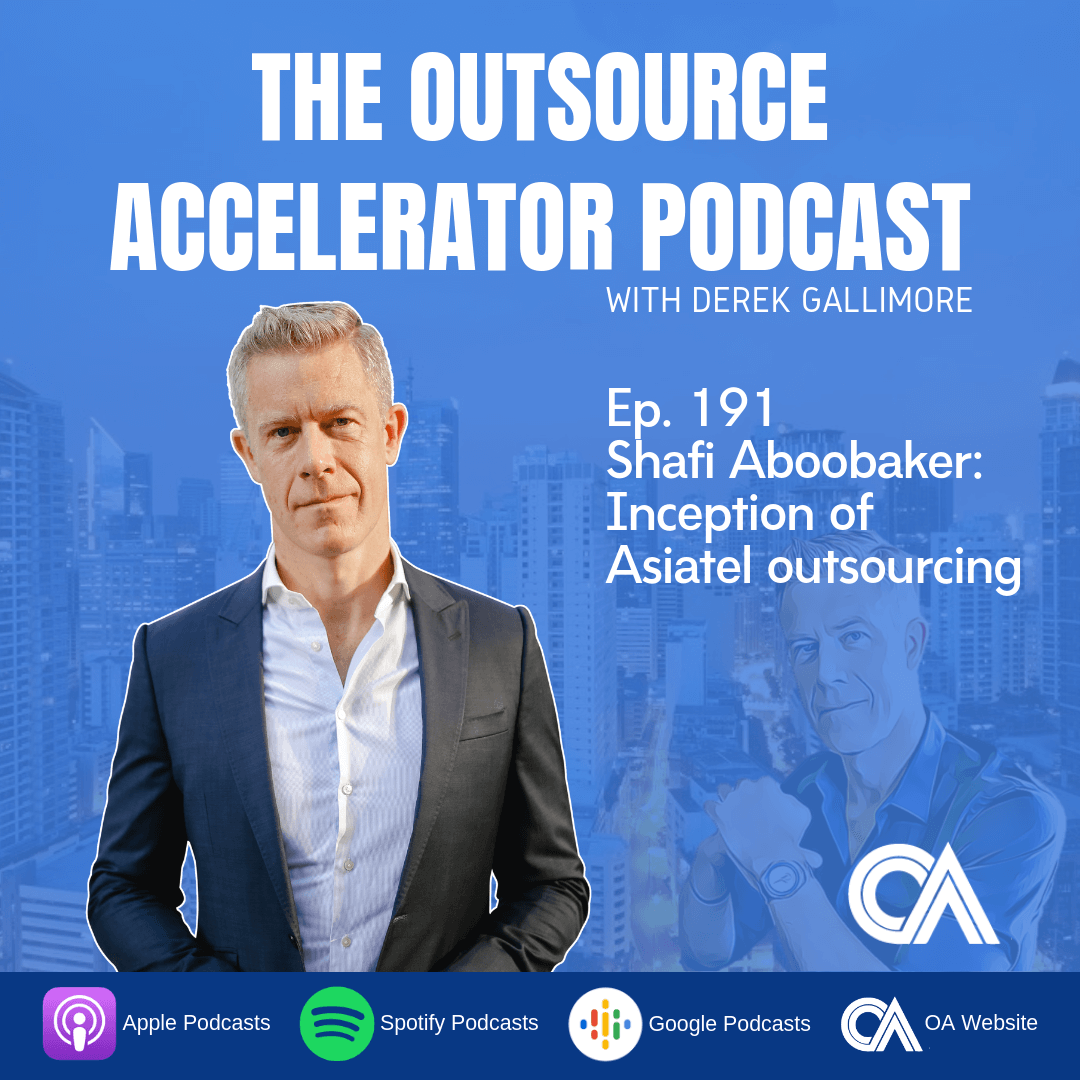 Ep 191 Derek Gallimore
Shafi Aboobaker shares with Derek his own journey and story in the outsourcing industry.
Shafi is group MD, CEO and founder of Asia Telecom Holdings, a Licensed Telecom Service Provider with Corporate Headquarters in Hong Kong and operations in Singapore and Taiwan.
Summary:
Deregulation of the telecom industry in Hong Kong opened competition within the industry. This prompted Asiatel to relocate their cost structure and considered the Philippines, and Indonesia for their outsourcing operations to serve their growing customer base including a good number of Filipino and Indonesian customers.

According to Shafi, Asiatel put up outsourcing centers in Jakarta and Manila. These centers made a lot of sense not only for the cost savings but along with savings they got language and technical skills.

They thought that the outsourcing center in the Philippines will just be a satellite office but over the years, after its inception in 2006, it became an operational center. They found excellent technical skills to support a primary NOC, and the right location to grow.

Today there are about 150 seats in two shifts in Asiatel outsourcing operations center in Ortigas, Philippines. According to Shafi, they found fabulous talent and skills in the country that can cater not only to their Filipino customers but as well as international customers. These talents serve with their hearts.

Initially, the customer centers primarily served the needs of Asiatel consumers. They gradually offer outsourcing services to other companies in the globe, who might also benefit from outsourcing services like creative design, NOC support for telecom companies, and other business process and support services.

Key Points:
Outsourcing operations may be a strategic option for companies facing deregulation to protect the cost structure and to keep up with a competition.
Initially test the waters to find the right location for a successful outsourcing operation.

Outsourcing may be a strategic option to efficiently serve a growing customer base, in multiple locations.
Reference:
Expand transcript
Listen to more podcast episodes here: