Butch Valenzuela – Inception of Visaya KPO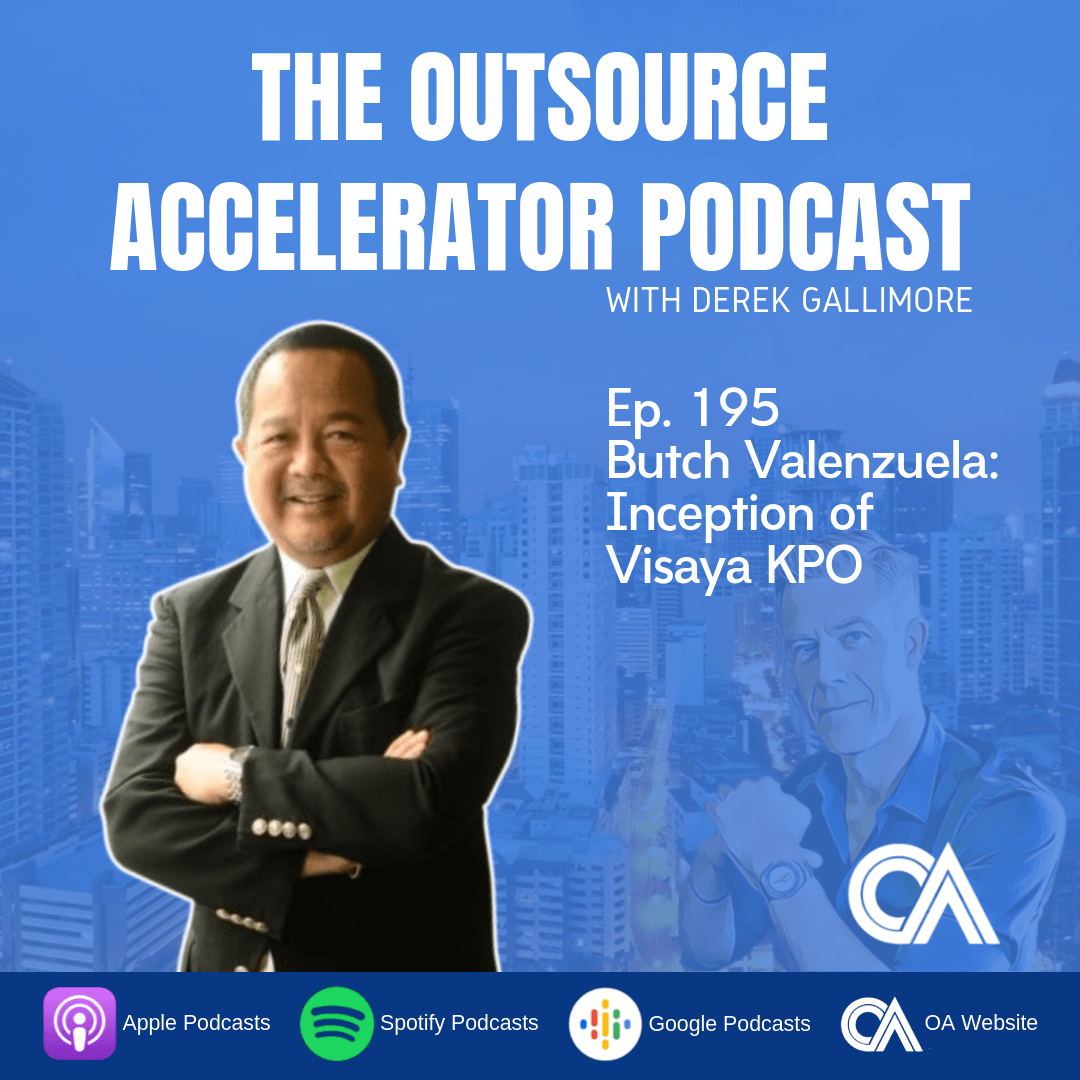 Ep 195 Butch Valenzuela
Second time guest, Butch Valenzuela rejoined Derek and shared more insights or recipes for a successful BPO.  Butch is co-founder and President of Visaya KPO, an outsourcing company of 850 seats across the three geographic locations in a span of eleven years.
Summary:
Visaya KPO offers four industry services namely contact center delivery, healthcare information management, finance and accounting outsourcing, and IT consulting and management in three geographic locations in the Philippines; Makati, Dumaguete, and Tanjay. And will also be having a new facility in Bacolod City for 1, 200 seats.

Visaya KPO is an accredited partner of Accenture, and they pioneered in a corporate social responsibility project called Rural BPO, wherein they bring their facility out of the metropolitan areas in Manila to provinces or rural areas in the Visayas to uplift the rural community. So, they opened a voice facility of 350 seats and 400 full-time employees in the town of Tanjay, which is now one of the cities of Negros Oriental.

Butch revealed that people in the Visayas are not very comfortable with speaking Tagalog, such that when you speak to them in Tagalog, they actually responded in English. English proficiency is higher, even high school graduates can speak in English very well.

The cost of operation or overhead in the rural areas maybe lower but the quality of their deliverables can also be better than the big players in their specialized niches. In the beginning, they attract more SME clients with low prices but with the same quality of outsourcing services offered by the bigger BPOs.

Visaya KPO is completely compliant with HIPPA and is audited by a US compliance firm annually. The company complies with physical and internal security requirements to protect the interest and security requirements of their clients, as well as safeguard their integral security.
Key Notes:
Small BPO or outsourcing companies may start operating in specialized niches to realized competitive margins.
A BPO company can operate in the rural areas where there are talent pools to operate at a lower overhead cost and at the same time help uplift life in the rural communities by providing employment to the rural talents thus decongesting the metro areas.

Quality and security compliance must be built-in and audited by an independent organization for the mutual protection of client and the service provider.
Reference:
Expand transcript
Listen to more podcast episodes here: