Jas Anand – Asiatel Outsourcing Services and Benefits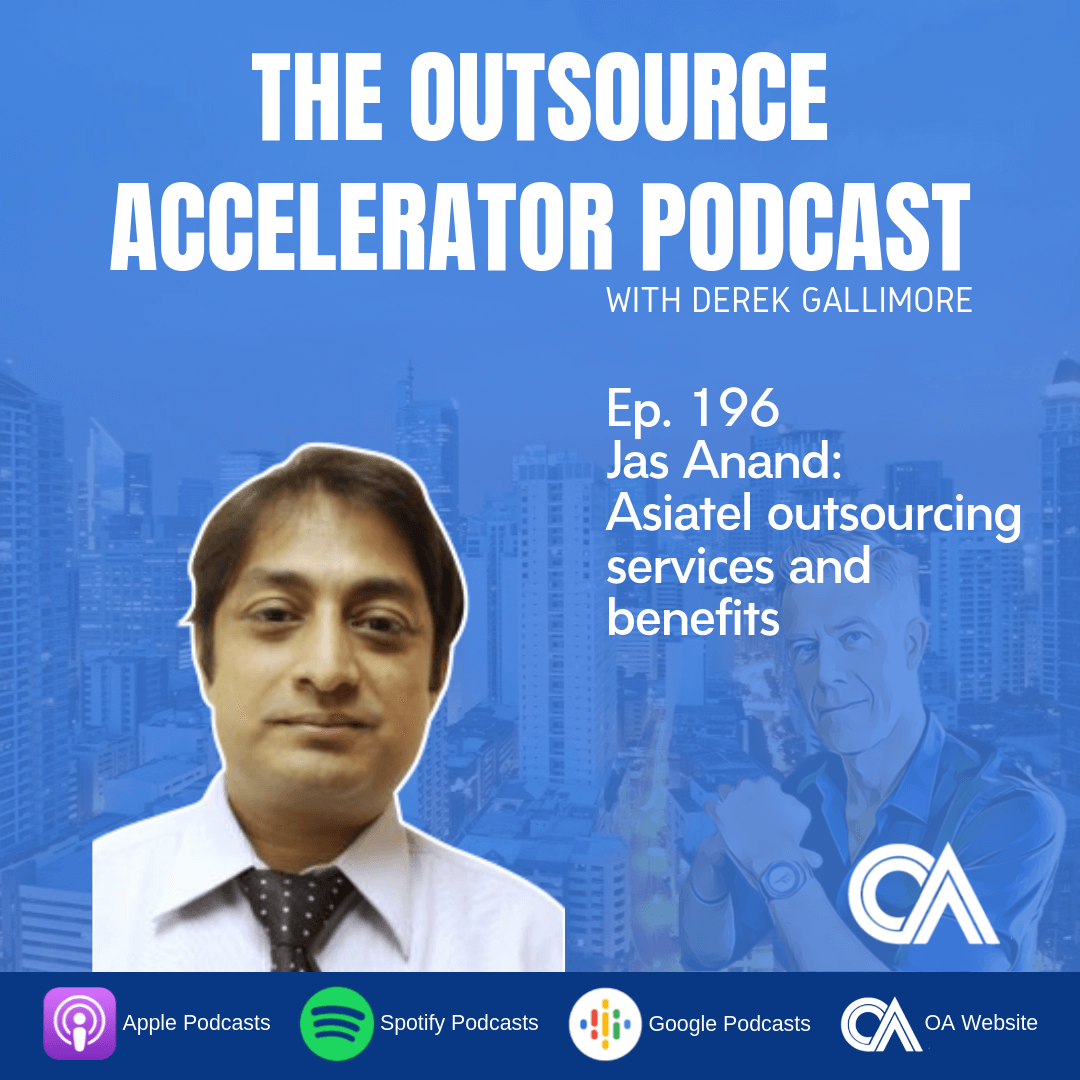 Ep 196 Jas Anand
Derek welcomes to the show, Jas Anand, Vice-President and Director of Asiatel Outsourcing.
Jas has been with Asiatel for the last five years and has been living in Manila, Philippines, all these years. Jas comes from India and used to work in the banking industry before joining the BPO industry.
Summary
Jas impression on the Philippines outsourcing industry is that the country has established itself as a leader for the voice segment while India has a better software development skills.

According to Jas, customer service is very natural to Filipino, and this is one of the values that stand out, excellent customer service. The arts, culture, and design talents are very vibrant as well.

Asiatel is a solutions company and help the client in setting up an offshore team in the Philippines where there is efficiency in talent and resources, plus diversity. They offer three products like total outsourcing package, managed operations, and set-leasing or co-working spaces.

Key Performance Indicators (KPIs) are being determined to check the performance and relevance to the client of the outsourcing engagement.  The KPIs are adhered at the pilot phase of six months, after which the engagement may expand to higher operational objectives that will bring added value to the business.

Jas observed that the outsourcing business model has shifted from the primary model of total outsourcing where there is more delegation of control, to managed operations model, where there less control and more participation by the client. This somehow transforms the BPO into a true back office, offshore office for the client, not just an outsourcing company.
Key Notes
Over the years, the BPO industry is evolving and providers remain competitive by securing leadership in specific core competencies which maybe voice, non-voice, or a combination of both.

From the primary model of total outsourcing engagements where there is more control in operations, there is an observed trend for the managed operations model and more participation of he client in the operations.

With more participation of the client, and as engagement activities expand, the outsourcing company somehow becomes the back office, or offshore office for the client.
Reference:
Expand transcript
Listen to more podcast episodes here: