What Drives People to Work in the BPO Industry?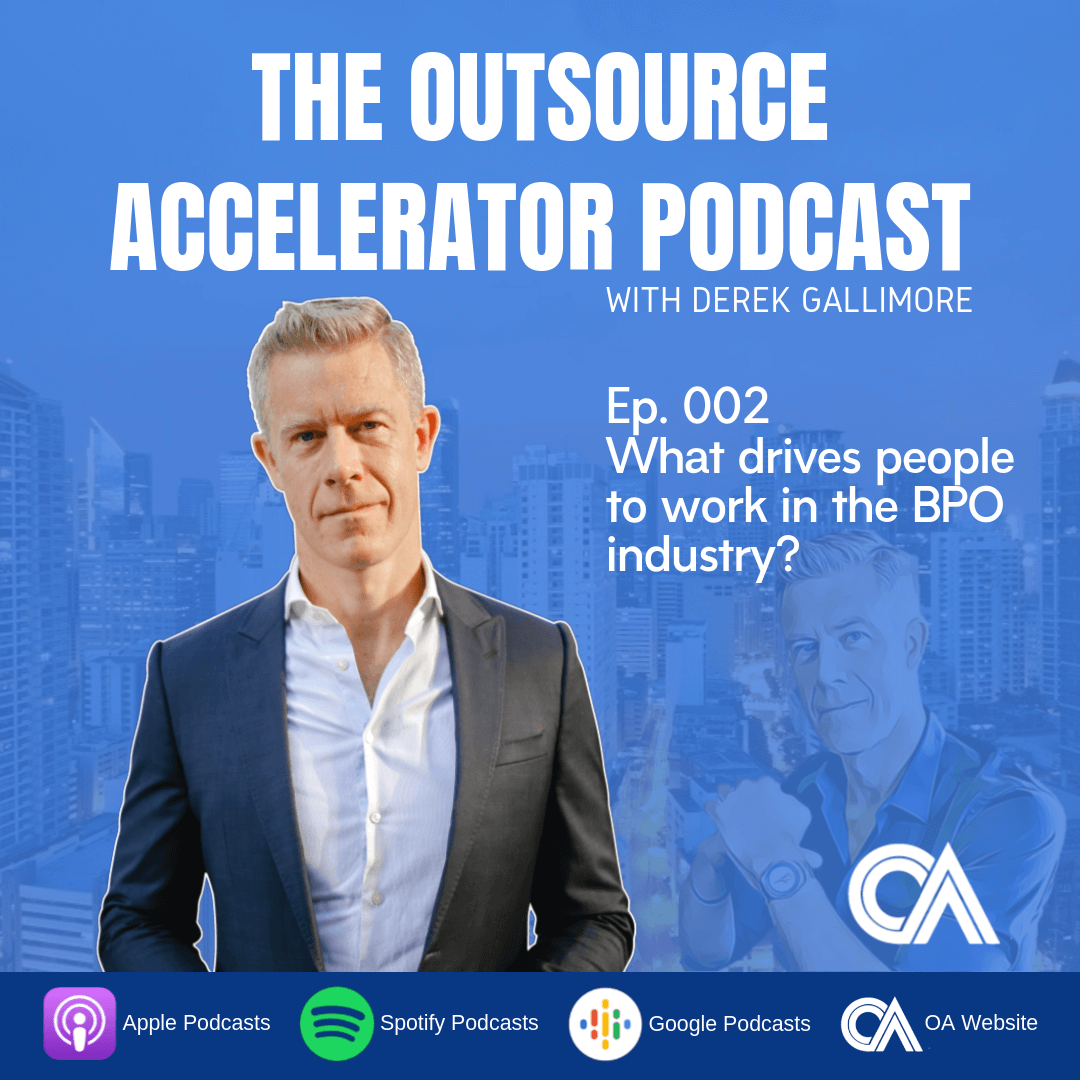 Ep 002 Derek Gallimore
Derek Gallimore and Arnold San Miguel dive into the difference of captive and non-captive sites within the Outsourcing Industry.
What really drives people to apply for such companies? and an insight to the list of reasons that usually motivates a Filipino employee. Arnold has been in the industry for over 9 years. Giving him knowledge and experience in the BPO industry. He will share with us his insights and knowledge about the BPO industry.
Summary
Big BPO companies are often perceived as stable, well-funded and have the capital to operate for a long time.
Smaller BPO companies especially the newer ones have the tendency to be associated with the term "fly by night companies". However, nowadays, all you need is to do your research well to lower the chance of being employed by such companies.
For big BPO companies, everything is mapped out, there are operation manuals, training, clear KPIs. They have quality assurance, coaches to guide employees, HR departments, and trainers.
Big BPOs plan ahead of time and they have backups so that work interruptions are lessened. Unlike small BPOS where they might only have one site, one office, if something happens that impacts their business operations, the owner might take the hit.
Big captive companies like Chevron and a big BPO company like Accenture both offer job security and structure, whereas small BPO and a small captive companies offer the exact opposite. What they offer though is dynamism and excitement.
Five popular motivations for a Filipino employee are salary, location, job fit, career growth and workplace environment.
The Philippines is well known for their summer outings and team buildings which, as what Arnold says, team camaraderie is a big indicator of how well a team is going to perform.
Location is very important to most Filipino workers and working in a different time zone gives them the advantage of avoiding traffic.
The good thing about working for a BPO company is that employees follow the time zone of the country they serve which is usually outside the "rush hour" traffic time frame.
Key Points
Filipino workforce considers the following things when applying for work; salary, location, job fit, career growth and workplace environment.
While big companies offer stability and structure, smaller or startup companies offer a fresh environment, excitement, and dynamism which could attract highly talented individuals.
Outsourcing your business to the Philippines gives them the opportunity to work at an uncommon schedule that avoids traffic which makes it easier for people to travel.
Resources
Transcript
Expand transcript
Listen to more podcast episodes here: