Glen Dimaandal – Outsourcing Insight from a SEO Expert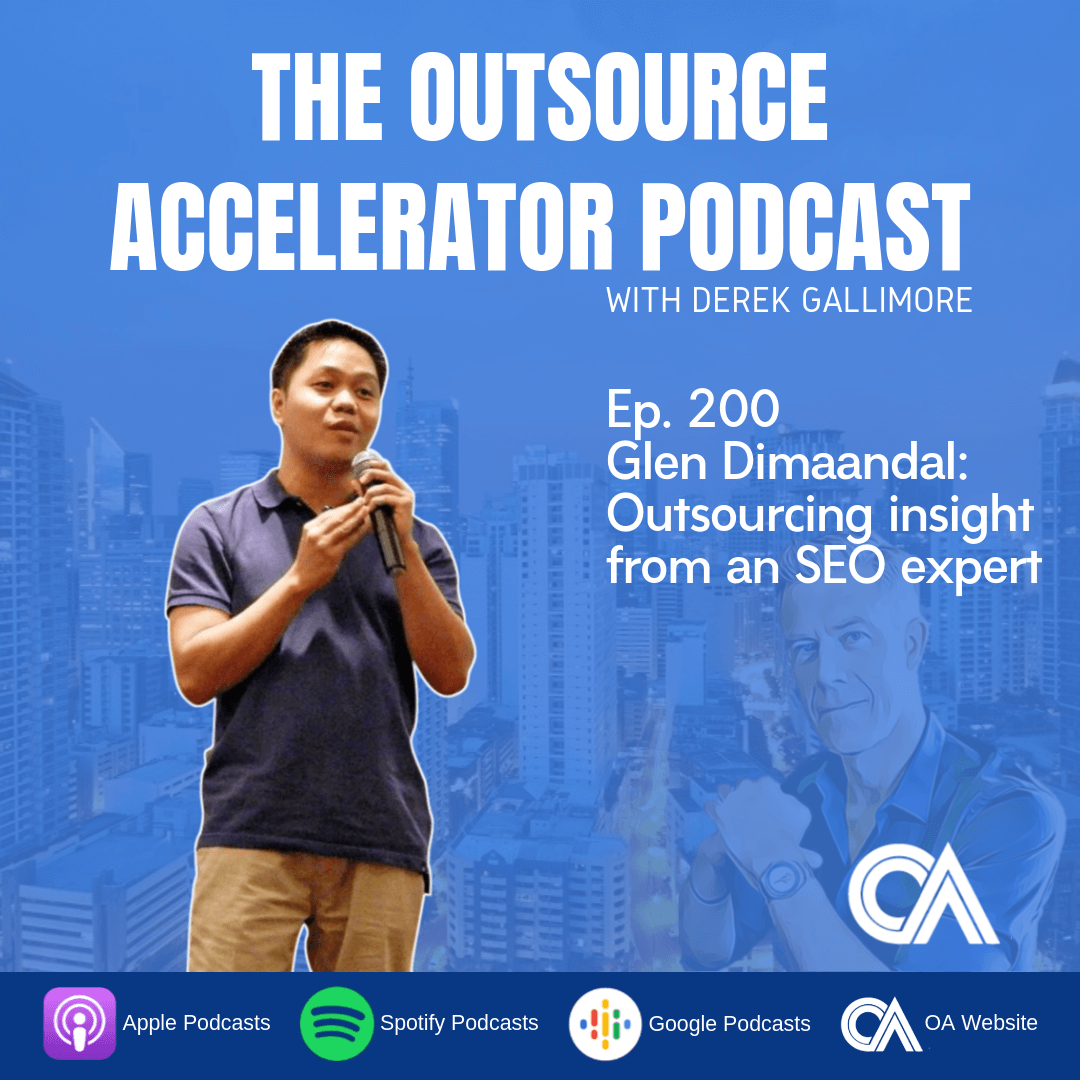 Ep 200 Glen Dimaandal
Glen Dimandaal joins Derek to share his expertise in SEO [Search Engine Optimization] and its relevance in the outsourcing industry.
He is the founder and CEO of GDI SEO Company, and SEO provider and search marketing agency that offers world-class digital marketing services to both local and international clients.
Summary
Glen has been working in the SEO industry for over ten years now.  He has worked a few years in the US mostly with Fortune 500 companies, the latest of which before he returned to the Philippines, was with Emerson Electric.

GDI currently takes care of 60 websites for about 20 clients, of which 70% are either US or UK clients, and 30% are Asian countries including the Philippines. According to Glen the companies including SMEs in local market and in the Asia Pacific region is replicating the US trajectory in terms of owning a website or establishing digital presence.

According to Glen there's an opportunity in Asian markets like the Philippines for free website building and website services for small business owners who tend to be hesitant to put up funds for digital presence. Instead of asking for fees, providers of free web and SEO services earn commissions from sales generated through the website.

He likens the role of the SEO specialist to that of a lawyer who makes and wins the case in court. The SEO specialist creates strategies that will bring the organization's digital presence or website on the first page of Google search and be highly visible to prospective customers and clients.

According to Glen there are SEO agencies in the Philippines which provide high quality SEO services at half the price of some US agencies as what he had seen while he was still working in the US. These SEO agencies also excel in terms of highly effective communication and relationship channels.
Key Notes
Search Engine Optimization [SEO] is one field of specialization that can offer to clients or businesses with digital presence.

Effective communication is important for a strong working relationship with clients and for a successful SEO service engagement.

The internet is crowded with millions of websites and it is the role of the SEO specialist to keep the company's website on the first page or on top of Google search.
Reference:
Expand transcript
Listen to more podcast episodes here: