Korok Ray [2 of 2] – Labor, Outsourcing and AI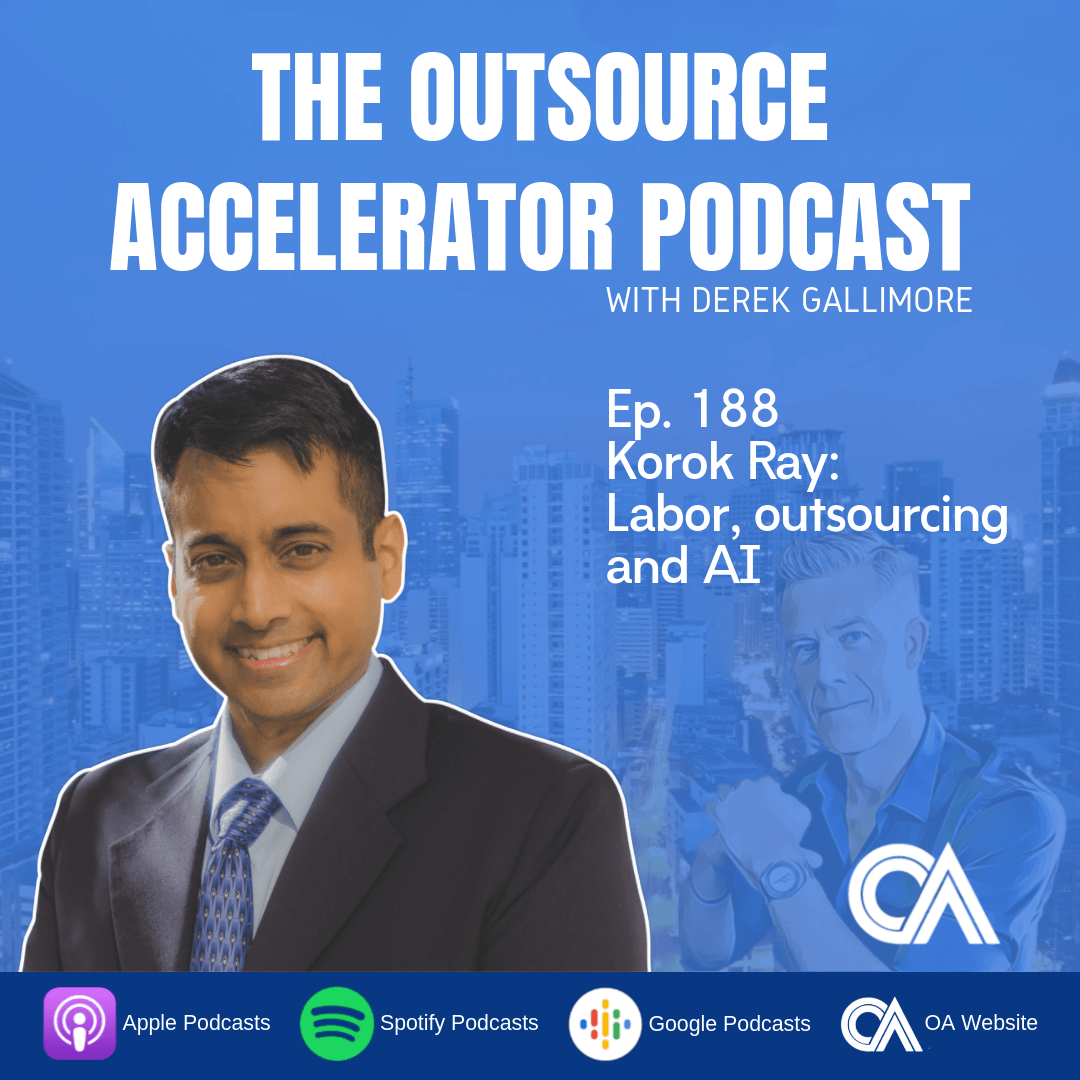 Ep 188 Korok Ray
This is part two of the insightful episode with guest, Dr. Korok Ray, a renowned economist that has served as a senior economist on the Council of Economic Advisers for then US President George Bush, from 2007 to 2009 during the historic financial crisis.
He is an Associate Professor at the May Business School of Texas A&M University and the Director of the Mays Innovation Research Center. He earned his BS in Math and Economics from the University of Chicago and his PhD in Economics from Standford University.
Korok is a labor economist. In this episode, Korok lends his views on labor and outsourcing and shares his essay entitled Online Outsourcing and the Future of Work.
Summary:
Korok projects that in the long future there will be less and less full-time jobs as more and more jobs will be projected base or output base. Internet and digital technology will make this possible as it will be easier to distribute workloads and capture granular data on human performance.

He doesn't subscribe to the theory that robots will replace the human capital, but instead proposed outsourcing crowdsource innovation will be the 'undiscovered country of opportunity" that will fuel global economic growth. Employment will no longer be delineated but will become more and more flexible and open-ended.

Automation or AI may take away basic jobs that do not require strong human judgment. It is yet unknown when this will take place but Korok believed that the best application of AI is integration into interface platforms.

Organizations will benefit most by tapping the global pool of human capital rather than be limited to local employment. Korok is optimistic that virtual reality technology will revolutionize the outsourcing world.

In Korok's opinion, the Philippines BPO industry needs to step up and focus more on providing value-add to the cognitive front by reinventing education and by continuous innovation. This will make the Philippines more attractive to international players given the country's existing human resources strength. Big international players and multinational companies have outsourced major roles to BPOs in the Philippines.

Key Points
Even in the long future, robots, automation, or AI will take some jobs but cannot effectively replace the human capital particularly for roles that require strong human judgment.

Focusing on the further development of cognitive skills, be relevant in the cognitive front will make the human capital be more irreplaceable and more significant in the outsourcing world.

Technology, digitalization, and virtual reality world will revolutionize outsourcing to be the future of work or employment.

Reference:
Expand transcript
Listen to more podcast episodes here: