Butch Valenzuela – My Outsourcing Journey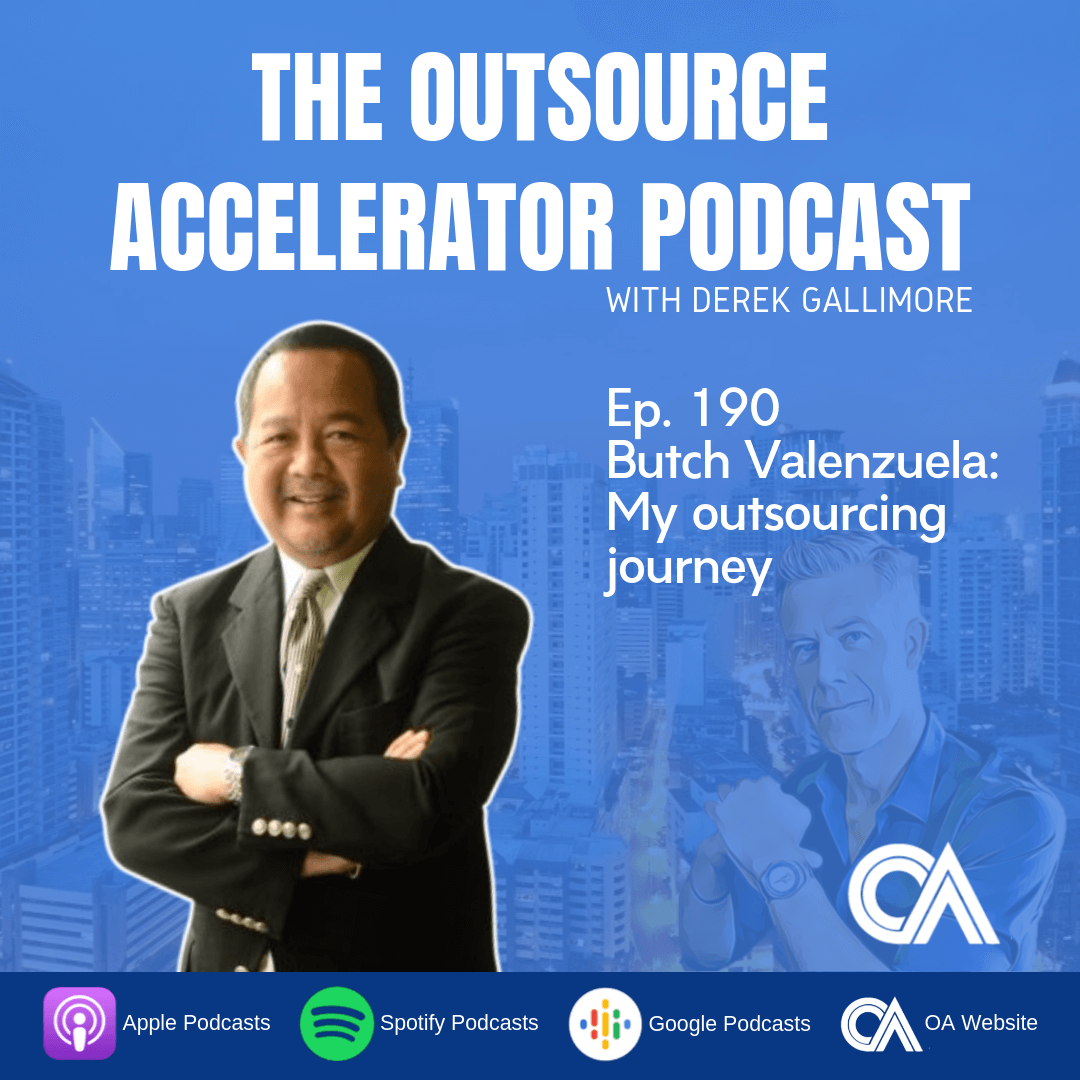 Ep 190 Butch Valenzuela
In this episode, Butch Valenzuela, President and CEO of Visaya KPO, shares his exciting journey in the BPO industry.
Butch is a Filipino entrepreneur who had worked for 30 years with a Fortune 200 company called ITT Industries as IT Director, Financial Comptroller, and Director for Strategic Planning.
Summary
While in the US, Butch didn't have the slightest idea of what a call center meant. But when he came back to the Philippines, he saw the potential of the call center industry and thought that he could apply his strong US learnings in the industry.

He saw the value the Philippines can provide to the global market, not only for the fluency in English but also for the cultural alignment as historically there is that American or foreign influence in the Filipino culture.

In his opinion, advancement in robotics or artificial intelligence is impressive but it will take time for small companies to catch up because companies have to pay for the technology. The high cost involved may not really be effective particularly for the SMEs.

One major client of the call centers in the Philippines are the healthcare companies in the US. Butch foresees that the demand for medical encoders will increase as baby boomers are aging. The country's call centers can competitively meet this demand as a number of healthcare professionals and nurses are working in call centers.

There are many factors that can affect the call center industry. This could be government regulations of both the client country and the service provider country. This could be tax regulations. This could be AI or robotics. But people in the call center industry can still be relevant and irreplaceable if they scale up into higher value-add type work.
Key Notes
The three competitive advantage for a BPO industry to be relevant to the global market: language skills, cultural alignment, and specialized education.

People in the call center must continue to scale up through continuous education and training to prepare them for higher value-add work and move up the ladder.

AI and robotics deployment may add to efficiency but maybe costly especially for small revenue companies.
Reference:
www.linkedin.com/in/visayakpo/
Expand transcript
Listen to more podcast episodes here: