How 3 US corporate executives built MySource Solutions – with Daryl Christensen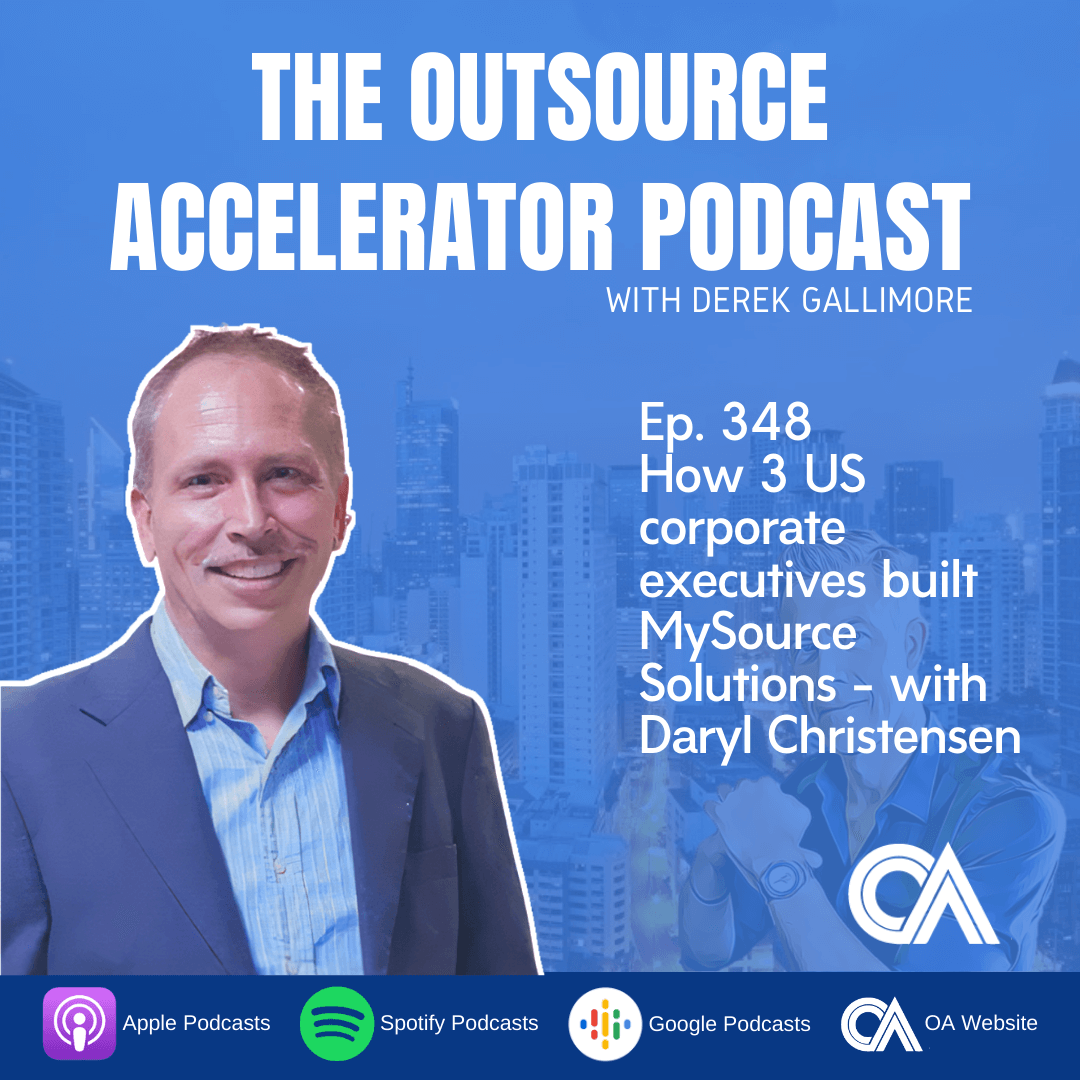 MySource Solutions
Derek Gallimore talks with Daryl Christensen, COO, managing partner, and co-founder of MySource Solutions. Based in Cebu, MySource is offering multipurpose professional outsourcing services for SMEs since 2017.
Having been exposed to outsourcing for years now, Daryl saw the strengths of the Filipino workforce in providing outsourced services to its global clients. In this episode, Derek and Daryl go back to their outsourcing journey, how Daryl, along with his business partners, built MySource Solutions, and the outsourcing climate in Cebu City.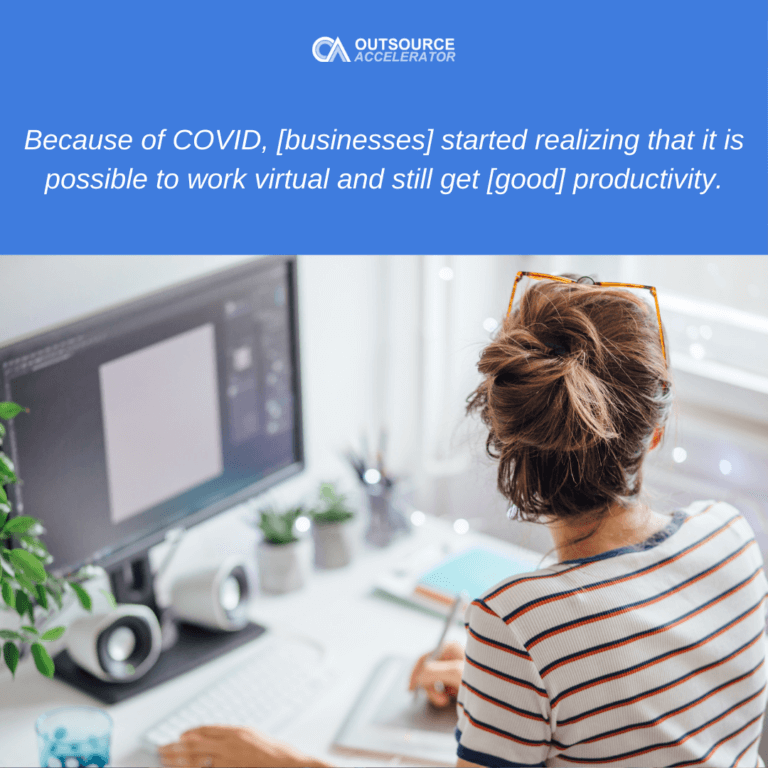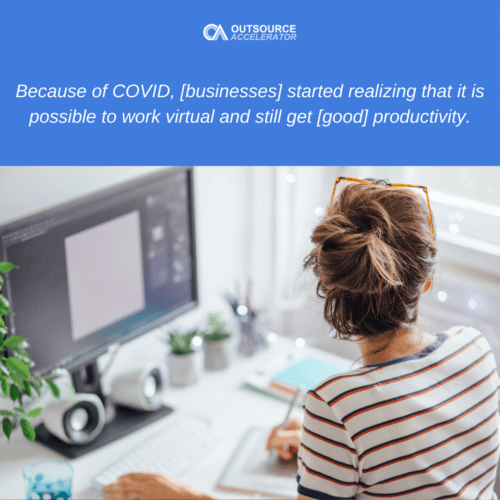 Daryl's journey with outsourcing
Daryl Christensen is a COO, managing partner, and co-founder of MySource Solutions, a multipurpose outsourcing company based in Cebu. 
10 years before sitting in Cebu city, Daryl worked at a financial company in the US. He was assigned to build and manage an outsourced team of data analysts and trained revenue officers in the Philippines. 
He studied and researched the country and the outsourcing industry before his assignment. Daryl quickly felt comfortable in the Philippines and the work culture of the Filipinos. 
With this, Daryl decided to stay in the country for good, get business partners, and establish MySource Solutions.
About MySource Solutions
MySource offers a wide range of professional outsourcing and managed services for small and medium-sized enterprises (SMEs) mostly in the United States. They handle average accounts between 1 and 20 staff with an option for future expansion.
Daryl and his team took about a year setting MySource Solutions into reality. They underwent tedious planning, setting strategies and structures, and business registration before the company started operating since they wanted to create a solid foundation for the company first. 
From there, the company experienced a "slow and steady growth". 
The company's offerings and benefits
Daryl observed that SMEs slowly realize two different things that changed their view in outsourcing:
It is possible to work virtually and get quality

. As always, outsourcing is more than cutting costs. It can as well help sustain the quality of work clients can get from in-house employment.

Outsourcing has an advantage in getting virtual assistants (VAs) under one roof

. Per Daryl, the huge value of hiring outsourced staff is "having [the] office environment" for better interaction and collaboration.
Per Daryl, MySource offers more than cost savings and efficiency. For one, their outsourced staff is housed in a clean office at par with the security and health standards. They as well have dual fiber lines and backup powers in case of power and connectivity interruptions.
Most importantly, he highlighted the value of having outsourced staff inside the same office. As much as he acknowledges the benefits of a work-from-home (WFH) setup, Daryl recognizes the problems in having this model in a Philippine home.
Compared to more developed countries, working from home in the Philippines is encountered by issues such as network connectivity and irrelevant noises in the background.
A quick introduction to Cebu City
Cebu City is the second-largest city in the country, next to Manila. Located in the Visayas region, Cebu got all of the big city offerings as in Metro Manila. 
Yet, per Daryl, it is "easier to get out on the weekends" since the city's still near the countryside, with mountains, beaches, and nature at reach. All in all, he considers Cebu as "the best of both worlds".
In terms of employment, big cities such as Cebu and Manila do not just attract people from the city proper. Rather, a lot of its talents come from outer provinces migrating to the city for work or schooling.
With this, Daryl implied that when clients outsource to the big cities in the Philippines, they are not just tapping at the cities. Rather, they are "tapping into the entire region [that] tends to migrate to the cities".
What clients can and cannot be done with outsourcing
Daryl implies that almost every aspect of a business can be outsourced. They can delegate a wide range of services "from transactional [work], customer service, highly subjective and strategic [tasks], to highly technical [functions]".
The only thing he can see interfering with this is the potential laws and regulations from source countries that could limit a company's ability to outsource.
Despite being around for decades, Daryl is optimistic that there's shrill room for growth in the country's outsourcing industry. He has seen the client approach evolving from being protective with in-house employment to being open to the opportunities that outsourcing brings to the table.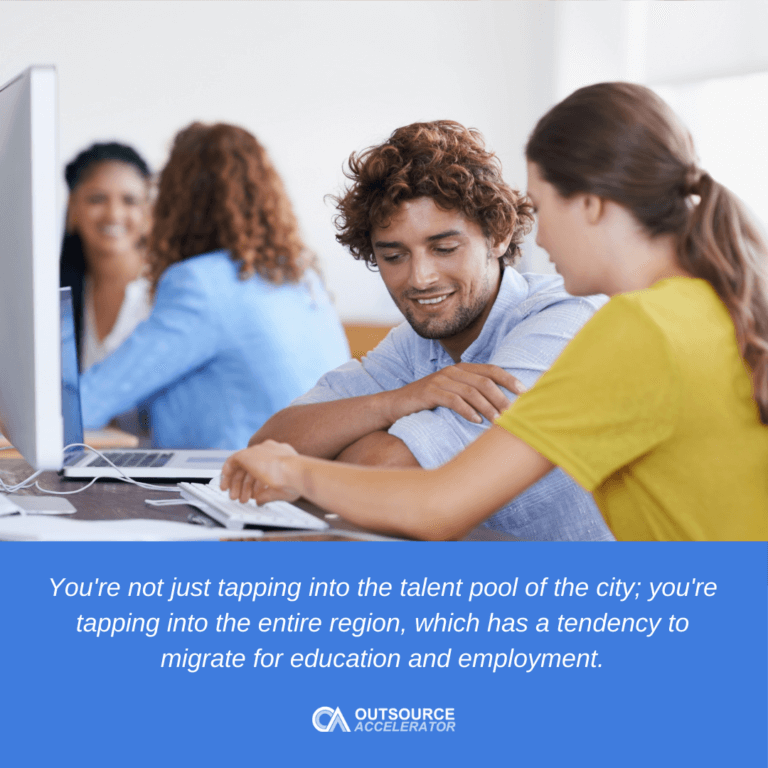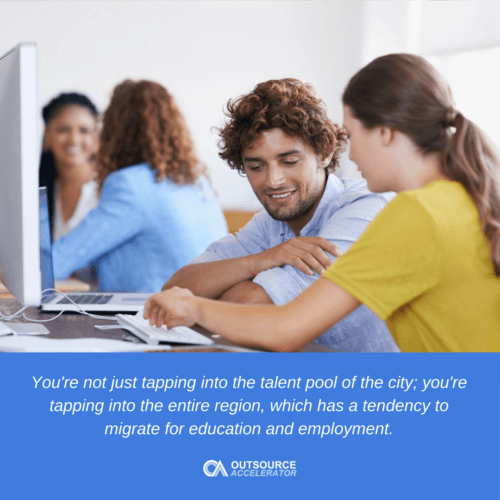 MySource Solution's pricing structure
MySource tries to stay as transparent as possible with its pricing. Their pricing structure is broken down into two categories: generalist and managed services.
For generalist pricing, their primary platform, the company usually charges around $8 to $9.50 an hour for general BPO services. This includes customer service, accounts payable and receivable, and social media management.
For managed services, meanwhile, they charge an average of $6 to $7.50 an hour. This changes depending on the technical needs of their clients.
Unlike most BPOs, MySource does not have lock-ins and long-term commitments. Rather, they try to be flexible as they can to continuously prove their value, whether through ROI or savings.
MySource's COVID journey
Due to the company's office nature, MySource has a short stint in remote working. Though, as Daryl stated, they made sure that everyone is set up safe upon going back to the office environment.
Implementing health protocols did not become a problem to MySource since they got a large office. On the other side, they started to encounter applicants who want a pure work-from-home setup.
BPO and the Philippine economy
The business process outsourcing (BPO) industry is one of the biggest contributors to the country's GDP. Along with this, BPO workers are considered frontliners since they continuously provide support for customers around the world.
They, as a result, are provided additional protection for their health and safety, including a higher priority list for vaccines.
This as well provides advantages for outsourcing companies since they can continuously employ more Filipinos in their time of need.
Interested clients who want to reach out to Daryl and MySource may call (+1) 816 892 5503 or check out their website: https://mysourcesolutions.com/
References:
Phone: +1 816 892 5503
Website: MySource Solutions
Listen to more podcast episodes here: