Outsourcing operations manager LJ Gacho shares her 14 years experience – Six Eleven BPO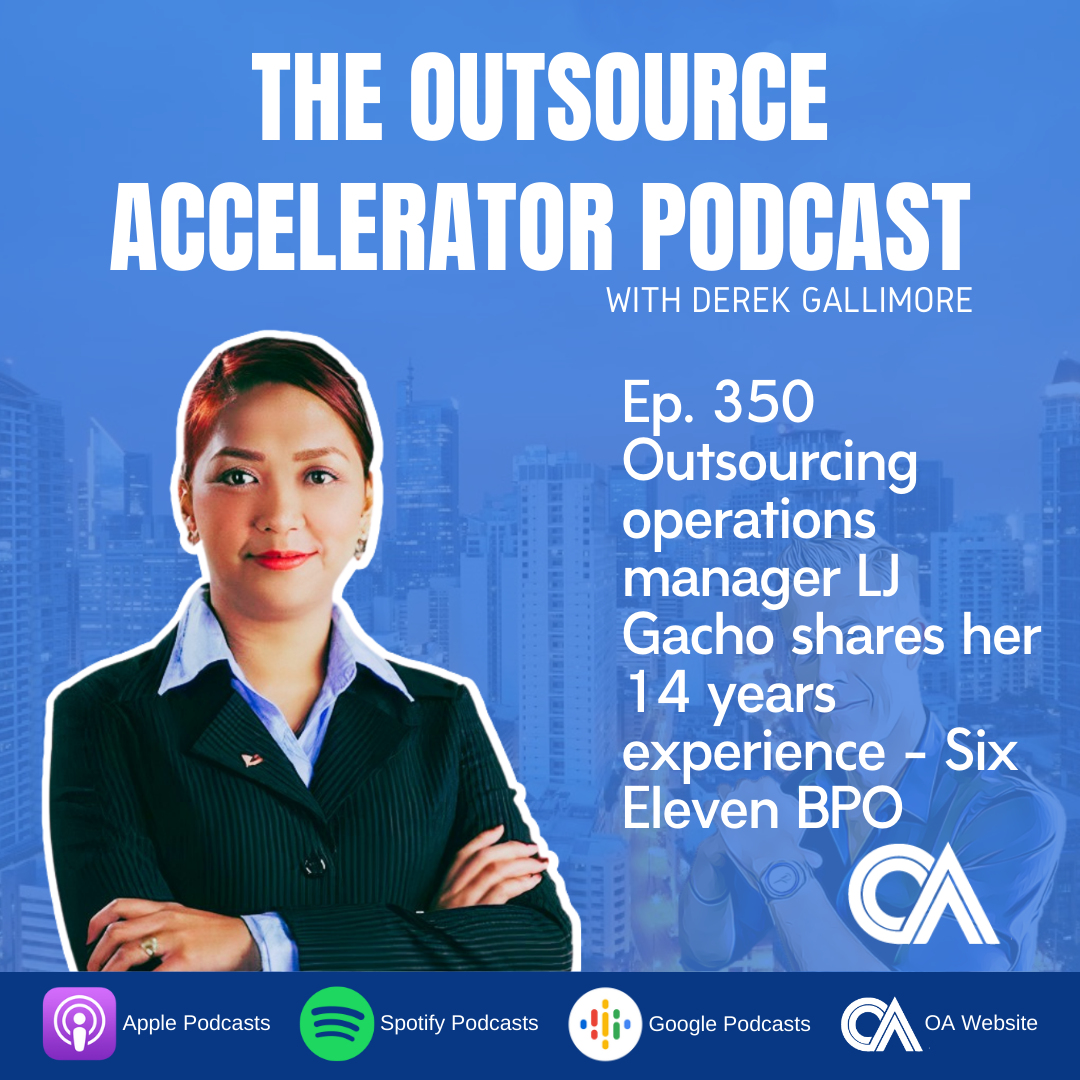 Six Eleven Global Services
Derek Gallimore talks with LJ Gacho, operations manager at Six Eleven Global Services. Located in Davao City, Six Eleven is one of the leading contact centers and lead generation outsourcing companies outside of Metro Manila.
Being in the company for 14 years, LJ has developed her skills and experience at 611. In this episode, LJ will share how the company values its clients and employees, her experience in working nightshift, and the contribution of outsourcing in improving the lives of the Filipino workforce in general.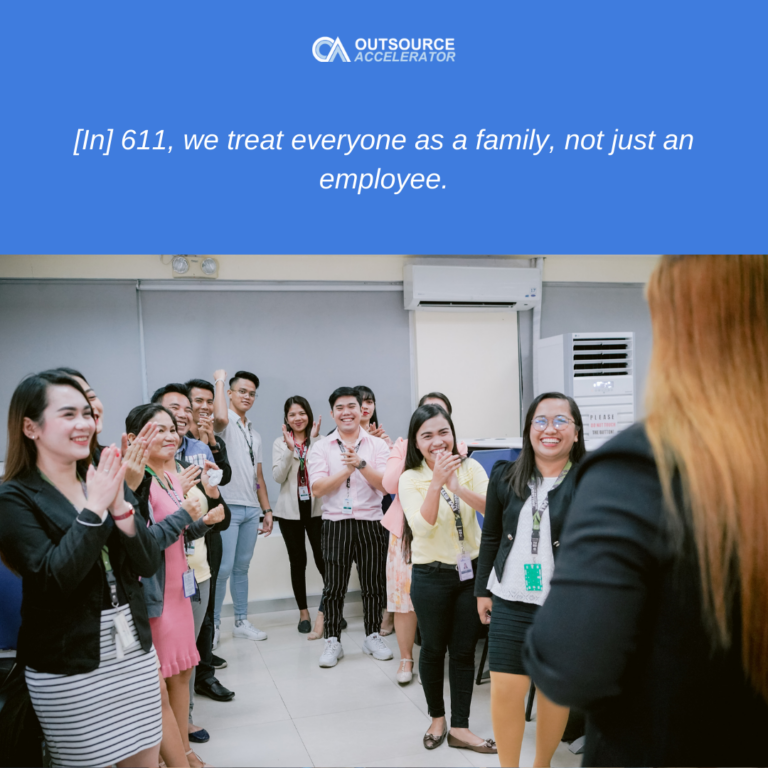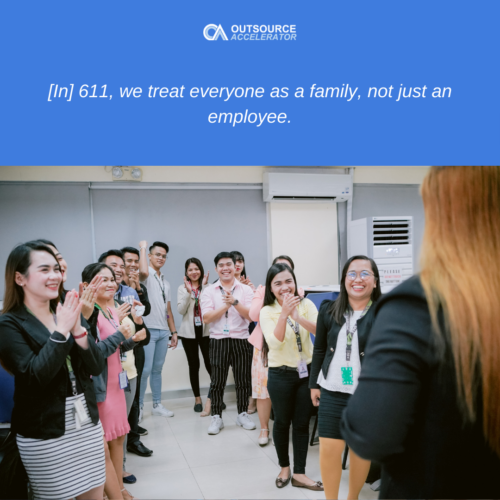 An introduction to LJ Gacho and SixEleven
LJ Gacho is an Operations Manager for SixEleven Global Teleservices, an outsourcing company based in Davao City. Currently, she handles 250 call center agents and 20 managers out of around 1,500 people for all of their sites.
Per LJ, the company prioritizes nurturing an in-house employee over hiring experienced personnel for the management side. This is since in-house ones already know the roundabouts of the company's internal work.
SixEleven's management teams undergo years of training and development. They start as trainees, then get promoted as call center agents. According to LJ, getting promoted to OIC and team lead would take "months or even years". 
Then, once they get past these, they will be promoted as senior team leaders, up to operations managers. Above the operations manager comes the call center director, chief operating officer (COO), then the chief executive officer (CEO) which is the president and founder of the company.
With this, LJ agrees that people not only pay for the call center agent when they outsource. Rather, they even pay for the infrastructure and logistics of running operations.
How SixEleven manages their employees
One of the stigmas in call centers includes the high churn and turnover rates they give. Fortunately, SixEleven does not see this as a major challenge.
LJ is proud that around 60 to 70% of their employees, including in her team, have over five years of tenure. This is since the company "treats everyone as a family", from the agents, management, to administration, maintenance, and security departments.
According to her, SixEleven "[does] everything to keep everyone happy".
Davao as an outsourcing destination
Davao has a more laid-back environment unlike bigger cities such as Manila and Cebu. The current President Rodrigo Duterte came from Davao City, where he served as Mayor in the past. 
LJ as well prides itself on its low cost of living, good food, and friendly people. 
In terms of the outsourcing industry, Davao is "the last city [with] all [these] call centers starting up", especially when SixEleven started its operations. Per LJ, the industry "opened opportunities for everyone" even for managerial, consultancy, and other positions. 
This is as opposed to the belief that call center and outsourcing is a "dead-end career".
What clientele experience looks like at SixEleven
The majority of LJ's teams handle customer support for e-commerce companies. Though, they as well handle support for dental clinics and orthodontics since they have PCI and HIPAA compliances.
However, per LJ, their "bread and butter" lies in virtual assistance (VA) services. SixEleven's VA services are divided into two groups:
1:1 client, perfect for entrepreneurs; and 

1:several VAs, also known as corporate accounts
LJ recognizes that each of their clients differs in all aspects, even in goals when outsourcing. This is why they make sure to define their priority tasks and match the right VAs for them.
VA services include a broad variety of work such as bookkeeping, accounting, and content management. With this, SixEleven gives the focus on their team leaders. 
As much as possible, they maintain their ratio of one team lead to 15 VAs to prevent bottlenecks and make sure that "the team leader is always there" during the first few days of working with their VAs.
Aside from this, they as well make sure to educate their clients on how to do a certain process. According to LJ, educating their clients on their process is important for their businesses to grow.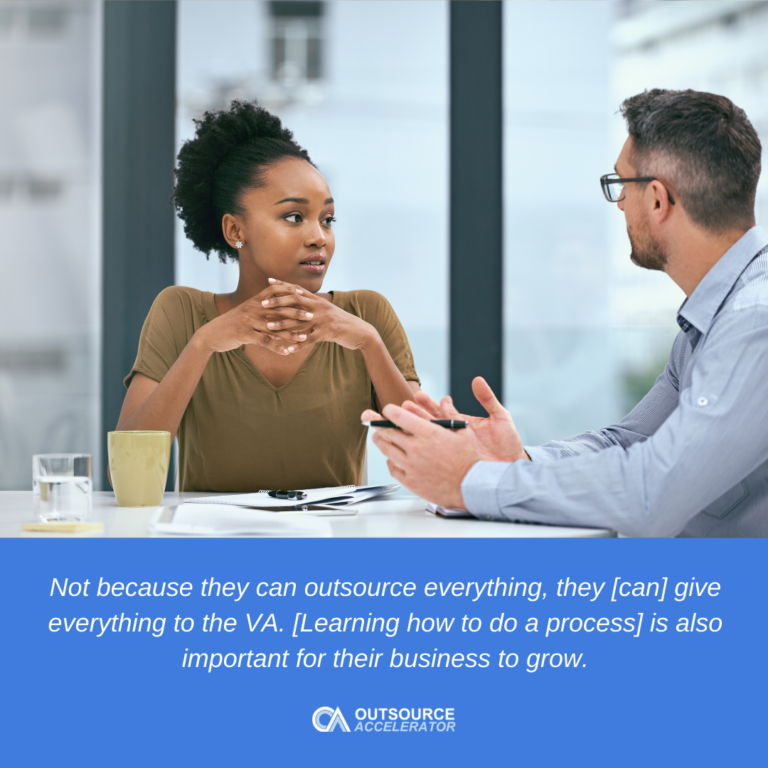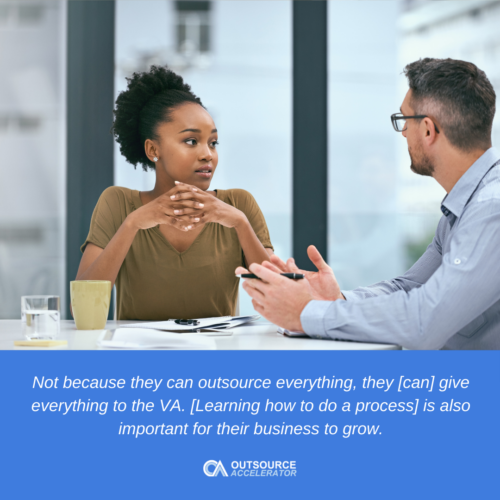 Advantages of being a night shift employee
LJ prefers her nightshift schedule, implying that the "quietness" in the evening makes it easier for her to work. She has even adopted her sleep schedule during weekends, being asleep in the mornings and awake in the evenings.
Indeed, being a night shift employee in the Philippines has its perks, especially with their salaries. Aside from the basic income, they as well receive night differentials, hazard pay, and several benefits including travel and food allowances and HMOs. 
SixEleven, meanwhile, compensates their people "really well". Aside from the perks mentioned earlier, employees get commission-schemed benefits for their great work and monthly commissions for those with perfect attendance each month. 
According to LJ, these bonuses and incentives are in place to keep employees happy.
Working during the COVID pandemic
LJ admits that the COVID pandemic was "scary at the beginning" with the threats of lockdowns and the dangers of being a frontliner. Yet, SixEleven continues to fulfill its commitment to its clients, even in this time of need.
One of the company's best practices is "looking at the bright side" of things. They implemented protocols and compliances based on the Inter-Agency Task Force (IATF) guidelines, which helped them adapt to the new normal of work.
Per LJ, the pandemic made them stay operational as an outsourcing company and brought them more clients as they continue to grow. They are currently focused on making sure their employees are fully vaccinated.
According to her, the company is ready should a lockdown happen again.
Summing up LJ's outsourcing career
Like most Filipinos, LJ thought that outsourcing "was a temporary job" for her. Having a degree in education, she wanted to just start earning and find better work as a teacher. 
Yet, it turned out that outsourcing helped her build her career. She was able to help her parents and build a life on her own during her years at SixEleven. 
As for the salary, LJ implies that outsourcing pays more than most of her classmates who pushed through with their careers. 
With this, LJ is thankful for the outsourcing industry that helps improve the quality of life for Filipinos.
To get in touch with LJ and learn more about SixEleven and outsourcing, check out their website at www.611global.us or send her an email at [email protected]
Listen to more podcast episodes here: