Future of Remote Work with Time Doctor CEO and Running Remote Co-founder, Rob Rawson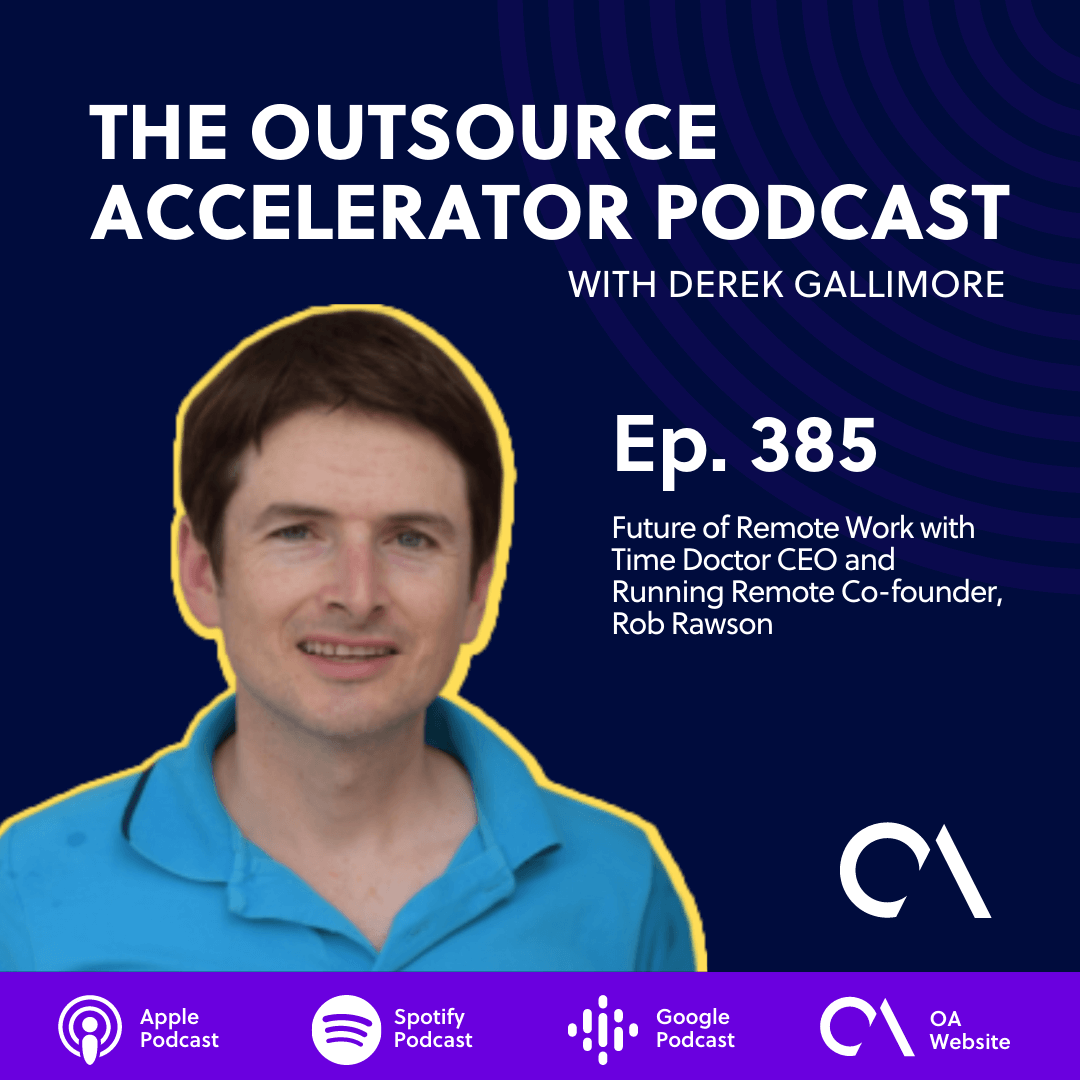 The OA podcast features Rob Rawson, CEO of popular employee monitoring software Time Doctor. He is also the co-founder of Running Remote, a conference for and about remote working.
Time Doctor
Derek Gallimore talks with Rob Rawson, CEO of Time Doctor. Time Doctor is known for its time-tracking software for freelancers and businesses globally. Rob is also the co-founder of Running Remote, a conference about remote working.
In this episode, Derek and Rob will discuss the future of remote work in global businesses. While more companies have been embracing remote working post-pandemic, most firms still underestimate its advantages. Derek and Rob will also tackle how to make this work through established communications and practices.
Time Doctor's beginnings and inception
Originally a medical doctor, Rob "[got] out of the emergency room" to start various internet businesses. Prior to creating Time Doctor, he had a company doing affiliate marketing and AdSense with his team in the Philippines.
Per Rob, "somebody [he] met at a conference" told him about the country, its cost-effectiveness, and great talents. He started hiring three people in his wing and ended up "building a business" from there.
It did not go well, having to shoulder office expenses at the same time. He decided to "get rid of the office" and carved his idea from sites like Upwork.
Time Doctor started in 2010 as a time-tracking and productivity software for himself then expanded it to anyone that had teams in the Philippines and other locations.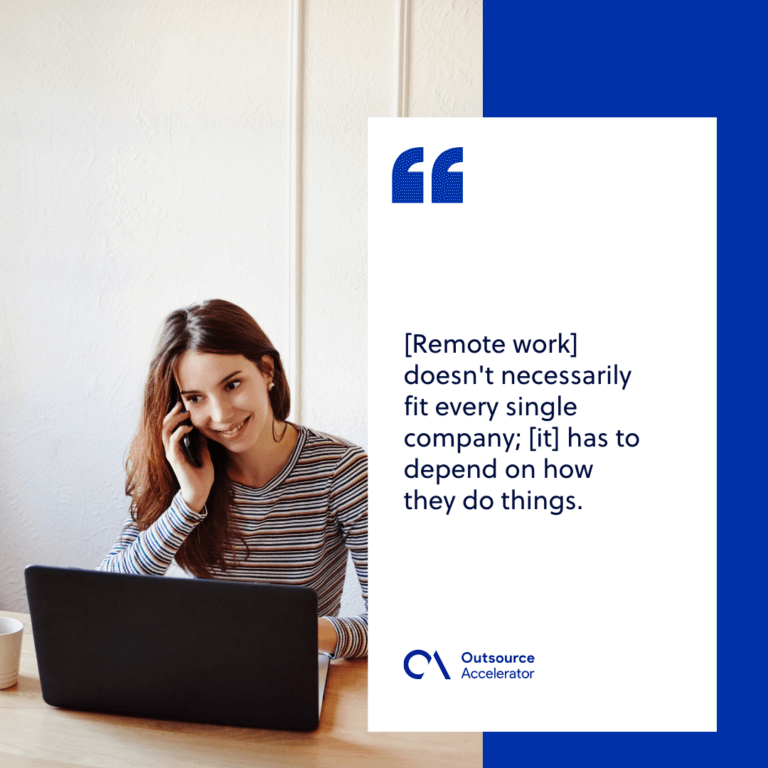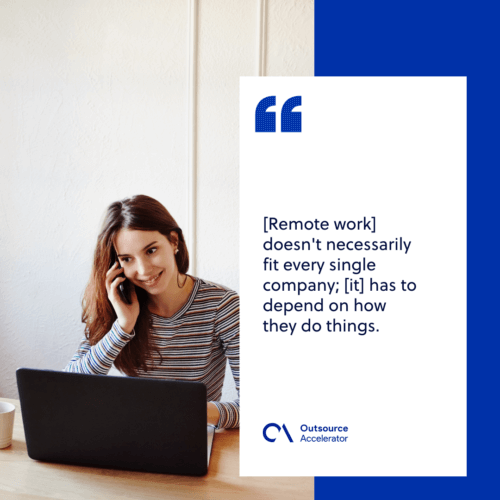 Time Doctor 15 years later
Today, Time Doctor has a global workforce with talents in 30 countries. The company has 130 staff and 9,000 clients ranging from small to large firms. Rob states that most of their clients are outsourcing teams with offices in several destinations.
Time Doctor has time and attendance components that learn the attendance, break, and workload patterns of each employee. Meanwhile, it also touches on the productivity aspect where employers can see the websites and applications each employee uses.
He adds that Time Doctor "applies more to outsourced teams, global teams… [and] advertising agencies billing clients per hour." It doe not necessarily fit every company, rather it depends on how they do things.
Changes in remote working for the past 12 years
Per Rob, he has seen a "massive boost in remote work," though people are "trying to figure it out" today.
Rob added that a lot of workers in the US and other developed countries "[demand] remote work." A survey by ADP revealed that 64% of workers "consider looking for a new job" if their employers want to go back to the office.
On the other hand, some countries such as India are eager in returning to their office while the Philippines places "somewhat in the middle." Given the heavy traffic, pollution, and travel requirements in the country, Rob says it's "crazy to travel to work each day.
Will remote work become a default in the future?
For Rob, remote work will be a default work setting depending on a particular job and company. Though, he believes that "people [don't understand] the full implications of remote work," same as with outsourcing. This is since working remotely "opens things up to outsourcing" in the end.
According to Rob, remote working for companies undergoes three stages. The first stage involves having a local office for teams, then it gradually opens up to a hybrid setup. Though, teams still work in the same city as their office.
Rob believes that a downside of this setup includes restrictions. Technically, companies would still have to hire people within their cities, restricting the talents and the company to work outside their area.
The second stage of remote work deals with hiring "within the same country" while the last will be "finding the best talents" globally. Though this process takes a few years, the time will come when companies would find talents "in the right places.
All in all, Rob projects that more companies have more options, whether they want to have a global team or an office-based work.
Running Remote and the trends in remote working
Running Remote is a "conference about remote work," per Rob. They invite companies and experts that have been remote working for years to gather tips and strategies. While the majority come from small firms, some of their participants are from large businesses.
Rob, along with co-founder Liam, also created a book of the same title where they interviewed company leaders about remote work and "how they do things."
Asynchronous communications
One of the things Rob discovered during the interviews and conferences was the importance of asynchronous communication. Usually, people forced to work remotely "tend to just go into Zoom or other meetings." According to him, meetings "are distracting" and take lots of time from actually working.
This is why Rob believes that companies should "start looking at asynchronous communication" for a less interruptive way to connect. Though, having a blend of video calls and asynchronous messages can help establish better communications within the team.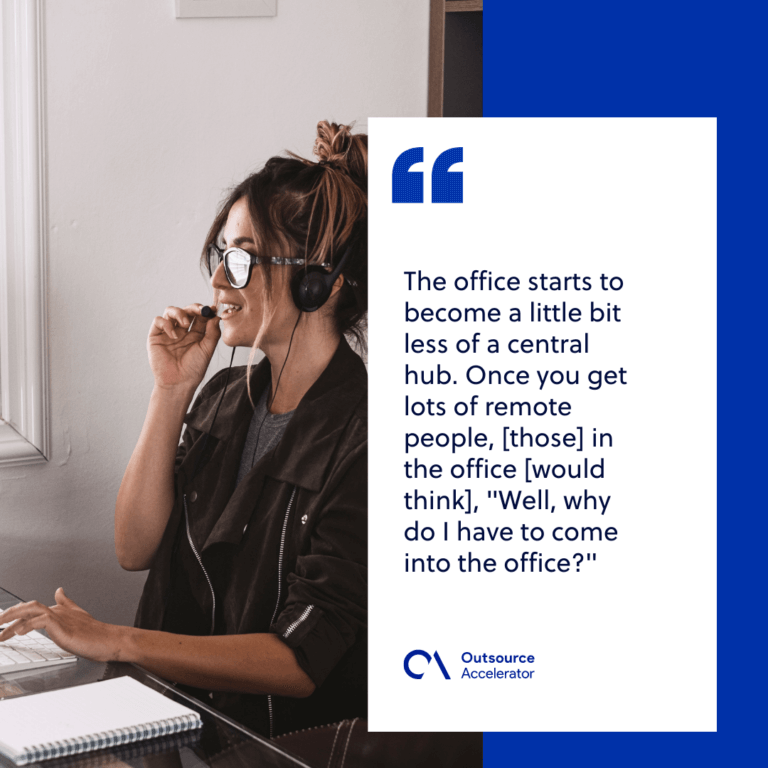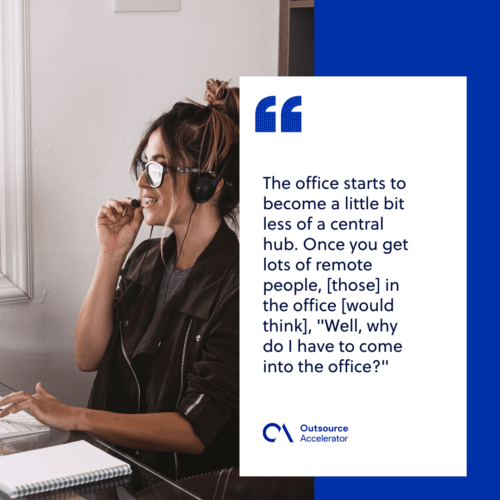 How motivation is created in remote work
For Rob, companies "should have a careful look at what the [employee] is doing at their work." They can do this by tracking how productive they are and "using [tools such as] Time Doctor to see their work."
Rob acknowledges that "not enough people are self-motivated that [they] would just work productively at home." With distractions such as Netflix and household chores, they are less likely to be productive in the end.
With this, employers should have proper structures, metrics, and communications within their teams. Through these factors, they can ensure to have input into their team's productivity.
Reach out to Rob through the Time Doctor and Running Remote websites or via his LinkedIn page.
Listen to more podcast episodes here: