Definition
What is productivity software?
Productivity software is a type of software that assists users in creating documents, databases, graphs, spreadsheets, and presentations. It may also be a collection application used to keep track of all your records. 
The software is frequently included in any program that aids in completing a job or project, such as communication and collaboration tools.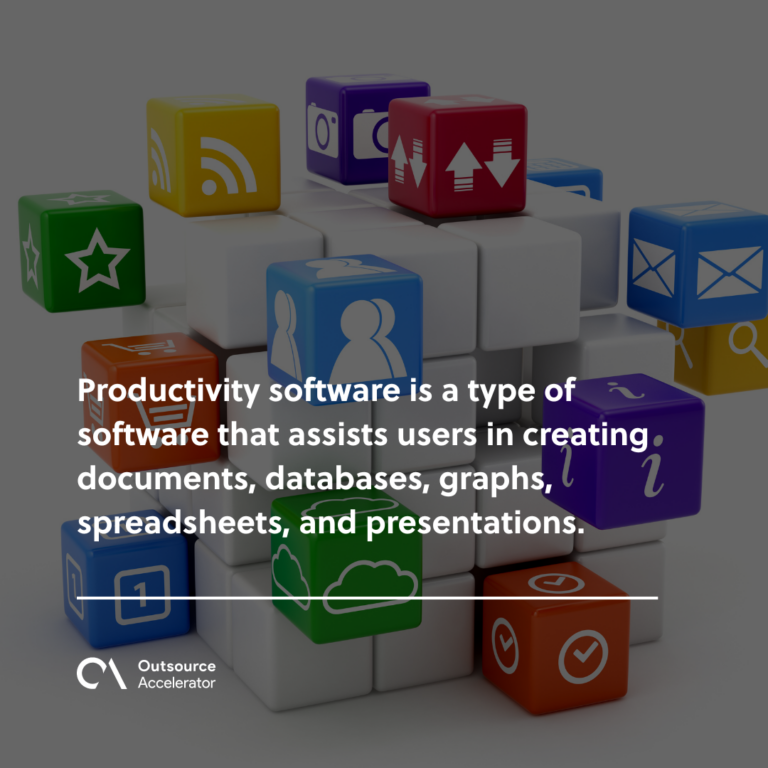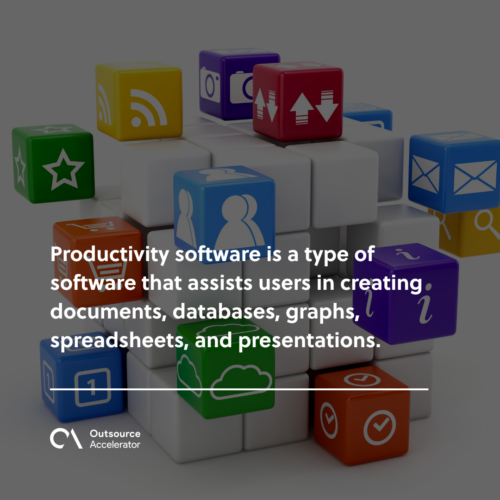 Types of productivity software
Your company's success will be measured by its productivity. One of the most effective strategies to enhance productivity is to use productivity software in your company's operations.
There are three primary types of productivity software:
Time tracking
Employees can use time-tracking software to track how much time they spend on particular projects or tasks. Businesses and organizations that have freelancers or employees who are paid per hour use time-tracking software.
Tracking your time gives you an overall view of how much time each employee spends on a task. You can use this overview to keep track of their productivity and make sure everyone is compensated for the work they do.
Project management
Project management productivity software can plan, organize, and manage resource tools. Their visual representation of a workflow process makes assigning, coordinating, and prioritizing jobs and projects more manageable.
Some notable function of project management productivity software includes:
Project planning.

Plan tasks with ease while considering previous experience.

Scheduling and time management.

Make it simple to track employee hours and accommodate different work schedules of employees.

Resource allocation.

Ensure that everyone is working on the suitable projects at the right time.

Communication and collaboration.

You may quickly post your opinions while preserving a complete record of all your actions.

Documentation and files.

You can document all of the requirements and specifications.
Database management systems
A database management system is a type of productivity software that can store, access, and manage data in a database.
The purpose of a database is to store a vast amount of structured data. With low processing costs, it may be accessed by several users simultaneously.
Importance of productivity software
Productivity software analyzes the efficiency of your processes. It is true whether you work in various service industries.
The following are some of the advantages of using productivity software in your company:
Management of projects
Businesses utilize enterprise productivity software to handle even the most complicated projects easily. Managers may use digital productivity tools for project management to help them prioritize work and allocate resources appropriately.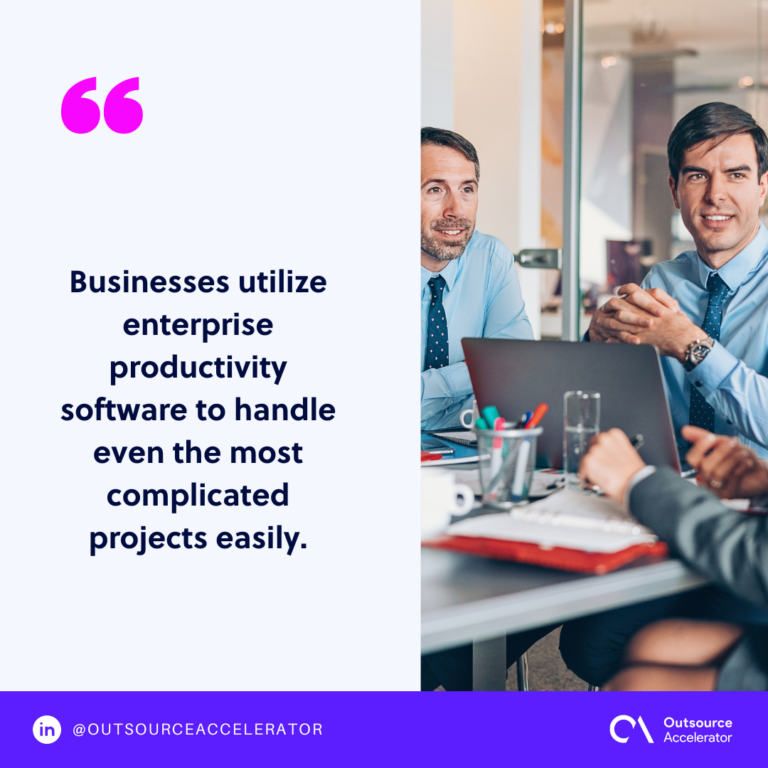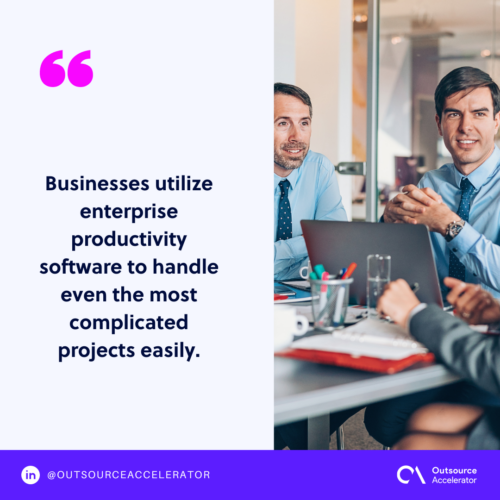 Optimizing operations 
At every stage, it's critical to know how far along a project is. To manage time and prioritize activities more efficiently, companies need the appropriate tools.
Time management and resource allocation
The planning of resources is an essential component of project management. To guarantee that job assignments and resource allocation within your team do not overlap, you'll need the proper tools.
Security
When introducing new tools, apps, and software to your organization, the importance of security becomes even more critical.
Using productivity software with a high level of security ensures that all data is kept safe at all times.
Examples of productivity software
Creating documents, reports, and presentations is made easier using productivity software. Here are some of the most effective productivity software:
TextExpander is a typing shortcut application for companies to handle repetitive writing jobs, generate snippets, check typos, exchange material, and more. It is a productivity multiplier for your team, no matter what industry you're in.
Backlog improves team cooperation across big and small businesses. It uses a combination of project management with the ease and power of code control.
Basaas unifies all task management tools into a single solution, allowing all employees to streamline their everyday routines.
Jira's no-code automation technology enables teams to automate any activity or process. It can contribute to saving time and increasing productivity. With a free plan, groups of up to 10 members may use all of Jira's features for free, forever.
Asana is productivity software that aids teams in organizing their work, from daily chores to long-term projects. With Asana, you can keep track of your projects in one location and collaborate with your team from anywhere.
Monday.com is a user-friendly platform that helps you automate your daily tasks to focus on impact-driven development. With in-app messaging, you can get rid of annoyingly long email threads and reduce unnecessary meetings.
WordPerfect Office X5 is another office productivity software that may be customized in various ways depending on the customer's needs. 
Word processing, spreadsheets, slideshows, and presentations, as well as a digital diary, are all included in the home and student version. The productivity suite is not free. However, there are free trials available.