Why use time tracking software for remote employees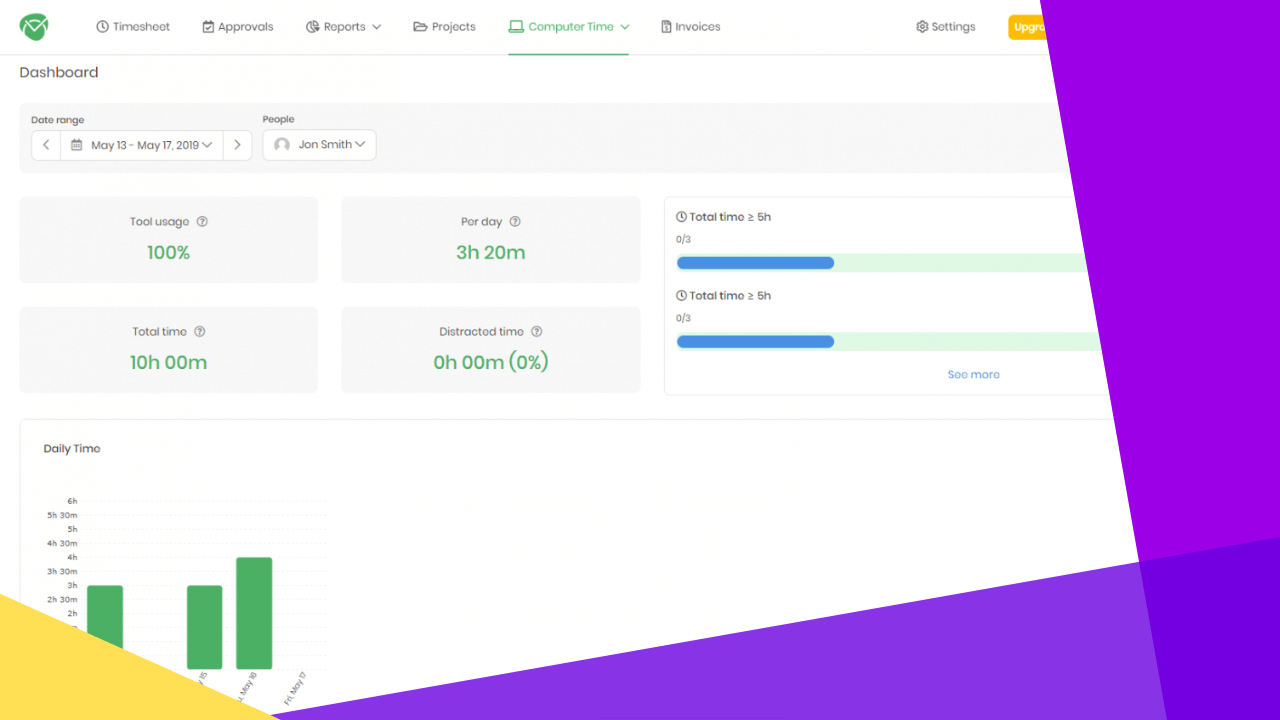 Remote work, aka. Telecommuting accounts for 70% of employees, according to statistics. But with the growth of remote work comes the challenge of managing people scattered across the city or even the globe. How to handle this problem in the most convenient way? Use time tracking software.
Using time tracking software for remote employees comes with countless benefits.
And many project managers use time tracking software to manage the work of a remote team.
Here are some of the biggest benefits of using time tracking software for remote employees. There's a good deal of them so let's get right to it!
Flexible business model
In today's world, you can find many talented and highly-skilled professionals among freelancers. And freelancers work from home, from dedicated workspaces or as digital nomads. When using time tracking software, you can easily make such people part of your team by tracking their work wherever they are.
As proof, take it that some of the best companies' teams consist entirely of remote employees, including time tracking software companies.
Additionally, when using such software your company can track budget and projects, analyze the strong and weak points.
This allows learning what practices work best and, as a result, easily adapt to the changes – both in the business world and in the business model.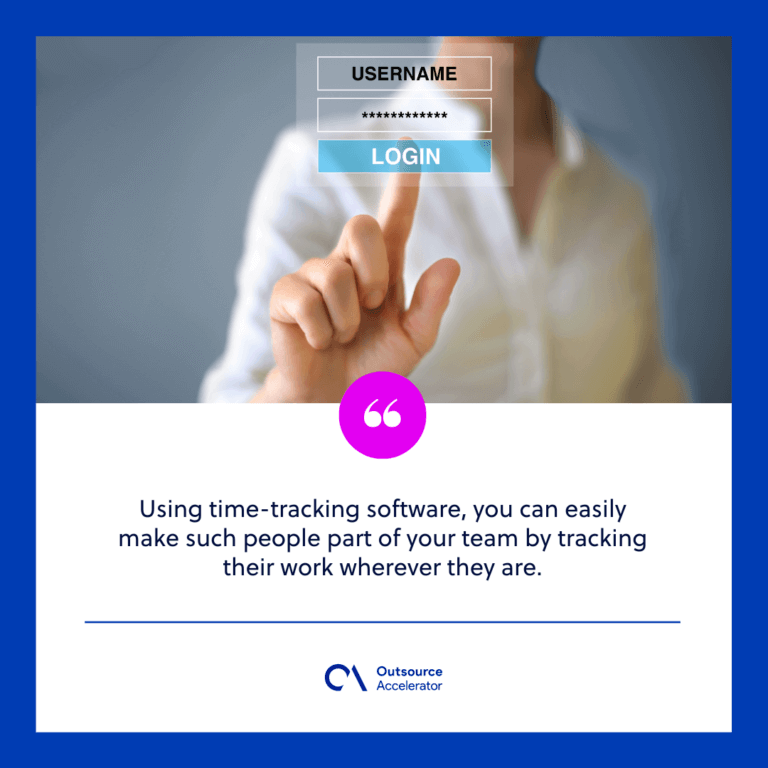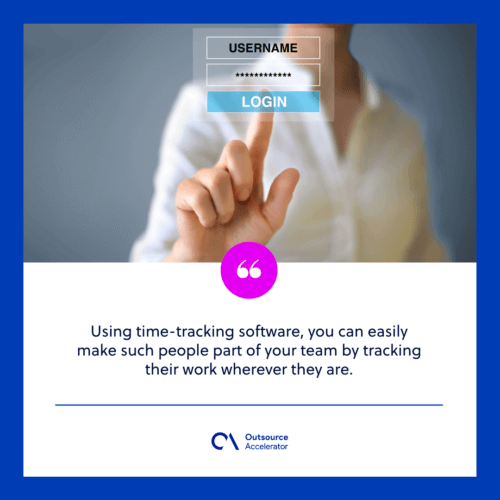 Visibility and alignment across different states and countries
When your employees work from different cities or even countries, it's crucial to understand how each person works individually to align their work across the entire team so the workflow is smooth.
Time tracking software works as a time and attendance app, scheduling and planning tool, and gives you clear insight into your team's activity in real-time.
Accurate payroll
Whether you're paying your remote employees a fixed hourly rate or a specific amount for a project, you need to keep track of billable time.
After all, not all activities are always work-related and your employees may not be aware that they're wasting time on unbillable or unproductive tasks.
Time tracking software helps you keep payroll under control and maximize profits by providing you with accurate reports and data on the payroll. Also, you can easily avoid debt thanks to the budgeting feature that helps you stay on financial track.
Centralized hub for project management
The right time tracking software can work as a unified system not only for monitoring time tracked but also for a solid project management hub. Especially when integrated it with other tools.
You can then adjust such a system according to your needs to have all the features you need – time and budget tracking, attendance and leave management, invoicing, reports and accurate timesheets, task and project management, payroll control, and more.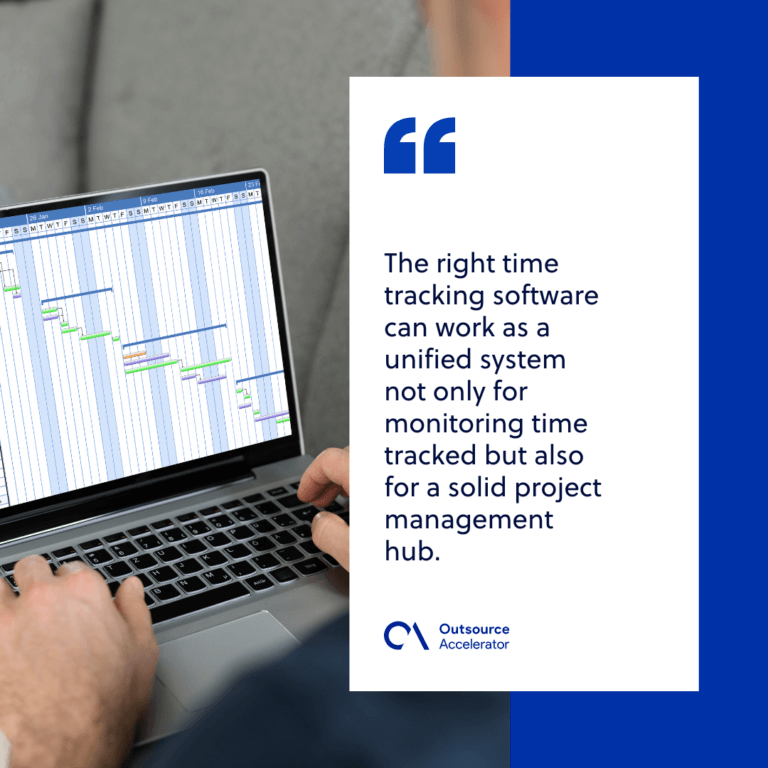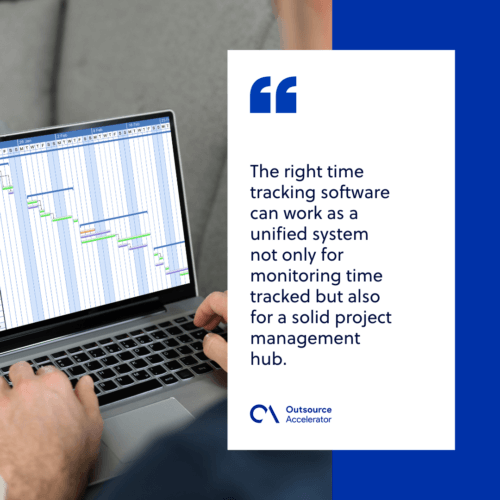 Smooth & quick timesheet approval process
Nobody likes timesheets. Filling them in takes time, it's a monotonous activity, and it's easy for mistakes. And making sure all numbers add up is even more difficult when you manage a remote team.
Luckily, time tracking software eliminates this problem. How? It's really simple and convenient! First, the tool automatically collects all the data.
Then, it creates the timesheets. And the person responsible for timesheet approval can quickly examine the data, and approve or reject the timesheets with just one click. It's as easy as pie!
Work automation
No more wasted time on micromanagement! Time-tracking software literally automates work. And here's how:
Automatic time tracking

eliminates the need to manually fill in timesheets

If you choose the right tool, you can automatically generate invoices – that means saved time and no mistakes in documents.

Integrations make it easy to work across different apps

You can eliminate tedious paperwork and administrative tasks. All you have to do is to monitor the figures directly in the app

All work is automatically documented in the

detailed reports and timesheets

And so, your team can focus on their work and be more productive.
Better communication with team and clients
Time-tracking software can tremendously improve your communication with clients. And that is especially helpful for managers working with remote employees, who may not always be available to update you on their work.
You can share timesheets and activity reports with clients. That way they are always informed about the progress of the project and have insight into your team's work.
As a result, communication with clients is at the highest level because they always know what's happening with their money and resources.
How to use time tracking software – The best practices
Now that you know the benefits of using time tracking software for remote employees, it's time you learn how to actually make it work.
It seems to be easy but there are a couple of things you should consider when implementing the tool. Let's take a look at the best practices!
Laws and regulations
Every state and country has different labor laws concerning work hours. So, you need to make sure you're using law compliant time tracking software. But don't worry, most of the tools are fully compliant with global laws so you don't have to worry about breaking the rules.
Privacy
There's a lot of controversy surrounding the subject of time tracking. For some, it is equivalent to spying on employees. But in reality, it's a fantastic way to improve employee productivity. All you need to do is to give your employees flexibility by implementing the right tool and treat them respectfully.
After all, time tracking software is a technology that is there to save them, not spy on them.
Some tools offer the feature of screenshots but it's not necessarily the best way to track your remote employees' work. If you want to spy on them, sure, go ahead! But in the real world, this practice proves to decrease remote staffs' performance and harms their morale.
Of course, screenshots may turn out to be good in some cases, for example, if your client needs the proof of work or it motivates your team. But other than that, it's best if you avoid this feature.
👉 PRO TIP: Everything works differently for everyone. Thus, you can enable the feature of screenshots for your remote team and let them see how it works for them. Don't make it obligatory but rather treat it as a productivity experiment.
Technical requirements
It's worth considering the more technical aspects of the software:
Will it work properly on all devices?

Will it

integrate with other apps and tools

used in your organization?

Will it be easy to use?

Is it available as a

desktop and mobile app

, and in a cloud version?
A lot of software has a nice design and original features but they may not necessarily correspond to your business needs. Luckily, there are plenty of tools to choose from.
The ultimate reason
Before you implement time tracking software to manage your remote team, you need to ask yourself a few key questions:
Why do I want to use time tracking software?

Do I really need?

Does time tracking align with my business strategy?

How will it help my business?
Make sure to know why you want to use time tracking software for your remote team. Implementing it for the sake of having a fancy tool will bring more harm than good.
The human factor
Time tracking software is technology but you need to remember that team members of your remote team are just people.
So, bear in mind to make them feel like they are part of this team, appreciate their work, be respectful and above all, maintain good communication.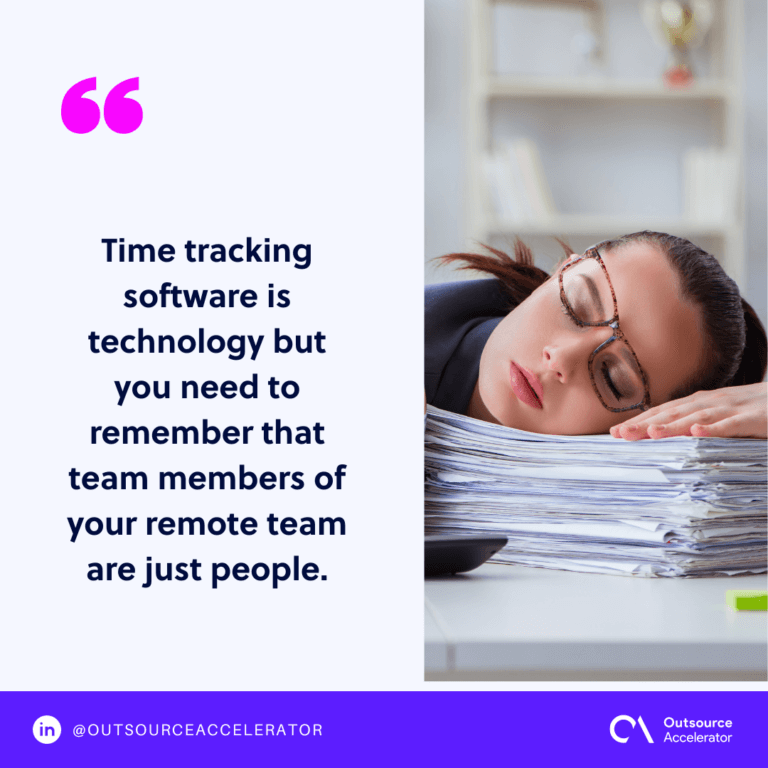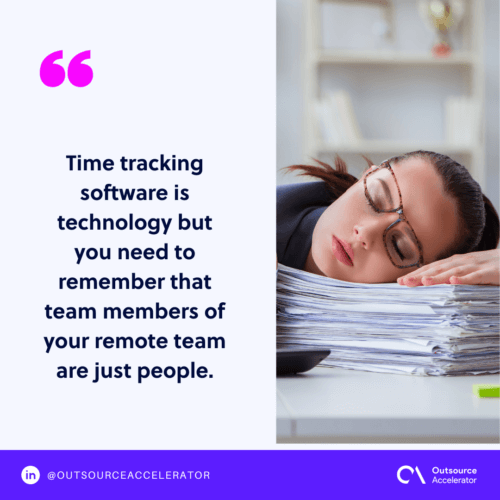 Conclusion
Now that you know everything about using time tracking software for remote employees, it's high time you implemented it in your company!
It will make your team productive, maximize profits, and help you always be on the clock!