Rankings Revealed: Top 25 Software Outsourcing Companies in 2023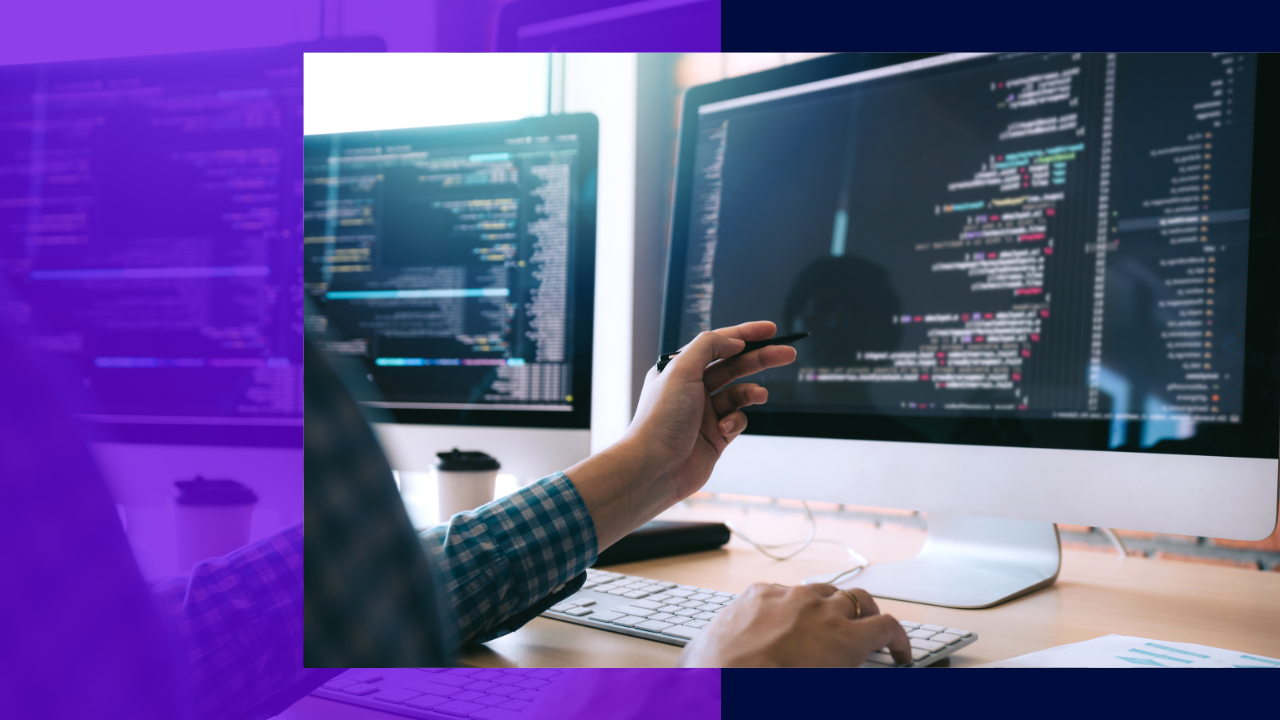 Many businesses worldwide depend on software outsourcing firms to access expert computer programmers and software engineers with diverse technical skills.
Software outsourcing companies are professional development partners that can deliver secure and unique software solutions, ranging from intelligent optimization of pre-developed platforms to full-cycle custom solutions.
As more companies adopt cloud computing services at work, software development outsourcing will continue to be on-demand worldwide. If you're planning to delegate your software development services offshore, look no further. We have listed the top software outsourcing companies below.
What is an outsourcing company?
Companies that offer third-party services are known as outsourcing companies. The client hires them to complete certain projects or fulfill full-time roles for them. Outsourcing companies are essentially distributed workloads and are typically located in a different country or city. 
These days, businesses can outsource almost any business function possible. Anything from software development to customer service could be easily outsourced.
What is a software outsourcing company?
Software development outsourcing is the practice of an organization delegating software and IT support functions to a trusted outsourcing provider.
Working with a third-party development team with specialized skills and experience is part of software outsourcing services. Outsourcing software development firms help businesses produce high-quality software products at a more cost-effective cost.
Why outsource software development services
Outsourcing your software development services gives you direct access to a pool of highly qualified candidates. You won't have to stay limited with your choices since you can tap the best talents in outsourcing destinations such as India and the Philippines.
What's more, outsourcing software development companies can offer all-in services you would need to develop your systems. You get to save a lot on operational costs compared to handling this function in-house.
This advantage enables your company to begin application development more quickly, reduce errors, and deliver a high-quality, validated software product to your intended users in less time.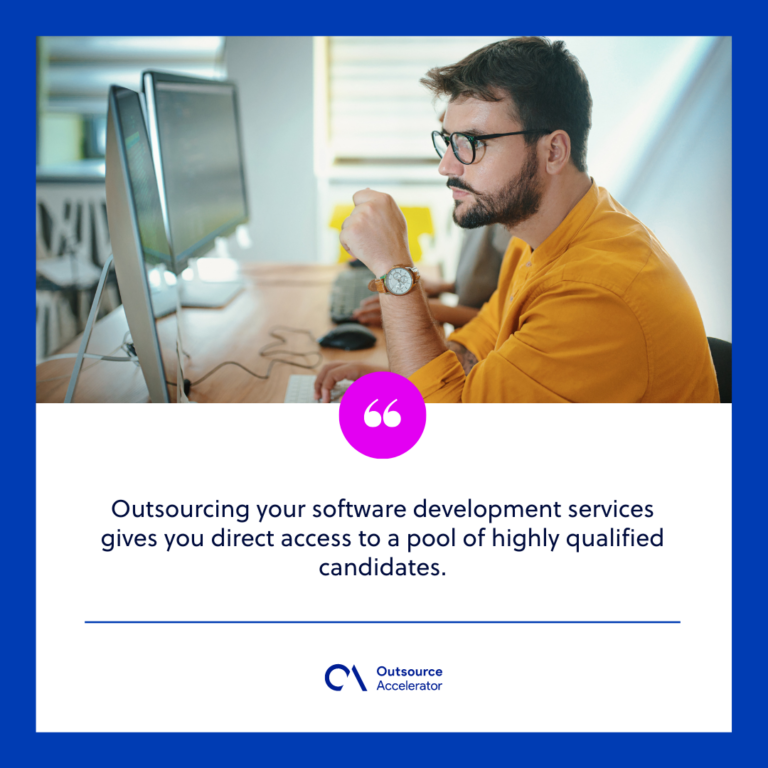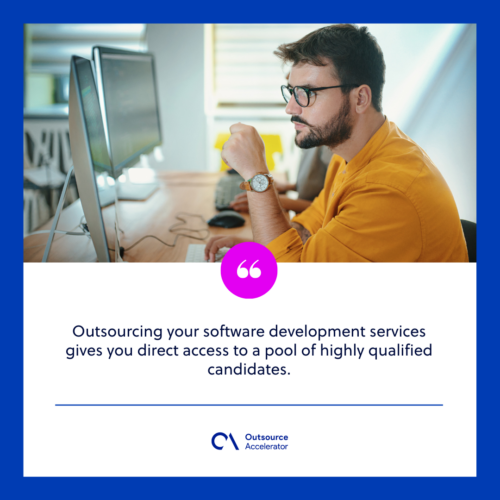 Top 25 software outsourcing companies
We've curated the top software outsourcing companies below. Find your ideal partner for growing your business from our list
Arcanys is a leading Swiss software development outsourcing company. The company specializes in assembling highly trained and committed development teams for startups and existing companies in need of reliable apps.
Since 2010, the firm's software development center has been owned and operated by two wealthy entrepreneurs. They have project-ready engineering experts who will work in strict accordance with your needs and objectives.
Saigon Technology is the leading Vietnam-based Agile software outsourcing company in Vietnam, established in 2012. Through hard work and dedication over the last decade, Saigon Technology has grown to four different continents with 400+ software engineers.
Saigon Technology is specialized in providing professional Offshore Software Development and Software Outsourcing Services with ISO 9001 and ISO/IEC 27001 and a mature development process which offers seamless communication to clients.
Our mission is to deliver the best and most cost-effective Agile software development offshoring and outsourcing solutions to customers in areas. The team has supported clients in a wide range of sectors, including banking, finance, e-Commerce, medical services, manufacturing, import/export, logistics, and more.
US-based ScienceSoft is the best option for midsize and large companies looking for a reliable and well-rounded IT partner.
Trusted by market leaders like Walmart, Deloitte, IBM, Leo Burnett, the company is known for their deep expertise in complex enterprise solutions and IoT, big data, AI/ML. ScienceSoft maintains ISO 9001 and ISO 27001-certified quality and security management systems.
Over 33 years in IT, ScienceSoft gathered a passionate team of 700+ experts – project managers, consultants, solution architects, developers, testers, DevOps engineers, and more – that completed 3,300 projects for 30+ industries.
Clients describe ScienceSoft as proactive, energetic, and collaborative people that are laser-focused on bringing tangible business value.
Techuz is a leading software development company that has been providing innovative and customized solutions to businesses since 2012. With a team of over 75 experienced developers, DevOps engineers, and designers, Techuz has established itself as a trusted partner for companies seeking to grow with technology.
The company serves a range of clients including startups, small and medium-sized businesses, and large enterprises across various industries, including healthcare, finance, education, and e-commerce. To date, they have delivered over 200 projects and completed over 100,000 hours of work.
Techuz' area of expertise includes the leading web technologies such as Angular, React, Vue, Node, Laravel, .NET, and Java; mobile technologies such as Kotlin, Swift, Flutter, and React Native; databases such as MySQL, PostgreSQL, MongoDB, and MS SQL; cloud computing technologies such as Amazon Web Service and Microsoft Azure.
Flatworld Solutions (FWS) is a multinational company that provides IT, business consulting, and outsourcing services.
The firm was incorporated in 2004 with the single-minded goal of using technology to equip and allow companies worldwide to improve productivity, reduce global distances, save time, and increase bottom lines.
SumatoSoft is a software development company that follows the principle of transparent cooperation and excellence of work.
SumatoSoft helps to digitalize the businesses of its clients in two ways: by providing exemplary web and mobile development services and by bringing innovations like the internet of things, blockchain, and the SaaS model. 
Glorium Technologies is a full-cycle app and software development company that serves specific client business needs and trying to manage them via the best possible technology solutions.
The company provides tech startups with the strategic & technical expertise they need to build their vision for less. With in-depth knowledge in many industries, Glorium will work alongside your team, assisting in creating sophisticated software solutions and getting to the market faster.
e-Zest is an internet technologies development partner for businesses, government agencies, and software companies. This software outsourcing company believes that growth and creativity come from a consistent emphasis on learning, collaboration, and results.
Baires Dev is a fast-growing Latin American technology solutions business. They provide end-to-end distribution for businesses of all sizes, from startups to some of the world's largest companies.
Baires Dev has been recognized as one of America's fastest-growing companies for many years in a row. In addition, they also collaborate with companies such as Google, Rolls-Royce, Pinterest, EY, SiriusXM, Motorola, ViacomCBS, and Chime.
Itransition offers customized services ranging from business process inquiry and modeling to systems engineering to allow integrated digital enterprises in which all systems work together.
Clarion Technologies is a web-based solution provider that is transforming companies. In an increasingly interconnected world, their web development experts architect, create, automate, and manage all web processes and applications using a wide range of technologies. 
Clarion developers have extensive experience in various frameworks and applications, from designing software and managing powerful web applications to creating a web presence and building robust e-commerce platforms.
Kanda Software is a reliable technology partner that helps businesses meet regulatory and growth challenges quickly and efficiently.
They have extensive expertise and knowledge in enforcement, implementation standards and protocols, and protection needed to create high-quality solutions customized to their client's business needs.
Web Mavens is an India-based web application development company in Austin, Texas, and Cebu City, Philippines. It is a dedicated development center that offers custom web applications, e-commerce websites, website design, content writing, digital marketing, and maintenance and audits.
Additionally, they take pride in their expertise in the cloud design experiences, delivering analytics, and creating applications that assist our clients in achieving their goals.
Aalpha is an India-based ISO 9001-2000 certified software outsourcing company. 
Founded in 2005, this firm provides expert offshore outsourcing, software development outsourcing, custom application development, outsourced product development, e-commerce and wireless/mobile solutions to clients all over the world.
Global BrainForce is a software development company that specializes in personalized and customizable outsourced solutions for fast-growing technology companies worldwide.
The firm assists its clients by offering a comprehensive range of technology and software solutions, such as Dedicated Developers and Custom Development Services, based on their decade of knowledge and expertise.
Sagesoft Solutions, Inc. is an information technology firm that provides consulting, application development, technology, and support to small, medium, and large businesses. They are committed to helping their clients achieve success through cloud computing and providing them with the right strategic information system to give them a competitive advantage and help them improve.
Through quality IT services, strong channel growth, and innovative products, Sagesoft is seeking to become the top IT provider of cloud and open systems solutions.
VironIT is a software development outsourcing business that specializes in providing end-to-end web development services. The development of mobile apps, internet software products, enterprise software solutions, software configuration, upgrading, support, and maintenance of existing applications are among the company's core competencies.
Hireplicity is a custom software development firm based in the Philippines with a leadership team based in the United States. When it comes to software development, they prioritize producing high-quality, scalable, and maintainable code. 
Admios is known for solving complex technical problems with high-quality, defect-free code. This software outsourcing company uses the latest and innovative programming techniques to develop its projects and frameworks.
Ingenuity Global Consulting, Inc. is a leading complete software firm that offers customers worldwide software outsourcing, technical support, and corporate solutions. Ingenuity is a team of pragmatic developers who believe in a smart, growth-oriented process of designing clients' products.
Some of their expertise include investing heavily in design, iterating quickly to test concepts, and achieving excellence in every line of code.
Crayon is a leading company in information and electronic transformation services, with the world's first independent cloud economics and total cost of ownership practice. Many of the world's leading organizations regard Crayon as a trusted advisor.
Crayon assists its clients in maximizing their return on complex technology investments by using its unique people, software, and systems.
It has extensive partnerships with all of the world's foremost software publishers and extensive expertise in volume software licensing, cloud adoption, digital computing, machine learning, and predictive analytics.
Softengi is an organization that has been using best practices and principles for a long time. This digital transformation firm has been in the IT industry for over 20 years.
Since they effectively transformed their own business to digital, they are uniquely qualified to convert yours. They know how to understand your business goals, solve problems, and have solutions.
KODA Kollectiv is a software development firm composed of experienced developers, creative designers, capable project managers, and diligent QA analysts and testers. Over the past eight years, KODA has partnered with many clients from the United States, Canada, Australia, and Asia. 
Datacom is one of the most prominent specialists IT services companies in Australasia. This software outsourcing company has vast experience in contact center operations, data centers, IT services, software engineering, program management, payroll, and customer support design and operations.
Skelia is a global leader in establishing cross-border IT and engineering organizations in Eastern Europe and affiliate companies. 'The firm has been providing workforce augmentation services to a wide variety of clients for over a decade, from startups to Fortune 500 firms.
They have offices in Luxembourg, the United Kingdom, the Netherlands, Ukraine, Poland, and the United States.
Top software outsourcing companies in the world
Reach out to us if you're included in the top 25 software outsourcing companies list. If you have anything to share with us or if you have any questions regarding the best outsourcing company to choose, feel free to contact us at [email protected].
Further, if you want to know more about Outsource Accelerator, browse our website and services here.