Definition
What is software outsourcing?
Software outsourcing is the process of contracting IT professionals specializing in software development. 
Software outsourcing providers, particularly BPO companies, usually offer custom software solutions according to their clients' requirements. 
IT outsourcing has been an ongoing trend in the past and will continue to be among the top outsourced services in the coming years. 
In fact, as per Statista reports, the total revenue from the public cloud market is valued at 482 billion USD. The software as a service (SaaS) market reached over 145.5 billion USD in 2021. 
Today, the IT industry predominantly leverages outsourcing. Outsourcing software development provides several benefits to companies of all sizes and industries. These benefits include cost savings, increased productivity, reduced risk, and greater security.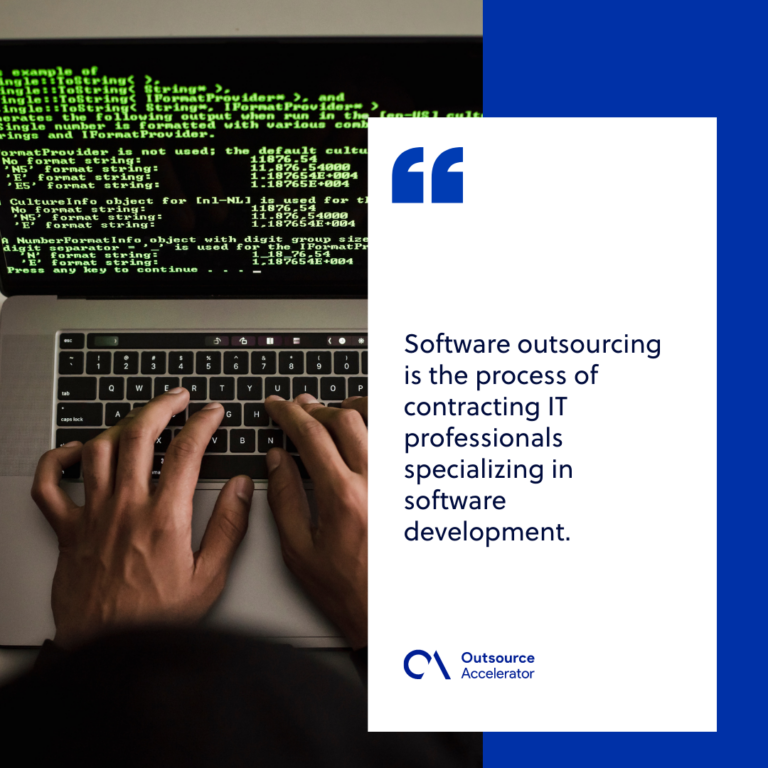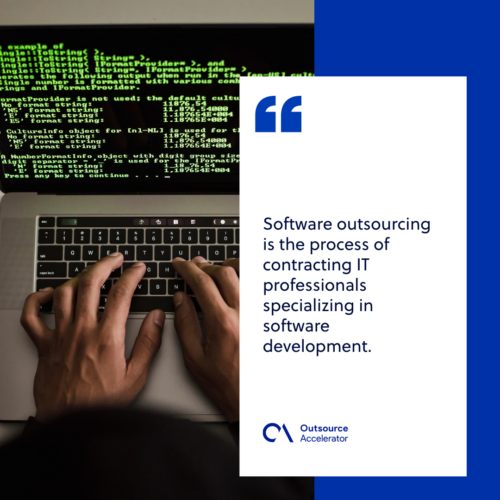 Types of software outsourcing
Outsourcing the creation, testing, or maintenance of a software product can be done in various ways.
Onshore software outsourcing
Onshore outsourcing is the practice of client organizations collaborating with software development teams based in the same country or region.
Offshore software outsourcing
It is the process of developing software for use in your nation using the services of a team situated in a foreign place.
Nearshore software outsourcing
Nearshore software development firms are in countries with similar time zones or those with minor time differences.
Importance of software outsourcing
Companies greatly benefit from software development, particularly corporate software and mobile app development. These tools help streamline their internal and external processes. 
When you outsource your software development, you have rapid access to a pool of highly skilled candidates. This enables your organization to begin application development more quickly.
Hiring skilled software developers reduces the risk of errors. These software developers provide high-quality software solutions customized to your target consumers in less time. 
IT decision-makers and company owners are increasingly turning to outsourcing providers to make their organizations more agile and efficient. Companies can focus on their more critical tasks and keep long-term strategic initiatives on track.
If you want to elevate your business, consider investing in software development in tandem with digital marketing.
Why you should try software outsourcing
One of the leading trends in software development has been outsourcing. Even experienced software engineers opt to acquire the assistance of outside developers. This helps them protect their projects against data breaches and reduce the chances of hacker assaults.
Here are some key reasons why well-established organizations should consider software outsourcing: 
Onboarding costs are lower
The procedure for hiring a new team member is complicated and time-consuming. Outsourcing software development skips this step and ensures that you have experienced professionals committed to completing your requirements.
Time management is more efficient
Being agile to market is critical in a competitive digital economy where there is little tolerance for error. 
Your product will be ready for consumers in no time if you have a specialized software development team. And this is not just your regular team; these people are adept in terms of project management and are also dedicated to building agile solutions.
Domain knowledge is available
Entering new markets is incredibly challenging for organizations. Robust software outsourcing firms with interdisciplinary extended development teams provide a range of framework competencies. These competencies include JavaScript, React Native, and.NET, allowing them to position your company for future growth.
It increases customers' engagement
With the help of software outsourcing, you may enhance customer experience on your website and application. In turn, your valued customers will choose to stick to your brand rather than your competition.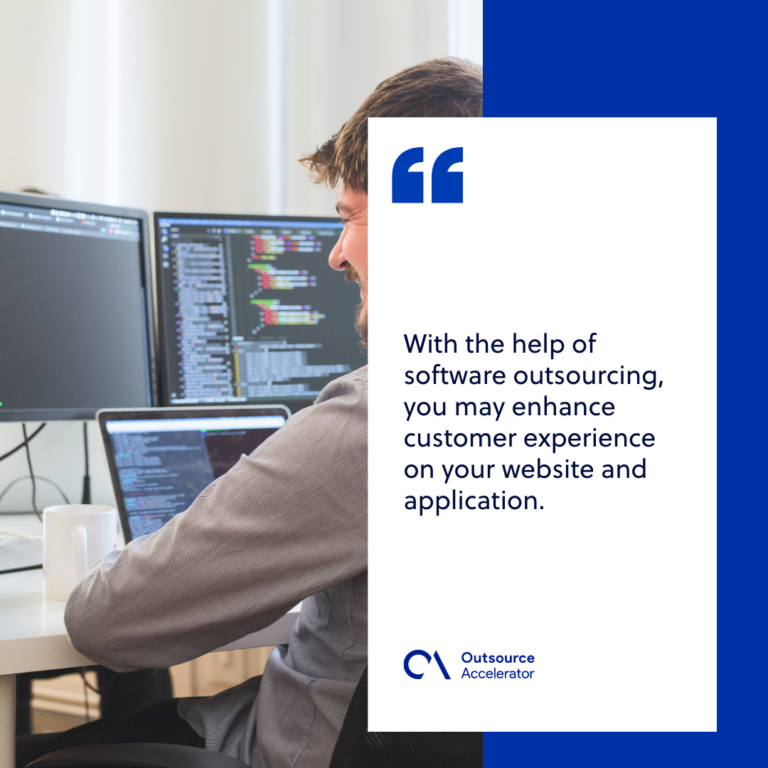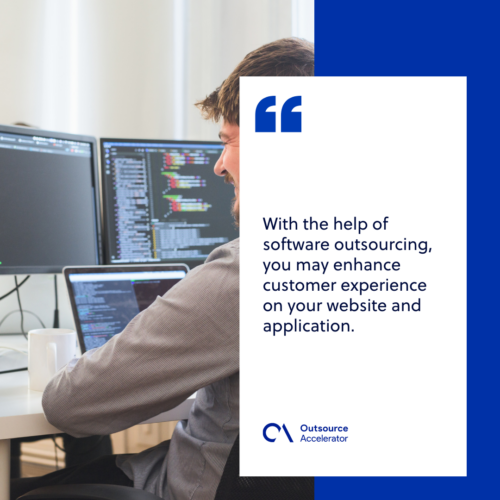 Top outsourced IT services 
IT outsourcing has a wide range of services and specializations. Besides software outsourcing, below we have outlined other commonly outsourced IT services: 
Web development
Web development is the process of designing, developing, and managing websites. It includes web design, web publishing, web programming, and database administration.
Hosting
Web hosting is a type of online service that allows you to publish your website or web application on the Internet.
App development
Software and application development creates and maintains applications, frameworks, and other software components by conceptualizing, specifying, designing, coding, documenting, debugging, and resolving problems.
Technical support
Technical support is the action given to a user who needs assistance with a specialized product or service, whether it's hardware equipment or software
Database development and management
Database development and management covers database design, access, implementation, application development, and management and data analysis for business intelligence.
Telecommunications
Outsourcing telecommunications include building infrastructures or implementing programs to facilitate the smooth electronic exchange of information across long distances for voice, data, and video transmission.