10 Tips to increase productivity within outsourced teams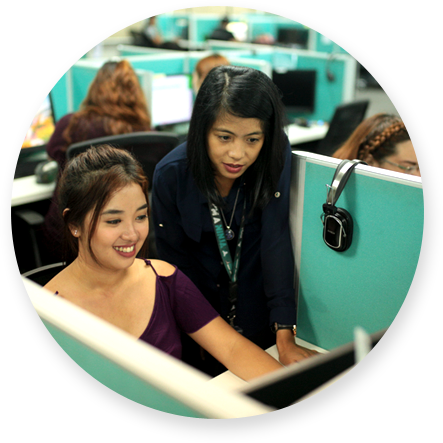 Both domestic and overseas outsourcing is becoming more and more common these days, as companies spanning numerous sectors have become increasingly reliant on the expertise of agents outside of their own business to complete various services. IT outsourcing, for example, is at its highest percentage in five years as companies increase the work that they assign to outside providers—large, mid-sized, and smaller companies all included.
Most commonly, businesses choose to outsource one or more of their daily operative functions because it helps to cut costs, but the next most cited reason that organizations pursue outsourcing is to enable a greater focus on core business needs and operations.
However, with the increased use of outsourced services comes a new set of questions for businesses—how can they make their outsourced employees more productive? While outsourcing can be an effective strategy for businesses in numerous industries, the tactic means little without effective management strategies to ensure that work gets done.
1. Create a pyramid of management to streamline communication. Assigning leaders and project managers within your outsourced groups are one of the best ways to organize your workflow and maximize your time, especially if you are outsourcing more than one sector within your business or if your outsourcing team is particularly large. This also reduces the number of people who will report to you each day.
Additionally, this leadership delegation encourages productivity by introducing a chain of accountability. It's much easier for members of an outsourced team to feel motivated to work if they have a more direct relationship with a manager who can act as their representative during larger-scale meetings.
2. Keep tasks simple. Planning becomes more difficult and progress is frequently halted when you begin to outsource tasks too large. Not only do larger tasks risk being less defined, but they can overwhelm your employees to the point that completed work isn't up to par or delivered in a timely manner.
As a general rule of thumb, break down tasks and goals into pieces that can be accomplished in a single day. Not only will this encourage a sense of achievement and satisfaction that leads to higher productivity, but keeping tasks small and simple also encourages more specificity in goal declaration.
You might, for example, implement a system dividing tasks into something akin to T-shirt sizes. A small task may take one or two hours, while a large task could take up to eight. Create a system that works well for you and your company's output—no matter the specifics, setting an expectation of how much time employees should be spending on any individual task can keep your team focused while also communicating priorities and encouraging better time management.
3. Meet and communicate frequently with your team and their managers. Management of teams large and small relies on effective communication. Without it, it's impossible for you to relay expectations to your team or make the changes necessary to improve.
Daily roundup meetings, for example, can start the day off on a good note by bringing group members together and putting them in the mindset for a productive day. Some managers prefer to meet at the end of the day instead, recapping accomplishments and setting goals and expectations for the following day's work.
In some cases, time zone differences or other factors make daily meetings impractical for outsourced teams. If this is the case, weekly gatherings might be more efficient—the point is to find a balance that works for your team and your needs. As long as some regular structure is in place to encourage a habit of healthy communication, your projects are at much less risk of stagnating.
4. Implement flexibility into the daily schedule. While this maxim is even more important when outsourcing work overseas, even domestic outsourcing can mean differences in time zones exist within your team. Your eight-hour workday in the office won't be the same for every member of your outsourced team, to ensure that workflow is organized in such a way that your employees can work at times that are most comfortable and productive for them.
Dictating work hours and micromanaging the timing of your outsourced employee's workday is a recipe for disaster. Maximize your team's efforts by ensuring that they're able to work when they feel the most energized and motivated.
5. Show your gratitude and reward good work. The importance of saying "thank you" cannot be understated when it comes to maximizing productivity. The fact of the matter is that people like to feel appreciated. Even the simplest gestures of gratitude can go a long way towards encouraging better work and higher rates of motivation.
To really amp up your team's productivity, try introducing incentives or friendly competitions as rewards for particularly outstanding effort. Not only are incentives a great way to encourage a better work ethic, but they provide more opportunities for you to demonstrate involvement with your team and express your appreciation.
6. Encourage accountability with online collaboration tools. When working with employees remotely, implementing the proper tools into your management is key. This can be as simple as utilizing free online services such as Dropbox and Google Drive, or it can mean shelling out a bit of money for more advanced options like Basecamp. Any investment is certainly worth it, because collaboration via social technologies could be responsible for raising productivity by 20-25%.
You may also try using a service like Evernote to encourage each member of your team to maintain a daily "journal" of sorts, listing to-dos at the beginning of each day and finishing the workday with a brief summary of what was accomplished that day.
Links to completed work and something as simple as bullet-style updates not only provides you with an overall look at how your team is progressing, but it encourages them to spend their hours more wisely when they know that they'll have to report their accomplishments each day.
7. Keep everyone on the same page. Expanding your workforce to include outsourced teams means that it can become more difficult to wrangle these groups of people separated by time zones and physical distance, so take measures to ensure that the entirety of your team is up to date with expectations and working towards the same goals.
Ensuring cohesion within and between your outsourced teams is essential to accomplishing valuable work.
8. Ensure that your large-scale goals are clear, and remind your team of these goals frequently. This can be accomplished with the development of a solid, achievable mission statement or by creating a single sentence for each project which clearly defines the task's purpose and its overall role in achieving your company's goals.
Understanding the "why" of each task makes it much easier for your team to remain engaged with your company and to feel like they're a part of the team, even from a longer distance.
9. Use video chat technology to your advantage and take the opportunity to connect more personally with your team. Tools like Skype and Zoom exist for a reason, so use them! Ensure that you take every opportunity to appear on video during meetings and roundups.
Associating a face with a name and a voice is one of the best ways to make you seem human to your virtual team, and that can go a long way when it comes to productivity and motivation. It's easier to work for a smiling face rather than a nebulous voice that speaks only through text and emails. These video calls may also help to create a sense of community that's difficult to achieve through email threads alone.
Plus, utilizing video can provide the illusion of shortening the physical distance between you and your outsourced employees.
10. Be a decent human being. While this should go without saying, it can be easy to forget that your outsourced employees are people, too. When you don't see these individuals every day or work alongside them in person, you run the risk of subconsciously categorizing your team as something closer to an army of robots rather than living, breathing humans with lives just like yours.
Make sure your team feels valued and respected despite their remote position. If a team member is forced to take a day off due to illness, check up on them. If someone has just returned from vacation, ask about their travels. Listen to your employees and their concerns. Friendliness is a motivator in and of itself—no one wants to work for a manager or boss who sees them as only another virtual tool.
Treat your outsourced employees the way you would want to be treated, and productivity will soar—no, really! Survey data has revealed that happy employees' productivity was boosted by about 12%.
Utilizing these strategies when communicating with and managing your outsourced teams is not only likely to increase productivity, but also will help to improve your relationship with these teams. Satisfied employees who feel valued and connected to their boss and the remainder of the company will be more likely to perform at a level that meets expectations and to feel motivated to go above and beyond during their daily tasks.