Jas Anand – Asiatel Outsourcing Services and Benefits
Last updated August 30, 2019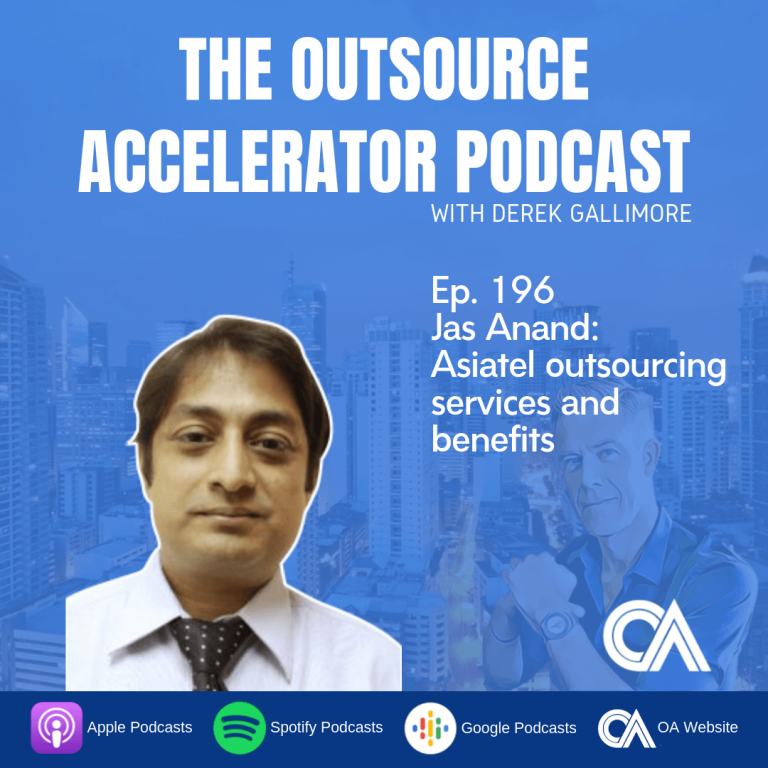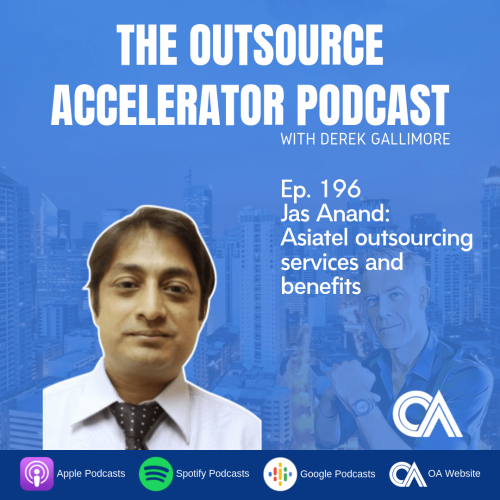 Derek welcomes to the show, Jas Anand, Vice-President and Director of Asiatel Outsourcing.
Jas has been with Asiatel for the last five years and has been living in Manila, Philippines, all these years. Jas comes from India and used to work in the banking industry before joining the BPO industry.
Summary
Jas impression on the Philippines outsourcing industry is that the country has established itself as a leader for the voice segment while India has a better software development skills.

According to Jas, customer service is very natural to Filipino, and this is one of the values that stand out, excellent customer service. The arts, culture, and design talents are very vibrant as well.

Asiatel is a solutions company and help the client in setting up an offshore team in the Philippines where there is efficiency in talent and resources, plus diversity. They offer three products like total outsourcing package, managed operations, and set-leasing or co-working spaces.

Key Performance Indicators (KPIs) are being determined to check the performance and relevance to the client of the outsourcing engagement.  The KPIs are adhered at the pilot phase of six months, after which the engagement may expand to higher operational objectives that will bring added value to the business.

Jas observed that the outsourcing business model has shifted from the primary model of total outsourcing where there is more delegation of control, to managed operations model, where there less control and more participation by the client. This somehow transforms the BPO into a true back office, offshore office for the client, not just an outsourcing company.
Key Notes
Over the years, the BPO industry is evolving and providers remain competitive by securing leadership in specific core competencies which maybe voice, non-voice, or a combination of both.

From the primary model of total outsourcing engagements where there is more control in operations, there is an observed trend for the managed operations model and more participation of he client in the operations.

With more participation of the client, and as engagement activities expand, the outsourcing company somehow becomes the back office, or offshore office for the client.
Reference:
[read more="Read Full Transcript" less="Hide Transcript"]
Hi, and welcome to another episode of the Outsource Accelerator Podcast. This is Episode No. 196. So today I'm talking to Jas Anand of Asiatel Outsourcing. So, Jas is the Vice-President and Director of Asiatel Outsourcing.  We actually had his MD and CEO who is Shafi in Episode No. 191. In that episode we actually spoke about the origin story of Asiatel Outsourcing. It is a fascinating story, started in 1997 as a telecom company in Hong Kong. So, it's interesting to see how a lot of these outsourcing service providers originally evolved from being their own captive shared services solutions. So, an interesting story. With Jas we'll talk more about outsourcing models, the services they offer, the differences between the two, and how clients can benefit from these. So, this isn't an infomercial. This isn't selling their services. This is giving insights for you out there, for the business owners, how outsourcing, or how you can best leverage outsourcing for your own gain, for your own benefit. So, it's an interesting episode and I learned a lot. So, if you want any of the show notes, if you want to get in touch with Jas or Asiatel Outsourcing, then go to outsourceaccelerator.com/196. Enjoy!
Hi, and welcome everybody! Today I am joined by Jas Anand. Hi Jas, how are you?
Jas: I'm doing good Derek. How are you?
Derek: Fantastic! So, you are the, allow me to introduce yourself, but you are the Vice-President and Director of Asia teleservices, and we actually had the group MD, CEO and founder Shafi Aboobaker on previously to talked about Asiatel Outsourcing and the parent company. But today I got you on a phone call, and I want to deep dive with you a little bit more specifically about Asiatel Outsourcing and how it differentiate itself from the other outsourcing suppliers and the different service models, and a little bit of your background. So, thank you so much for joining us. I supposed initially would you want to introduce yourself, maybe a little bit better than I have?
Jas: Okay. Thank you Derek. Yes, my name is Jas Anand. I'm mostly known as Andy, that's my nickname. So that looks very like here in the Philippines. I have been working in Asiatel for the last five years. And formerly one of my mandate was to grow the outsourcing business. And we have been able to do that in the last three and a half years in particular. Before this I was actually in banking in India. And it's been a very interesting ride with Asiatel Outsourcing. Now your other question was how do we differentiate ourselves from the competition?
Derek: Yeah. I suppose just to take it back a little bit, like, a little bit about you, your now based in the Philippines, is that correct?
Jas: That's right. You know, I live in Manila for the last five years.
EXPLORE OUTSOURCING: GET 3 FREE QUOTES
Derek: Right. You actually came over here for the Asiatel position to manage the outsourcing, yeah.
Jas: That's correct. That's correct. So the group wanted to expand the Asiatel because as you know as Shafi mentioned in his interview that he have been here for 12 years, but in initially we will actually a captive center and then, because we saw that there is a talent here, we already have a base, now we want to take this talent and the space to the third party clients and that's where the ambition of our chosen came in, and that's where I came in here to manage this business.
Derek: Fantastic. And what was your experience as you move to the Philippines five years ago? Because there is quite a lot of competition between India and Philippines. They are the two outsourcing kings, I suppose, if you will. Same here the Philippines has different skillsets, pros and cons to India, but your first impressions of the Philippines and the skill sets available here?
Jas: My first impression as I think, which is now probably a quite essential matter in my own understanding and as I speak to my other colleagues that the Philippines has established itself as a leader for the voice segment. So whichever involved voice, it's kind of moved here while India on the other side has a better software development skills. So, the KPO applications and software management, a lot of that work has grown in India having said that both countries do the other side also. There is a lot of NLC and development here, and the white still happens to be done from India. But somehow what I see here is that the voice has been now Philippines core forte.
Derek: Yeah. It seems that doesn't have anything to do with voice customer services. More of the sort of relationship kind of activities, but also possibly kind of more creative. So, design, graphics, editing, things like that…
Jas: Agree. I think two more things which stand out here is I think courtesy or what do you call the customer service. The essence of customer service I think is very naturally to Filipino culture. So, even if you go out to a restaurant or to a mall, what you get as a customer service comes naturally. So that part I think is very strong here other than voice. There's a natural tendency of customer service and designing, as you rightly said. I think I would brought basic, I think all arts and culture as a whole scene is very ready, very vibrant here. So, designing is one element that can be used for outsourcing.
Derek: Yeah, absolutely. And then, so it's Asiatel Outsourcing that as you mentioned, was a captive effect servicing for your own telecom parent company needs, but then you thought you could basically package those and sell them and sell alongside that your own expertise and commercial insights into outsourcing. So where have you found your niche in terms of that regard? So, I see on your website that you use, you kind of highlight two different service provisions that maybe we could talk about. One of them being effectively a seat leasing proposition and then as you put it, it's the total outsourcing. Now the total outsourcing as I see is basically the old school outsourcing, how all used to be and it was kind of deliverable based as opposed to buying man hours. But it seems, and I think they have the good old days really where it becomes more of a true partnership. But could you maybe speak on that, the differences between the two service offerings and the program?
Jas: There are three service offerings, actually. But before I come to service offerings let me first give you a little insight into how we really differentiate ourselves. See our preposition, we are not into product selling. So, when we say we are not in the product selling, is that when we approach a customer, we don't talk call center, we don't talk tele sales, we don't talk customer service. That's not the language we use. We are white products, we sell solutions to them. So, when we meet the customers, whether it's on phone, emails or on personal visits, our core proposition to them is that we will help you set up your offshore team in the Philippines. So that's how we present the proposition to us that if you're a company in Singapore, Hong Kong, US, Canada, who's looking for your written efficiency, save costs, bring diversity, then we can be your offshore partners in the Philippines.
Jas: So, this is the core preposition. Now often this core proposition arises the need for three different products, which is like a waterfall. So, we have customers who are big in size and they want to let's say give the classical total outsourcing A to Z, that they have given us the mandate and we executed. So, for those kinds of customers as a waterfall, what comes out is total outsourcing. Then there are some customers who are from the new generation industry. Like, we have some companies with mobile Apps. We just signed up a big customer from Japan for Fintech. Now some of these customers, because they are from new industry, their need to be involved in operations is pretty high. So, another kind of a product comes out that is managed operations. So, what we do in managed operation is we provide them the entire periphery[?], which is getting them the agents or the manpower, recruiting, the payrolls, bring all the statutory responsibility, the office, workstations, Internet, IT support, everything we provide them…
Derek: And also, for finding and recruiting the members for that.
Jas: Of course, of course HR and Recruitment is internal part of it. And obviously we provide management oversight, but when it comes to delivery of operations, that's kind of jointly handled because you know client is involved in it. That's why it's called as managed operations or co-sourcing as some people call it. So that's the second product which comes out and then the little top product which could be companies, which is just smaller companies, you know they want to run it themselves and they probably don't want to spend so much. So, they use seat leasing or co-working spaces as the third option. So, what we've done is we've identified the three different needs and we let the customer decide based on what he needs. So, you put all the three offerings out there in the menu.
Derek: Nice. I mean, instead of stripping down the services, isn't it? The value added component in terms of the total outsourcing, how broad in someone's requirements be? For example, if I say, "Look Andy, I want you to generate a million dollars sales for me. I want in order to get that 100 sales a month, month for month, go do it". Can it really be that broad or do you need, there is, because it's difficult to know where the partition line sits?
Jas: The seat, what we have seen in our past experiences that definitely there are KPIs, right? And so, when we start a project, whether on manage operations, on outsourcing business, there is a KPI there because at the KPI level it makes sense for the customer to outsource. So, and no project really starts with a very ambitious goal, like a million dollar sales. It happens over a period of time. So, we set up normally a pilot period of six months. In that pilot period, we don't go full scale depending on the size of the company. Pilot group, if I see 15 seats, 20 seats, depending on what size of the company it is. So once the pilot phase is over, I think that's the time when we have off from KPI. They're okay. This is what seems should be the one to play with. So, we have customers here who are really niche customers, are into very specific kind of sales, and they do 150,000 or 100,000 US dollars a month. So, a little bit of time, we're generating about a million and a half for them throughout the year something that is possible to achieve. And we've done it with the one customer beautifully. And they are absolutely in the niche, that you know, is a very, very niche industry.
Derek: And when it comes to true business partnership, and doesn't it? You really kind of sitting at a senior management level with this business because your business is difficult, isn't it? Businesses, fundamentally a kind of a riddle or a puzzle and together you'll then figuring that out, but the business, the client is basically buying into your vast experience of doing this, the sophistication of Philippine processes like, they're getting all of this as a part of the partnership, aren't they?
Jas: I completely agree. I think the customers that grow with you are the ones that create your office and our office as their office, so it actually becomes like you know a JV without a JV. If you can use that word. It's two different entities, legally they do different entities, but their working close. It becomes so close that it kind of becomes like a partnership model and those other businesses, which actually grow with us and those are the businesses we add significant value too.
Derek: Absolutely. Yes, I do sort of long for the old days. I think when the total outsourcing really was the primary model. Then I kind of fear that when everything gets stripped out of the model as it seems that the market is demanding now, then actually you're going to get less satisfaction. You're going to get less results and people are even unhappy and then they kind of might say that outsourcing is a failure, but it's actually because they're not really buying into the true outsourcing service provision and the expertise that the full service outsourcing can provide.
Jas: I think you're right in some ways. The two things that I have observed is, one is the preparation on part of the customer is very important. That sometimes is like a magic wand, that it will surely work. So, there is certain effort required on part of the customer to outsource. What we try to do is we don't start a project unless we think as a combination of an outsourcing and a client. We are ready with the right kind of information. But as you brought up that point, that is right that as the move is moving away from total outsourcing to manage operations. As outsources, obviously, yes, that the control over the process reduces a little. It does reduce a little. So, to some extent it's true. But interestingly what we have observed is that the business models are changing. See what's happening is, there is something very unique here and that is we're trying to create composite teams of customers within our center. So, with a customer not just having telecall team with us. He can have a telecall team with us, but he may have one designer.
Derek: Absolutely.
Jas: You'll see the sources. So, what happens is with that kind of a model, it becomes a true back office. So, it is not only customer service, it's customer service plus NLC, plus designing.
Derek: Yes, and I think that's where a business is truly optimizes and they might start with one function, but then there's no reason why outsourcing can't extend to all of the operations, whether it's kind of back end or in front end. There's a lot of potential for it.
Jas: True. And that's how it become the true offshore office for them. Then sort of functional domain outsourcing. It truly becomes an offshoring office. And that's been our sweet spot. That you know, to create composite teams and meet the customer very comfortable. So, he treat us like an offshore office and not just an outsourcer. So that's been our…
Derek: Yes, typically then with the title outsourcing, which is in fact you're promising deliverables instead of like hours spent, you effectively becomes an output. Do you then have a dedicated team for that company or you might have, for example, outbound tele sale experts and effectively then managing a number of different clients because that's what they're skilled at and then you just ensure that you're getting the deliverables for the client. Does it do? How does that work in terms of carving out resources?
Jas: No, in our case, what we do is we'll show the resources that are client centric. In the sense that when we set up a team for the client, there will be dedicated managers, dedicated account managers who will take care of their account. So, they're not into that you know, the talent outsourcing team which has only tele calling and then use the same team for other clients. Know, as I've mentioned to you, our model is very composite model, so it's very dedicated to the customer. Each team would be catering to a specific customer.
Derek: Absolutely. And then…
Jas: And at the management level, yes. That account management level, obviously a separate team.
Derek: Yes. Right. And if your client comes to you then let's say an SME from the US with maybe $5 million revenue, they're looking for customer service support, a bit of operations support, how do you suggest they get started? Do you say all in? Do you say start with one and see how you go or what is your general approach or advice I suppose for getting people started and getting them on that first step of outsourcing?
Jas: Our general approach is to start small.
Derek: Okay that was Jas Anand of Asiatel Outsourcing. If you want to get in touch with Jas or Asiatel Outsourcing, go to our show notes that is at outsourceaccelerator.com/196.
And as always, if you want to ask us anything then just drop us an email to [email protected]
See you next time.
[/read]