Raffy Macapagal – From Outsourcing Agent to Country Manager
Last updated August 19, 2019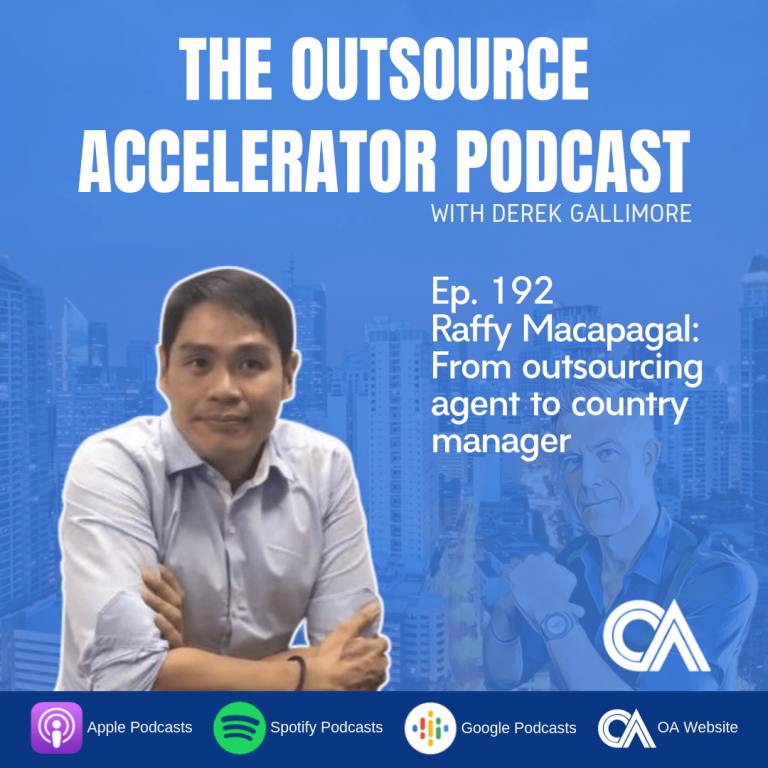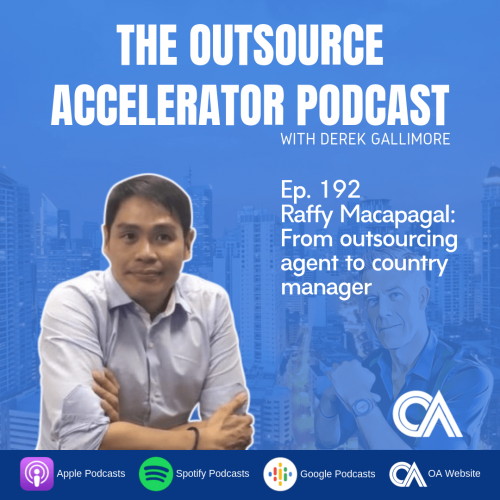 Raffy Macapagal, president and CEO of the AscenT Group, joins Derek to share his own journey and success in the BPO industry.
His call center journey started when he was hired as technical support for Teletech when it has just 60 staffs. From technical support he moved up the ranks to becoming site director, then Vice President before he left and co-founded AscenT Group.
Summary:
Raffy originally held an executive level position in the financial and investment business when he heard about outsourcing. He believed then in the huge potential of the outsourcing business in the Philippines. He believed in the capability of the Filipino talent and decided to shift into the BPO world.
He was semi-retired when he accidentally crossed paths with a Teletech staff and turned in his CV for technical support. Although he started as tech support he told his mentor that his aiming to be the site director in five years. He did it in three years and in three and a half years, he became the Vice President. From a small group of 60, the workforce went up to 24,000 in five to six years, and operations expanded to other cities outside Manila.
It's not all roses and smooth ride. There was a point where a division of 3000 employees serving a big client was challenged with termination for poor performance. He was commissioned to take over the leadership of the team and deliver performance expectations in six months. From the lowest, 14th in the vendor ranking, that division became the top vendor in six months.
Raffy mastered the industry by working through the ranks. Banking on his own extensive experience, he's convinced that he can successfully run a 100% BPO company in partnership with Filipino industry experts.
Raffy founded AscenT Group in 2014. Ascentology caters to the business process outsourcing needs of a small and medium enterprise while AscenTPRO offers exclusive and specialized recruitment services particularly for the top ten biggest BPO companies in the Philippines.
Key Points:
Like other industries, the BPO industry grows with the experience and expertise of its human capital, as it is, 'experience is the best teacher'.
Quality talent sourcing, hiring the best-fit talent at the right time, and within the right environment is the lifeblood of a BPO company.

Plan ahead for the rough ride and worst of challenges, and keep the leadership robust enough to win the challenge.
Reference:
[read more="Read Full Transcript" less="Hide Transcript"]
Hi, and welcome to another episode of the Outsource Accelerator Podcast. My name is Derek Gallimore, and this is Episode No. 192. So today I'm talking to Raffy Macapagal of AscenT BPO. Raffy has had a stellar career in the outsourcing industry for over fourteen years now and started his outsourcing career as a second career, and he started in Teletech which is one of the bigger BPOs here in the Philippines. He actually started with Teletech when it has just 60 staffs and in his six to seven years with the company, he was a part of the company as it grew to 24,000 people. And Raffy grew up from being basically on the line or on the floor doing the day to day work and actually got up to the country manager leadership level. So, quite an incredible journey. He shares the experience of growing with this company from 60 people to 24,000 people in only a few years. So really interesting insight there. I have enjoyed my conversation with Raffy. It took a little bit longer. This was a slightly longer episode but I'm sure you will enjoy it. If you want any of the show notes go to outsourceaccelerator.com/192. Enjoy!
Hi, and welcome back everybody. Today I'm excited to be joined by Raffy Macapagal. How are you Raffy?
Raffy: Doing very well, Derek. Thank you for inviting me over. Hi, everybody.
Derek: Absolute pleasure. Raffy you have had a…we're going to get to hear a bit about your story, your proudly Filipino obviously, and running a completely 100% Filipino owned outsourcing operation here in the Philippines. You had just been born into this industry, but you had a stellar career right through the entire development of the kind of outsourcing sector here within the Philippines.
So excited to tap into your experience and also hear a little bit about AscenT which the BPO that you run here in the Philippines. So, thank you so much for coming today. I supposed initially Raffy, are you able just to introduce yourself and then I supposed we can deep-dive into your journey.
Raffy: Hi, everyone, my name is Raffy Macapagal. I am currently the founder and the President of an outsourcing company that Derek was mentioning, AscenT. It is actually founded in 2014 barely about four years ago. And I started my journey about fourteen years ago. I entered into this industry while the birth of the huge outsourcing business in the Philippines are still in the conception stage. So, I currently run two companies, related to outsourcing namely the Ascentology, which is the business process outsourcing for all small and medium enterprises. And we also do exclusive and specialized recruitment outsourcing. Here we cater to the top ten biggest BPO companies in the Philippines in terms of finding the talents that they need and as such we capitalize on the years and years and years of experience of the entire team. So, we're just a small company that is 100% Filipino owned, that has probably more than five decades of experience combined within the leadership team. A small company that has big international and multinational experience, that's what we can offer. And we are specifically like a small shop that actually caters to small and medium enterprises.
Derek: Right. Fantastic. And so how did you, how exactly did you start your journey into outsourcing? You started kind of 14 years ago, the industry was a lot smaller, but it kind of filled with giants back then. Really wasn't, kind of sites with tens of thousands of staff and dealing with a lot of call center functions, dealing with a lot of the blue chips over in the US. How did you, what was your integration into outsourcing and what was it looking like 12 or 14 years ago?
EXPLORE OUTSOURCING: GET 3 FREE QUOTES
Raffy: Yes. And this is a very, very odd story for everybody because I came from another industry. I was in the financials and the investments world. I was already at the executive level position when I heard about the outsourcing business. I looked at it as a way of the future. I saw that it's going to be big in the Philippines, knowing how great the job market is here, with the talents that we have and the English speaking capability of the Filipinos, having it as a second language. Probably 30% of the Filipinos have that as a first language. So, I saw that this particular business is going to be really big. So, I decided during that time to shift coming from where I was to where I think it will be best off from a career standpoint.
But I was already semi-retired if I may say so. I mean, I was just trying to do the things that I love doing. I was just like doing marathons, just doing basketball, just like working out. During that time that I happened to bump into someone in the mall, so I was just doing grocery and I was able to speak to one of the recruiters and I was like asking her questions about the company that he is recruiting, and that company is, if I may just say the name, it's Teletech. Teletech during that time has one site that is in partnership with PLDT. So, it was, it's called e-PLDT during that time and…
Derek: And PLDT is one of the big Telecom company…
Raffy: Yes, and they're trying to actually start their own site and it happened to be just about few meters away from our village, the Robinsons Mall. And I got interested because it felt like the person that I was talking to is enjoying what she's doing, she speaks very well. And I saw the confidence in her and I was like really, really curious about the company.
Then out of the blue, I always carried my CV. I ran to the car and actually gave it to her and she immediately rejected me. She said that the openings are only for customer service representatives and for technical support, and she saw that my CV I had there as vice president of my previous company. And I said like, "No, forget about whatever it is that's there. I just wanted to actually enter as an entry level. I wanted to understand the business because that is how I plan my journey to be in the BPO. I wanted to understand it from the entry level up to the highest level, highest ranking level, and I wanted to be exposed all the departments in order for me to be able to run someday my own.
Derek: So, you went into the call center, you went in and you wanted to do the shifts?
Raffy: Yes, absolutely. I mean if in case if you haven't heard of it. It's a story that a lot of people today, because a lot of my classmates in the training became my guys and most of them are already senior directors, vice presidents as well in the industry in different big players, big companies right now. So, I'll tell more about it as we progress.
So, I went through the test and then I went through the recruitment process, and that's when I observed that there can be some levels of improvement in terms of how the recruitment can be done and how the testing can be executed. So, being a very insightful person, I tried to look at the opportunities and see like, "okay, they're like, this is a good way of doing it and probably this is a way to improve it."
And although I'm not probably what you would call a millennial, I barely made it. I still belonged to the other generation. I could consider myself still a person who has the ability to adjust and learn fast. So, they were looking for technical support people. So, I had to be tested technically. So, I went through the computer and did everything. Essentially, I passed in one take and they said I'm going to be booked in the lineup of a probably a wave three or four for the particular program that will be launched first in that particular site. It is in Novaliches Quezon City. And then I said like, "how long would that be?" And they said, "probably in the next two months."
So, after that I got interviewed blah, blah, blah. And they said like to wait for a call in the next two months. The following day they called me. They said like "Raffy, unfortunately, you don't have to wait for two months because after seeing your profile we wanted you to be part of this class."
Derek: Cool.
Raffy: So, the following day I came in and the first thing that the trainer asked was, "where do you see yourselves five years from now?" And I had 29 more head, so 29 more, 29 other candidates there or trainees there. And we were the batch 2. We were the wave 2 for that particular site. And if I can just like move forward a bit, that site had 2200 employees after a year, so we were just part of the first 60.
Derek: And it's incredible scale, isn't it? Because Teletech has 50,000 employees, which the people listening out there in the West is just mind-boggling numbers, you know.
Raffy: Yeah. And that is where the very color for the career started. I said, "I told the trainer that I see myself five years from now being the site director of this site." The entire class laugh. So, they didn't understand it. I was really serious about it. And I was smiling. I said, "and I'm not kidding. I said five years from now I wanted to be the Site director leading this company here in site." And everybody, probably 26 of them or 25 of them said that was like "stupid, a dreamer" blah, blah. And there were like at least seven who believed in me.
Derek: Did you do it Raffy? I'm dying to know…
Raffy: Unfortunately, or fortunately, well, whatever, or however you see it, I didn't make it in five years. Because I made it in three years.
Derek: Well done! Well done.
Raffy: So, three years I became a site director. Three and a half years, I am the head in the Philippines, as a Vice President after three and a half years. So, on the fifth year, we bagged the biggest employer award in the Philippines. We overtook, if I'm not mistaken, during that time, it was an electronic company. But forgot the name, but they have like 23,000 employees. This is 2011. Then we reached 24,000. So, I was given that award and I said to myself, I think, having this as an accomplishment. I mean that the company's accomplishment where I was really a part of for the past seven years, I said, I think it's time for me to actually move on and look for other companies that may need my assistance and my help and my experience on how we build Teletech from technically 60, being part of the first 60 or from zero to 24,000 in a period of like five and a half years, six years.
Derek: That's incredible. And what are some of the learning, some of the insights from that growth for 24,000 in what, five years, six years did you say?
Raffy: Yeah. So, you have to have a really good engine and you really need to have very good partners, meaning you cannot do it on your own. And even if your company has all these departments, all of these great leaders, you will need partnerships. You will need solid support coming from smaller companies probably or specialized companies from a recruitment standpoint. That's a very important thing. The sourcing, the marketing and the branding, these are all very integral part of you attracting the right people to come onboard. Initially, it was all about volume. So, one key learning was like you cannot rush quality. That's number one. So, there's always a price to pay for quantity. If you wanted like 2000 in three months, do not expect that you will get like probably the best performance from all of these people. Essentially there will probably be a lot of fallouts. There will be a lot of non-qualified people. That will be probably getting onboard, but essentially because of the need to fulfill that number from the quality standpoint, it becomes like the standards are getting lower and lower.
Derek: Yeah. But I mean, to get the actual staff on the floor. But what about the kind of back-end operations? What about holding the whole structure together? What about having enough positive cash flow, enough funding to expand the space? What about getting the facilities in place at the right time? How do all of those things form in place.?
Raffy: I think during that time that the company was growing, hats off to our executive team, especially to our senior leaders like our CEO, Ken Tuchman during that time really is very much prepared in terms of like what you really wanted to see. He wanted to grow the staff in the Philippines three steps ahead of everyone. Meaning, well, while we are recruiting for one center, there is already a group of people working on the next, working on the next to avoid that we've already closed the deal with this facility, architects and engineers are already working on the plans and the construction is about to start. While our business development is already working on the next, or the third site in terms of like finding the market, working with the local government, and making sure that the vicinity and the city that we were going, it's going to be ready.
But again, it boils down to strategic planning. The plan was like, where do we see ourselves in the next five years? So, or the next 10 years? So, during that time, I think we had the plan crafted very specific where we need to see ourselves as a company and Ken Tuchman has a very clear vision of how much of his business he wants to see in the Philippines after he saw the success in the initial site. He established really, he put in a lot of investments. And this is where I think we became a leader. We became a leader is when we decided that we should take jobs to the outskirts. No one wanted to gamble to go to the outskirts, and everybody just wants to have a piece of the pie in the city.
Derek: Yeah. So, even until now, I mean, it's still not much of infusion into the provinces.
Raffy: Yes, correct. So, it was a bold move for us during that time. It was really a tough call because we paved the way for a lot of these cities as the pioneer company that established that. So, I remembered when we wanted to go Dumaguete, Dumaguete was just like a small island in the Visayas. They were, even the clients, even our business development team are not convinced that is going to be a good place to put up a business and to really grow our staff. But one thing that they didn't know that we actually proved is that there is a very, very good university that produces a lot of great leaders, great graduates every year, Silliman University, that technically needs to go here, needs to go into Manila or in the vicinity of the heart of the Philippines so that they can find jobs. And that is why the talent…
Derek: Yeah. I think the people are realizing now that the next towns can handle like…
Raffy: Absolutely.
Derek: …sites.
Raffy: We were actually the first to gamble. We even had to, I remember I had people from Dumaguete shipped here or we flew them here in Manila and had them trained here and took calls here just to show a baseline data. That these are the results of these people, and these are the kind of people that we can get from that particular province or that particular outskirt city. And after showing that, there were some clients, even though they're still 50/50, that agreed to actually ramp there. And eventually, we were able to prove that the model works. So, after that we went to Cebu, we went to Iloilo, we went to Bacolod. These are all provinces in the Visayas where no company has dared open big operations. Maybe an operation of 50 to 100 people is not that probably dangerous. But establishing a site of at least minimum of 1200 to 1500 up to 2000 people in all of our destinations, in all of the sites that we established. It was really a great bold move. And as always, it paid off, we were able to pull it off. But at a certain point, the law of averages will come into play. So, growth has its price, as I said, after the huge, huge push for growth, we had to establish quality. We had to establish streamline processes so that we can deliver, not only "okay" customer service, but extremely super satisfied customers to every client. And that is where we focused during the time that I was leading the company. I had my focus on the main thing which is customer experience, superior customer experience. Every customer matters. Even to the point that I, myself take calls for any escalations for any program. And it has taken a toll maybe because we already had the US. We entered Australia, which initially we experimented, or we only had a trial of 20 people when I practically left that 20 people, Australian support, reached around 6,000 people already.
Derek: You actually had facilities in Australia during…
Raffy: Yes. And during that time, yes, Australia, New Zealand, we have a very good facilities there and we have very good corporate presence as well in those countries. In fact, I was working hand in hand with our Senior Vice President then, Australia and a country head Executive, Senior Vice President Executive in Australia. So, I had a really good exposure in Australian line of businesses. Essentially this guy that I was working with, he became my boss. I mean, even if I am the leader in the Philippines, he became my boss because he's actually the corporate…I mean he handled everything that is part of Australian support. He became the CEO of Telstra here in the Philippines. That is just everyone's information. I think he still is at the moment and…
Derek: So, the thing [crosstalk 0:21:33] it sounds this corporate execs during big corporate roles. Telstra by the way is Australia's telecoms major telecoms provider. So, it's a big, big name. But what were some of the hurdles though? It kind of all been a busy, but fairytale ride with an offshoot of sort of cashflow crunches? Were there not delivery shortfalls? There must've been…
Raffy: …I probably gave you the… sorry, go ahead.
Derek: No, no, no, no. I'm just trying to…
Raffy: Just continue with what you say…
Derek: I'm just trying to see if it is all roses, or whether there were actually kind of a lot of internal hard hurdles to cross.
Raffy: So much. I don't believe in all roses and like things are going to go smoothly. As in every journey, it is actually the tough times that makes it worthwhile remembering. The bigger the pain, the bigger the joy. As we always say it in the company, until we became friends with pain and the challenges that comes along with it, we will never make it and we will never feel how fulfilling it is as an organization to accomplish such feat.
Derek: And what was one example, what was one really crunchy moment where you're like, "Oh my God, we've over promise, or we've overdone it this time, and this is going to hurt?
Raffy: I think for one I was once asked, we had a big program, it's a telecom internet provider in the US where we had I think 3000 employees working for it, and there were like 14 vendors across that particular campaign. There are 14 companies providing them. And they decided to cut the vendors into 10. And so, they gave us six months and they will rank every vendor and whoever fails to make it to the top 10, will be removed. I mean that particular company shall be removed. During that time, we are the last. We are number 14, that particular program. So, it's obvious that we're about to lose 3,000 FTE's for this particular support.
I was working for another campaign and they asked me, corporate asked me to actually, I was still during that time, I was a manager, if I'm not mistaken, a senior operations manager. They asked me to take over and turn it around in six months. And you know, when you were given that particular job for 3000 people, and you're going to enter that particular world whereof nonperformance of people who feels of privilege, of people having bad habits as well. I mean it's obvious. The reason why your number fourteen because you have a lot of things that are not necessary. You have a lot of bad practices. You have a lot of probably bad leaders, and I was only given six months to turn it around as we will lose the 3000. And that's a tough part there because you will enter, and you will need to do the dirty job. I need to fire managers. I need to fire supervisors and then I need to show people that there's no bullshitting. It's either we cut some then lose everyone.
And then I had a lot of death threats. My car got the, every day I will see the letters in my car. There will be graffities in my car just because I had to fulfill that particular mission. And for me, the animosity that it faded became probably an experience that made me stronger as a leader because I had to stand for the mission that I was given despite everything that is going on. I mean a lot of people hating you. A lot of people saying bad things about you. A lot of people ruining your reputation. It didn't matter to me that time. What mattered to me is that, "where will these 3000 people be, if I don't make them part of the top ten?"
Derek: Well done. And of course, you did?
Raffy: Again, I will say I wasn't able to make it to top ten because after six months we became number one.
Derek: Well done. So, I'm beginning to expect that from you now. Raffy, that's incredible.
Raffy: Yes. So, and that's why it became one of my, it became one of the things that Teletech, asked me to do. They actually started me doing troubleshooting for any problematic account. So actually, during that, when I was still in the middle night shift. I was an Operations Manager, Senior Operations manager before I became an Executive, or a Director essentially as a VP. But during the time that I was a manager or a junior director, I was like roaming around and, I was roaming around and, I was like literally asked or troubleshooting for a lot of our programs. Even in other countries, I had to actually travel to the US and visit some of the sites there. I also traveled to Latin America or in Argentina and did some strung there also.
Derek: Fantastic! And so, this is the corporate experience that you bring now to AscenT and Ascentology. And, so I actually want to get you back and so that we can deep dive into what AscenT does and what that office does.
Raffy: Sure!
Derek: And again, I just can't emphasize enough when people join outsourcing that aren't just get people executing a task. But they also get you on board and all of your 14 years now of outsourcing expertise. So, there is really incredible value there. And if, so that'd be next episode and we're looking forward to having you back. If anybody wants to get in touch with you in the meantime, how can they do that or learn more about AscenT?
Raffy: Yes. They can actually check our website, ascent.net.ph
They can actually send their inquest there. Or they can actually email us at info.ascentology.net
Derek: Fantastic! Okay, thank you so much Raffy.
Raffy: You're welcome!
Derek: Okay. That was Raffy Macapagal of AscenT BPO.
And, if you want to get in touch with Raffy, or AscenT, if you want to know anything else about this podcast, then go to our show notes, which is at outsourceaccelerator.com/192.
And as always, if you want to ask us anything then just drop an email to [email protected]
See you next time.
[/read]