Dean Pascoe – Inception of Boomering Inc. a Boutique Outsourcing Company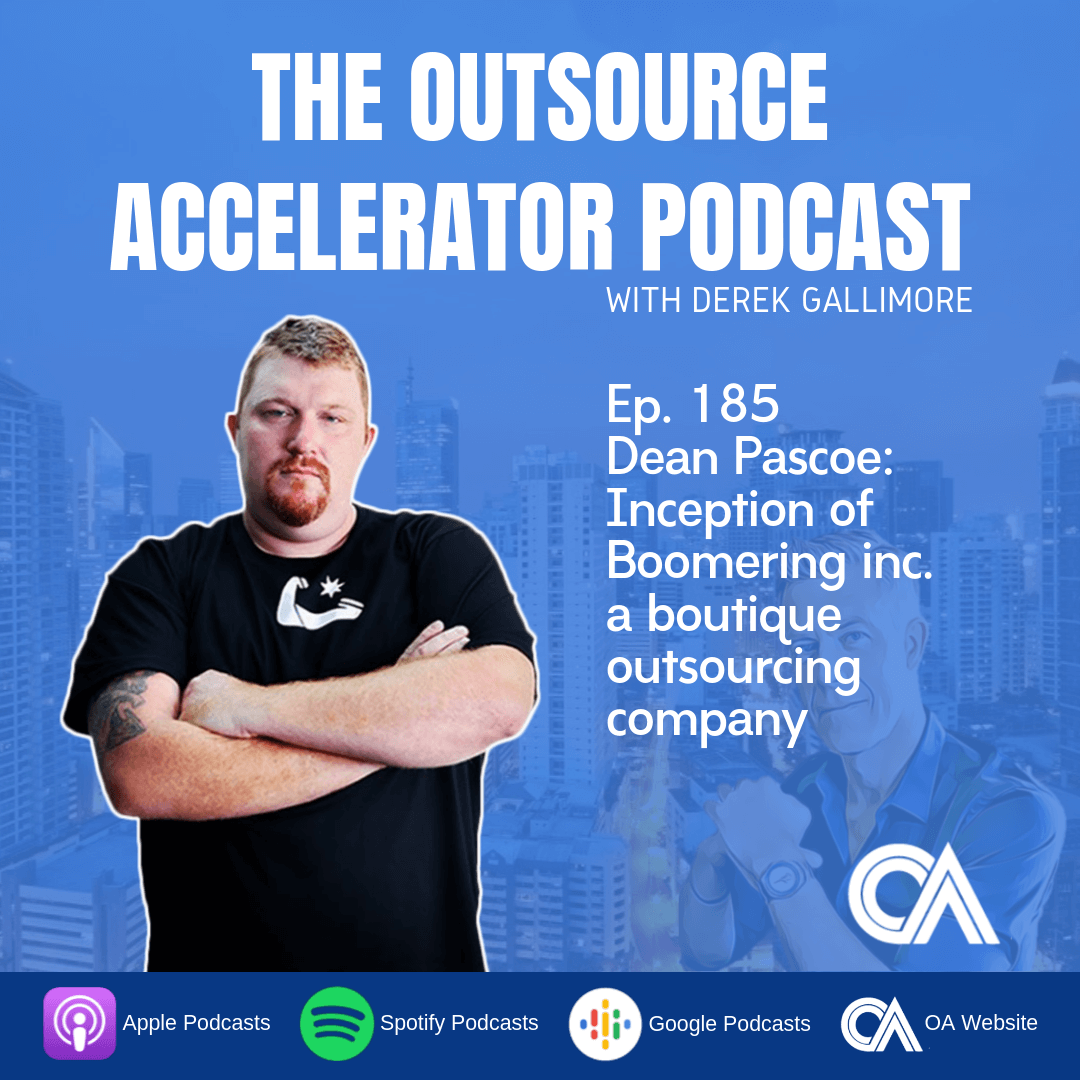 Ep 185 Dean Pascoe
Dean Pascoe, President of Boomering, Inc. is back on board with Derek Gallimore to share his insights and experiences in his 12-year journey in the outsourcing industry.
In this episode, Dean highlights the array of value-adding services, outsourcing providers like Boomering can offer to small and big enterprises. Deans outsourcing company finds its headquarters in the Philippines where he's been living for about five years.
Summary:
Dean classified Boomering as a boutique BPO, where clients can choose from seat leasing to a whole bunch of customized services like accounting, sales, recruitment, or an integrated full business team. The involvement will be as much or as little as the client wants, which means that the client is still in control of the engagement.

He partnered with American and Australian expats to walk through with American or Australian clients to make them feel at home, to build a kind of cultural bridge or relational interface.

Deans keeps the engagement simple with written standard operating procedures on every aspect of the services. He never wants to burn the client's capital, so operation starts slow while learning to do everything right, then ramp up.

In addition to Dean's hands-on experience in the outsourcing industry, he banks up expertise by bringing in the right human capital.

According to Dean, a full-house BPO can guarantee quality results because they have the organizational structure and infrastructure that freelance service providers can hardly afford. There is proper supervision of teams, management support, and training.
Key Points:
A BPO can offer a boutique type service where clients can simply choose from different service models or a bunch of services, from seat-leasing to full BPO service.

Organizational expertise comes from the experience and specialization contributed by each of the human capital.

The outsourcing provider with the right operational system, organizational structure, and infrastructure delivers better results.
Reference:
https://www.outsourceaccelerator.com/podcast/episode185/
Expand transcript
Listen to more podcast episodes here: