Top 15 SEO companies in the Philippines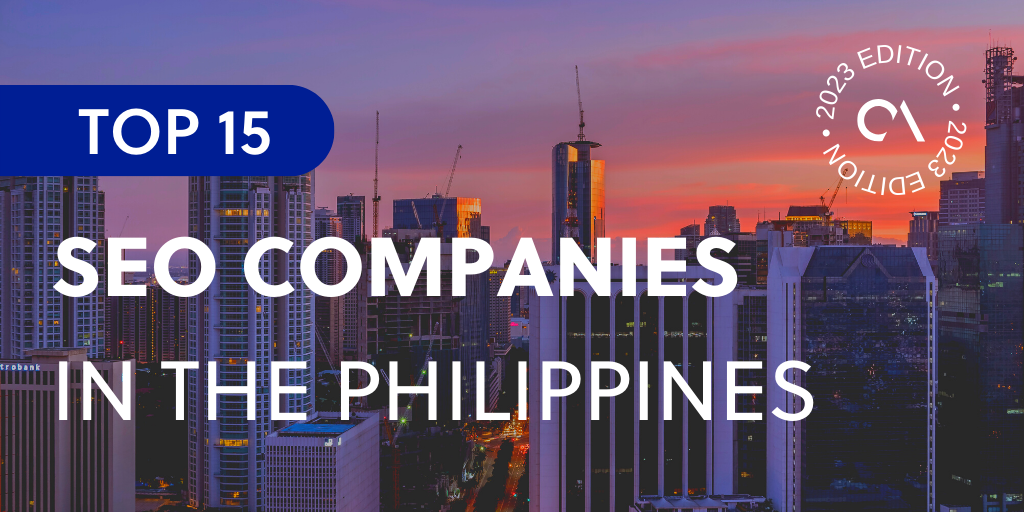 List of SEO companies in the Philippines
In digital marketing, search engine optimization (SEO) has become essential for businesses aiming to achieve online success.
More and more consumers are using search engines to find products and services. That's why brands must refine their online presence to stand out from the competition.
To navigate the complex world of SEO and maximize visibility, many companies are turning to the expertise of the top SEO companies in the Philippines.
This guide breaks down 15 of the top SEO companies in the Philippines and discusses their services. We'll also highlight the benefits of hiring and partnering with SEO professionals.
Overview of the SEO industry in the Philippines
The SEO industry in the Philippines has experienced significant growth in recent years. This is thanks to the country's skilled workforce and competitive costs.
The sector's current growth was impacted by the former Department of Trade and Industry Secretary Ramon Lopez's predictions in 2021. He projected that there would be an e-commerce boom that would see the creation of around a million online businesses by 2022.
In September 2023, the Philippines hosted its first World of Search Conference (WOSCon). This event brought together SEO experts worldwide to discuss the importance of search engine visibility.
With a strong command of the English language and a cultural affinity with Western markets, Filipino SEO experts are well-equipped to cater to the needs of global businesses.
The Philippines also benefits from a robust IT infrastructure and a supportive business environment. These allow SEO companies in the country to deliver high-quality services to local and international clients.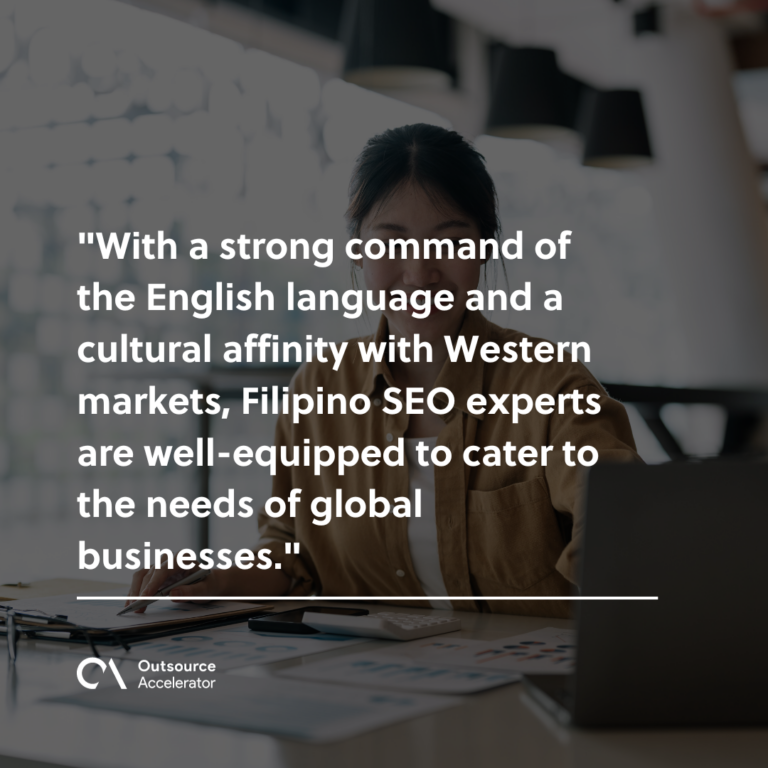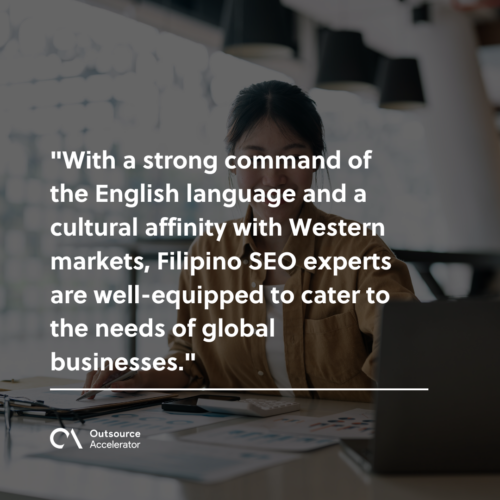 Services offered by the top SEO companies in the Philippines
Renowned SEO companies in the Philippines offer comprehensive services that boost search engine rankings and increase online visibility:
Keyword research

. SEO companies conduct thorough research to identify the most relevant and high-performing keywords related to a business' industry.

On-page optimization

. SEO experts optimize website elements like page titles, meta descriptions, headings, and content to make them more search engine-friendly.

Off-page optimization

. SEO firms use various strategies to build high-quality backlinks and improve a website's authority. This includes outreach, guest posting, influencer collaborations, and

social media marketing

.

Content marketing

. Creating high-quality and engaging content is crucial for SEO success. Top SEO companies provide content marketing services, including creating blog posts, articles, videos, and infographics to attract and engage the target audience.

Technical SEO

. SEO agencies conduct technical audits of websites to identify and fix any issues that may hinder search engine crawling and indexing. This includes optimizing website speed, mobile-friendliness, URL structure, and site architecture.

Local SEO

. For businesses targeting local customers, SEO firms offer local SEO services that focus on improving visibility in local searches. This includes optimizing Google My Business listings, local citations, and managing online reviews.

SEO analytics and reporting

. Top SEO companies provide detailed and insightful reports on website performance, keyword rankings, traffic sources, and conversions.
Benefits of hiring the top SEO companies in the Philippines
Partnering with the top SEO companies in the Philippines offers several advantages, including:
Cost-effective solutions

. The Philippines is known for offering high-quality SEO services at competitive rates, ensuring a strong return on investment (ROI).

Skilled workforce

. Filipino SEO professionals are highly skilled and well-versed in the latest SEO trends and techniques. This is evident in how much Filipinos spend their time online.

Global perspective

. Many Philippine-based SEO companies have experience working with international clients. This provides a global perspective on SEO strategies.

Language proficiency

. English proficiency is widespread in the Philippines. This facilitates effective communication with clients from English-speaking countries.

Proven track record

. The top SEO companies in the Philippines have a proven track record of delivering results for their clients. These firms have case studies and testimonials to back their claims.

Tailored strategies

. SEO agencies in the Philippines tailor their strategies to suit each client's unique needs and goals, ensuring personalized solutions.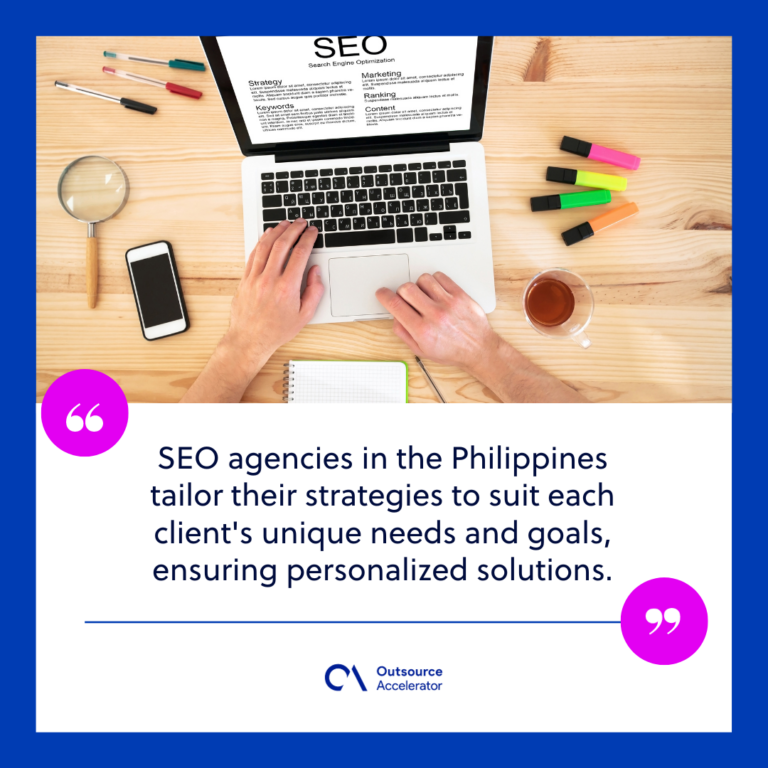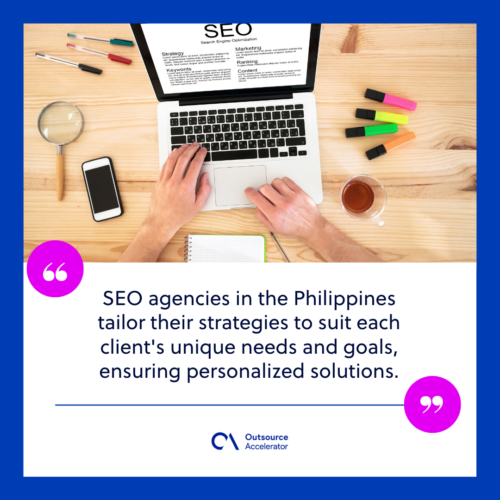 Top global outsourcing list
Outsource Accelerator is the world's leading outsourcing marketplace and advisory. We list over 3,000 BPO firms located across the globe in our global directory, and we provide detailed information, price guides, and reviews.
Whether a solopreneur, SME owner, or corporate executive, we can help you find the most suitable outsourcing provider for your business.
Explore our outsourcing directory now. You may also check out our top SEO outsourcing lists here:
15 top SEO companies in the Philippines
Explore these 15 top SEO companies in the Philippines that can help you achieve your online optimization objectives:
Founded in 2002, Optimind Technology Solutions is a prominent digital marketing agency in the Philippines. It specializes in SEO services, web design, and mobile app development.
It has a strong track record of delivering effective SEO strategies that drive organic traffic and improve online visibility for businesses.
ExaWeb Corporation is known for offering a full-scale internet marketing service. It has comprehensive digital solutions for businesses, focusing on SEO, social media marketing, PPC management, and web design.
It provides local SEO, Google Maps search optimization, link building, and paid search advertising. Some of these services aren't offered among the other top SEO companies in the Philippines.
OOm is an SEO and SEM agency that excels in providing SEO and online marketing services. The firm was founded in Singapore in 2006 and eventually expanded into the Philippines.
OOm assists businesses in achieving higher search engine rankings, attracting organic traffic, and boosting online visibility. This makes them a trusted choice among the top SEO companies in the Philippines.
Spiralytics stands out as a data-driven digital marketing firm with a range of services. Among its offerings include SEO, content marketing, and analytics.
Its approach is centered on delivering measurable results and helping businesses achieve sustainable growth in the digital landscape.
Syntactics, Inc. is an outsourcing provider of SEO and digital marketing solutions based in Cagayan De Oro. Some of its additional services include customer software development and web design and development.
You may check out our more comprehensive review of Syntactics, Inc. here.
Top Rank SEO Philippines specializes in SEO and content marketing services. It is one of the top digital marketing specialists in the country that believes in creating strategic campaigns.
They assist businesses in effectively reaching their target audience through strategic SEO strategies and content creation.
LeapOut Digital Inc. offers a variety of SEO services. It enhances online presence and drives business growth through tailored digital marketing solutions. 
Some of its SEO solutions include keyword research and link building. It is currently the only one among the top SEO companies in the Philippines that offers SEO reselling.
Carl Ocab Digital Marketing is a well-known name in the SEO industry. It provides businesses with SEO and marketing services, helping them dominate search engine results and gain a competitive edge online.
The firm also offers site-wide, page-level, and off-page reporting and optimization services.
Ninja SEO Marketing is a digital marketing agency that offers comprehensive SEO services. It offers customized strategies to drive organic traffic and boost search rankings. 
AI search optimization, local SEO, technical SEO, White Label SEO, SaaS SEO, enterprise SEO, and content SEO are some of its many services.
S & Y Digital Marketing offers modern marketing solutions, with a particular focus on SEO.
It serves various industries, such as law, real estate, construction, e-commerce, hospitality, and finance. Amidst the other top SEO companies in the Philippines, it caters to the broadest range of clients.

be• Creative Studios is a full-service digital marketing firm that provides SEO services along with creative solutions.
This Philippine based SEO company focuses on storytelling and building brands through social media marketing, web development, and photo and video production.
Digital Marketing Manila specializes in SEO and online marketing. Its expertise is improving businesses' online presence and reach through strategic SEO and modern marketing tactics.
It offers sales optimization services by conducting SEO auditing, online presence analysis, and enhancing conversion rates. 
It's one of the top SEO companies in the Philippines with a strong sales focus.
Oddefy offers SEO and digital marketing services emphasizing creativity and innovation.
It drives results by creating unique and effective strategies like multi-channel marketing and influencer marketing. This firm is a good pick among the top SEO companies for those who want out-of-the-box solutions.
AMPH Advertising Agency is a leading digital marketing agency in the Philippines. Its main objective is to assist businesses in achieving growth with online marketing solutions.
It specializes in creating effective media plans that enable businesses to connect with their target audience. 
The company uses platforms like Google, YouTube, Facebook, Instagram, and TikTok.
Adchemist Digital provides SEO and online marketing services with a data-driven approach. It helps business maximize their ROI by implementing effective local SEO strategies and utilizing data to inform decision-making.
Partnering with the top SEO companies in the Philippines
When partnering with the top SEO companies in the Philippines, consider factors such as your: 
Specific goals

Budget

Desired level of involvement
Communicate your expectations clearly and collaborate closely to ensure the success of your SEO campaigns.
By harnessing the power of the top SEO companies in the Philippines, businesses can enhance their online presence, attract more potential customers, and achieve long-term success.