Use these concepts of social media marketing to boost your online presence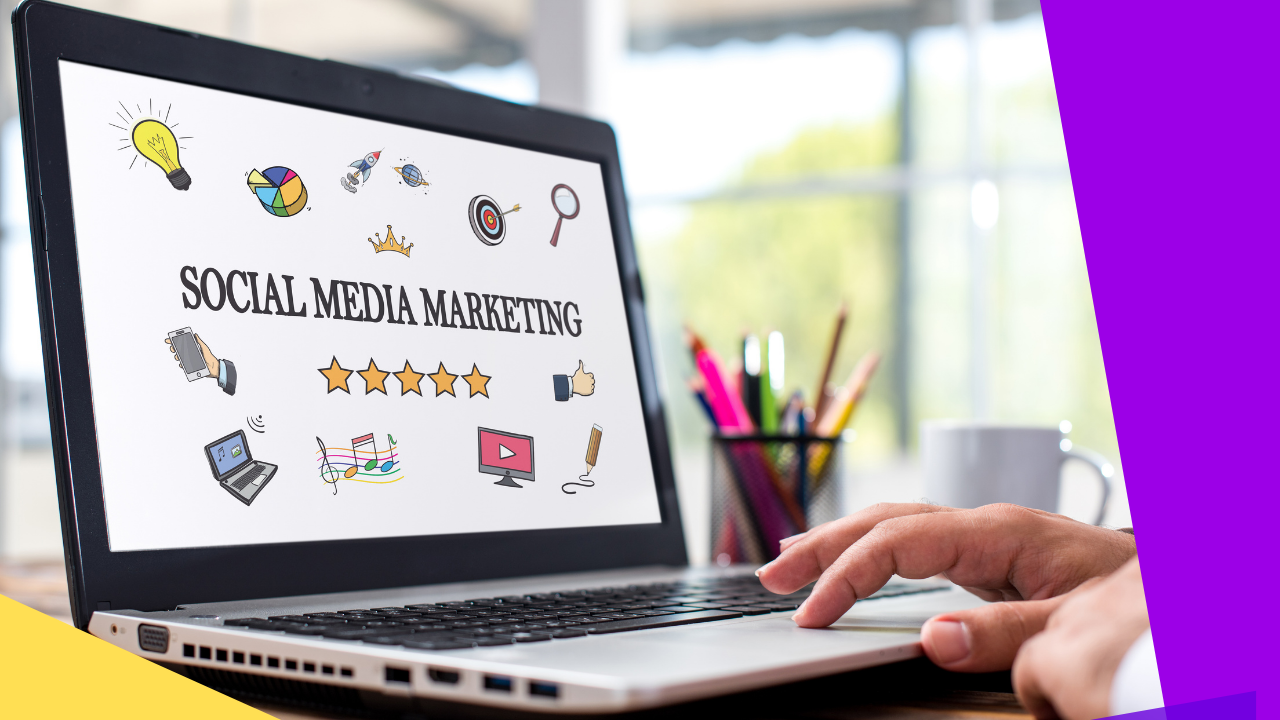 Are you utilizing social media enough for your business?
With billions of people on different platforms such as Facebook and Instagram, social media is a surefire way for businesses to attract and increase audiences easier.
However, while social media marketing is now the norm in promoting a company, around 40% of small businesses still don't use these platforms to their advantage.
Having an online presence, even just through social media, is crucial for companies big and small, but especially those trying to tap the global market.
As long as they get to know the concepts of social media marketing, advertising and establishing their brands can get easier.
Many outsourcing firms like Wing Assistant provide social media assistants that can help your brand engage the online global community.
What is social media marketing?
Social media marketing (SMM) refers to the practice of using social networking platforms to promote a business. This involves creating content tailored to different platforms, building communities to connect with audiences, and optimizing business profiles for updated information.
Why social media marketing is important today
According to Backlinko, around 4.48 billion people use social media as of 2021. An average social media user, meanwhile, engages with at least six social media platforms in total. This proves that the world continues to be connected as we know it.
Companies that still do not utilize social media might be missing out on expanding their growth. Social media marketing is crucial for businesses since it can help them do the following.
Grow their brand

. With the vast number of social media users worldwide, companies can easily make their brands known.

Provide active customer service

. Customers now want to interact with businesses on social media. SMM allows organizations to interact with their audience in real time, making it possible to build rapport with them more.

Build customer loyalty

. The

2020 Sprout Social Index

revealed that 89% of customers buy from brands they follow on social media. Through SMM, companies can build loyalty from their audiences easier.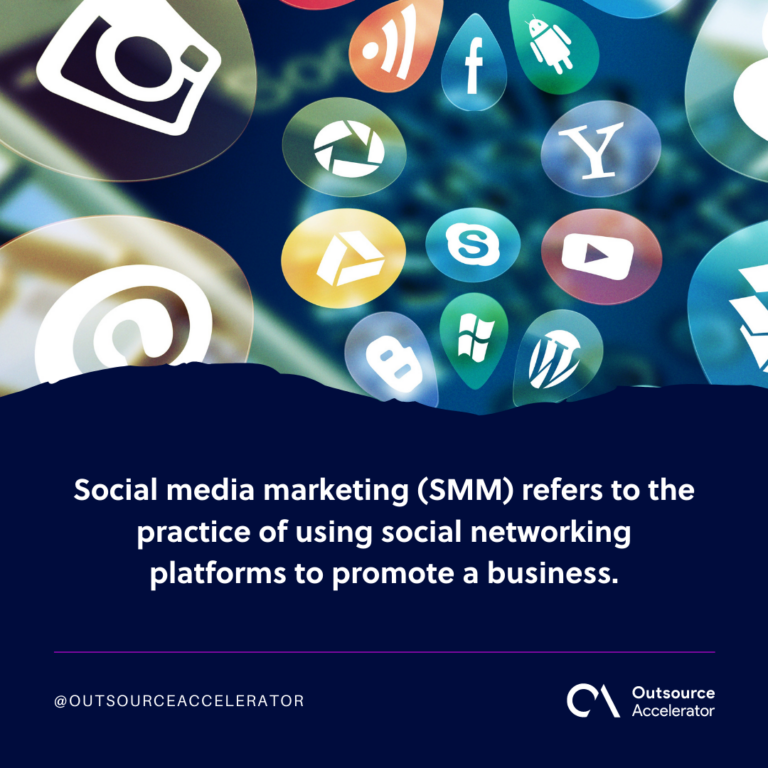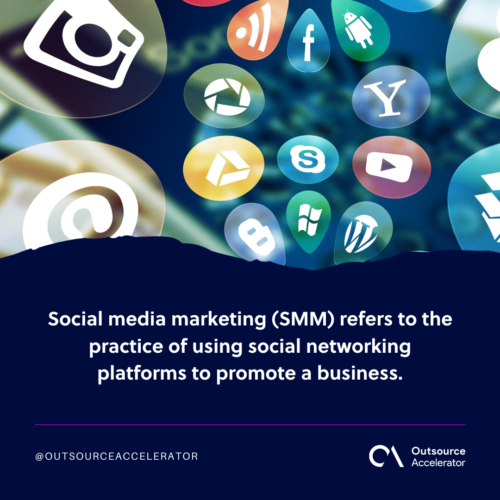 Most used social media platforms for marketing
Meta's Facebook is still the best platform for digital marketing. For one, it has 2.9 billion monthly active users (MAU) as of 2021. The platform has also adapted a user-friendly interface for businesses and personalities building their brands.
Aside from Facebook, here are some of the most used platforms for marketing services.
| | | |
| --- | --- | --- |
| Social media platform | Monthly active users (MAU) | Best for |
| YouTube | 2.3 billion | How-to videos, long-form content, entertainment |
| WhatsApp | 2 billion | B2C communications, advertisements |
| WeChat | 1.2 billion | B2C communications, advertisements |
| Instagram | 1 billion | High-quality images and video content |
| TikTok | 1 billion | Short-form videos, brand awareness |
Core concepts of social media marketing
SMM involves more than setting up an account and posting whenever a company likes. To be successful, businesses should learn how to maximize the use of their social media accounts to get to know, attract, and retain their customers long-term.
Each platform has a variety of ways in which organizations can tap and interact with their audiences. That said, marketing strategies on Facebook may not always work on Instagram and LinkedIn.
To solve this, companies should apply the following core concepts of social media marketing.
Strategy
SMM always starts with building strategies in attracting and reaching out to the audience. Here, companies should create a framework for their marketing goals and the steps needed to achieve them.
Ideally, a good social media strategy should answer the five Ws:
Why set up a social media account?
This should define a company's purpose in setting up a social media account. For instance, while Facebook pages can be used to sell, advertise, and connect with their customers, LinkedIn is a more viable option to network with other businesses.
Who is your target market/audience?
The marketing team should define the buyer persona they think will fit their products and services. They should know enough information about their target buyers, from their interests to their demographics.
What type of content to publish and share?
A social media marketing strategy won't be successful without defining its content. Companies can have a mix of themes and types of content published on their accounts as long as it sticks to their brand and marketing goals.
A company's content should be attractive enough to convince its audience to buy its products. A good example of this is Apple's Shot on iPhone campaign, where users are encouraged to take camera shots using their iPhones.
Where will you share them?
It's best to determine which platform fits a company's brand. LinkedIn should be used for more professional, business-related content. Meanwhile, Instagram and Pinterest lean more on visual presentations and creative branding.
When will you share them?
Most social media professionals consider the best time of the day to post certain content on a platform. However, companies starting on their strategies should get to know the behavior of their target audience first. 
People from different walks of life scroll their social media at different times. For instance, sports enthusiasts and fans are most active on big sporting events, checking out the stats before, during, and after the event.
Planning and publishing
Along with creating strategies, another crucial concept of social media marketing is the planning and consistent publishing of content. This gives companies the chance to be seen by billions of audiences worldwide.
While businesses can start with sharing blog posts, images, and videos, the time will come when they need effective marketing plans to increase their engagement.
Creating a social media content plan is a good way to manage the posts to be published on each platform. Businesses can create plans according to their defined content marketing and social media strategies.
At the same time, they should determine the best time to post on their accounts according to the demographics they target.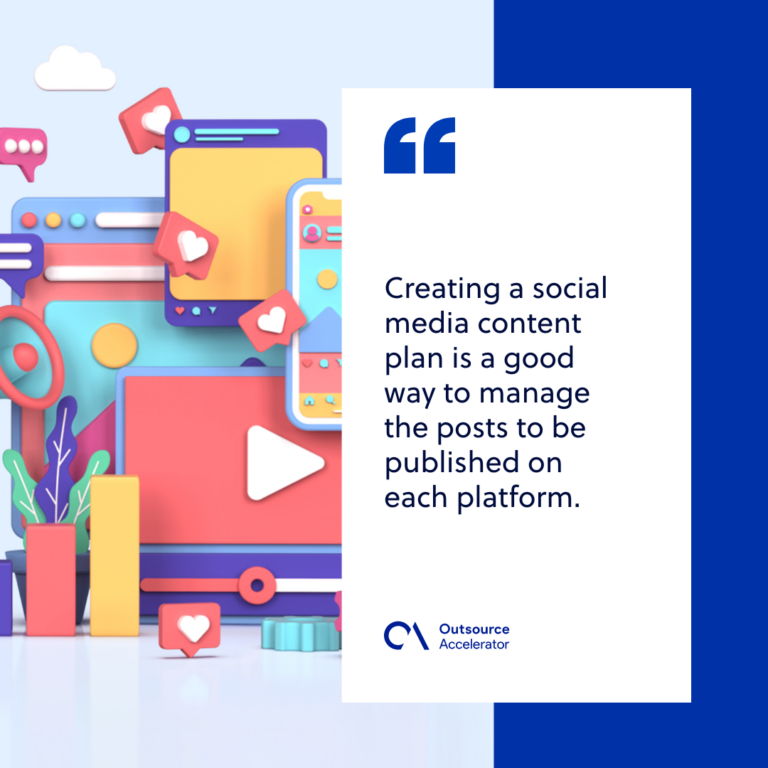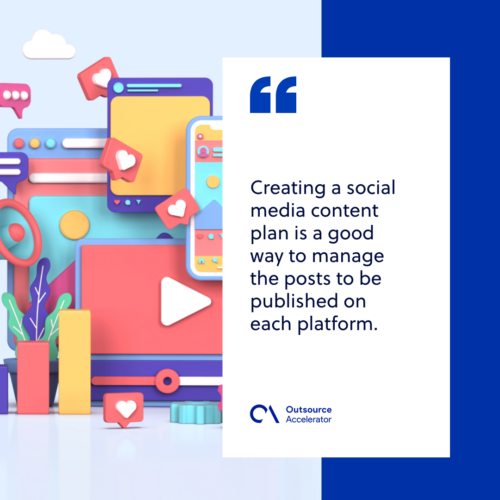 Engagement
Publishing content is only half the battle in social media marketing. Companies should learn to engage and interact with their audiences in various ways.
Aside from comments and private messages, engagement can be measured in the following ways.
Likes and comments

Shares and retweets

Branded hashtags

Social mentions

Click-throughs
There's no one-size-fits-all solution for increasing a company's social media engagement. However, businesses can easily increase engagement with their audiences by curating appropriate content to attract them.
Analytics
Like other business aspects, social media marketing efforts should be properly measured and analyzed for a certain period. 
The concept of social media analytics focuses on determining an organization's marketing performance, its success points, and the factors that make content or campaign successful. These factors can be easily measured depending on the goals and metrics set for each specific platform.
Different tools for social media management include features that help measure the performance of campaigns.
Advertising
While the majority of businesses on social media rely on organic traffic, those with additional marketing budgets opt to advertise their products for a wider reach.
Successful advertising on social media usually depends on the content or campaign boosted on a platform. Advertising helps companies reach a niche demographic easier, reaching those who are yet to follow a certain brand to attract them better.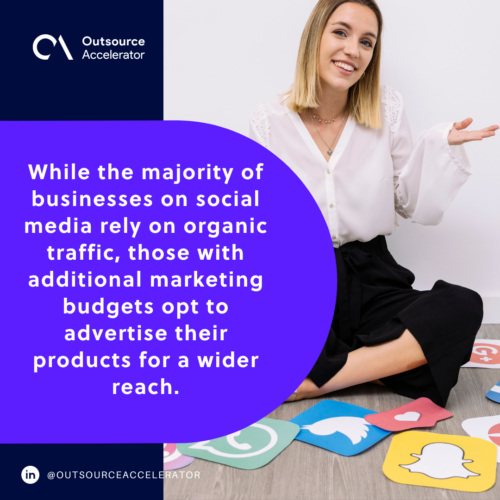 Tips in applying the concepts of social media marketing
Building an online presence takes time and effort to pay off. However, following the concepts of social media marketing listed above can increase your chance of amplifying your network and getting more suitable customers for your business.
Here are some tips to keep in mind when doing social media marketing.
Choose which social media to maximize
One of the common mistakes in social media marketing is being on all social media platforms. 
While managing all of your platforms in one system is doable, having more channels increases the effort required in releasing content and maintaining each account. This, in turn, affects the overall quality of your content.
It's best to focus on at least two or three platforms. Check which social media accounts are your top-performing ones and try to concentrate on them first. By doing this, you will ensure that you release tailored and engaging content. 
Some of the most recommended platforms include the "Big Four" – Facebook, Twitter, Instagram, and Pinterest.
Create a variety of content for different platforms
Crossposting a single piece of content to different platforms is a huge no-no, especially for corporate accounts. Each platform is tailored to different purposes and expectations from audiences. 
Posting a single piece of content across all platforms could lead you to a hit-and-miss performance on your campaigns.
Instead, create a variety of content to be posted on different platforms. Use different metrics such as hashtags and click-throughs according to the platform that will fit them well.
Boost the right post
You don't have to advertise all or a specific set of posts for your campaign to be effective. Choose which posts could fit each campaign most and boost them accordingly. For instance, Facebook boosting will become more effective once you choose posts with the following criteria.
Those with existing engagements (likes, shares, and/or comments)

Posts with mentions from influencers or advocates

Campaigns with a call to action (CTA)
Post regularly
Lastly, you would not want your social media accounts to become stale and underperforming on your marketing efforts. 
Make sure to update and post regularly on all of your existing platforms. This helps your audiences know that you are still operational, so they won't miss out on your company.
At the same time, regularly posting increases your chance of getting indexed on search engines.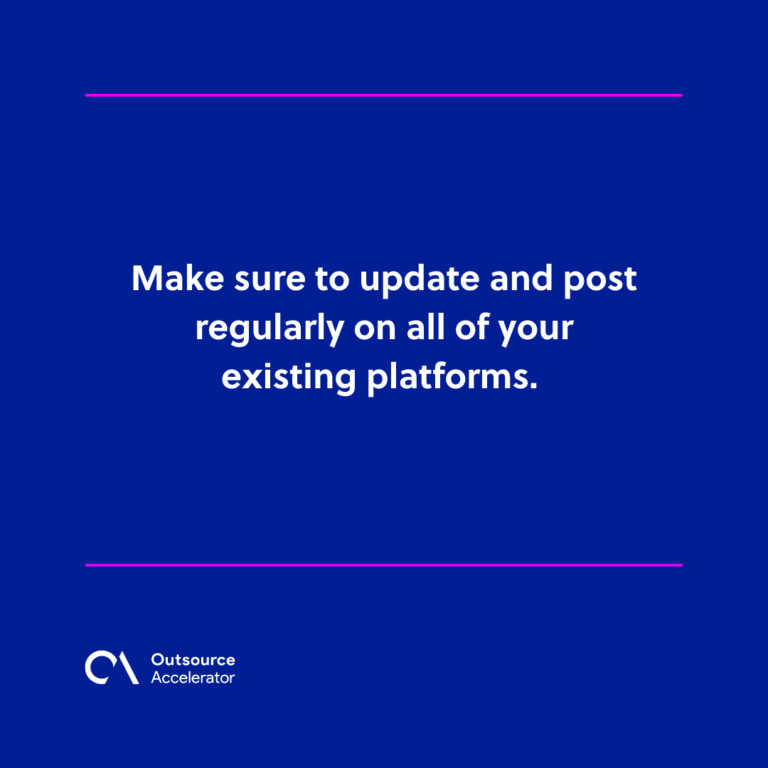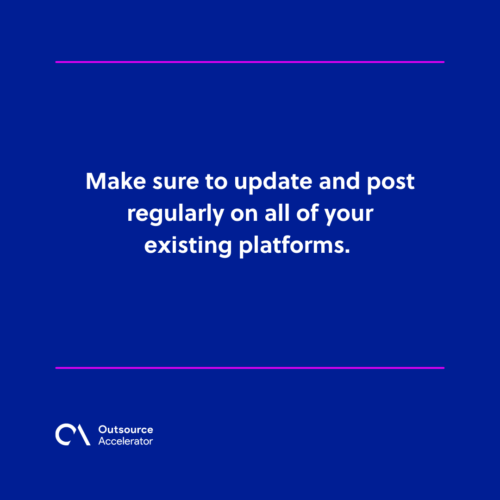 Outsourcing social media marketing
Managing social media takes time, focus, and expertise on the company's part. Even if you're a startup used to handling social media accounts at first, you need an expert in sustaining this function.
Outsourcing social media marketing is the best way to improve your campaigns and engagement. Delegating to either a social media assistant or an entire team helps ease your burden of curating content and monitoring account performance.
With this, you get to focus more on growth strategies and building networks for your business.