Using social media branding to invent or reinvent yourself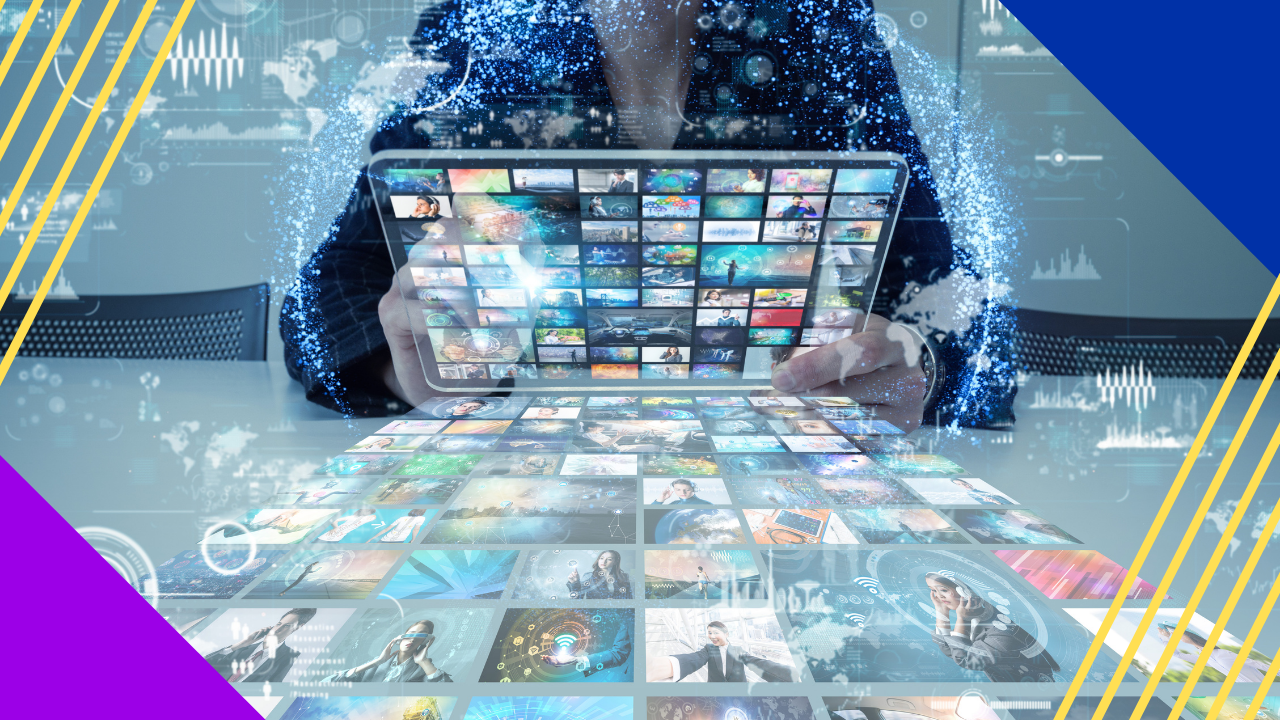 Social media branding is one of the most powerful strategies to market your brand to a wider audience. It helps introduce even small companies to a diverse set of prospective clients.
A brand becomes more successful when it engages and connects with its customers. With the help of social media and the internet, customer interaction can now be done easily and smoothly with minimal disruptions.
Social media branding definition
Social media branding refers to the practice of leveraging various social media platforms to cultivate relationships with consumers. Part of this strategy is creating and publishing fresh and attention-grabbing content on the internet to attract audiences.
Branding is important for a company's overall marketing strategy, especially online. Unlike traditional advertising, social media branding puts companies on the same level as their audiences. 
It humanizes companies, making them approachable and relatable to users across different platforms.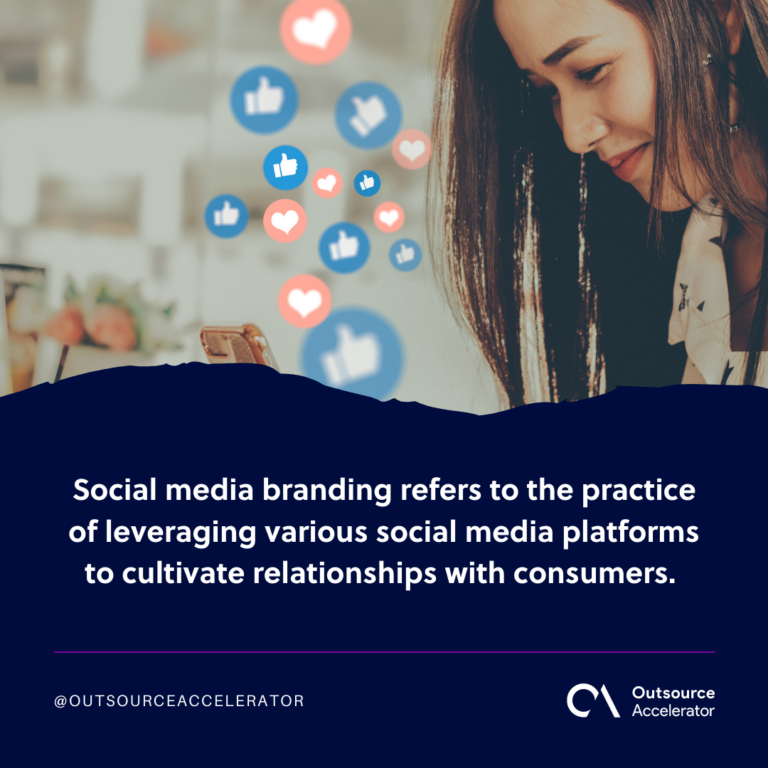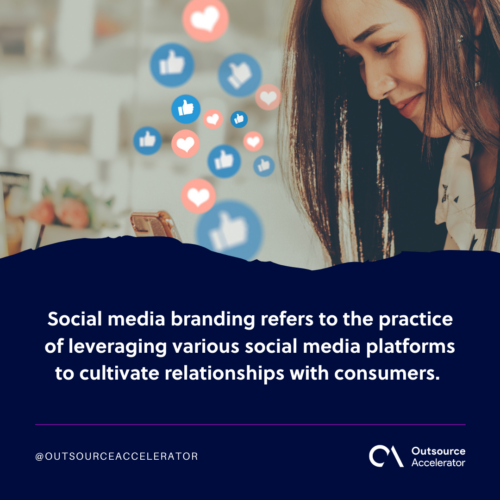 Why social media branding is important
The role of social media branding in a business is extremely important. Through different social media platforms, users can easily share their opinions, which also gives companies a chance to build a relationship with them. 
Social media increases brand exposure and traffic. By leveraging its power, you can generate a deep pool of fans who can be turned into eager paying customers.
Additionally, having a strong online presence allows a brand to develop business partnerships. This, in turn, reduces marketing costs.
Lastly, social media provides market insights. Businesses can look into their social media channels to see customers' complaints or feedback, giving them the chance to address them quickly.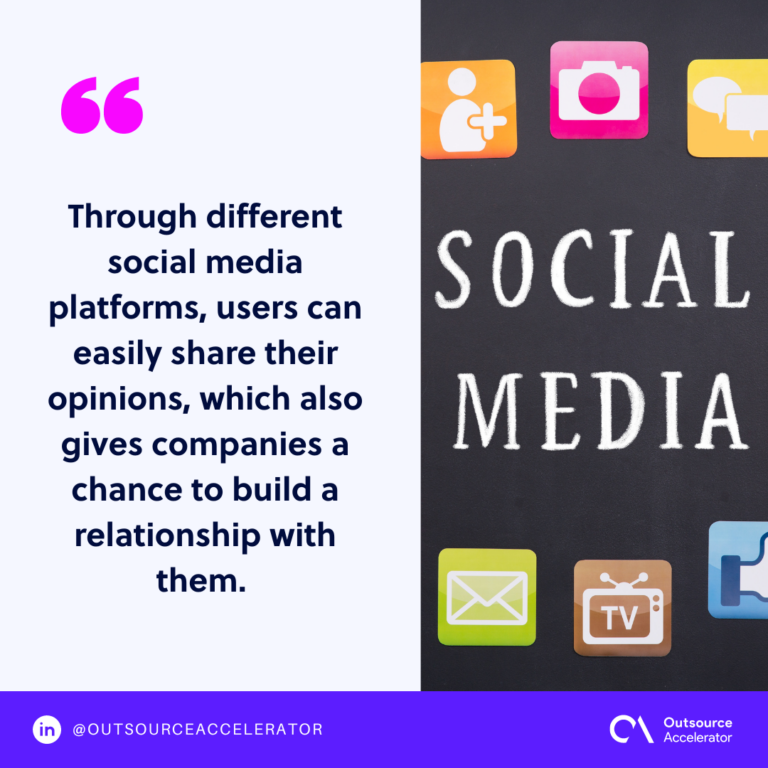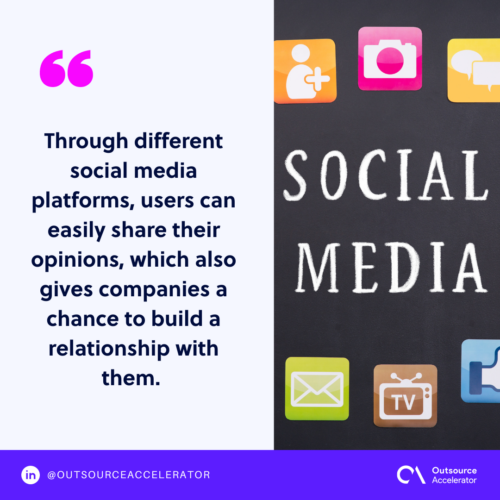 How to establish an effective social media branding
Building your brand on social media takes a lot of meticulous work. However, when done right, you can reach thousands — even millions — of your target market with only a few clicks.
Here are the things that you can do to build effective social media branding.
Consistent visual identity
Consistency is the key to establishing social media branding. Using social media handles, logos, color palettes, and caption tones across different platforms is important. Even a small detail, such as the font and design in your images, graphics, and videos, can strengthen brand recall. 
Paying close attention to these things will allow customers to get accustomed to your unique posting style. This also establishes a common thread that people can attribute to your business. 
Regular content
Audiences crave content. So, make sure that you publish them on a regular schedule. Update your social media by posting new things about your brand — news, sales, products, projects.
Further, ensure that you are posting content at the best time when your target market is online. Regular publishing of content will help your clients recognize your company without needing to see your brand's logo or social media handle. 
Marketing personas
Each social media platform requires a different marketing persona. For example, TikTok users are generally younger than Facebook users. So, it is crucial to publish content for the younger crowd on the former and more mature posts on the latter.

To find out the appropriate persona on each platform, start with the company's customer base. Map them on the different social media networks that your company uses and explore their interests through their posts. 
Doing so can help you deliver the most relevant content with the right messaging and tone that will resonate with the specific demographics on each platform.
Captions with personality
Captions are crucial elements of your social media branding. People are more drawn to posts that contain some semblance of personality. It could be sarcastic, snarky, or witty. 
Adding a distinct and consistent personality to your captions on social media posts attracts more audiences to your profile. You may also create informative content to catch the attention of users who love learning new things online.
Multiple accounts
If your business offers a wide range of products or services, then it might be ideal for creating multiple accounts for your social media branding strategy. This way, you can cater to a specific audience and publish relevant content.
List down your offerings and see if you can divide them into categories. Afterward, create your social media profiles according to these divisions.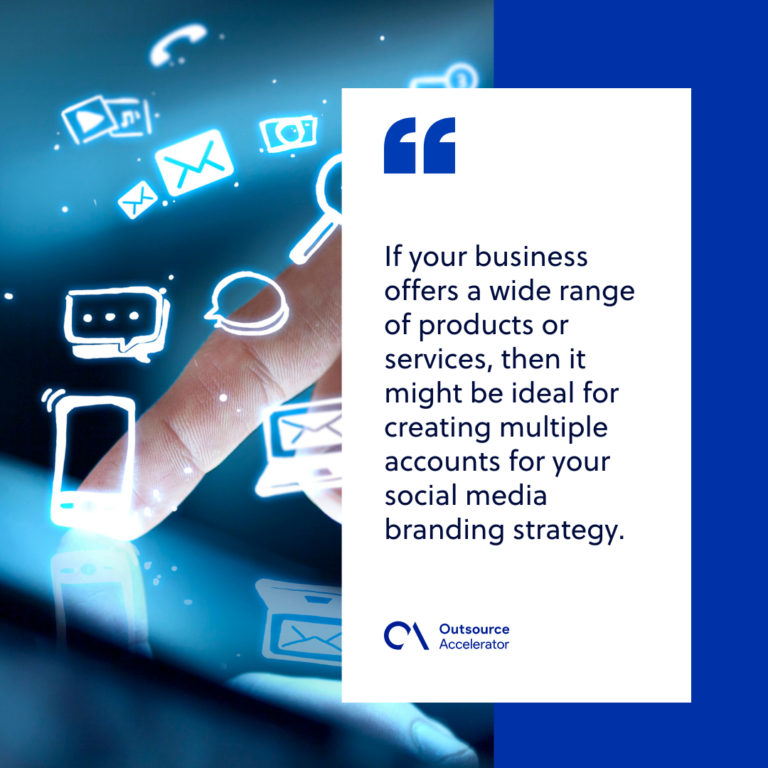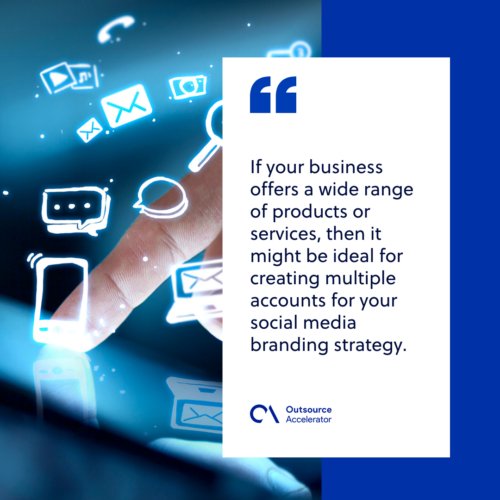 Choosing the right platform for your social media branding
It can be overwhelming to pick the right one to use for your social media branding. Running your business can also restrict your time.
Narrowing down your choice to just a select few platforms will allow you to prioritize and create fresh content regularly. 
Here are several ways you can do to pick the best social media platform for your business.
Define your goals
Companies have different goals in establishing their social media branding. It can be used to connect with clients or drive brand recognition. Some businesses create their social media accounts to provide customer support.
List down the different ways that social media can boost your brand. Setting specific goals will help you feel more confident to accomplish more and make you accountable for your choices.
Know the uses of different social media platforms
Get to know how each social media platform is being used. Are they mainly for connecting with other people or for entertainment?
Studying how the content from one channel to the next varies will help you pick which platforms to use for your social media branding. It will also help you market to a more targeted audience.
Below are examples of social media platforms and how people are using them:
Facebook.

Commonly used to connect with friends and family, as well as the brands that they enjoy. 

Twitter.

A platform for news, current events, and user discussions. The content is very dynamic and usually centered around trending topics.

LinkedIn.

Specifically designed for businesses and professionals.

Instagram.

Focused on visual content, particularly photos and videos. It is a prominent place to showcase a brand identity through creative means.

YouTube.

The leading platform for user-generated vlogs and long-form videos with high engagement.
Identify your market 
Another crucial step in choosing the best social media platform for your business is to identify your target audience. Who is your typical customer? How old are they? Does your product cater to all genders or only to one? What are their interests?
Use the answers to these questions — and other related topics — to help build the profile of your audience and identify your market.