Top 20 SEO agencies in Jamaica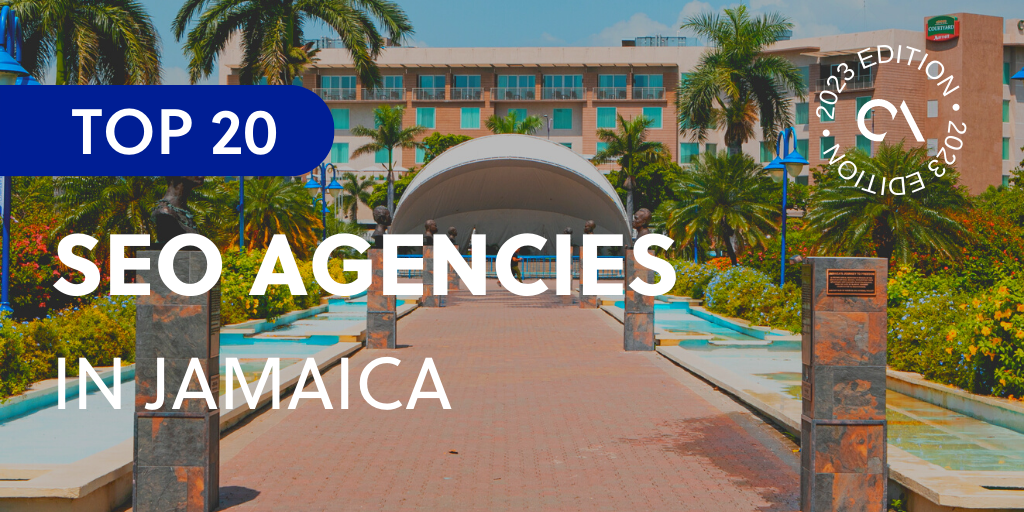 Top 20 SEO agencies in Jamaica
List of top SEO companies in Jamaica
Jamaica is an emerging player in the outsourcing industry. Capitalizing on the huge influence of the US and Western countries, it has joined the fray and offers international advertising and marketing solutions. 
Other digital marketing functions, especially SEO services, have flourished in the country. Coupled with affordable rates and a talented workforce, third-party services companies contribute greatly to Jamaica's budding economy. 
To better understand the scope and magnitude of their influence, this article will outline 20 of the top SEO agencies in Jamaica.
SEO 101: A quick overview
Search engine optimization (SEO) is the scientific approach to increasing the quality and quantity of traffic on a website. 
Employing a variety of strategies, such as keyword research and hyperlinking, helps boost brand awareness and saturation online. 
The key to SEO is possessing a good handle on what people are concerned with, like the following:
Answers they look for

Words they usually use 

Type of online content they consume
By understanding the nature of this user behavior, businesses can make informed decisions on how to tailor their models and strategies to meet the demand and needs of their end users. 
SEO emphasizes organic research as opposed to the pay-per-click method.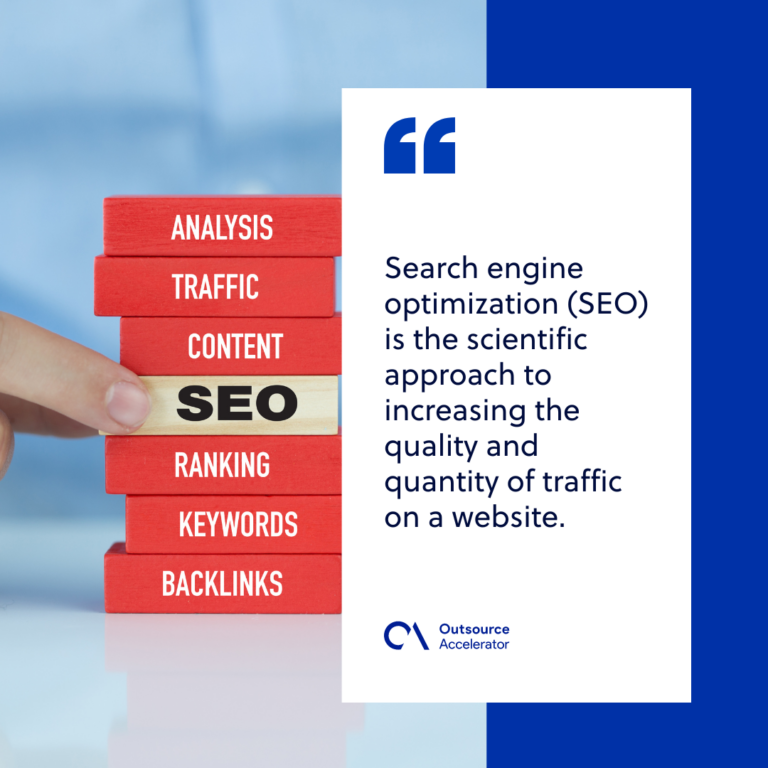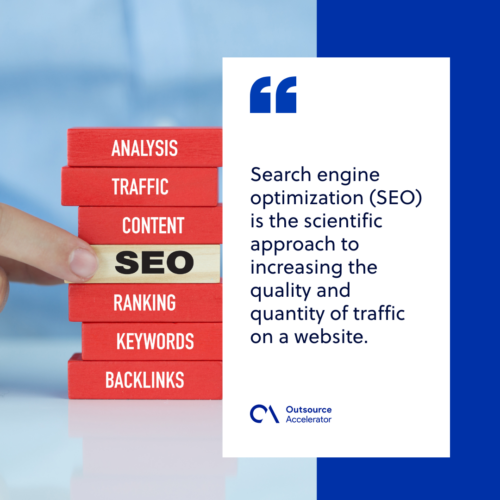 What to look for in SEO companies?
Finding the right partner can be quite challenging. It requires a thorough understanding of how the prospective company worked in the past. 
To help guide businesses decide, below are key factors to consider: 
Referrals 
Referrals are a good indicator that the prospect of a third-party SEO company has delivered and worked proficiently. In fact, many companies look for referrals in deciding which to tap as their SEO company partner. 
This is reasonable since companies that do not have proper SEO knowledge would always rely on the positive experience of their friends and colleagues that they trust.
SEO knowledge 
The technical aspect of the SEO process is the most important in choosing a company. A referral is one thing, but their proven scientific and targeted approach is more crucial. 
Along with their technical expertise, customer service, transparency, and efficiency are essential factors to look out for as well. 
Online reviews
Online reviews weigh a lot. These are objective opinions from a wide range of clients they have served. This provides an unbiased opinion from different businesses from various industries. 
As an SEO company, it is important that they are flexible and can cater to a wide range of niches since business strategies can change on the fly. A positive online reputation is concrete evidence of their capabilities technically and as partners. 
Top global outsourcing list
Outsource Accelerator is the world's leading outsourcing marketplace and advisory. We list over 3,000 BPO firms located across the globe in our global directory, and we provide detailed information, price guides, and reviews.

Whether you are a solopreneur, SME owner, or corporate executive, we can help you find the most suitable outsourcing provider for your business.

Explore our outsourcing directory now. You may also check out our Top SEO firms lists per country here:
Top 20 SEO agencies in Jamaica
Below are the top 20 SEO firms located in Jamaica: 
With proven competence and mastery of online marketing, it optimizes businesses through strategic boosts of online content through SEO solutions. 
Be it on social media or website content, it can cater to the various demands of small to large businesses with anything related to digital media enhancements and strategies. 
Based in Kingston, Jamaica, it is a full-service digital firm specializing in content creation powered by data analytics and SEO solutions. 
Regardless of the target niche of its clients, it can tailor-fit its SEO solutions to maximize its clients' advantages compared to its competitors. 
As a full-service digital enterprise, its SEO-driven content is complemented by other online strategies boosting online presence and saturation. 
A stable partner of the Development Bank of Jamaica, it helps small and medium businesses harness the benefits of online and digital services. 
Promoting affordable services enables them to build software and digital strategies that can help strengthen their online position in a sea of digital marketing strategies. 
It also uses traditional marketing and advertising methodologies to supplement its digital initiatives. 
High Voltage SEO is a leading digital marketing company in Jamaica that boosts online content with niche-specific strategies. This leading SEO services provider is backed by a strong portfolio of 250 companies it has helped throughout the years.
High Voltage SEO transforms the digital presence of its clients to optimize versions of themselves through its local to technical SEO services. 
With the help of science, websites, platforms, and different content online are made visible by driving traffic into these channels. 
Based in Kingston, Web Solutions is a full-service digital marketing agency that uses various lead generation techniques such as SEO, social media marketing, and SEM. 
Complementing this with web system design and branding, it creates customized solutions and services to increase brand awareness. 
Brandriseo is a digital marketing agency located in Montego Bay, Jamaica. It has a team of seasoned professionals who leave and breathe creativity. 
Aside from SEO-related services, it also offers other outsourcing functions such as web design and development, graphic design, and social media marketing. 
Digitalawah Agency is composed of a dynamic team of digital marketing and advertising professionals. It claims to be among the best Digital Advertising agencies headquartered in Kingston, Jamaica. 
Digitalawah Agency's wide array of outsourcing services includes SEO, web design and development, social media management, and website and application security. 
Blitz Web Design has two offices located in Florida, USA, and Kingston, Jamaica. This third-party services agency describes itself as a web development, hosting, and branding solutions company. 
It offers full e-commerce, web design, web hosting, and promotions, including SEO services to global businesses. 
Iconic Communications agency prides itself on having a team of digital footprint specialists. This digital marketing firm supports growing businesses by creating content and branding they require to communicate via the web successfully. 
Iconic Communications has two physical offices in Lauderdale Lakes, Florida, and Warminster, Jamaica. 
An experienced digital marketing agency with a proven track record of successfully increasing brand saturation and recall. 
Taking into consideration user experience and receptiveness, it tweaks its services and solutions to leave an impactful presence on the web. The company uses effective lead generation strategies and easy to use website interface. 
With its global presence, it has helped in securing huge ROIs for the brands and companies it has partnered. 
Seasoned wordsmiths and software developers, Advance Tech Digital Marketing Agency offers digital marketing, website development, and branding. 
Understanding the science and art behind customer behavior, they use a variety of methods and approaches in dealing with the market and target niches of the clients. 
This includes systematic and thorough profiling of the markets, ensuring that the data have been updated and focused on what matters and leaves an impact. 
Established in 2018, Bumble Bee Digital Agency is making a brand for itself as a full-service digital marketing agency that serves 100 clients in Jamaica and the Caribbean. 
With a good handle on the cultural sensibilities of these countries, it can create engaging and focused digital content based on its niche. 
Complemented by a wide range of online initiatives, including blog articles, social media management, and magazine publication, it ensures that end users are saturated with the content they need and want. 
Ezy Advertising Management Limited is your one-stop shop for all your digital marketing needs. This full-service digital marketing agency headquartered in Kingston, Jamaica, is backed by over 25 years of industry experience.
In terms of SEO-related functions, its featured services include content strategy, SEO consultancy, SEO optimization, and pay-per-click advertising. 
Evolve Marketing & Media is another full-suite marketing services company situated in Kingston, Jamaica. It helps businesses grow by offering web design, seo, audience targeting, ad campaign, and social media management services. 
Panmedia is a digital marketing firm that is also specializing in social media, web development, and mobile strategies. Aside from online digital solutions, Panmedia also provides events planning and PR services. 
Its physical office is located on St Lucia Ave, Kingston, Jamaica. 
Zenna Concepts has worked with renowned brands like Kraft, Oreo, and Cadbury throughout the years. For over 12 years, this multimedia company based in Jamaica has been aiding multinational companies all over the world. 
It is focused on boosting client satisfaction through content creation, media marketing, graphic design, and other multimedia functions. 
HopInTop is another digital marketing services company founded in Kingston, Jamaica. Its featured services are SEO, pay-per-click, social media marketing, inbound marketing, reputation management, and mailing. 
Over the years, HopInTop has bagged global recognition. Among its awards include Clutch's Top B2B Companies in 2018 and Best SEO Firms (SEMfirms). 
SocialStemm prioritizes small businesses by providing social media management, social media advertising, search engine marketing, and email marketing services. It is one of Jamaica's fastest-growing social media marketing agencies that both local and international clients trust. 
Hoopla Ocular is a branding, design, and development services company located in Portmore, Jamaica. In terms of its SEO-related functions, it offers SEO & SEM, social media management, digital integrated marketing, and advertising strategies. 
One Group is a renowned PR and marketing agency in Kingston, Jamaica. Since 2018, it has been helping companies with their marketing consulting, PR, branding, SEO, web design, and web development needs.