Top 20 PPC agencies to grow your brand in 2023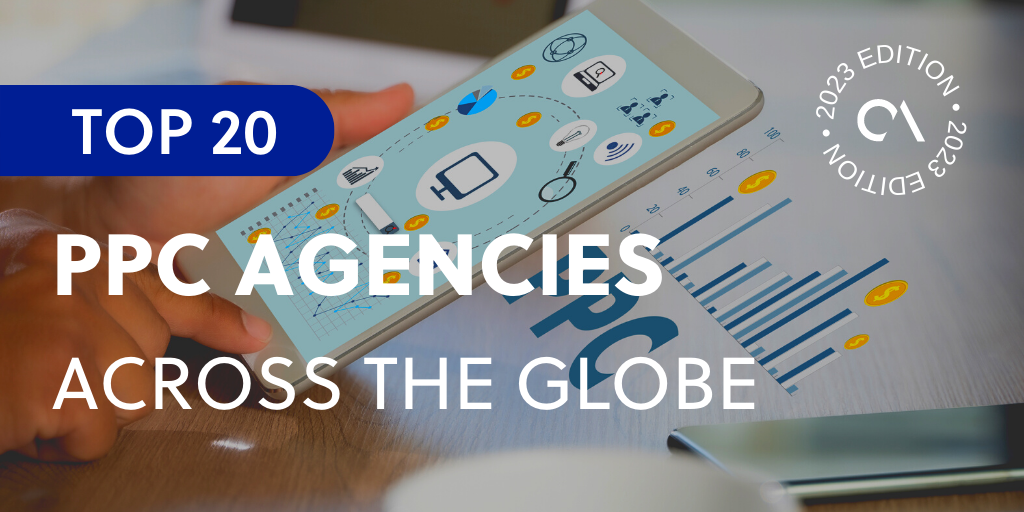 As a business owner, you need exposure to the digital world. The customers should find you once they search for a keyword related to your business. To do this, you need a winning digital marketing strategy. 
One of the efficient advertising strategies to highlight your services and products online is through pay-per-click (PPC). However, you need more time and expertise to run a PPC campaign. 
This article discusses the top PPC agencies you can partner with and how to know if you choose the right one. 
List of top PPC agencies 
Top global outsourcing list
Outsource Accelerator is the world's leading outsourcing marketplace and advisory. We list over 3,000 BPO firms located across the globe in our global directory, and we provide detailed information, price guides, and reviews.

Whether you're a solopreneur, SME owner, or corporate executive, we can help you find the most suitable outsourcing provider for your business. Explore our outsourcing directory now.
What does a PPC agency do?
If you are unfamiliar with the term, PPC is one form of online advertising and marketing. It allows you to reach customers by bidding on relevant keywords. In this form of marketing, your ads appear on different platforms, like search results and social media. 
Every time a user clicks on your ad, you will pay a fee to the publisher. You also pay to generate traffic to your site or a landing page. 
When done right, PPC can become a game-changer for your business. However, developing a PPC campaign or series of campaigns requires commitment. PPC agencies exist to help in the marketing side of things. 
PPC agencies have a crucial role in business growth. They handle the technicalities of running paid ads–targeting the audience, designing plans and creatives, and running online ad campaigns. 
It does not stop there. The right PPC agency provides reports and analysis to assist clients in assessing and improving results in the long run.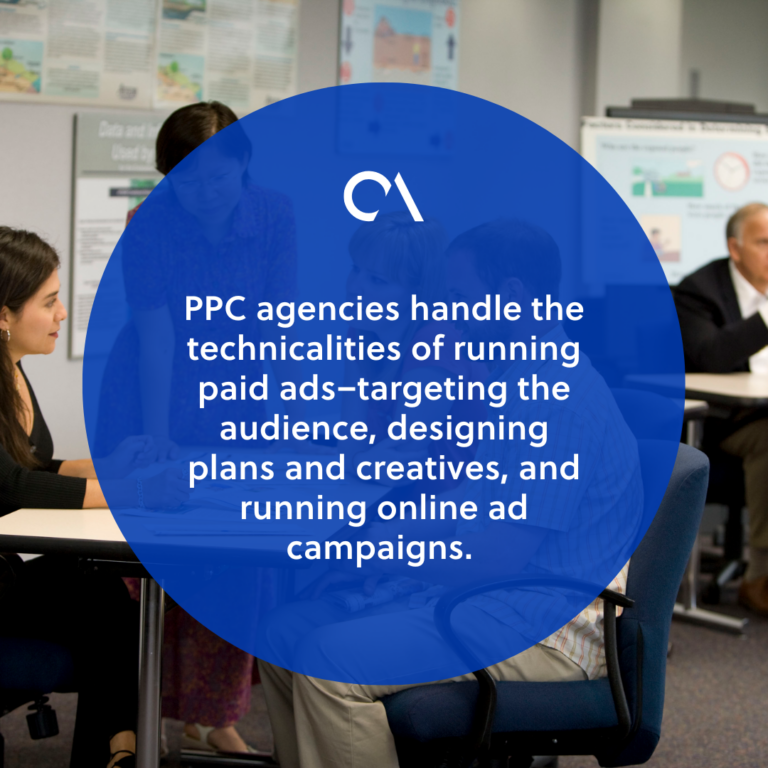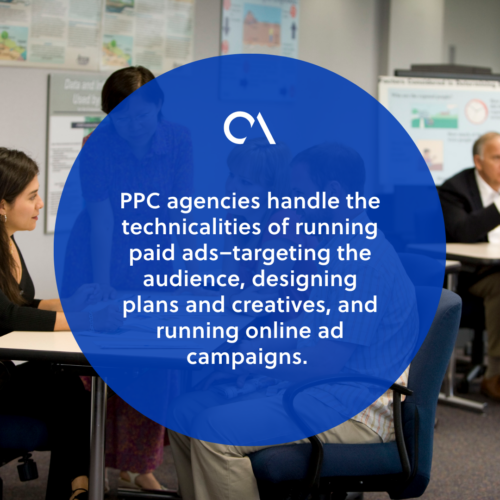 How to choose the right PPC agency for your business
It is not easy to find a PPC agency that you can trust. Here are some key points to consider when looking for an agency that fits your business:
Assess experience and expertise
Working with a PPC agency with no expertise or experience in your industry is disastrous. The approach of ad campaigns differs per industry. So it is a plus point if your chosen agency has prior experience in your sector. 
You can check the agency's case studies or portfolio. These references will show how they got results from the strategies, ads spent, and platforms they prioritized. 
Review pricing
If you own a small business, you might not have a big budget for a full marketing campaign—transparency matters. So you must be cautious of PPC agencies that want to keep their pricing private. 
Moreover, these companies should inform you of any hidden charges. You can ask for a breakdown of the pricing. They should know the cost of paid ad campaigns, audits, and management and development. 
Check platform 
Your chosen PPC agency should specialize in your preferred ad platforms. Most agencies use Google Ads, placing the ad on Google's search result pages. However, you must determine which platform best suits your business goals. 
For instance, if customers usually find you on Instagram, your PPC agency should have experience running ads on that platform.
Other platforms you can require include Microsoft Ads and Yahoo Ads, while social media platforms are Facebook, Pinterest, Twitter, YouTube, and Instagram. 
Top PPC agencies to whip your campaigns
Many businesses want to position their brands before customers–including you. If you want to increase your search visibility, check these top 20 PPC agencies across the globe. 
You will learn how they make a difference and how to get more customers with their strategies: 
Black Propeller is an award-winning industry leader. Founded in 2011, this Google Partner agency has helped thousands of businesses break sales records through PPC management and conversion rate optimization (CRO) services.
Black Propeller helps its partners with paid search marketing, social media advertising, remarketing, display advertising, YouTube video advertising, and e-commerce PPC management. 
Ignite Visibility is a leading digital marketing agency based in California. It has worked with global brands and has been recognized as a five-time Inc. 5000 company. The company offers full-service digital marketing solutions and specializes in multichannel digital strategies.
These services include SEO, PPC management, social media management, email marketing, CRO, online reputation management, SEO consulting, and franchise marketing. 
For every business need, Disruptive Advertising can make their client's marketing approach irresistible. Their specialists can help companies generate more clicks, sales, and ROI with their PPC strategies. 
Meanwhile, they can crush the competition with their creative portfolio and expertise in Amazon marketing, SEO, lead generation, and e-commerce marketing.  
KlientBoost's success stories speak for themselves. The people behind the company want to double their client's revenue over expenditure. 
KlientBoost is a digital marketing agency that helps businesses of all sizes acquire more leads and boost sales. They do it by managing their SEO, email marketing, and paid advertisement efforts. 
Moreover, KilentBoost has squeezed more ROI from its clients' marketing channels because they are not afraid to experiment with which strategy would and would not work. 
Directive Consulting started as a two-person show. Today, it is a leading B2B and enterprise search marketing agency headquartered in California. The company specializes in SEO, PPC, CRO, social media marketing, content marketing, and digital PR using analytics. 
WebiMax has delivered proven results to help clients grow their businesses since 2008. The company offers various services, including reputation management, SEO, PPC marketing, social media marketing, lead generation, digital PR, and website design. 
Their specialists develop and implement the strategies, ensuring a successful campaign from start to finish. The firm guarantees its clients that real people are behind every service rendered. 
AdVenture Media Group has managed the advertising campaigns for several publicly traded companies, international brands, and small boutiques. The agency specializes in paid advertising, CRO, lead generation, remarketing, and landing page design. 
Moreover, AdVenture Media Group is a Google Partner. This status only means that the company has delivered outstanding results for its clients. 
Stryde is another digital marketing company specializing in e-commerce and works with start-ups and large businesses. Its mission is to help female-owned e-commerce companies scale and become profitable. 
Stryde has proven its expertise after helping Lime Ricke, a swimsuit brand, achieve a 5.2 ROI. They also helped Lucy Ave, a women's clothing boutique, achieve a 4.3 ROI.
These figures prove that Stryde helps its brand partners tell their stories through strategic digital marketing. 
Loud Mouth Media is a multi-awarded digital advertising agency based in Northern Ireland. 
It provides full-service digital marketing solutions that ignite brands and solve their biggest challenges. Their services include digital strategy, executive search, SEO, social advertising, paid marketing, CRO, and content marketing. 
Radd Interactive's passion is to boost its partners' growth, revenue, and brand recognition using "Radd" techniques. Based on their case studies, they successfully assisted small and medium businesses from different industries. 
As a search engine marketing (SEM) agency, the services offered include SEO, PPC marketing, link acquisition, Amazon marketing, video production, and social media management. 
PPC Geeks is a multi-awarded e-Commerce PPC expert based in the United Kingdom. Its 15 years of experience have made key clients happy. The company's digital advertising experts have helped clients grow their profits and revenue. 
PPC Geeks can help businesses improve their results through paid advertising on different platforms, including Google, Facebook, Bing, Amazon, and TikTok. 
SEO Brand's goal is straightforward–helping its partners crush the competition. Combining SEO, PPC, social media advertising, and custom software solutions has made SEO Brand an award-winning digital marketing agency. 
With over 15 years of experience in the industry, this company has ranked more than 100,000 pages on Google. 
SEO Brand experts have made it possible because they understand each company's needs. From there, they developed digital marketing solutions that are attainable to return on investment.  
SEO Discovery is a suitable digital marketing agency for small and medium businesses. The firm's experts know how to navigate different digital channels. With this knowledge, they have a clear view of the entire customer journey, from awareness to conversion. 
SEO Discover helps businesses grow by incorporating PPC, influencer marketing, affiliate marketing, content marketing, social media marketing, and SEO. 
The close-knit team of Tilt Metrics obsesses over building paid media advertisements that convert. From being a small team, the company has grown as a force to be reckoned with in B2B and SaaS marketing. 
Tilt Metrics focuses on generating qualified leads through paid advertising. Its strong track record is evident. They have worked with B2B and SaaS brands from different sectors and personalized their approach to fit the client's needs. 
The core services of Tilt Metrics are paid media advertising, SEO, and CRO. 
With 20 years of experience under their belt, JumpFly is one of the top digital advertising agencies specializing in PPC, SEO, paid social media, advertising for Amazon, and creative media strategy. 
Aside from JumpFly's award-winning team, this company has powerful artificial intelligence (AI) to monitor campaigns round-the-clock. This proprietary technology is another competitive advantage of JumpFly.   
BrainLabs' not-so-secret formula combines testing, technology, and talent. It blends mathematics and innovative technology analytics to develop the right strategy to grow a business. 
This agency is an expert in many areas of marketing. This includes paid search advertising, programmatic, paid social, data science, retail media, SEO, CRO, and Google Marketing Platform (GMP). 
Lockhern Digital understands how collaboration can do wonders in the digital landscape. This digital marketing company works more as a partner than an agency. This approach led them to be recognized among the top 3% of agencies within the United States. 
Lockhern Digital's experts manage paid media ads in Google, YouTube, Meta, Instagram, Microsoft, Amazon, Pinterest, TikTok, and Snapchat.  They also offer social media management, email marketing, remarketing, and content creation. 
SmartSites is an award-winning digital marketing agency in New Jersey. Its founders have always been passionate about all things digital and want to create, innovate, and foster creativity. 
Since its inception in 2011, SmartSites has helped businesses of all sizes drive real results. It also became a Google Premier Partner, Microsoft Advertising Select Partner, and Facebook Marketing Partner.  
SmartSites' services include web design, PPC advertising, SEO, email and SMS marketing, and social media marketing. 
The love of digital creations and the improvement of businesses motivate Bird Marketing. This UK-based Digital Agency has always been focused on creating experiences through bold digital designs, SEO prowess, and innovative techniques. 
Bird Marketing works with clients to improve the effectiveness of their digital marketing strategies and create strategic campaigns for SEO, content writing, PPC, and more.  
Fruition wants businesses to be seen, heard, and grow. Being in the industry for 20 years, Fruition has been creating big things for different businesses and government agencies. 
This company has a team of ad specialists who can get brands in front of customers with the right message at the right time.
They can help catapult businesses with data-driven strategies, including SEO, paid media services, website development, and social media marketing. 
Supercharge business growth with your trusted PPC agency
Every digital marketing agency aims to amp up a business's digital presence. The question is, how can they do it? If you want your business to get that exposure, you can explore the wonders of PPC advertising. 
However, it is not a silver bullet; your high bid does not matter if you have a poor landing page, unclear branding, and no social proof. Choose a PPC agency that understands how to take your business to where you want it to be.