Definition
What is PPC marketing?
Pay-per-click or PPC marketing is a digital marketing technique in which marketers pay for each click on their advertisements. 
One of the most common types of PPC marketing is search engine promotion. In this activity, companies pay to have their ads show up when someone searches for a relevant keyword to their product or service.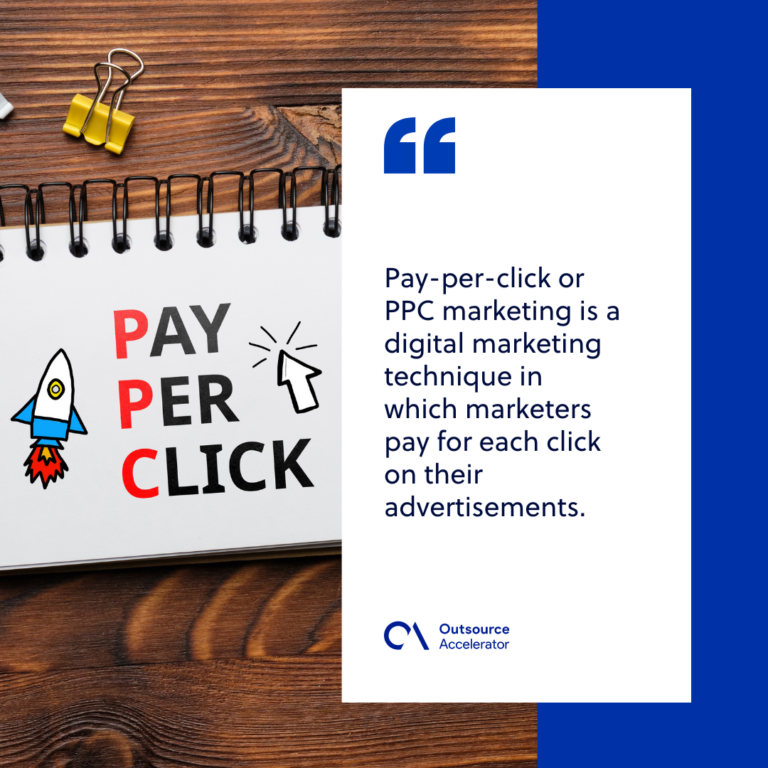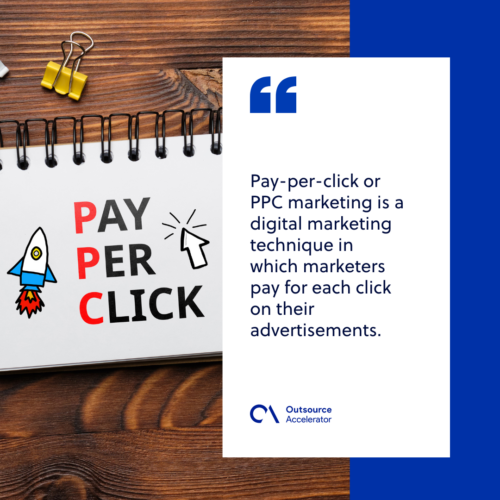 How does PPC marketing work?
PPC marketing is usually composed of the following:
Marketing campaign.

It uses a variety of media to spread the word about a product.

Keywords.

Words or phrases that are relevant to the ad group you are targeting.

Ad copy.

It is the written part or text of your ad that makes people want to click on your ad.

Landing page.

When someone clicks on your ad, this is where they "land" on. It can be a product page or content on your website.

Ad group.

This refers to the collection of campaign-related campaigns.
PPC marketing only works if someone clicks on your adverts and visits your website. 
As part of the ad auction, search engines like Google utilize a fully automated approach to determine the relevance and legitimacy of adverts displayed on their search results pages.
There is a bidding structure in the ad auction that requires advertisers to place ad bids on the keywords they want their ads to appear for. It is important that you only bid on keywords related to your business. 
The ad auction is based on complex algorithmic calculations performed by the search engine when a user submits a search query. Using this, you may choose which ads are shown, in what order, and from which advertisers they come.
Importance of PPC marketing to business
PPC marketing generates interest in your product or service, which you can then convert into a long-term client connection. Here are other benefits you can reap from utilizing this model:
Improve brand awareness
You can make your brand more well-known to your target audience by strategically placing your PPC ads where they can easily see them. Ads that demonstrate what your business is all about, including a distinctive name or logo, will attract the attention of your target audience.
Increase visitors
In addition to generating consumer interest, pay-per-click advertising also drives visitors to your website. It is an effective and convenient way to attract leads.
When implemented in conjunction with exceptional SEO, PPC advertising can help create a steady rise in organic search engine rankings.
Make effective use of retargeting
Analytics and PPC marketing allow you to track the behavior of visitors to your campaign and retarget those who didn't take action.
PPC marketing makes retargeting possible by keeping track of users who previously viewed your ad. It can help you increase brand awareness and attract new customers by using this highly targeted advertising method.
Improve social media campaigns
If you run an optimized PPC campaign across both search engines and social media, you may lower your cost per acquisition while increasing your conversion rate.
With more cross-channel customer data, you can improve your campaigns even more effectively.
Boost cost efficiency of reaching your target audience
PPC campaigns provide you with complete control over your budget, targeting, and ad placements. With constant PPC campaign optimization, you'll rapidly find the right balance between your budget and results.
There's no need to worry about paying for the ad impressions or reach because you just pay for the number of times your ad is clicked.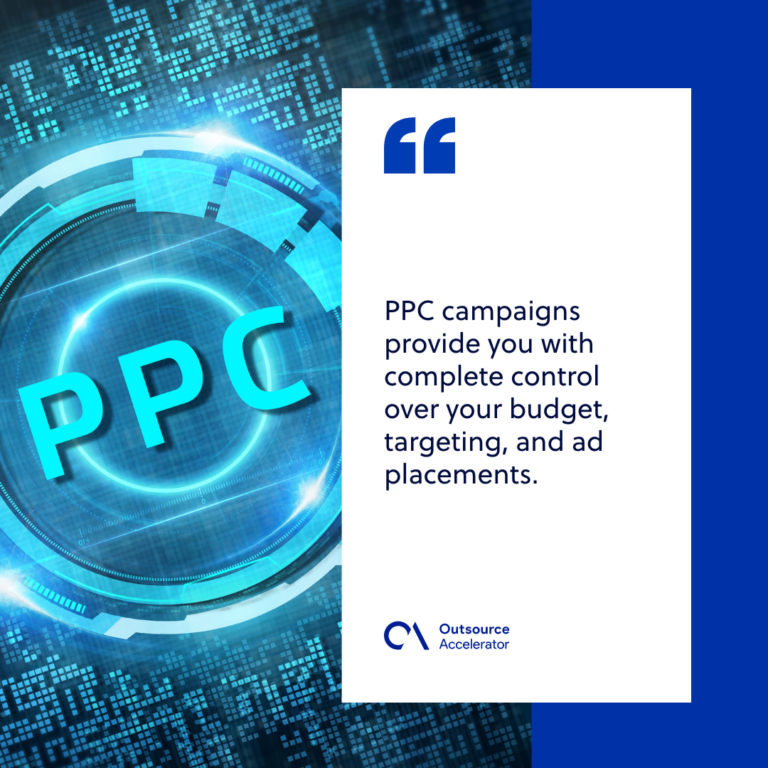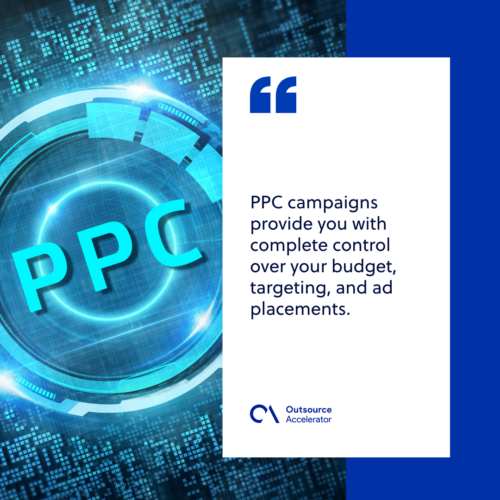 Strategies to optimize your PPC marketing
It is possible to enhance sales and justify the expense of PPC advertisements by using them in combination with the following strategies:
Research relevant keywords
As much as it is important in SEO and content marketing, keyword research is also crucial before beginning a pay-per-click (PPC) campaign.
The first step is to choose generic terms that describe your most important products and services. Due to the high competition for these keywords, they are unlikely to be the ideal ones to focus on alone.
Combine generic phrases with descriptive adjectives that pertain to your product offerings. This will assist you in building a list of potential keywords to target.
Increase your keyword list
Your keyword list can always be expanded. It's possible to add descriptive terms to long-tail keywords, but removing them from short-tail keywords may be more effective.
A multitude of keyword recommendation tools can help you find the best keywords for your content. As an alternative, you may look at what keywords your competitors are ranking for and aim for better content that incorporates those keywords.
Create a user-friendly website
A user-friendly website is simple for visitors to navigate. For your content, it's essential to use suitable fonts, break up long paragraphs, and use diverse types of material like photos and videos where appropriate.