Top 20 IT software companies in 2023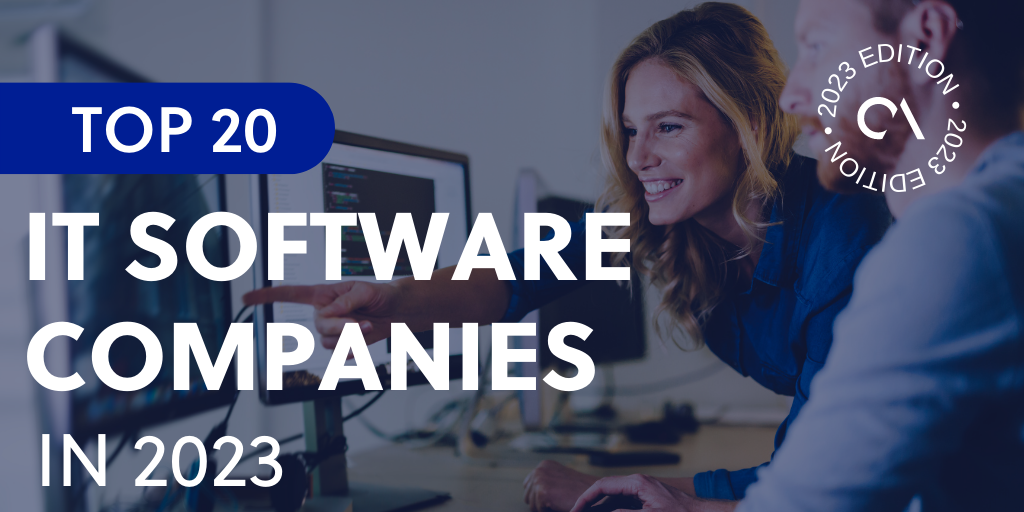 If you've ever done something as simple as checking your email, then you've used information technology. Information technology (IT) is any use of computer systems to share or receive information. 
IT is so pervasive that every corporation has it as a core part of its operations. With IT, you can process information quickly, use analytics to make better decisions, and even create simulations through special computer programs. These activities are made possible by utilizing IT software. 
This article will briefly summarize 20 of the top IT software companies in 2023. 
What is IT software? 
IT software is all the code and instructions within your devices that allow you to do all of the above. 
In today's cyber era, most software can be considered IT software as long as it lets you interact with information (alongside the hardware that is your physical device). 
Programs that fall under the category of IT software may include – artificial intelligence, app development, backup and recovery procedures, and network tools.   
Features of the top IT software
Here we have five features integrated into some of the top IT software: 
Usability
The best IT software gives its users clean, easy-to-follow environments. A steep learning curve can quickly scare off customers. Simplicity and easy assistance are key when providing IT software. 
Flexibility
The best technology does not stay stagnant, and top IT software grows alongside its user. Adapting to changing markets and trends should be a priority. It must also be flexible enough to be customized for different user needs and careers.
Deployment 
Premier IT software companies give customers the option of deploying on either on-site premises or on cloud infrastructure. In recent times, more and more have shifted to the cloud for agility and flexibility. 
Integration
IT software users rarely like their product to be isolated. Innovative companies aim to bring their customers into an ecosystem of partners and systems. Integrated systems connect with other tools and applications to optimize processes. 
Innovation and core development balance 
There must be a balance in the company, focusing on today and tomorrow. Ensure that the IT software works as promised while continuing to evolve.  
Use of IT software in business
IT software has become a pivotal part of business operations. The IT department of a company is responsible for monitoring and managing all information technology and communication software. Thus, it ensures the business runs efficiently and productively. 
Different branches of a business make use of IT. The software creates marketing data for marketing transactions, streamlines automation for manufacturing, and protects assets through cybersecurity.  
The main service companies look for in IT software is whether the product can provide them with the means to perform their affairs more easily. 
The top companies use their IT software tools to:
Solve problems in decision-making

Improve communication

Boost customer support, and 

Expand their business as a whole
If there is a backbone to the day-to-day activities of an organization, it lies in its IT software operation.  
Top global outsourcing lists
Outsource Accelerator is the world's leading outsourcing marketplace and advisory. We list over 3,000 BPO firms located across the globe in our global directory, and we provide detailed information, price guides, and reviews.
Whether you're a solopreneur, SME owner, or a corporate executive, we can help you find the most suitable outsourcing provider for your business.
Explore our outsourcing directory now. You may also check out our Top IT software/companies lists here:
Top 20 IT software companies
Here is the list of the top IT software companies in the world. Many tech companies will have an IT division even if the focus of the greater company may not necessarily reflect it. 
For that fact, along with the term "IT software" itself having a very broad meaning, this list comprises the main companies themselves, for simplicity's sake. 
Note: This list uses market capitalization (as of August 2022). This is the total dollar market value of a company's outstanding shares of stock, and is used by the investment community to determine a company's size. 
Market capitalization worth: 2.80 trillion USD
Founded: 1976
Founders: Steve Jobs, Steve Wozniak, Ronald Wayne
Headquarters: Cupertino, California
Apple is the foremost computer software manufacturer. It has edged out its closest competitor and become the first company to have crossed the 3 trillion USD market value earlier this year. 
Its products include Mac OS X system, iTunes media browser, iLife suite of creativity software, iWork suite of productivity software, and Final Cut Studio for film software. 
Market capitalization worth: 2.16 trillion USD
Founded: 1975
Founders: Bill Gates, Paul G. Allen
Headquarters: Redmond, Washington
Microsoft is a leading developer in personal computer software systems and applications. It is the world's most significant architect in information technology, and it mainly offers:
operating system software

productivity software, and 

enterprise software
Among its products, the Windows operating system is the most used OS in the world, and the Office is the most popular productivity software. Microsoft also owns the Azure cloud computing service. 
Market capitalization worth: 1.57 trillion USD
Founded: 1998
Founders: Larry Page, Sergey Brin
Headquarters: Mountain View, California
The parent company of Google, which reinvented the way the world accesses information. Alphabet has also allowed Google to grow into domains beyond internet search and advertising to become a tech conglomerate. 
Google now offers more than 50 Internet services and products, even extending into the software within personal devices.  
Market capitalization worth: 1.45 trillion USD
Founded: 1994
Founders: Jeff Bezos
Headquarters: Seattle, Washington, and Arlington, Virginia
Amazon.com is an iconic example of electronic commerce. They are a vast Internet-based enterprise with a considerable online presence. At one point, one percent of all Internet traffic in North America was traveling through Amazon's data centers. 
As a technology company, Amazon Web Services is its most profitable division. 
Market capitalization worth: 469.41 billion USD
Founded: 2004
Founders: Mark Zuckerberg, Eduardo Saverin, Andrew McCollum, Dustin Moskovitz, Chris Hughes
Headquarters: Menlo Park, California
Formerly Facebook until 2021, Meta's name describes the company's increased focus on augmented and virtual reality. 
Aside from Facebook, they also manage Instagram, Messenger, WhatsApp, and Oculus. Meta builds applications that help people connect, find communities, and grow businesses. 
Market capitalization worth: 3.03 trillion HKD
Founded: 1998
Founders: Pony Ma, Tony Zhang, Xu Chenye, Charles Chen, Zeng Liqing
Headquarters: Shenzhen, Guangdong, China
Based in China, Tencent is one of the largest internet companies in the world and the largest company in the video game industry. 
Tencent is an internet service portal that offers internet, mobile, telecom, and other advertising services. It is also primarily known for the smartphone chat app WeChat and the social network service QQ.  
Market capitalization worth: 223.10 billion USD
Founded: 1961
Headquarters: San Jose, California
Broadcom began as the former semiconductor product division of Hewlett-Packard. They still primarily manufacture semiconductors but also are heavily involved in the IT software business. 
It has two main subsidiaries: CA Technologies which focuses on enterprise software, and NortonLifeLock, which focuses on security software. 
Market capitalization worth: 211.38 billion USD
Founded: 1977
Founders: Larry Ellison, Bob Miner, Ed Oates
Headquarters: Austin, Texas, with an office complex in Redwood Shores, California
Oracle embraced the Internet early on and develop products compatible with online technologies. Today the business revolves around producing and distributing a line of software products for computer-aided applications. 
Aside from selling cloud engineering and database management, Oracle also distributes Java programming tools.  
Market capitalization worth: 205.47 billion USD
Founded: 1982
Founders: John Warnock, Charles Geschke
Headquarters: San Jose, California
Mainly known for its multimedia and creativity software, Adobe was instrumental in creating the desktop publishing industry. 
Its popular products include Photoshop, Acrobat Reader, and Creative Cloud. It also offers other tools like marketing software and web conferencing platforms. 
Market capitalization worth: 202.07 billion USD
Founded: 1989
Headquarters: Dublin, Ireland
Accenture began as the business and technology consulting division of the accounting firm Arthur E. Andersen. 
Today it operates more than 100 "innovation hubs" to develop digital and cloud-based solutions. Accenture's focus on IT software is business performance improvement. 
Market capitalization worth: 202.24 billion USD
Founded: 1984
Founders: Leonard Bosack, Sandy Lerner
Headquarters: San Jose, California
Cisco is best known for its computer networking products. Within the industry, they are more known for providing to businesses than consumers. 
For their IT software, they engage in the business of IP-based networking products and services related to communications and IT. Many of their offerings are used to create internet solutions to make networks possible. 
Market capitalization worth: 186.99 billion USD
Founded: 1999
Founders: Marc Benioff, Parker Harris, Dave Moellenhoff, Frank Dominguez
Headquarters: San Francisco, California
Salesforce is a cloud-based IT software company that provides customer relationship management (CRM) software. In terms of CRM, it is a global leader. 
The company's focus in its pioneering has been cloud, web, social, IoT, and AI technology. 
Market capitalization worth: 134.76 billion USD
Founded: 1983
Founders: Scott Cook, Tom Proulx
Headquarters: Mountain View, California
Intuit is Silicon Valley's leading developer in IT software aimed at small businesses. It develops and markets business and financial management software solutions. 
Its most popular products are TurboTax, a tax preparation software package, as well as Quickbooks, their accounting software.  
Market capitalization worth: 125.61 billion USD
Founded: 1911
Founders: Charles Ranlett Flint 
Headquarters: Armonk, New York
International Business Machines, or IBM, is probably the oldest software company. Today, it mostly deals in branches of the future, such as artificial intelligence. 
In IT software, IBM is a global leader in cloud and cognition software development. With around 380,000 employees, it is also one of the largest in the world.  
Market capitalization worth: 111.28 billion EUR
Founded: 1972
Founders: Dietmarr Hopp, Hans- Werner Hector, Hasso Plattner, Klaus Tschira, Claus Wellenreuther
Headquarters: Walldorf, Baden-Württemberg, Germany
SAP engages in the provision of enterprise application software. It provides management, e-commerce services, and Software as a Service (SaaS).
SAP is the largest IT software company in Europe and is especially known for its Enterprise Resource Planning (ERP) software. 
Market capitalization worth: 98.90 billion USD
Founded: 2003
Founders: Fred Luddy
Headquarters: Santa Clara, California
ServiceNow is a cloud-based workflow automation platform that enables enterprise organizations to improve operational efficiency. IT professionals had rapidly adopted the service when the company began.
Its IT software provides infrastructure models for data collection, storage, and application development. 
Market capitalization worth: 43.92 billion USD
Founded: 2005
Founders: Dave Duffield, Aneel Bhusri 
Headquarters: Pleasanton, California 
Workday specializes in enterprise cloud applications. It is among the top IT software companies that grew by actually selling subscriptions rather than standalone IT software products. 
It also offers a suite of financial management applications and human capital management software. 
Market capitalization worth: 36.19 billion USD
Founded: 1984
Founders: Michael Dell
Headquarters: Round Rock, Texas
Dell focuses on selling personal computers, IT software, networks, and data storage. Its majority stake is in VMWare, a cloud computing and virtualization software firm, and VMWare runs desktop software on many major operating systems. 
Dell also owns Secureworks for cybersecurity services and PSA Security for encryption software. 
Market capitalization worth: 19.71 billion USD
Founded: 2015
Founders: Bill Hewlett, David Packard
Headquarters: Spring, Texas
HPE spun off from the parent company of Hewlett-Packard. 
Its IT software service operates through five segments – Hybrid IT (services and software infrastructure), Intelligent Edge (for enterprise and security), Software (IT operations), Financial Services (investment solutions and finances), and Corporate Investments (forward-looking ventures). 
Market capitalization worth: 12.39 trillion INR
Founded: 1968
Headquarters: Mumbai, Maharashtra, India
TCS is a multinational IT services and consulting company. It offers consulting-led, integrated portfolios of IT software and IT-enabled services. 
It delivers service through its unique Global Network Delivery (GND) model, which is recognized as the benchmark of excellence in IT software development. 
TCS has been a transformation partner for many of the world's largest businesses for the past 50 years.