Top 30 IT service companies in South Africa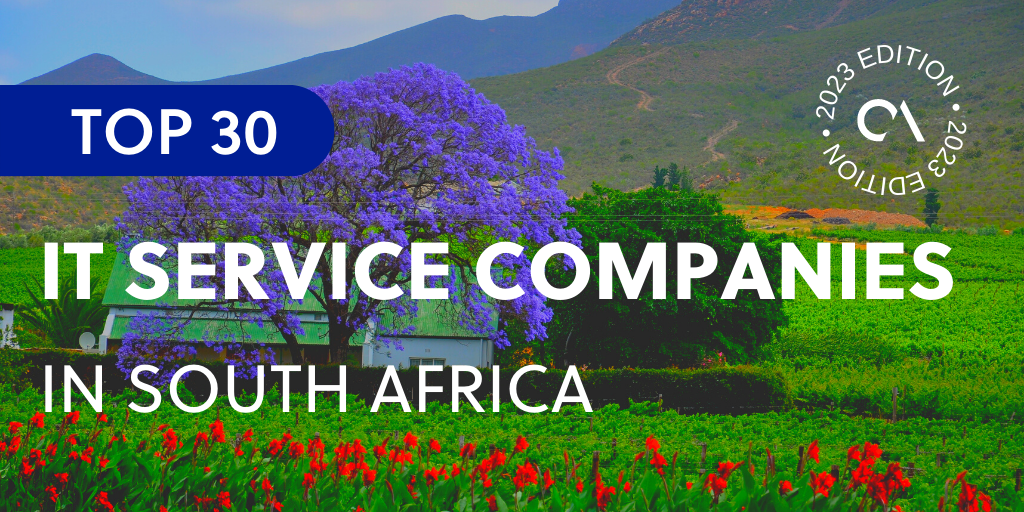 List of IT service companies in South Africa
Information technology has become so essential, regardless of location or industry. However, not all organizations can provide for their tech requirements. Thankfully, professional IT services companies are here to fill in the gaps.
Additionally, this space in the global market has led to the emergence of outsourcing hubs. One of these offshore centers is South Africa. It is recognized as one of the largest information and communications technology (ICT) markets in the African continent.
In fact, IT outsourcing dominates the South African ICT market.  Figures from Statista reveal a 2023 projection of $2.06 billion out of the country's $6.14 billion IT services market. 
A combination of an English-speaking population, cost-effective services, and cutting-edge technology make it a preferred provider of offshore IT services.
Take a look at how outsourced IT services can help your business grow. Also, get to know 30 of the top IT service companies in South Africa.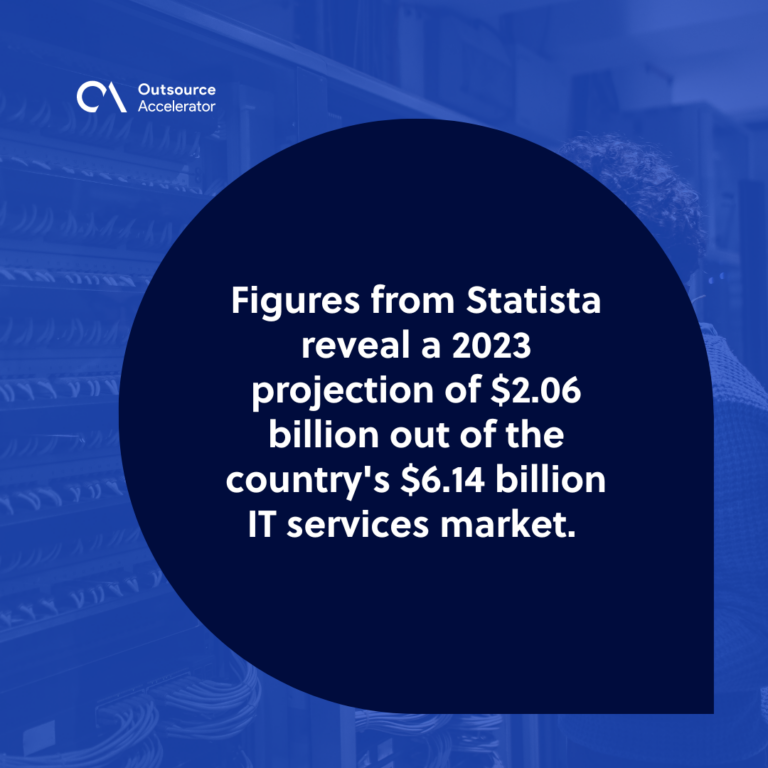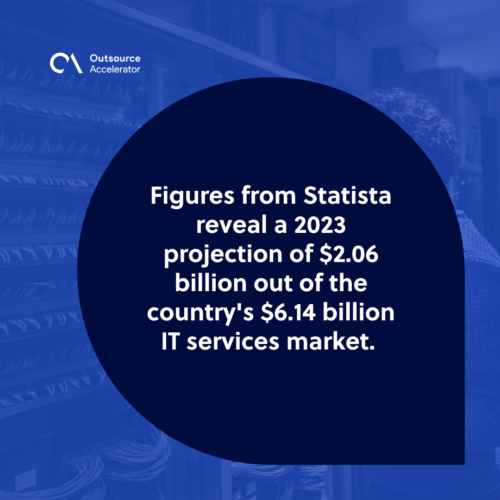 Shifting to managed IT services
Managed IT services, or outsourced IT, refers to entrusting your tech processes to a third-party contractor. Organizations turn to IT services companies to:
Reduce their in-house IT workload

Lessen associated costs

Cover gaps in IT processes
This range of services is also particularly versatile, depending on your company's needs. It varies from installing, monitoring, and maintaining IT equipment, systems management, cybersecurity, network monitoring, or backup and disaster recovery services.
In a technologically oriented world, the stakes relating to IT are also higher. In the US, for example, an average of 140,000 hard drives lose data every week, according to NovaBackup. 
This disrupts business processes and costs tens of thousands of dollars unless they have a backup plan in place.

Top global outsourcing list
Outsource Accelerator is the world's leading outsourcing marketplace and advisory. We list over 3,000 BPO firms located across the globe in our global directory, and we provide detailed information, price guides, and reviews.
Whether a solopreneur, SME owner, or corporate executive, we can help you find the most suitable outsourcing provider for your business.
Explore our outsourcing directory now. You may also check out our Top IT software/companies lists here:
Top 30 IT service companies in South Africa
Below are 30 of the renowned IT service companies in South Africa:
Operating from its Johannesburg headquarters, Psybergate is a software, solutions, and skills company that serves local and foreign clients while upskilling South African youth. 
Focusing on custom software development, it has worked with companies mostly in the finance and education sectors.
Another key IT service that Psybergate offers is resourcing. For companies with in-house IT teams, Psybergate can provide staff augmentation solutions.
As one of the top IT service companies in South Africa, Westech has been serving all major business sectors in the country since 1994. It offers a wide range of services, from full IT support to hosting services.
Based in Rivonia, Westech has strategic partnerships with Microsoft, Dell, and EMC. It also sets up and maintains Microsoft Teams and Microsoft 365 Business Voice for enterprises.
Turrito Networks is a tech solutions provider based in Johannesburg, focusing on a particular market segment. It closely works with in-house IT departments of mid-sized businesses to fill in the gaps and boost its clients' capabilities.
Aside from network monitoring and cybersecurity solutions, Turrito Networks also offer backup and recovery services.
Providing IT services since 2010, MTEC IT Specialists covers cloud-based managed services to consultancy. Originally serving small and medium-sized enterprises in the Cape Town area, it has expanded to cover most parts of the country.
In offering its services, MTEC IT Specialists starts with a free site audit of your business before crafting a tailored IT solution that fits your business needs.

SovTech  is a leading software development company. It has offices in Johannesburg and Cape Town, as well as locations in London and Nairobi. Its IT capabilities are geared toward app development, software maintenance, and IT staff augmentation.
SovTech has worked with over 500 clients across the world, including the accounting firm Deloitte and tech manufacturer Huawei.
With services from fully managed IT services to software development, NETCONFIG remains a strong force in the South African IT services market. It has locations in Durban and Johannesburg.
NETCONFIG also offers specialized IT support services for small and medium enterprises (SMEs) as well as user training for in-house staff.
Wired-IT Specialists specializes in proactive managed IT services. Cloud and on-premise server maintenance, network monitoring, and cybersecurity have been among its chief service areas for over 15 years.
Wired IT maintains its data center and network operation centers (NOC) in Sandton with full remote operating capabilities.
A Gold Microsoft Partner, EnterpriseWorx has 20 years of experience in data management and business intelligence. Its role in IT services revolves mainly around integration solutions, helping companies accelerate their transition into the cloud.
With locations in Johannesburg, SA, and Leeds in the UK, EnterpriseWorx also offers tailored solutions for businesses in the finance and government sectors.
Also situated in Johannesburg, Strategic IT Group is a full-service IT support company with hardware, software, network, and staff augmentation capabilities. It also offers fully managed IT or supportive IT solutions, catering to clients in major business sectors.
Strategic IT Group also offers a free IT audit for prospective clients. It also has partnerships with HP, Dell, Lenovo, Fortinet, Cisco, and Trend Micro, ensuring updated tech and quality services.

Realm Digital is a global tech company with consulting and talent management strengths. For outsourced IT needs, it caters to web development needs and quality assurance solutions. More importantly, it boosts in-house IT teams with its pool of digital experts.
Operating from its Cape Town office, Realm Digital has worked with the likes of Volkswagen, Standard Bank, Woolworths, and Pam Golding Properties.
As an ICT service provider, 3D Micro SA specializes in providing and servicing tech equipment, from CCTV cameras to scanners. It also works in the network maintenance sector, mainly on installing and maintaining switches and routers.
A division of 3D Active Management Innovation, 3D Micro SA works with a number of leading tech equipment manufacturers, including TrendNet and Gamber Johnson. 
IT Evolution offers fully managed IT solutions, from infrastructure management to software support. Its wide range of services includes cybersecurity solutions for wired and wireless networks.
It Offers cost-effective IT management solutions, regular data backup and disaster recovery services, and 24/7 tech support. IT Evolution is a great partner for companies operating round the clock.
Unitec Africa is an IT service firm based in Johannesburg. From setting up IT infrastructure to fully managed services, it leverages ICT best practices to ensure businesses run with minimal process interruptions.
Its locations in Ireland and South Africa serve clients from their respective countries and those from the global market.
Innovate IT offers ICT support solutions from its Cape Town headquarters. Its major business units are computer network support and cloud services, with dedicated teams for IT helpdesk and consulting solutions.
Since it was founded in 2006, Innovate IT continues to support both local and foreign clients, including financial services company Santam and retailer Pick n Pay.

In service since 1998, Dial a Nerd caters to a wider range of clients from its offices in Johannesburg and Cape Town.
Dial a Nerd offers seamless IT support for a wide range of sectors across South Africa. Its versatile on-site and off-site services caters to companies, home users, and small businesses.
Datacentrix is a massive ICT company operating from Midrand, South Africa. They can cover all your ICT requirements, from tech consultancy and fully managed IT services to data centers.
Datacentrix also offers staff augmentation solutions and managed printing solutions, allowing them to serve all points of your IT infrastructure—from the servers to the printers.
Promoting innovation and sustainability since 1998, Saratoga Software is an independent software developer expanding into managed project delivery. It has the ability to either co-source with your in-house team or provide you with professionals for you to retain.
Given its expertise, Saratoga Software has worked with other firms such as Dimension Data, FutureGrowth Asset Management, and Health System Technologies (HST).
Altron Karabina is a leading Microsoft Digital Transformation Partner in the region. Its managed services are centered around the Microsoft 365 environment. 
More importantly, its services focus on accelerating digital transformation for companies in South Africa and the rest of the world.
This ICT firm in Johannesburg also caters to specialized requirements such as software licensing advisory, database management, and cloud migration solutions.
Unlike other firms focusing on installation and maintenance, Obsidian Information Technologies is centered on design, consulting, and software. The company is exceptionally in demand for IT architecture designs for on-premise and private and public cloud applications.
If you're looking for the expertise of a CTO without the full-time costs, Obsidian Information Technologies also offers fractional chief technology officer (FCTO) solutions.

Liorra is among the top picks for custom software development requirements. Whether for the web, mobile, or proprietary software systems, the development teams at Liorra have your back.
Among its impressive portfolio are bespoke apps for Ocean Premium, Siza Telehealth System, MyCiti, and more.
Fathom Data is a specialized IT solutions provider based in Cape Town. It is focused more on data science for driving business growth. Data collection, modeling, and business applications are among its major focus areas.
Fathom Data has worked with global brands such as Citizen Shipper, Derivco, and IDH.
Cybersecurity experts at Reportstar Technologies have been providing IT security solutions to local and international clients since 2001. 
From standard network security solutions to network compliance strategies for highly regulated industries, Reportstar Technologies is well-equipped to meet your needs.
As such, this Gauteng-based firm continues to provide support and security to firms like the Sizwe Africa IT Group, Blue Label Telecoms, Altech, and the Airports Company in South Africa.
With over 30 years of IT solutions in South Africa and other parts of the globe, ASG IT Support Services has a full range of managed IT services. Its native team of English speakers makes onboarding clients and addressing reports easy.
Aside from outsourced IT processes, ASG also offers IT financing services. This is ideal for small businesses looking for affordable means of owning ICT equipment for the workplace.
Cloudbox is an IT service provider specializing in cloud solutions. It is quickly becoming a preferred partner for regulated industries requiring reliable security solutions. 
Aside from security, this company, with offices in London, Cape Town, and Singapore, can also cover your compliance requirements.
Cloudbox also retains an expert team in Azure and Amazon Web Services cloud environments, making it versatile in the industries it serves.
Livex is a software development provider based in Pretoria. Catering to web development, mobile app development, and custom applications and systems, it offers cost-effective software development-as-a-service packages for companies everywhere.
Aside from software dev, Livex also offers solutions in cybersecurity, including deployment and penetration testing for clients.
Despite its small team in Johannesburg, Dariel Software boasts a full lineup of tenured IT professionals. Its major offerings include software development, systems integration, tech consulting, and digital acceleration services.
Dariel Software's offerings are all geared toward accelerated and sustainable digital transformation for companies. It has developed systems and API integration solutions for finance, hospitality, and tech sectors, among others.
Complete IT Services is an IT support company in Cape Town with over 15 years of experience. From connectivity to computer support, it has propped SMEs and multinational entities operating in the area.
As such, it enjoys the trust of companies from different industries. Mianzo Asset Management, Matas Import and Export, and Massive Quantum are some of its long-time clients.
A preferred partner in the B2B software development space, Sivoxi covers all aspects of development operations. From consulting, scripting, automation, and deployment, this company in Johannesburg combines logic and creativity to deliver client requirements.
Some of its clients over the years include Deloitte, Discovery, and iStore in South Africa.
The outsourcer's outsourced provider, ADEI specializes in increasing data visibility and efficiency for businesses, mostly in the BPO space. It offers data analytics-as-a-service, as well as data warehousing solutions.
If you're operating in a data-heavy sector with profound requirements for business intelligence and agile methodology processes, you should check ADEI out.

Digalance specializes in digital transformation and customer experience management. It provides top-tier IT services for growing companies. Its experience is geared toward transitioning toward a digital environment or adapting agile business processes.
In delivering best-of-class technological solutions, Digalance works with a number of industry partners, such as Be Bold, 9th Bit Consulting, and Accuras.
Find your IT service provider in South Africa
IT service providers come in all shapes and sizes. Some of them offer full-service solutions, while others focus on a particular need. 
In finding your service provider, make sure to thoroughly assess your needs and identify the company that best matches your requirements.
With the top IT service companies in South Africa, you get to enjoy all the advantages of this rapidly growing outsourcing hub. 
You can accelerate your digital transformation in no time through experienced, English-speaking professionals and cost-effective packages from reliable third-party entities in the country.
If you're a member of an IT service provider in South Africa and we haven't mentioned you in this article, please let us know at [email protected].