Top 20 graphic design agencies in Jamaica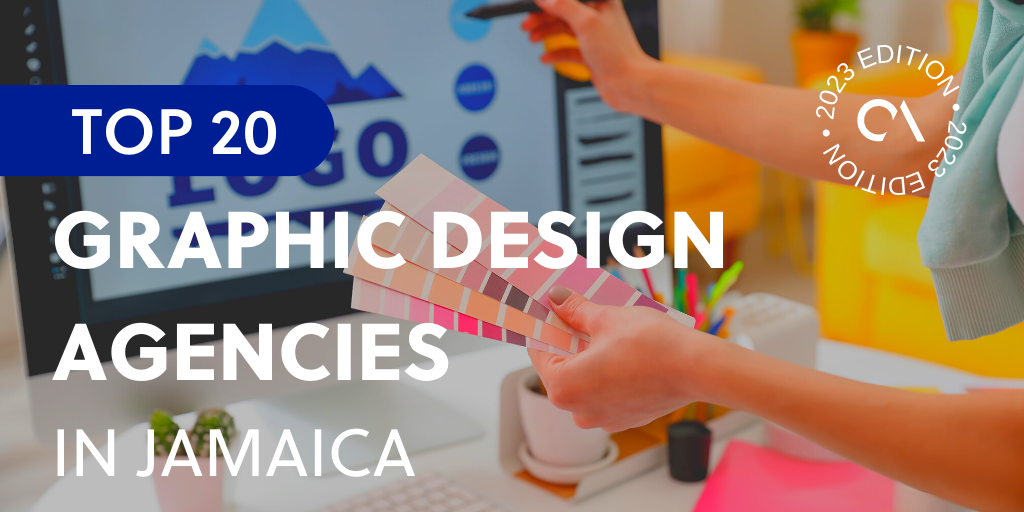 List of graphic design agencies in Jamaica
Graphic design is an area that involves making visual content material to explicit information and thoughts to a specific institution of people. It consists of diverse activities, including designing logos, websites, advertisements, posters, and visual communication styles.
Graphic design is a dynamic and interesting field with countless opportunities for creativity and innovation.
Role of graphic designers in businesses 
Graphic designers apply typography, color theory, and layout techniques to provide visually attractive and impactful designs.
They collaborate with writers, photographers, and experts as a part of a larger creative team, operating together to develop cohesive visible campaigns.
Strong communication and problem-solving skills are vital for successful graphic designers, further to their technical expertise.
Many graphic designers are self-employed or freelancers, allowing them to engage in numerous projects and set their schedules.
Graphic design industry in Jamaica
The graphic design industry in Jamaica is experiencing significant growth within the country's creative economy. According to World Salaries, the average monthly salary for a graphic designer in Jamaica is JMD 64,450 as of 2023. 
However, this amount may vary depending on experience, skills, gender, or location. Additionally, many freelance graphic designers in Jamaica prefer working on a project-by-project basis.
The industry is an important part of the country's creative economy, and talented designers have many opportunities to make their mark. 
Whether working for a design agency or as a freelancer, graphic designers in Jamaica are helping to shape the visual landscape of the country and beyond.
Importance of hiring a professional graphic design agency
Partnering with a professional graphic design agency represents a wise investment for businesses. Here are some reasons why:
Experience and expertise

. A graphic design agency has a team of skilled designers with extensive experience and expertise.

Consistency

. Engaging a professional design agency ensures your visual content consistently appears across all channels and platforms. 

Time-saving

. Enlisting the services of a professional design agency can save you valuable time and effort.

Access to resources

. Design agencies have access to a wide array of resources and tools that aid in creating high-quality designs

Competitive advantage

.  Collaborating with a professional design agency grants you a competitive edge. You can access the latest design trends and techniques by partnering with experts.



Hiring a professional graphic design agency is crucial for businesses wanting to create high-quality visual content that effectively communicates their message to their target audience. 
Top global outsourcing list
Outsource Accelerator is the world's leading outsourcing marketplace and advisory. We list over 3,000 BPO firms located across the globe in our global directory, and we provide detailed information, price guides, and reviews.
Whether you're a solopreneur, SME owner, or corporate executive, we can help you find the most suitable outsourcing provider for your business.
Explore our outsourcing directory now. You may also check out our Top graphic design agencies lists per country here:
Top 20 graphic design agencies in Jamaica
Below we have listed 20 of the top graphic design firms in the country:
Location: Kingston, Jamaica
Krystal Cameron Designs is a company founded with the spirit of entrepreneurship. They have worked with diverse clients, including the Development Bank of Jamaica, Consumer Affairs Commission, Cari-Med Ltd, and Scotiabank Jamaica.
This graphic design agency particularly finds joy in the challenge of working on various publications such as annual reports, magazines, and catalogs. 
Location: Kingston, Jamaica
Having served brands globally since 2016, its primary objective is to assist clients in attracting their desired target audience through captivating and purposeful digital designs.
Humbird Media is a Jamaican digital media agency that caters to local and international businesses, offering their expertise through S.W.A.G. This acronym represents their focus on social media, websites, animation, and graphic design.
Location: Kingston, Jamaica
The Emergency Room Designs & Technology (ERDesigns) is a graphic and web design company. It is officially registered with The Office of the Registrar of Companies, Jamaica, and has been actively operating since 2009.
The firm's expertise is conceptualizing and producing great branding and promotional design solutions for web and print platforms. Additionally, it offers personalized design services for occasions like wedding programs and invitations.
Location: Kingston Jamaica
Insight Studios is a design agency based in Jamaica, founded in 2009. It provides creative and impactful branding solutions by leveraging graphic design, web development, and motion graphics.  
The agency takes pride in its creativity, professionalism, and meticulousness, ensuring every project is executed with utmost attention to detail. Insight Studios works closely with clients to plan and implement efficient and cost-effective marketing campaigns.
Location: Kingston, Jamaica
Recognized as one of Jamaica's leading design and development companies, Chrysalis has maintained a commitment to excellence in quality and service for over 20 years. 
Chrysalis Communications offers creative design, website development, website maintenance, website hosting, and managed email solutions to clients worldwide. 
Its client base comprises large corporations, government agencies, educational institutions, marketing firms, and small businesses.  
Location: Kingston, Jamaica
Art Box Printing is a one-stop shop for designing, printing, and customizing services located at Shop #4, 4A Molynes Road, Kingston 10, Jamaica.  
It aims to provide services and quality that save businesses time, frustration, and money in printing, customizing, and design services typically offered by three to four companies.
Empowered by the spirit of the Artboxians, the team operates in an environment where creativity surpasses procedure, and practical demonstration outshines theory. The outcomes are remarkably beautiful yet wonderfully straightforward.
Location: Montego Bay, Jamaica
Brandriseo, previously known as Stennett Designz, originated in North Carolina within a modest hut on an Indian Reservation. Over the years, it has successfully accomplished more than 100 projects spanning diverse industries.
Brandriseo is committed to collaborating with exceptional companies to deliver exceptional customer experiences. Its dedication to partnering with outstanding organizations ensures the provision of remarkable interactions for its customers.
Location: Kingston, Jamaica
Adlib is a multidisciplinary advertising agency with a strong passion for creative thinking and a natural inclination toward effective communication. Their primary objective is to construct brand experiences that resonate with individuals, generating adoration, purchase, and engagement.
Location: Morant Bay, Jamaica
Romaine's Design is a company that assists clients with graphic design requirements. The team is led by Romaine, a skilled graphic designer with over three years of experience in the field. 
Regarding graphic design, Romaine's Design is the go-to choice for clients. The design services firm specializes in creating customized, unique graphics tailored to meet individual preferences. 
Its services encompass a wide range of design needs, including flyers, posters, business cards, motion flyers, banners, outdoor signs, brochures, and many other creative solutions.
Location: Ocho Rios, Saint Ann, Jamaica
Artworx876 Graphics is conveniently situated less than 10 minutes from Ocho Rios town. It is recognized for providing the area's top-notch graphic design and printing services.
The company offers various customized and personalized gifts for special occasions. This includes items for family reunions, baby showers, and business branding materials such as custom t-shirts, tumblers, and coffee mugs.
Location: Kingston, Jamaica
Fire Design Agency comprises an exceptional international professional team operating exclusively in a virtual space. This approach allows its clients to avoid the high expenses of maintaining office space for their design team. 
The agency's design team employs a patented design process that leads to an impressive 99.7% customer satisfaction rate while maintaining lower industry costs.
Fire Design Agency excels in creating designs that have the power to make your online presence truly remarkable, capturing the attention and interest of your target audience. 
Location: Mandeville, Jamaica
Vintage Media Services is a collective of digital and web-based service professionals with a cumulative experience of 12 years. 
They specialize in various areas, including mobile app development, website development, graphic design, social media marketing and management, and professional photography.
Their expertise spans these domains, allowing them to provide comprehensive solutions to meet clients' needs.
Location: Kingston, Jamaica
Since 1964, Advertising & Marketing Network (AdMark) has been revolutionizing the industry. It utilizes its innovative approach to developing impactful and imaginative communication campaigns for prominent brands in the region. 
AdMark has earned a reputation as one of the area's most dynamic and cutting-edge agencies due to its unwavering commitment to excellence and ability to think outside the box.
Location: Montego Bay, Jamaica.
Imagen Nation is a fully-fledged business consulting firm and branding agency that is a family-owned business. Registered in London, England, it provides comprehensive services and operates primarily in Montego Bay, Jamaica.
Location: Kingston, Jamaica
It's Pixel Perfect (IPP) is composed of an international team consisting of problem solvers and innovators. 
IPP's primary goal is to assist clients in designing and streamlining a comprehensive range of digital products and services that yield transformative outcomes on a global scale. 
Location: Saint Andrew, Jamaica
Image One (Jamaica) Limited, known as Quick Signs, is a versatile company established 25 years ago. Over the years, it has built a strong reputation for innovative and unconventional thinking.
Image One collaborates with some of Jamaica's top brands directly or through their advertising agencies. Together, they strive to find effective solutions to the distinct marketing challenges that arise in a crowded marketplace.
Location: Mandeville, Jamaica
4D Creative is a team of passionate, creative experts committed to producing exceptional designs precisely customized to suit your business needs. 
Its primary objective is to aid in the growth of your business by crafting visually striking designs that leave a lasting impression on customers.

Location: Kingston, Jamaica
Kovec Media is a creative agency in Kingston, Jamaica, known for its visionary approach. With a team of talented individuals, they pool their diverse skill sets to offer clients distinctive business solutions. 
Collaborating with Kovec Media adds value to client's businesses and fosters long-term growth and development. This graphic design provider possesses a deep understanding of the bottom line and is dedicated to delivering exceptional results.
Location: Kingston, Jamaica

Esirom provides a social media solution for small to large businesses. It specializes in customizing digital media strategies that align with each brand's unique identity. 
Esirom actively explores and experiments with new social features to determine the most effective strategies for clients.
Location: Kingston, Jamaica
Zenna Concepts is a multimedia company that delivers high-quality results to ensure client satisfaction. It excels in content creation, media marketing, website and graphic design, and other multimedia services. 
With a strong commitment to meeting client needs, Zenna Concepts strives to provide outstanding solutions in the ever-evolving multimedia landscape.