Outsourcing, animation's future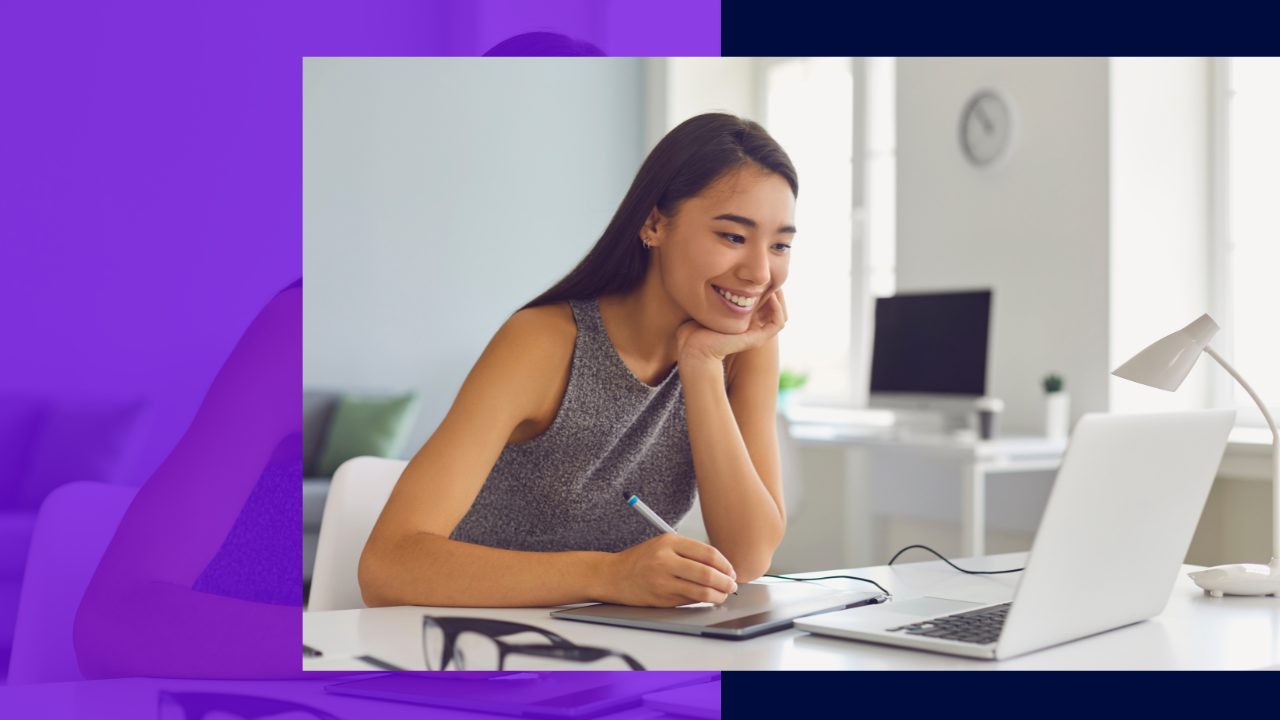 Animation outsourcing is becoming the next big thing.
Amongst the hubbub of retail companies, healthcare organizations, and SaaS organizations outsourcing their services, customer support, marketing, and sales effort, animation studios are clamoring to otsource their projects as well.
These gigantic names are also ahead of the outsourcing game, from Cartoon Network to Disney Studios and Pixar Animation Studios. These studios are upping the ante against their competitors by outsourcing talents primarily from Asian countries.
[defining animation outsourcing]
Major animation studios outsourcing their works
It shouldn't be a surprise that even the biggest animation conglomerates are outsourcing and offshoring their projects. There's just so many things in-house teams can do.
From storyboarding to cleaning up the frames, animators, directors, and project managers already have their hands full. So why not acquire some helping hands from the outside, right?
Reasons why outsourcing is a big hit among Disney and Pixar studios
All companies that had their run with outsourcing had their specific reasons. Of course, the impact of outsourcing has two sides—it's not a band-aid solution to all company issues. It's merely a way to make processes efficient and the workload lighter.
Generally speaking, outsourcing has been a surefire way for companies to cut costs without making the quality of their products and services suffer, especially if the said product will be seen and heard by the masses throughout the world.
Cost-effective
Outsourcing is a great way to maintain a significantly better quality without disrupting the project. An animation department usually uses the Agile method when working on big movies, TV shows, and series projects. 
In-house animators can focus on the significant parts of the project while the outsource workers can handle smaller tasks on hand—timely, efficient, and group-friendly.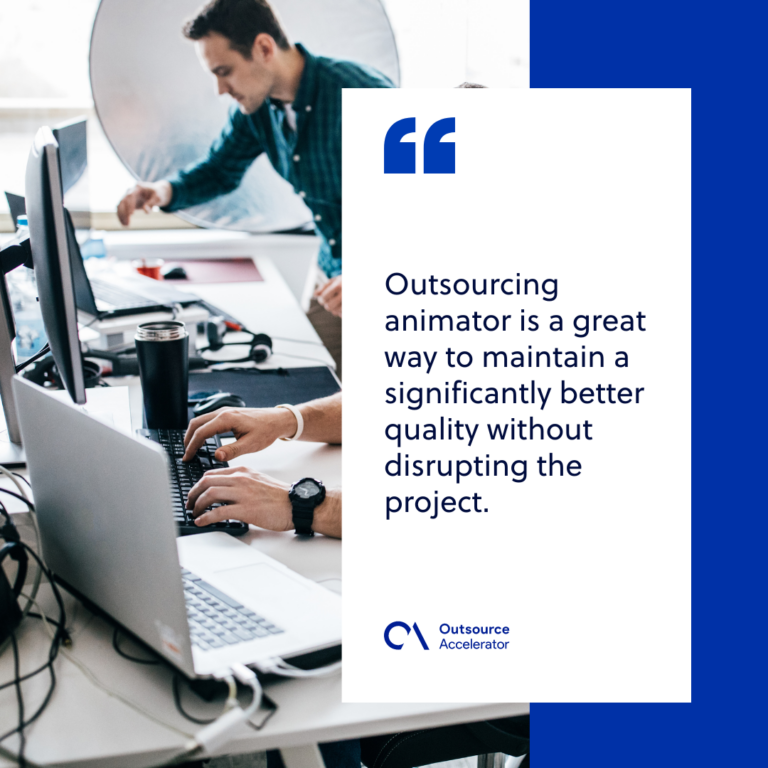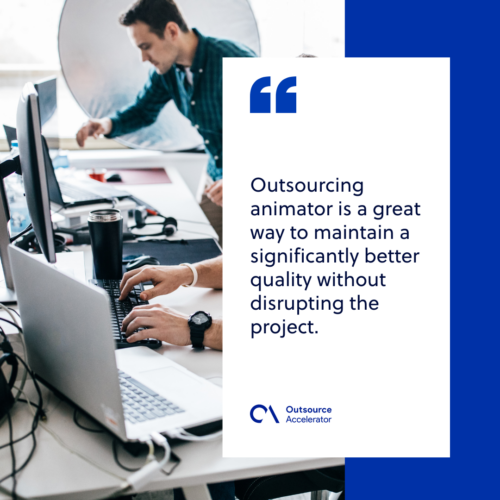 Projects finish ahead of time
Outsourcing companies that focus on media production know that one little mishap can misalign the project, causing significant delays and higher production costs. It's why they handle the delegation of tasks according to skill and time left until the final deadline.
A hybrid of in-house animators and outsourced ones make up a great team.
Opens up opportunities for local animators
Local animators can use the big leagues under their noses to fluff up their working portfolios. The animation industry is full of underrated artists climbing up the ladder, working towards the dream of working inside a Disney production studio one day.
These outsourced projects are their one-way ticket to another phase in their career.
Indie animators are often overlooked and underpaid—it's a harsh truth to the modern world of animators.
A brief history of animation outsourcing
Rankin/Bass Productions is the first known example of animation outsourcing. Tadahito Mochinaga, a Japanese stop-motion animator, managed their Animagic projects at his company, MOM Production.
According to Cartoon Research, Rankin/Bass outsourced nearly all of their conventional animation to at least five Japanese animation studios: TCJ (Television Corporation of Japan), MOM Production, Mushi Production, Toei Animation, and Topcraft.
Asia: The world's animation outsourcing hub
Talent comes from across all nations—this is one of the reasons why American animation companies outsource their production to countries like India, the Philippines, and China. 
Take India, for example. Animators cost $25 per hour there. These countries also have considerably lower wages and costs than their western counterparts:
Bangalore, India

Manila, Philippines

Tokyo, Japan

Seoul, South Korea

Shanghai, China

Singapore, Singapore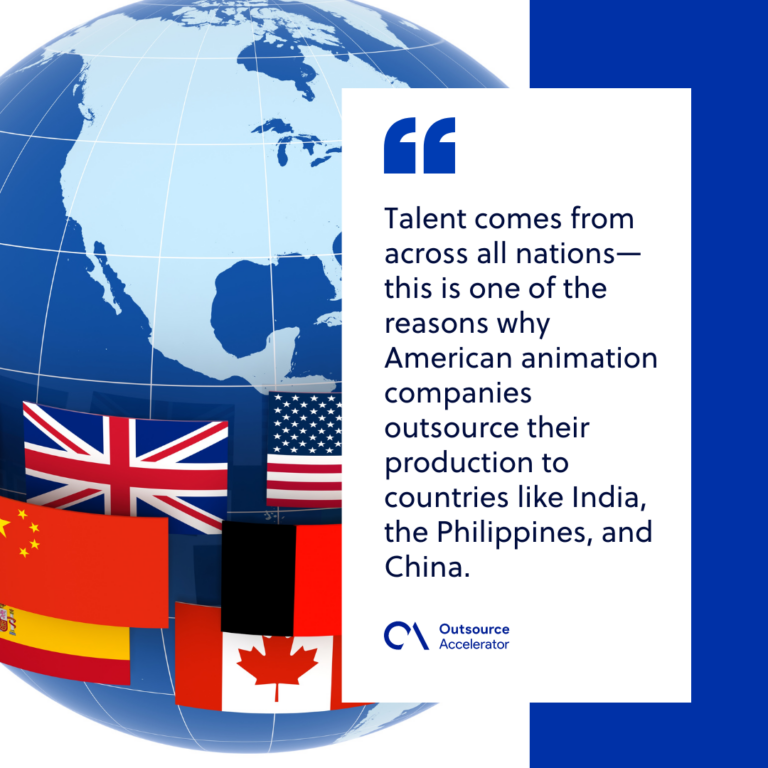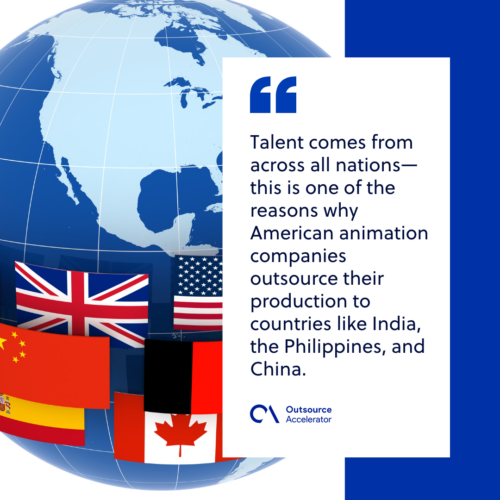 Another significant factor why American (and European) studios outsource their projects to these countries is that they also speak English.
While in the United States, a full-length animated film costs between $100 and $175 million. Yet, it can cost $15 to $25 million in India. The same goes for subsidiaries of American companies in China and the Philippines. The outsourced studio works hard to retain the quality, but they work for less.
In the meantime, animation as an industry didn't halt in the global pandemic. According to a Variety article, most projects continued to be made and worked on; the animators working on their tasks remotely with little to no differences. 
Writer-director Jorge Gutiérrez comments on the sudden work-from-home shift, "We're so used to working with studios all over the world, and a lot of times we work with artists all over the world. It's a remote business and there are no sets — everybody's drawing, and it all comes together on the computer. So we're kind of set up for this." 
As the rest of the world is still reeling from the effect of lockdowns, the animation industry is gearing up for more incoming projects. It shows that working from home can be adapted by the rest of the workforce—with a positive attitude and the right conditions.