Top 20 e-commerce agencies in the UK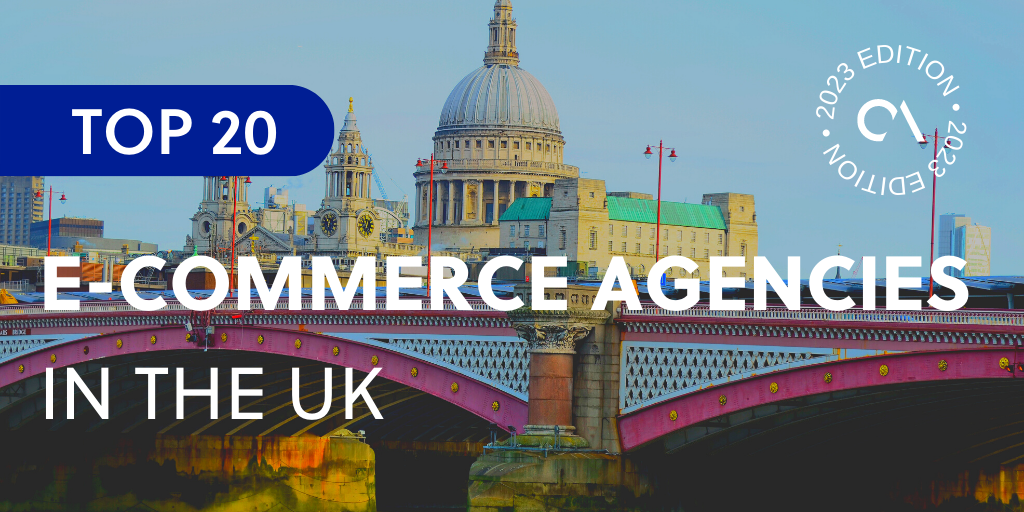 List of e-commerce agencies in the UK
Online selling is now one of the most customer-friendly and convenient ways to offer products and services, aside from setting up a brick-and-mortar or physical store. 
It supports the idea that many businesses are now partnering with top e-commerce agencies around the globe. It includes the UK, where the e-commerce industry has continuously progressed over the years. 
With the help of outsourcing in e-commerce, expanding operations of e-commerce agencies across different countries and continents are made easy. This is done by hiring employees and staff that can work remotely.
According to eCommerceDB, the UK is the 4th largest market for e-commerce, with a predicted revenue of US$141,115.2 million by 2023. The industry has an estimated compound annual growth rate (CAGR 2023-2027) of 7.8% by 2027.
This article will outline the top e-commerce agencies in the UK. We'll give you insights into what they offer and how their services work for businesses online. 
How big is the UK e-commerce industry?
Aside from the country's increasing economy, the UK also comprises a population adept at internet and online service transactions.
The country has one of the highest internet penetration rates in the world, according to Statista where the internet accessibility resulted in an estimated 62.86 million monthly users in 2021.
It helps e-commerce companies attain higher reach, considering that selling and offering services online can be a great way to connect with target leads around the globe.
Most businesses and top brands in the UK now work with top e-commerce companies to include their products in online stores, while others have created their own platforms.
Today, the UK has carved a name for hosting some of the top e-commerce companies in the world, offering a wide range of product lines from different categories.
Typical e-commerce categories of the UK
With many e-commerce companies providing online stores and services, it is important to consider market trends and up-to-date types of products.
This is the reason why top e-commerce platforms vary from different categories depending on the kinds of products or services offered. 
Here are some of the UK's typical e-commerce categories:
Fashion wear and apparel
In most countries, selling fashionable outfits of different styles and generation trends is very common in online stores. Be it a fashion for summer, sports, and formal occasions, these products are proven and ideal to sell online.
Cosmetics and body care
The global market introduces new international cosmetic and body care brands every year. 
Many potential customers before were limited to brands available in their countries but can now avail in just a click with the help of online stores and other ecommerce platforms.
Food and beverages
As part of necessities, food and beverages are also among the top product categories always available online. Shopping discounts and deals are some ways e-commerce companies use to entice more traffic and users on their websites or mobile applications.
Electronics and technology
With the high demand for technological advancement in our daily lives, it is no wonder that electronics and technology products are also a top search in e-commerce platforms. It includes office equipment, smartphones, TVs, and home appliances.
Bags and accessories
As a fashion partner for wear and apparel, bags and accessories have also taken a strong presence in the e-commerce world. 
Top bags and luxury jewelry brands now work with e-commerce agencies to create and maintain online stores.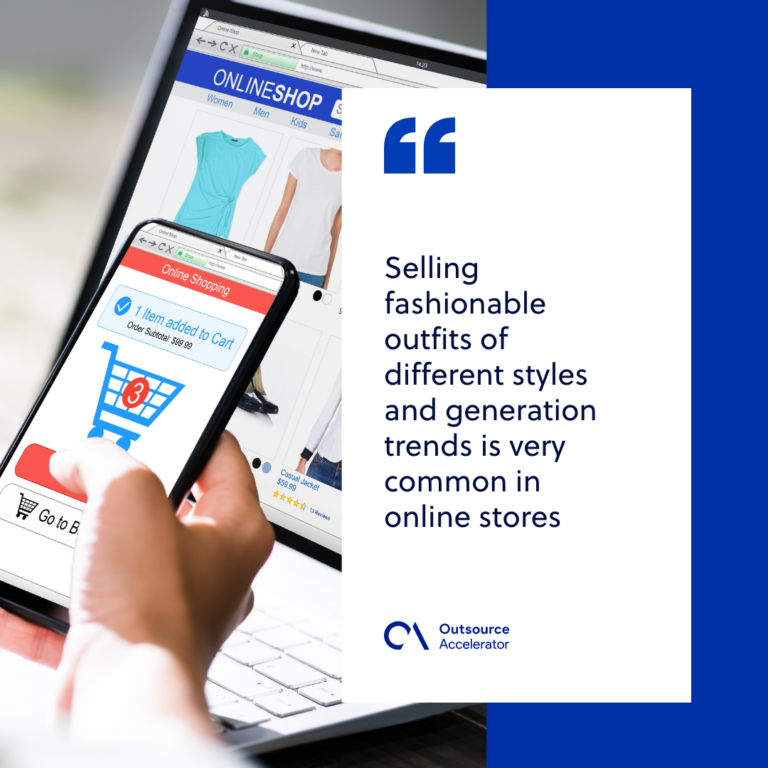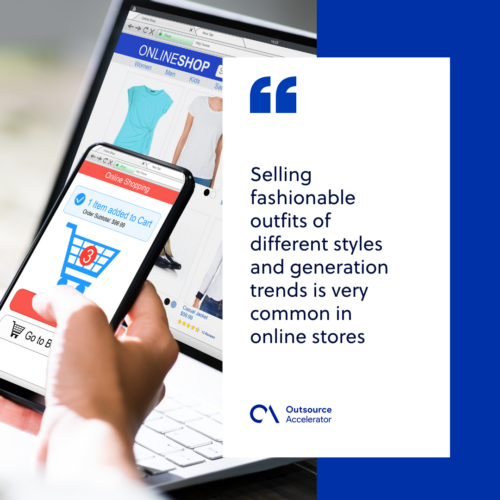 Top global outsourcing list
Outsource Accelerator is the world's leading outsourcing marketplace and advisory. We list over 3,000 BPO firms located across the globe in our global directory, and we provide detailed information, price guides, and reviews.

Whether you're a solopreneur, SME owner, or corporate executive, we can help you find the most suitable outsourcing provider for your business.

Explore our outsourcing directory now. You may also check out our Top e-commerce agencies lists per country here:
20 best-performing e-commerce agencies in the UK
Here are the top e-commerce agencies in the UK:
Brave Bison is a premier e-commerce agency in the country and a certified partner of Adobe Commerce (Magento), BigCommerce, SAP Commerce, and Salesforce.
Equipped with firm experiences from various technology platforms, it provides seamless experiences and customer satisfaction to the online business world. Its services focus on the following areas: 
Commerce

Social and Influencer

Performance 

Media network
Favoured is a data-driven and full-funnel marketing agency that connects cutting-edge performance techniques and best-in-class creative production practices to drive ideal results. It is a trusted e-commerce agency in the country.
It helps many businesses solve operational challenges, collaborating with more than 30 companies that reach an estimated 10 million people online. 
Favoured is guided by its three major service elements: marketing, creative, and content.
Propeller has over a decade of expertise in launching brands into the e-commerce space at full service. It significantly helps stores to experience a more exciting and unique way of launching an online store.
The company supports different brands in lifestyle and travel, food, hotel, and fashion to create a powerful online presence through its e-commerce services. Its offerings include a launchpad, theme design, UX, and product planning.
This company is an award-winning and well-known web development company specializing in web design and development. Many of the UK's top e-commerce companies have worked with Creative Brand Design.
Its services in web design have expanded to multiphase and collaborative processes, producing high-performance, top-rated, UI/UX optimized, and SEO-friendly websites.
Part of the UK's top e-commerce agencies, This is Undefined is a digital studio creating unique and competitive applications, websites & e-stores for startups & developing enterprises.
This is Undefined also helps businesses build efficient digital product services with customized and human approaches through proper UX & interaction design. It provides services focusing on the following core areas: 
Strategy and design 

Progressive prototyping

Product development

E-commerce
Hallam is a digital marketing agency recognized by Google as a top-rated international e-commerce agency based on exceptional performance.
It helps enterprises drive sales profit and improve customer experiences. It has full-service marketing, including feed optimization and effectively targeting ads to deliver business growth via e-commerce marketplaces.
This award-winning and one of UK's top e-commerce agencies drives growth to many businesses through performance marketing in multiple channels. It helps firms acquire more profit while lowering acquisition costs and scaling profitably.
Rozee Digital is committed to helping e-commerce businesses in the USA, UK, and Europe unleash their full potential with comprehensive services in Pay Per Click (PPC) acquisition and retention marketing strategies.
Viaduct Gen is a mission-oriented and results-driven SEO agency that places customers at the center of SEO strategies. It aims to empower small, medium, and midsize enterprises (SMEs) to achieve their growth potential through holistic service strategies and client support. 
The aim is to diversify and amplify online visibility and search engine rankings for higher customer reach and engagement. It helps many e-commerce stores and websites optimize and enhance their marketing techniques.
MONI Growth utilizes the power of paid social media, paid search, and performance creative. It helps ventures scale by showing business brands to new target leads and acquiring high-value customers.
Founded by ex-Rocket Internet alumni, Moni has led the growth of some of Europe's largest and fastest-growing e-commerce businesses. It thrives off solving client's growth challenges and acts as a business partner throughout the business cycle.
Propaganda Solutions links business, creativity, technology, and customer expectations to develop the best opportunities for impact and growth. It focuses on unique advantages and desirable returns on each client's investments.
The firm also designs and customizes digital platforms. It supports companies in digitizing and marketing products and services with positive returns. 
Its services include the development of an e-commerce sites, company websites, and mobile brand applications.
This one-stop-shop digital marketing agency is one of the country's top e-commerce agencies servicing performance marketing and consulting in India and 30 other countries worldwide.
iDigitalise has more than 15 years of experience, 75 full-time professionals, and 90% referral revenue from digital marketing, creative, and technology services and solutions.
Headquartered in Manchester, Courageous is a website design and e-commerce expert, also known as a top e-commerce agency for designing and building outstanding websites.
Since 2007, the team has performed website design and development, e-commerce websites, marketplace integration, and digital marketing strategies for many UK businesses and top brands in other countries.
Loop Digital is a digital marketing agency based in Northhampton, England. It provides an array of proven and tested digital solutions for businesses across the UK and other parts of the world. Besides e-commerce web design, it also offers SEO, content, PPC, and marketing services. 
Started in 2016 in London, UK, Fourmeta is a full-stack digital agency and a Shopify partner providing exceptional design, web development, and marketing services.
The agency uses digital transformation to innovate and improve brands. It also combines UI & UX techniques with a strategic branding process and cutting-edge technology to develop products that can cater to the specific needs of potential clients.
In 2017, Connily started as a house of brands and opened doors to external client projects in 2019. The agency comprises an in-house team of brand strategists, designers, copywriters, marketers & automation professionals.
Connily drives online growth for consumer brands by managing content & marketing activities of the business and offers other services for the following areas:
E-commerce consulting

Full-service digital marketing strategy & management

Full-service social media management

Full-service amazon management
The Social Shepherd is a social-first marketing agency that helps determined e-commerce and direct-to-consumer brands grow faster. It works in various niches within e-commerce, such as fashion, food & drink, homeware, beauty & skincare, to name a few. 
It is also a top performing e-commerce company with a wide range of digital marketing services, which include the following:
Paid social advertising 

PPC and Google ads 

Social media content and management

Creative production 

Influencer marketing
Reload Digital is an award-winning e-commerce SEO agency located in London. It is considered an expert in Shopify SEO that starts services with a full audit. 
This agency helps and empowers brands by displaying trust signals, developing authority, conceptualization, technical SEO, and creating a streamlined and convenient user experience.
Blink has been helping brands grow and increase their online presence through organic search since 2004. The agency uses industry-leading technology and data science with deep e-commerce expertise to deliver better, faster and acquire more profit for clients
It works with e-commerce companies, including BigCommerce, Adobe Commerce, Woocommerce, and Aero Commerce, to deliver the following services:
SEO for D2C e-commerce

SEO for multi-brand e-commerce

Analysis and data auditing

Consultancy and training
PushOn is a digital marketing agency centered on scaling e-commerce brands. Its organic search marketing strategies have proven capacity to help e-commerce businesses champion their objectives and add real brand value.
Quality traffic and higher reach help clients acquire a solid internet presence. PushON builds content and pages that will match other interests of users with commercial intent to buy something from an online store.
Headquartered in Bristol, ConversionWise, formerly the Landing Page Guys, knows how to elevate your brand's conversion rate through its ability to build high-converting landing pages.
The firm is committed to helping businesses spend less on paid media and explore other strategies, including creating specific landing pages for certain products. It also helps with conversion rate optimization across all business pages.