Top 30 e-commerce agencies in the United States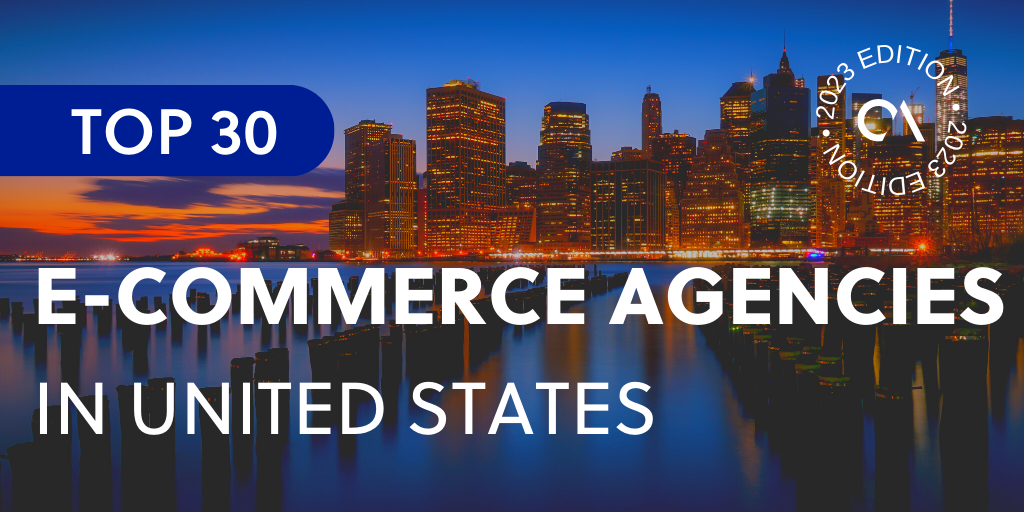 List of e-commerce agencies in the US
The biggest retail stores and shopping brands are in the United States. In fact, the e-commerce industry in the U.S. produces billions, if not trillions, of dollars every year. This significant growth has led to the success of digital marketing agencies in the country. 
Now more than ever, many brands are revamping their digital strategies to keep up with the growing demands of their consumers online. 
What services do e-commerce agencies offer?
An e-commerce agency develops and implements digital marketing strategies specifically for B2B businesses, retail stores, and small to medium-sized businesses (SMBs).
From content creation to web design, e-commerce agencies help their clients boost sales and customer engagement by enhancing their online presence.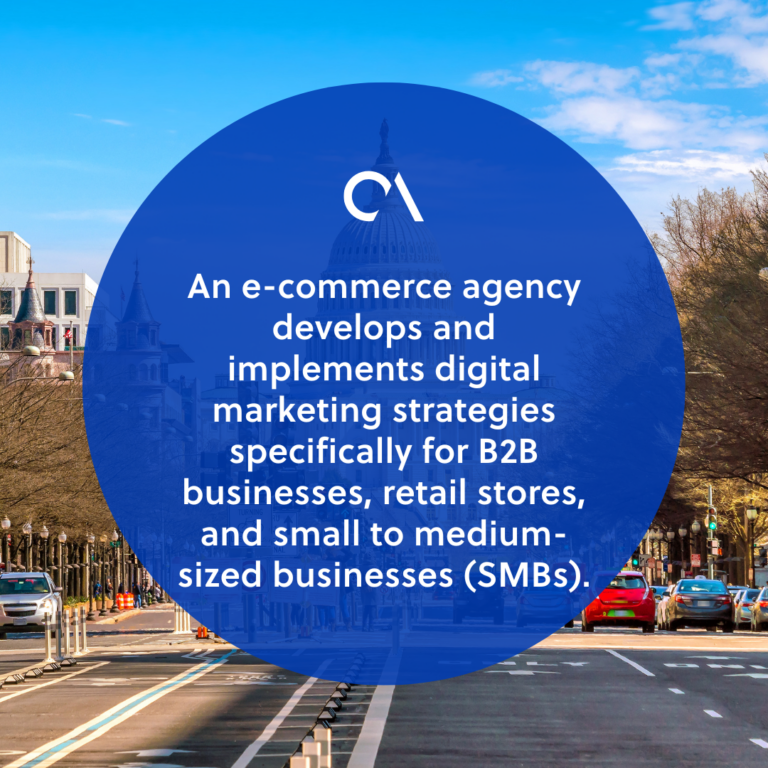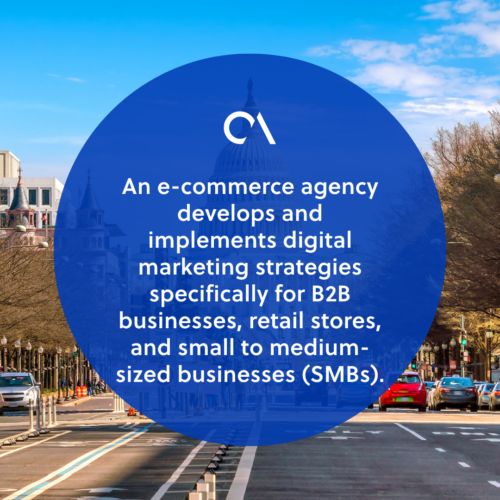 Top global outsourcing lists
Outsource Accelerator is the world's outsourcing marketplace and advisory. We list over 3,000 BPO firms located across the globe in our global directory, and we provide detailed information, price guides, and reviews.
Whether you're a solopreneur, SME owner, or corporate executive, we can help you find the most suitable outsourcing provider for your business.
Explore our outsourcing directory now. You may also check out our e-commerce agencies lists per country here:
Top 30 e-commerce agencies in the United States
Here's a breakdown of the top 30 e-commerce agencies in the U.S.
Headquartered in NYC, The Charles NYC was founded by siblings, Aaron Edwards and Samantha Edwards in 2011. Years after, this e-commerce agency successfully branched out and opened new offices in Chicago and London.
Inspired to help businesses build unique brand identities, The Charles NYC works closely with clients to connect their audiences through resonating digital strategies.
This e-commerce agency goes by its motto—Design to go further. With a commitment to improving customer experiences, Beyond takes pride in building long-lasting partnerships with the most progressive brands worldwide.
The client-centric company has five hubs in different locations: London, Lisbon, San Francisco, New York, and Mexico City. Its services primarily focus on customer engagement, engineering, and design.
Founded in 2003, RNO1 sets the bar high in the e-commerce industry as the embracers of change. The world-class firm works closely with well-known brands, including Microsoft, Airbnb, and Ericsson.
RNO1 offers purpose-driven branding strategies and design services to cultivate ideas that connect audiences globally. The agency spans different locations, such as San Francisco, Washington, California, Vancouver, and Lithuania.
Founded in 2009, Emplicit is a codependent e-commerce agency headquartered in Seattle. The company helps brands boost the efficiency and effectiveness of their Amazon channels. 
Housing 200+ employees, this e-commerce firm specializes in SEO, advertising, content, and logistics. Emplicit strives to create an environment that drives growth and collaboration.

With over 200 years of combined experience, SLT Consulting is a female-led, strategy-driven growth agency composed of industry experts in marketing. 
As a customer-focused and results-driven e-commerce agency, SLT Consulting empowers brands and startups to make a difference. Some of their services include digital performance strategy, influencer marketing, and content creation.
Headquartered in Los Angeles, WEBIT MD is a digital growth agency that offers marketing, sales, and technology solutions. This e-commerce agency has partnered with Fortune 100 companies and venture-backed startups globally. 
Committed to driving transformational growth, WEBIT MD provides design and content marketing services that can boost the revenue of organizations. The company has other office locations in New York and Dallas.
SkyDiamond Elite is a well-known digital marketing agency headquartered in Austin, Texas. With a steadfast commitment to driving brand growth, SkyDiamond Elite custom tailors digital marketing campaigns for various businesses.
Offering world-class advertising services, SkyDiamond Elite channels the brand's identity to expand a wider reach. At present, the company has 11 to 50 employees.
Based in Washington, Dupont Creative is a full-service and woman-owned digital marketing agency specializing in website development. 
This e-commerce agency was founded in 2011 and has been providing web design and content marketing services for various brands. Dupont Creative also offers robust SEO services to help businesses increase their web presence.
Founded in 2021, Fifth & Cor is a marketing and innovation company dedicated to harness brands by bringing out the best in them. Home to around 50 employees, Fifth & Cor is currently headquartered in Boca Raton, Florida.
This digital marketing agency provides diverse advertising services, including copywriting, social commerce, paid media ads, and influencer marketing.
​​Locally recognized as a Plug'n'Play digital agency, Actuate Media is an ROI-driven e-commerce company that assists brands in boosting their digital marketing strategies. 
Through data analysis and analytics, Actuate Media helps businesses make smart digital advertising decisions. Their services include email marketing, social media management, and website design.
Specializing in strategic communications, NJI Media is a global leader in the e-commerce industry. The firm offers a wide range of creative services such as digital marketing, advertising, brand management, and audience analysis.
NJI Media believes in the power of telling true stories well. They have partnered with renowned brands and organizations worldwide.
Founded in 2018, ATTN Agency is a full-funnel performance and growth marketing agency based in San Diego, California. 
This e-commerce agency amplifies its client brands through strategic and tactical media buying, data-driven analysis, and unrivaled creative services.
ATTN Agency works closely with startups and well-known brands to implement, optimize, and scale their campaigns. The firm consists of skilled media buyers and strategists with proven expertise in social media and digital marketing.
Established in 2011, SmartSites is an award-winning digital marketing agency headquartered in Paramus, NJ. Their services include SEO, PPC advertising, social media marketing, and web design.
SmartSites prides itself as America's most-rated e-commerce agency, with around 500 employees. Currently, SmartSites collaborates with businesses of all sizes to help them reach more customers.

For the past 17 years, Xfive has been catering to startups and web agencies to bring their brand visions to life. Since 2005, this digital marketing agency has been providing content design services and IT consulting across various industries worldwide.
Xfive is headquartered in San Francisco, California, with another office branch in Krakow, Poland. Their services include WordPress development, JavaScript, and frontend/backend development.
Founded in 2015, this award-winning e-commerce company in Florida collaborates with industry-leading platforms to transform design-conscious B2B and D2C brands.
Having launched more than 150 custom eCommerce stores, DigitlHaus Agency is a certified full-service marketing firm and a Shopify agency partner. Their services focus on SEO, B2B e-commerce, custom development, and design.
Headquartered in Washington, ProperExpression is a B2B growth marketing agency that provides content marketing, lead generation, paid search, and other digital services.
ProperExpression uses a full-stack performance marketing methodology and RevOps to help clients boost their business growth and performance. At present, the firm has around 11 to 50 employees.
Formerly known as Path Interactive, Amsive Digital is an NYC-born digital marketing agency that provides data-driven solutions. 
With a steadfast commitment to helping brands grow, Amsive Digital delivers tangible outcomes through real-time insights. Their services include web design, analytics, influencer marketing, and data management.
With more than 20 years of hands-on expertise in e-commerce, Clear Digital is a B2B marketing agency headquartered in San Jose, California.
Taking brand experiences to the next level, Clear Digital delivers data-driven advertising services to help businesses grow their customer base.
Founded in 2004, RMG Media is an independent content development firm based in Gaithersburg, U.S. This e-commerce agency helps businesses develop and design modern websites powered by data science.
Through its accelerator platform, RMG Media assists B2C and B2C retailers to create their own websites and gain wider consumer reach.
Established in 2019, Schaefer Digital is a growth marketing agency consisting of competitive marketers in the e-commerce industry.
Headquartered in Las Vegas, Schaefer Digital provides creative growth solutions tailored to meet the needs and demands of its clients. This company specializes in lead generation, analytics, Google ads, and social media marketing.
Founded by top in-house SEOs and agency leads in 2016, NextLeft is a digital marketing agency that partners with the world's most-loved brands in San Diego and Chicago.
As one of the leading content marketing firms, NextLeft amplifies brand strategies through SEO-driven data analytics. Their clients include businesses offering e-commerce,  B2B, and SaaS services.
Combining human insight and innovative technology, Collective is an NYC-based e-commerce agency that provides sustainable and cost-effective marketing communications.
Collective has built strong partnerships with global brands like BBC, MG, Hyundai, Unilever, and Valeo Foods. The agency consists of a bunch of creatives and strategists specializing in content marketing, advertising, and media relations.
Founded in 2002, Redonk Marketing branded itself as a no-bull digital experience agency that provides web development, UX design, SEO, and content marketing strategies.
Redonk Marketing is headquartered in Plano, Texas, with around 11 to 50 employees. This e-commerce agency is dedicated to deepening customer relationships through powerful insights and design experiences.

Established in 1998, nclud is a provocative creative agency that focuses on building highly interactive websites. As an innovative digital marketing firm, nclud successfully integrates strategy, user experience, design, and engineering for better results.
Started since the beginning of the internet, nclud sets itself as a pioneer in the e-commerce industry. The firm has worked with major brands including Google, Apple, Amazon, The Washington Post, and more.
Headquartered in Los Angeles, Blank & Co. is a user-centered digital agency founded in 2009. With a decade of experience in digital marketing, Blank & Co. specializes in product development, design, front-end engineering, and user research.
Focusing all on the human journey, Blank & Co. develops digital products and data-heavy analytics platforms to build exceptional websites.
Founded in 2014, Narwhal Digital is an Atlanta-based digital agency that focuses on SEO, user experience, and digital marketing. Last April 2023, Narwhal Digital partnered with Alloy, an integrated marketing agency for global tech brands.
Together, Narwhal Digital and Alloy will cater to innovative tech-enabled SaaS companies and institutions to build exceptional digital experiences.
Aumcore is backed by more than ten years of experience as a leading marketing firm in New York. It has worked with the biggest brands across the U.S. and worldwide.
Aumcore specializes in SEO, copywriting, creative web design, and content marketing. Since 2010, the firm has been globally recognized for delivering exemplary digital solutions and measurable campaigns.
Founded in 2002, Engine Digital is a product design, engineering studio, and digital consultancy in one. Their mission is to help brands gain a wider reach and accelerate market growth.
Engine Digital partners with global brands to design and build digital products for a wide range of industries. Engine Digital currently has two office locations in New York and Vancouver.

97 Switch is an award-winning boutique digital marketing agency headquartered in Chicago. It specializes in web design, marketing, and content strategy.
97 Switch is committed to helping brands tell unforgettable stories. Having been in the industry for almost ten years, 97 Switch has garnered various accolades as one of the most-reviewed design firms globally.
Creative27 is a pioneering app development and design powerhouse that helps brands create unique customer experiences. Their services include web design, copywriting, user experience, video production, and more.
With its commitment to delivering exceptional results, Creative 27 has been nominated as the digital agency of the year for two years in a row.