The best services to outsource for your ecommerce business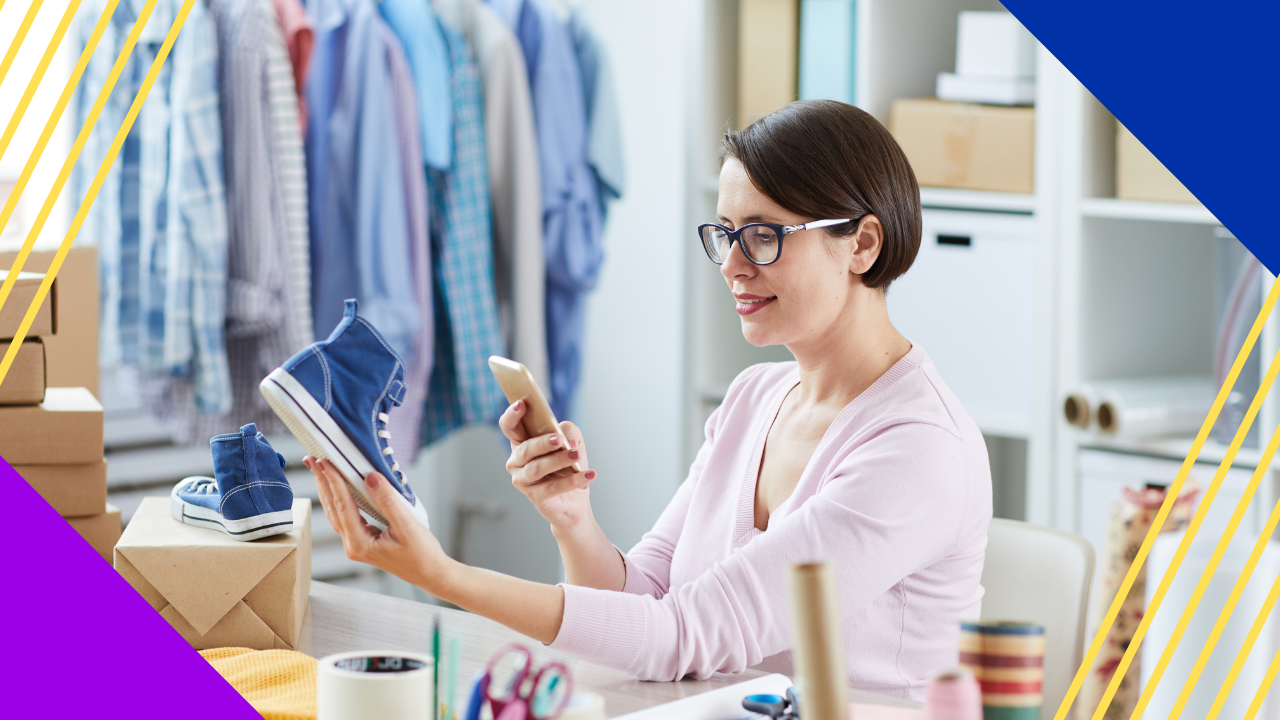 Managing an ecommerce store can be doable even for beginners. You usually start by putting up Facebook pages or setting up listings through social media sites, then gaining a few good customers from there.
However, the challenge comes with growing your store and client base. Once you've used an ecommerce platform, you'd see a sudden spike of customers interested in your products.
This also requires you to make decisions in running your business.
While some businesses keep their functions in-house, you can also look at outsourced ecommerce solutions to get the best out of your company.
Learn how outsourced ecommerce can benefit you and the top roles you can delegate through this article.
Should you have in-house or outsourced ecommerce solutions?
As an entrepreneur, you might be used to managing your functions in-house to your convenience. However, there comes a time when you have to hire small teams to do some of your services.
Having a team is crucial to managing volumes of workload and sales especially when you join platforms such as Amazon. You'll slowly realize that you can't do everything on your own, warranting you to hire another hand for it.
Indeed, hiring in-house staff can be convenient if you want to start establishing your processes first.
A small team can already help you free up some of your time doing specialized work such as accounting and web development. 
However, keeping them in-house could cost you extra for office spaces, equipment, licensing, and tools they need to work. Not to mention the salaries within your locality.
All of these won't be much of a burden to you when you outsource your ecommerce services. Aside from the cost savings, outsourcing firms — like Helpware — could help you enjoy the flexibility of working with your team any time in any place.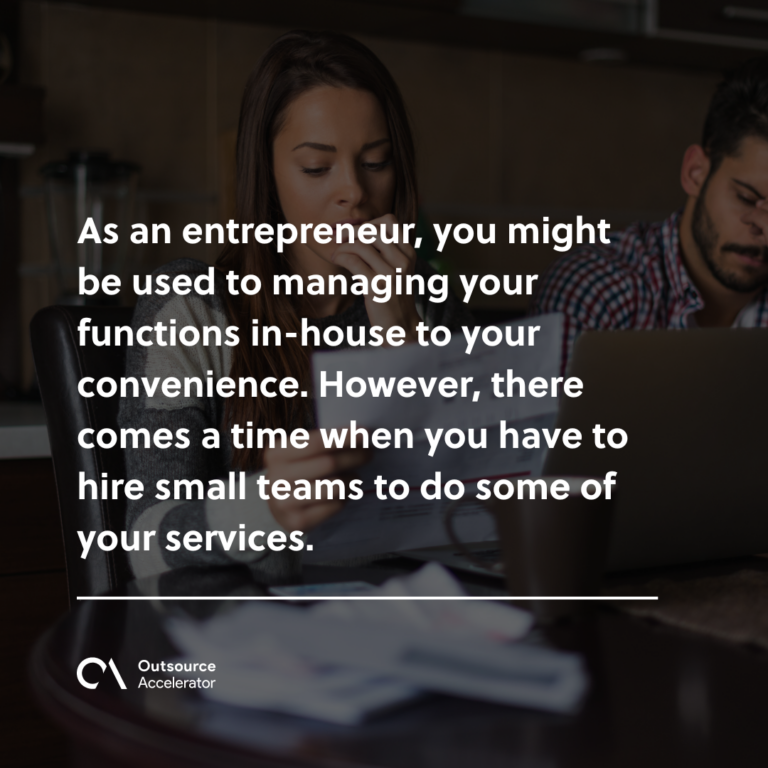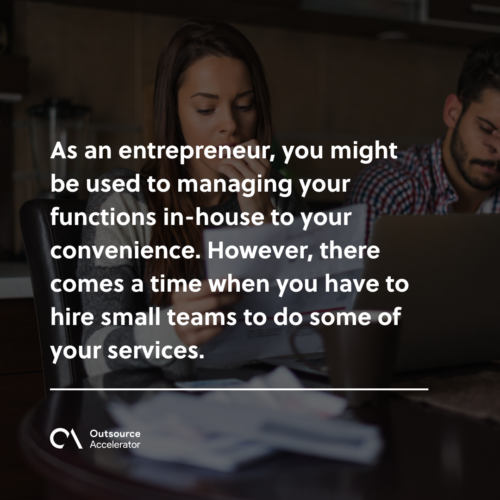 Top outsourced ecommerce services to try
E-commerce platforms offer fulfillment and logistics services if you get overwhelmed with a sudden spike in demand for your products. 
The best example for this is the Fulfillment by Amazon (FBA) program where Amazon sellers would only pay a monthly fee to let the platform handle shipping, returns, and warehouse storage.
Order fulfillment is only an example of outsourced e-commerce services you can delegate. Aside from this, you can try hiring remote teams for the following roles. 
Website design and development
Whether you're selling through an e-commerce platform or your website, you should still get your site pages in tip-top shape.
You won't want your clients to complain about how confusing your website is, making it difficult for them to find what they need.
Outsourced website design and development can help you with this challenge. You might want a team of expert developers to build and maintain your pages to make the user interface better and more presentable.
Digital marketing
Once you've built your e-commerce store, you have to promote and advertise your business to attract and gain customers.
Promoting on your own won't always be enough since, in order to grow, you need to tap a fresh market for your products.
Digital marketing for ecommerce requires you to use several channels to advertise, promote, and establish your brand. This is where an outsourced team can help you. 
With help from a skilled marketing team — such as Staff Domain — you get to promote your store and services better to a suitable audience that can turn into your loyal clients.
Bookkeeping
Along with your growing business, you also have to manage your finances and compliances at hand to keep your operations growing. 
One of the reasons businesses fail is due to their cash flow and missing out on compliances. Don't let it happen by hiring outsourced bookkeeping services. 
A virtual bookkeeper helps you keep up with the financial side of your company by checking your profits, expenses, and income statements on your behalf. It even gives you an insight as to what products are the best selling in your area or market.
Customer support
Importantly, you should have teams taking care of your customers for inquiries and after-sales support.
Good customer service is important in making sure your clients get the best out of your products. At the same time, this helps you attract new customers through your existing ones and have the chance to upsell and cross-sell.
It even helps you maintain your brand credibility. You would not want to be the store that gets known due to your poor customer support online. 
Outsource your customer support to contact centers to make sure that your customers are well taken care of.
Content creation
Lastly, content creation is the best way to have organic traffic on your website. While you might be used to managing your content at first, you would need the help of a reliable team that can better handle and curate them better.
Outsourcing content creation helps you in curating and creating better content by using keywords that fit your business and industry. 
With this, you even get to see how your competitors are doing and have the chance to rank better than them in search engines such as Google.
The pros and cons of outsourced ecommerce solutions
Outsourced ecommerce helps you run your store operations better so you can focus on selling and creating your products.
However, plan your outsourcing strategies carefully to avoid getting exposed to risks and waste on investments in your functions.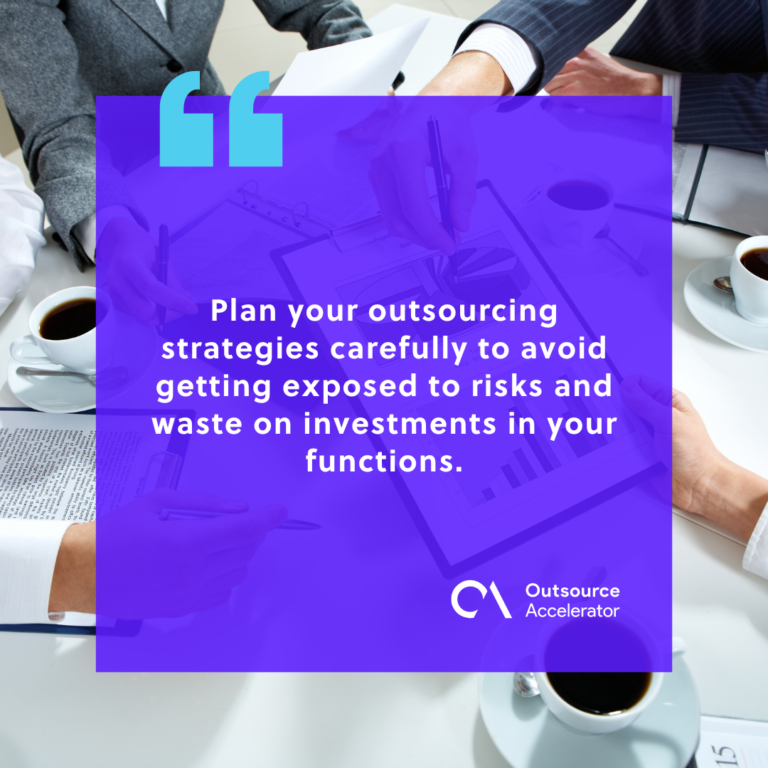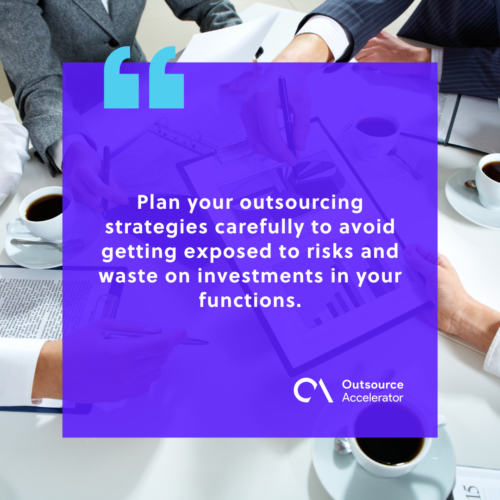 Outsourced ecommerce brings you the following pros and cons.
Pros of outsourced e-commerce solutions
Focus on core business

. Outsourcing ecommerce functions allows you to strategize more on how to scale your business and improve your products.

Access to highly-skilled teams

. With outsourcing, you get to work with highly-skilled teams that can handle tasks better at a lower cost.

Quicker turnaround time

. You won't have to worry about delivering your products on time again since your outsourcing team can help you accomplish that now.

More flexibility

. You can work with your outsourced team anywhere and scale them according to your demands.

Higher productivity

. More so, outsourcing

increases the productivity and efficiency of your operations

.
Cons of outsourced e-commerce solutions
Security risks

. Outsourcing can expose you to data and cybersecurity risks that can affect your company greatly. This is why it's best to talk to your provider about how you can secure your team's operations.

Lack of control

. Especially when offshoring, you lack total control over your functions since you share them with your outsourcing partner. However, you can negotiate ways to co-manage your remote team better.

Concerns on intellectual property

. Also, you might have concerns about the intellectual property over the systems, content, and designs created by your offshore staff. 

Communication issues

. Lastly, your team won't be physically there with you, making it difficult to reach out about any urgent tasks you might have. With this, secure a better way of communicating with your team with the help of online tools.