Top 20 tech companies in Rhode Island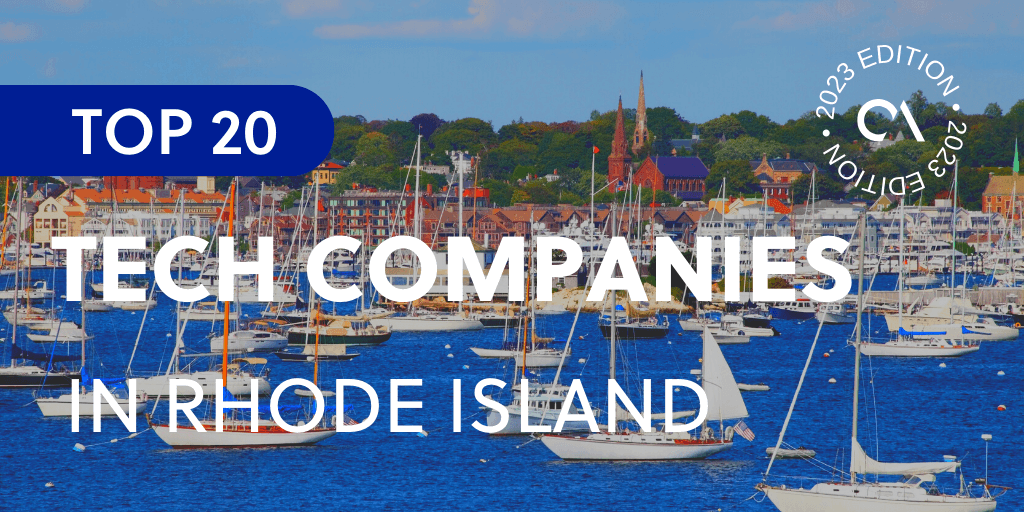 List of tech companies in Rhode Island
A tech company is an organization that specializes in the development and provision of innovative technological solutions.
These companies are at the forefront of creating cutting-edge products and services that harness the power of technology to improve various aspects of our lives.
Tech companies typically offer various products and services, including hardware, software, and digital platforms. They design and manufacture electronic gadgets, develop software applications, and provide online services that cater to diverse needs.
These offerings may include smartphones, laptops, operating systems, social media platforms, cloud computing services, etc.
The primary mission of a tech company is to drive innovation and push the boundaries of what technology can achieve. They aim to make our lives more efficient, convenient, and connected.
These companies often prioritize research and development to stay at the forefront of technological advancements and provide solutions that address contemporary challenges. 
Ultimately, tech companies play a pivotal role in shaping the digital landscape and revolutionizing how we interact with the world.
Tech companies as problem-solvers of Rhode Island
Tech companies in Rhode Island have emerged as pivotal problem-solvers, driving innovation and progress across various sectors.
One of the primary focuses of these tech companies is healthcare. Leveraging advanced data analytics and artificial intelligence, they develop solutions to improve patient care and optimize healthcare operations.
These innovations range from telemedicine platforms facilitating remote consultations to predictive analytics tools enhancing disease detection and treatment planning.
Additionally, Rhode Island tech companies have a solid commitment to sustainability. Many are at the forefront of developing clean energy solutions, including renewable energy sources and energy-efficient technologies.
They aim to reduce the state's carbon footprint and promote environmental conservation.
Education is another area where these companies excel. They create interactive e-learning platforms, digital tools, and educational apps that enhance the learning experience for students of all ages.
They aim to make education more accessible and engaging, ensuring that Rhode Island remains a hub of intellectual growth and innovation.
These tech companies are not just problem-solvers but catalysts for progress. Their dedication to healthcare, sustainability, and education drives positive change and makes Rhode Island a better place to live and work.
Their innovative products and services shape the state's future, address its unique challenges, and create opportunities for a brighter tomorrow.
Top global outsourcing list
Outsource Accelerator is the world's leading outsourcing marketplace and advisory. We list over 3,000 BPO firms located across the globe in our global directory, and we provide detailed information, price guides, and reviews.
Whether a solopreneur, SME owner, or corporate executive, we can help you find the most suitable outsourcing provider for your business.
Explore our outsourcing directory now. You may also check out our Top IT software/companies lists here:
Top 20 tech companies in Rhode Island
These tech companies in Rhode Island, deeply rooted in the state's diverse landscape, are working tirelessly to provide cutting-edge products and services that address critical challenges.
SmartApp conceptualizes, designs, prototypes, develops, and delivers digital experiences to clients with businesses. You can avail any help related to business services, education and e-learning, retail and e-commerce, and manufacturing.
Services it can give out are web and software development, UX/UI design, digital marketing, and IT consulting.
Voltserver eliminates traditional power supply needs, enabling safer, more efficient energy delivery. It provides various products and services, including the Voltstack, a compact power distribution unit, and Voltmesh, a secure wireless energy transfer system.
It enhances safety and reduces energy wastage, aligning with their commitment to a sustainable future. 
SquadLocker offers a user-friendly online platform where customers can design, order, and personalize uniforms, fan gear, and promotional items. Its products encompass a wide range of sportswear, from jerseys and hoodies to caps and backpacks, all fully customizable to reflect team identity and branding. 
It has made them a go-to choice for groups seeking a seamless and stylish way to showcase their unity.
Intus Care's innovation, IntusHub, is a comprehensive health management platform that empowers patients to monitor their health, receive personalized insights, and connect with healthcare providers seamlessly. 
It revolves around leveraging technology to bridge the gap between patients and healthcare professionals, promoting proactive health management, and improving overall well-being. 
Lightspeed Restaurant prioritizes solutions for the hospitality industry to enhance efficiency, track sales, and provide valuable insights. Its Upserve POS is a robust point-of-sale system designed to streamline operations for restaurants, bars, and cafes.
Complementing its POS system, It also has UpServe Payments, a seamless payment processing solution, and UpServe Online Ordering, a convenient platform for takeout and delivery orders. 
Kenzan's services include custom software development, cloud migration, and digital strategy consulting, catering to diverse industries. It aims to streamline operations, enhance customer experiences, and drive growth through technology. 
It continues to be a trusted partner for businesses seeking to harness the power of technology for success.
Hexagon Manufacturing Intelligence is for the world of industrial measurement and quality control.
Its portfolio includes advanced metrology solutions, 3D scanning technologies, data analysis, and process optimization software.
Delivering precision and efficiency helps manufacturers enhance their operations and deliver high-quality products. 
Nortek has smart thermostats, advanced security systems, and integrated technology solutions for residential and commercial applications. It specializes in the fields of HVAC, security, and technology solutions.
It strives to make homes and workplaces safer, more comfortable, and energy-efficient through its products and services. 
Ageless Innovation was founded on a noble mission for the senior care industry.
Its innovative products, like Joy for All Companion Pets, provide companionship and emotional support to seniors. These lifelike robotic pets offer realistic interactions, fostering joy and reducing feelings of isolation. 
It positively impacts the aging population, addressing the emotional needs often overlooked in senior care.
HRToolBench's products include advanced HR management software, applicant tracking systems, and employee engagement platforms. These tools empower organizations to efficiently manage recruitment, employee data, and performance evaluations.
Its core is driven by a mission to simplify HR operations, enhance workforce productivity, and foster employee satisfaction. 
Beeline contributes to how businesses optimize their workforce, offering tools such as workforce scheduling, time tracking, and performance analytics. It empowers organizations with the tools to efficiently manage their workforce, enhance productivity, and drive growth. 
It creates intuitive and customizable solutions that cater to each client's unique needs.
Lullabot specializes in creating robust websites and applications, employing technologies like Drupal and React to craft user-friendly experiences.
It equips customers with digital tools that drive success while fostering collaboration and innovation.
Clients can choose from their strategy, design, development, support, and maintenance services.
Alesis has made its mark in the world of audio equipment. Its product lineup includes digital audio workstations, MIDI controllers, electronic drum kits, and audio interfaces to improve the creative process of musicians with high-quality, affordable gear.
With a commitment to innovation and accessibility, it continues to be a trusted name in the music industry.
Inquest Technologies'  Threat Detection Platform leverages advanced machine learning and behavioral analytics to identify and neutralize cyber threats in real-time.
Its comprehensive services include threat hunting, incident response, and threat intelligence, ensuring clients stay one step ahead of malicious actors.
It offers solutions to navigate the complex cybersecurity landscape with confidence and resilience.
Pangea has the next-gen smartphones, high-speed internet services, and groundbreaking software applications. Its purpose is to give quality and affordability in an increasingly competitive market.
It also wants to reduce its environmental footprint by promoting energy-efficient technologies and responsible data management.
Walco Electric Company has cutting-edge electrical components, from circuit breakers to advanced lighting systems, catering to residential and commercial needs.
Its services are installation, maintenance, and consultations, ensuring seamless electrical operations.
Its goal is to empower clients with safe, efficient, and sustainable electrical solutions.
Vizsafe serves as a platform that enables organizations to crowdsource real-time information, allowing users to report incidents, hazards, and suspicious activities.
Its solutions include a mobile app and a web-based dashboard that empower users to share images and location-based data with relevant authorities and communities.
Its products and services have improved safety across various sectors, including public safety, event management, and corporate security. 
ProThera Biologics' primary focus lies in developing and producing innovative biologics.
These include therapeutic proteins and monoclonal antibodies, which have revolutionized the treatment of various diseases.
It improves global healthcare by delivering high-quality, safe, and effective biologic therapies that address unmet medical needs and enhance patients' quality of life. 
Modern electronics, from high-performance processors to cutting-edge consumer electronics, are part of the product line offered by Federal Electronics. It offers organizations worldwide first-rate IT solutions and consulting services.
It is dedicated to providing excellence, putting a special emphasis on quality, dependability, and sustainability. 
The Wanderlust Group is dedicated to responsible tourism. They believe that through this manner, travel may become more accessible and enriching.
Travelers can use Wanderlust Traveler, the company's flagship product, a user-friendly software that offers personalized recommendations, up-to-the-minute information, and simple booking alternatives. 
Additionally, it provides Wanderlust Connect, a network that links tourists with local guides and activities for real travel experiences.