Taking advantage of outsourced research services for start-ups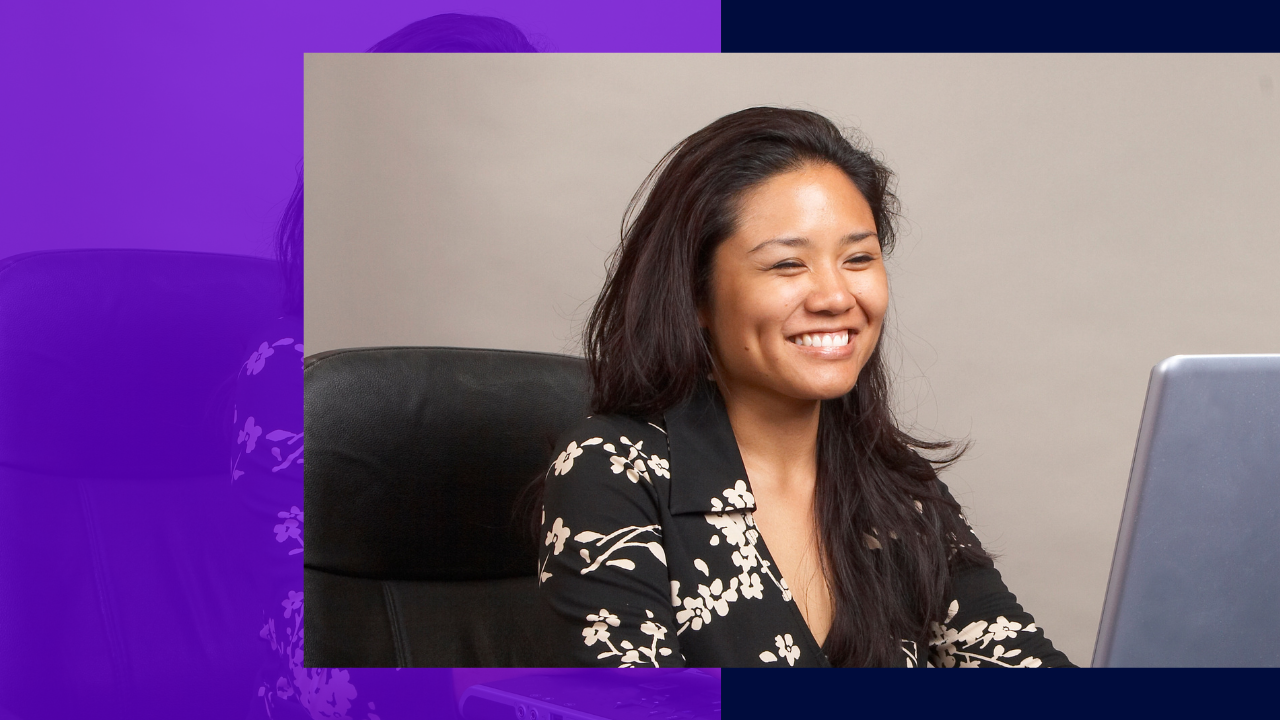 One way to provide an excellent service to your customers is by giving them desirable products and services. This can be done by researching your target audience to know their wants and needs. 
Researching is often expensive, especially for a start-up. Finding a partner that offers outsourced research services will help you improve and develop your brand according to the insights of your clients.
What is an outsourced research service?
Research is done to know if a product or service will meet the needs of your target audience. It involves gathering facts about how customers usually react to your brand offerings. 
It is the most powerful tool for finding out what attracts your market. Through research, you will find out a lot of things about your prospects and you will learn how to draw their interest to your business.
An outsourced research service is an approach where you hire an external company to help you get to know your buyers. Their world-class team of researchers can help your company do research and collect data efficiently.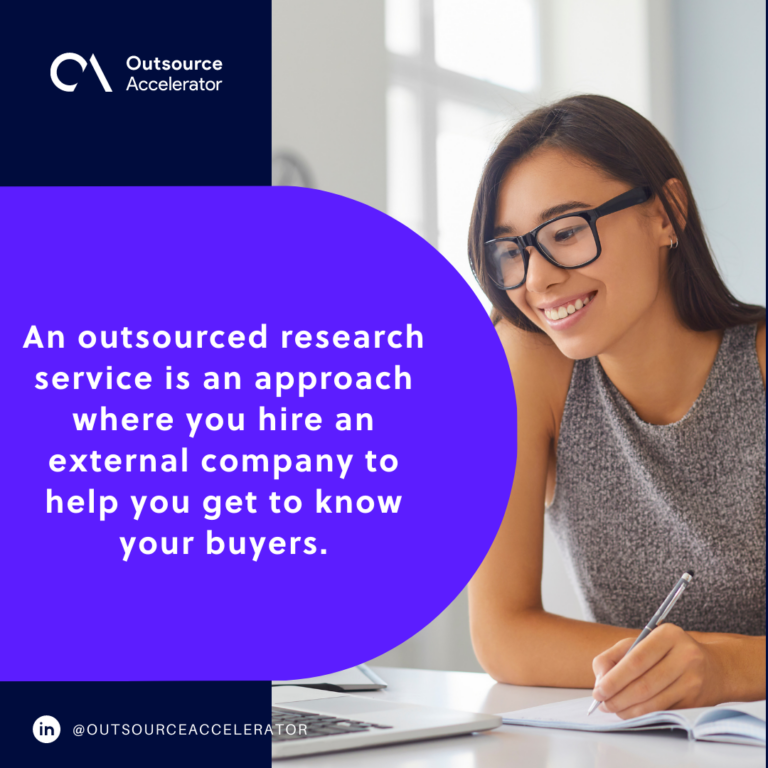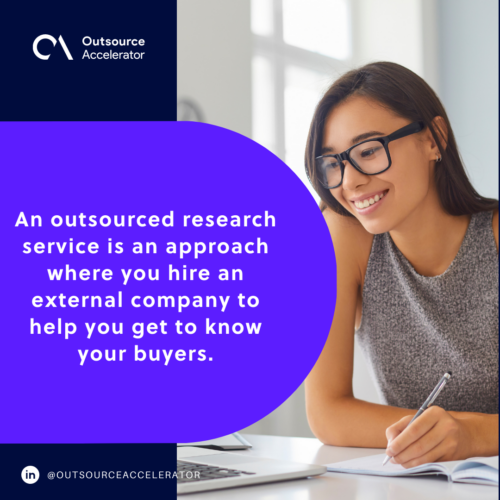 Why is it ideal for start-ups to outsource their research?
Most startups are run by a small number of key employees who usually perform several tasks at the same time. It is practical to delegate other tasks to an external team to help things get done – especially complicated jobs like research. 
Hiring an in-house research team can be costly. In addition, training them is time-consuming. An outsourced research team will help you streamline research tasks while you focus on your core competencies. 
Outsourcing your research services will help you strategically plan your product launch and build a stronger foundation for your start-up. 
They will help you make the right decision and optimize your activities based on insights from prospective customers.
Further, an external partner provides an outside and objective point of view. Third-party outsourcing of market research will eliminate confirmation bias an in-house team may have.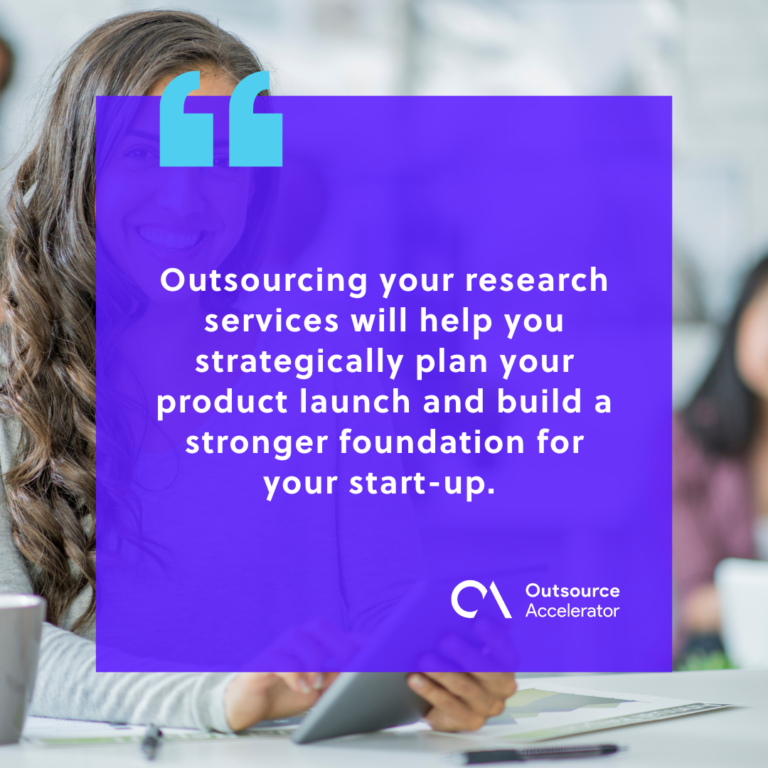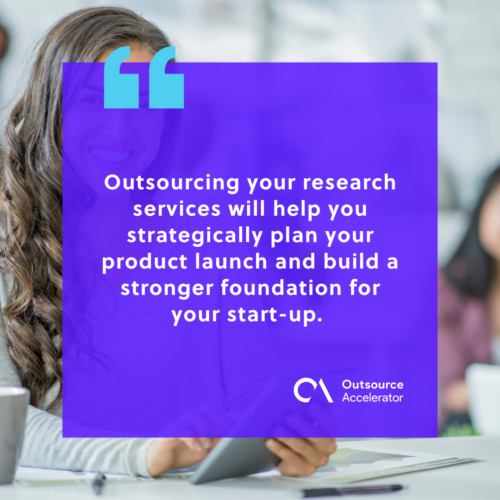 What are the advantages of an outsourced research service?
Compared to an internal research team, outsourcing offers several advantages to companies – particularly start-ups.
Here are some of these advantages:
Saves costs on labor and technology 
Research can be an expensive task for any type of business. Small companies most likely do not have the resources to look for, hire and train employees with research expertise. 
By hiring an outsourcing partner, you can reduce your costs on labor and technology needed for the job. Additionally, there is no staff to maintain and retrain. Providing office equipment and infrastructure is unnecessary when you have an outsourced research team.
Makes full use of the day 
Outsourcing your research services allows your team to focus on core activities. Also, because your third-party service provider specializes in market research, everyone will be able to work on their competitive advantages.
Offshore outsourcing offers the added advantage of using a 24-hour day fully. Since they have a different time zone, outsourcing partners can complete their research tasks and send them to you for review at the start of your shift. 
Access to experts
The most important driver for outsourcing is getting access to highly skilled professionals. An external research provider is mostly filled with experts in language, technical know-how, culture, and new resources.
Researching requires very specific knowledge and tools. Your outsourcing partner can provide a faster, extensive, and accurate data acquisition with an accurate analysis.
Flexible staffing options
Hiring full-time researchers can be very costly. Having a contract with a research provider can help you add and reduce research capacity according to your company's needs in different periods.
There is a chance of missing out on a deadline if you only have a few research employees. If you hire too many, you will have idle workers on your team.
An outsourcing company can assist you in determining the right number of professionals needed in your research services. 
Quality assurance
Outsourcing gives you quality assurance in the results of your research projects. As they already have a solid strategy developed through years of experience, they can guarantee genuine information from your market.
Partnering with a research provider also ensures that you will get an immediate turnaround on your reports based on the changes in your customers' habits and needs. This will allow your start-up to compete with larger brands in the industry.
Six Eleven's outsourced research services
Since researching is a complicated task, you need to partner with a trusted outsourcing company to help you find reliable results. Six Eleven's outbound research services may be the right fit for you.
To develop your products and services, you need a team of experts to research and gather data for you. With Six Eleven, you can get the best pool of talents who will help you get to know your market and improve your services.
Established in 2005, Six Eleven has grown into a successful BPO company that offers various outsourcing solutions for any type of business. With focused flexibility, industry expertise, and quality excellence, this Davao-based BPO services provider aims to assist you in any way possible.
Visit SixEleven now and make your goals happen.