Definition
What is Payoneer
Payoneer is a leading financial services company that provides cross-border transactions and digital payment services. It is perfect for freelancers, small-and-medium businesses, and enterprises for sending and receiving global payments. Payoneer is also used in popular marketplaces such as Upwork, Fiverr, and Freelancer.
Founded in 2005, Payoneer has become a trusted payment partner for different marketplaces, including Amazon. It has also received numerous industry awards and international licenses both in the US and Europe for its performance and reliability. Payoneer also garnered mostly positive feedbacks from its clients, whether individual, SMB, or enterprise.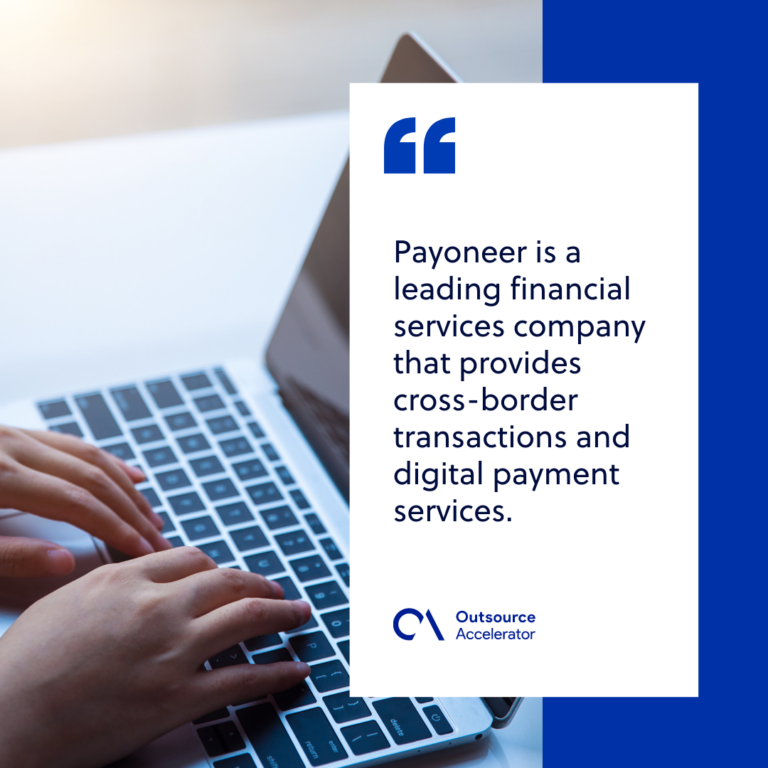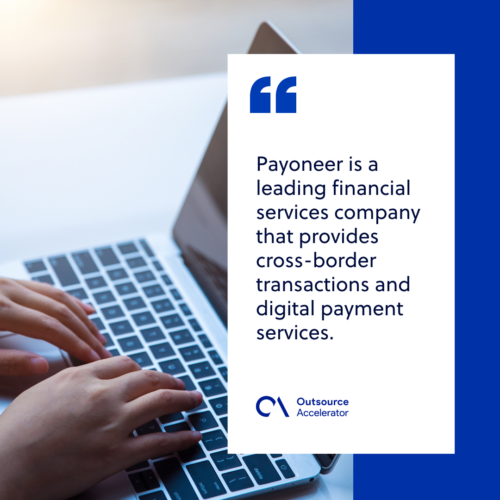 Payoneer features
Aside from being mobile-friendly, Payoneer has a lot of other features. Here are some of the features that will be available to you after creating a Payoneer business account:
Payment Service Across Borders
Payoneer makes money transactions simple, whether from a friend or a business. The software uses software to receive payments in various currencies, including Australian dollars and Chinese yuan or Japanese yen.
This eliminates the need to pay additional fees only to accept payments in the money of your choice.
Multilingual 24/7 Assistance
Payoneer provides multilingual customer service in different languages around the clock to ensure that you get the help you need should you run into problems or have inquiries.
Security
Payoneer adheres to PCI DSS and AML standards to safeguard customer credit card information. It also provides all consumers with fraud detection.
Invoices
On Payoneer, there is no invoicing function, but you can use the Free Invoice Generator program to create professional-looking invoices that you can email to your customers.
A prepaid bank card
You can use your Payoneer business account funds to make purchases with a Mastercard debit card, available to all Payoneer business account customers.
Administration of taxes
Detailed reports of tax data gathered and in-progress forms will be provided to Payoneer users. Payoneer's automated record keeping replaces the need to obtain tax documents from payees.
Tools for the development of software
Users can easily set up recurring payments for their customers using Payoneer's API, which allows them to debit a Payoneer user's account balance automatically.
Payoneer customers must permit their accounts to be debited. The possibility of a chargeback is eliminated because Payoneer only debits an account if sufficient funds are available.
Is Payoneer safe
One of the advantages of having a Payoneer business account is sending and receiving payments from different countries safely and hassle-free, even without a bank account. 
The site uses strong encryption to protect the users' personal and financial data from phishing and identity theft. Each transaction made in the platform is monitored and sent via email, so users can easily detect unusual activities in their accounts.
Outsource Accelerator provides you with the best outsourcing companies in the Philippines, where you can save up to 70% on staffing costs. We have over 5,000 articles, 350+ podcast episodes, and a comprehensive directory with 3,000+ BPOs… all designed to make it easier for clients to learn about, and engage with, outsourcing.