Top 14 white label SaaS software with customizable solutions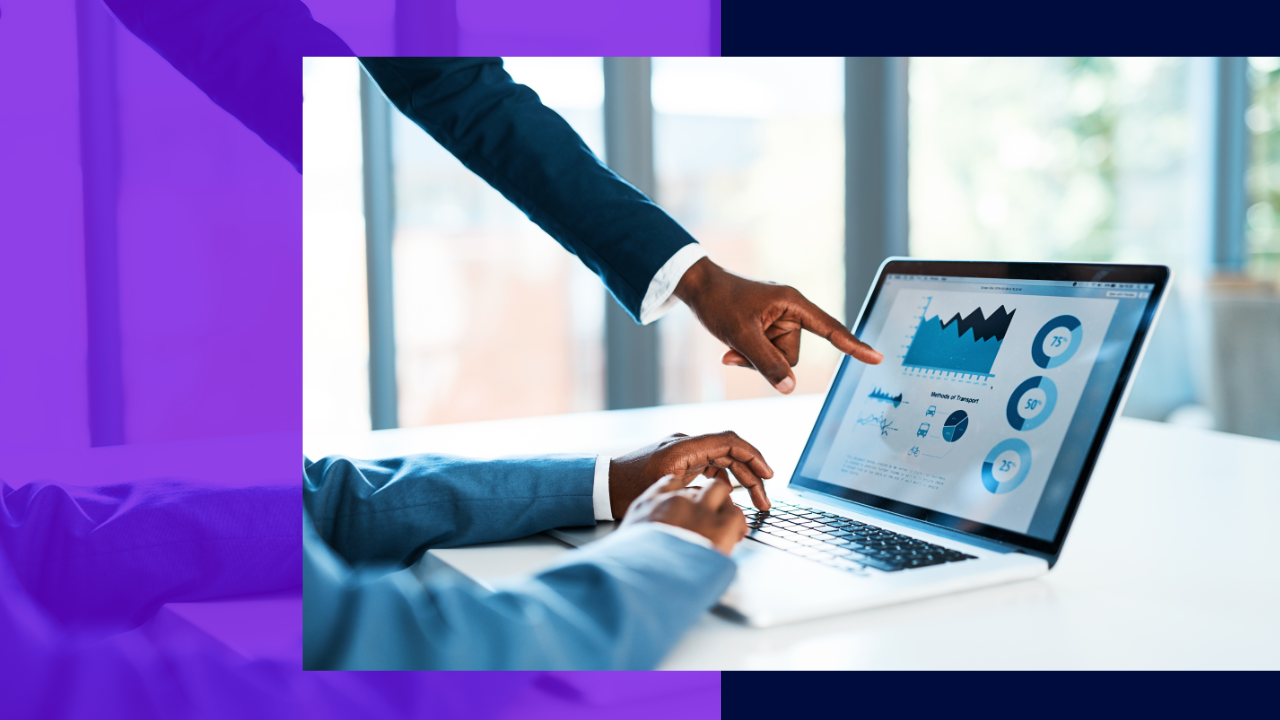 List of best white label SaaS software
White label SaaS software is revolutionizing how businesses deliver customer services and products. With the increasing demand for scalable, customizable, and ready-to-use solutions, white label SaaS software offers an efficient and cost-effective alternative. 
In this article, we explore the top white label SaaS software options available in the market today. 
What is white label SaaS software? 
White label SaaS software refers to a type of software product or service developed and maintained by one company but marketed to others under their own branding. 
Essentially, the original software provider creates a generic, fully functional software solution. This can then be customized and rebranded by other businesses to sell as their own product. 
Organizations that use white label SaaS software don't need to worry about hosting or updating the software. They just need to pay a subscription fee to access the software and its ongoing support.
White label SaaS software is a great way to offer a service to your customers without having to build it from scratch.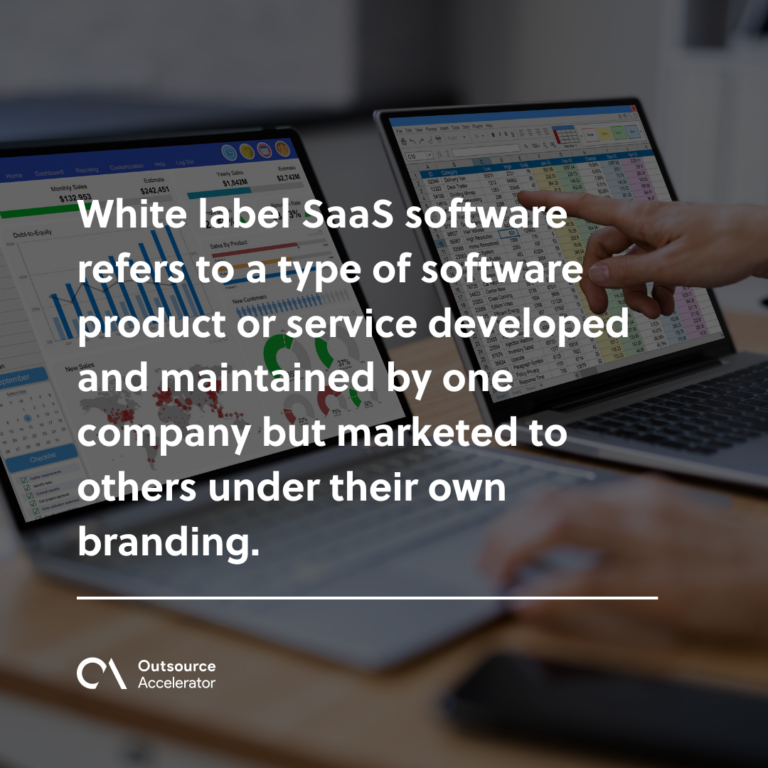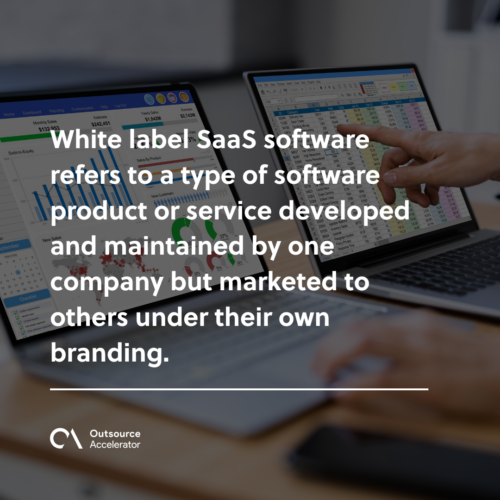 Popular SaaS products that are white-labeled
White label SaaS products are quite versatile and can cover a wide range of industries and functions. Some of the common types of SaaS products that are often offered as white-label solutions include:
CRM software
CRM software is used to manage customer relationships, sales efforts, and keep track of important data about prospects. They usually include features like contact management, lead tracking, reporting, and forecasting capabilities. 
White label CRM software allows you to customize the look, feel, and functionality of the software to match your branding but with the same features found in traditional CRMs. 
Marketing automation 
Marketing automation is one of the most popular types of white label SaaS software. There are plenty of options when it comes to choosing which platform works best for your business. 
Marketing automation helps teams create campaigns and track their results in real-time. It also allows them to see which marketing channels work best for them and adjust accordingly. 
Project management
Project management software is used by businesses and independent workers who need to manage projects, coordinate teams, and keep track of milestones. 
Project management is essential for any company that wants to stay organized with its plans. As long as you know how you want to brand this type of software, it's easy to create a useful product. 
E-commerce development
This type of white label SaaS software allows you to create an e-commerce website that uses the same technology as other companies. You'll be able to manage an online shopping cart and sell products. 
Social media monitoring
Social media has become a major communication channel for people to express their opinions and interact. 
Social media monitoring helps you track what people say online about your brand, products, or competitors. It also gives you insights into what people say about other topics relevant to your business. 
Companies can then respond by creating relevant content to increase customer engagement. 
SEO tools
If you work in digital marketing, then you probably already know how important SEO is for any business. With white label SEO tools, you'll be able to manage your website's ranking with ease. 
This white label SaaS software helps you optimize your website for search engines. It also helps you improve your rankings in other ways, such as by making your content more relevant or increasing social media engagement.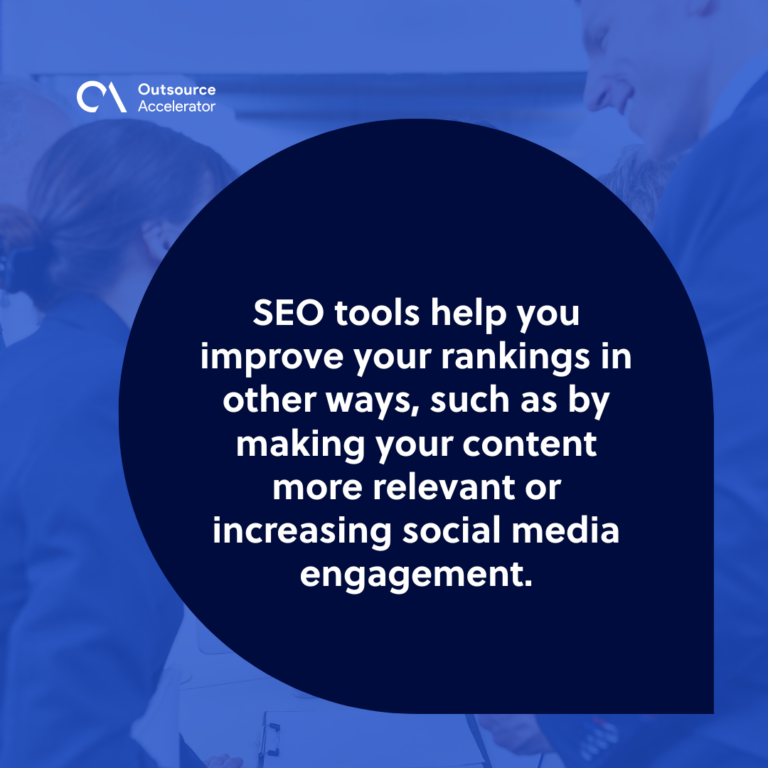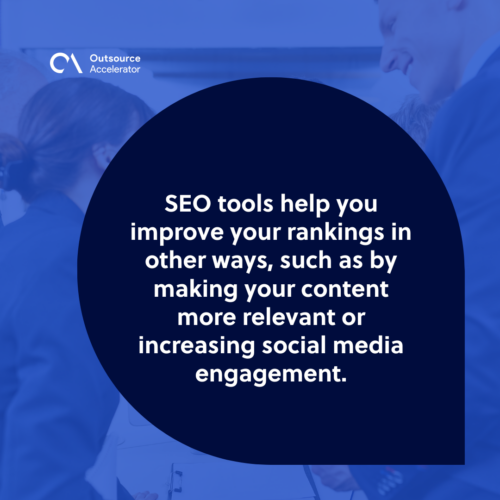 Content management systems 
Content management systems allow users to create, manage, and publish content online. They typically come with a range of features, such as:

Creating pages and blog posts 

Adding images and videos 

Controlling how content is displayed on different devices 
Best white label SaaS software
The world of white label SaaS software is teeming with excellent solutions tailored to meet the diverse needs of businesses across various industries.
Here are the top 14 contenders for the best white label SaaS software.

You don't need any coding or designing skills to design websites with Weblium. It offers over 300 ready-to-use templates not just for your business's landing page but also for events, online stores, and portfolios. 
Simvoly allows you to build a website, start a funnel, and sell anything. You'll be able to engage with your audience better and grow your business online through one platform. 
Simvoly offers a new evolution trend in online selling. Customize your website and make your eCommerce smart. 
SocialPilot grants you powerful and insightful analytics into your social media channels. 
Easily schedule and publish posts on all major social media platforms with SocialPilot's publishing feature. Download all the analytics you need to strengthen your online strategies. 
ActiveCampaign delivers all the necessary marketing automation, email marketing, and CRM tools you need to create outstanding customer experiences. 
Supercharge your efforts with automated solutions and propel your business forward.
Upgrade your user experience with WotNot's high-performance chatbots. You have the option to build the chatbot yourself or have a professional team develop it for you. 
No code is required to build chatbots on WotNot's interface. All you need is a clear idea of your business objectives. 
Moosend is a modern solution to email marketing and marketing automation. Drive real revenue growth with its simplified software. Moosend builds personalized content for all your subscribers to initiate relationships and conversions. 
The Mautic community is the world's largest open-source marketing automation platform. Mautic leads the way with cutting-edge marketing automation and personalized digital properties.

Mention is a social monitoring and engagement platform that allows you to track what people are saying about your business online. Multiple types of insights are at your fingertips with Mention's software. 
Monitor important trends, analyze posts, and connect with your audience across social media. 
With a simple and intuitive interface, Ecwid is designed to enable store owners to create an online store fast and without any technical knowledge. 
Become the next online success story by selling anything, anywhere, to anyone. Ecwid lets you manipulate centralized inventory, order management, and pricing all from a single platform. 
AgencyAnalytics lets you automate your client reporting and scale up your digital marketing. 
With custom dashboards and fully automated reports, you can connect all your client data in one place and deliver full value. 
Create captivating email campaigns with Cakemail's features. Cakemail aims to spark, nurture, and measure the interactions between your business and the people important to you, your customers. 
Elevate your email strategy and boost your online presence. 
Landingi lets you build landing pages to create and convert leads faster. 
You won't need to hire a web developer because Landingi gives you all the tools to make them yourself. You can also create pop-ups, lightboxes, and sales funnels to grow your business. 
Clinked offers an easily customizable portal that takes care of your clients and business documents. The platform is extremely flexible, with over 3000 integrations for you to handle data collection, sales management, and onboarding.

SE Ranking delivers a cutting-edge SEO platform for agencies, businesses, and freelancers that will impress all types of clients. 
SE Ranking brings the perfect SEO toolkit, enabling SEO marketing, SEO research, content marketing, and agency success. 
Why do you need white label SaaS software?
There are several compelling reasons why businesses may choose to utilize white label SaaS software:
Branding and identity
Your brand is your identity, and it's important that your customers associate your name with quality. 
A white label SaaS software allows you to brand your company as you see fit. You can choose your own custom branding elements without having to pay for all of the developmental work involved. 
A white label product is more than just a rebranded version of your existing product. It's unique and tailored to your business needs, with features and functionality that reflect your brand identity and fit seamlessly into your existing systems. 
Speed to market
With white label SaaS software, you can get your product to market quickly with minimal investment and risk. 
Because you're not building and maintaining internal software, you can use existing solutions as is. A white label product is the fastest way to get things up and running. 
The customization process can often take weeks or even months, but with white label SaaS software, you'll be able to launch your product in just days or weeks. 
Cost-effectiveness
The cost-effectiveness of white label SaaS software is a significant reason for businesses to choose this option. It helps you save money on your own development costs and allows you to use a stable and reliable product. 
You won't need to purchase or maintain servers to host your application or pay for expensive upgrades and updates. The SaaS providers make these changes on their own schedule. 
This means you can focus more on your core business and less on worrying about technology costs.  
Rapid innovation and updates
Customers love seeing how much effort goes into building their software. 
SaaS providers continuously improve their software to stay competitive and address emerging needs. By using white label SaaS, businesses automatically benefit from these updates, ensuring they always offer their customers the latest and most efficient solutions.
Competitive advantage
If you're looking for more than just a simple branding solution, white label SaaS software is an excellent way to differentiate your business from the competition. 
Combining robust technology with your brand's features lets you offer a unique product that can't be found anywhere else.