10 best project manager tools for 2024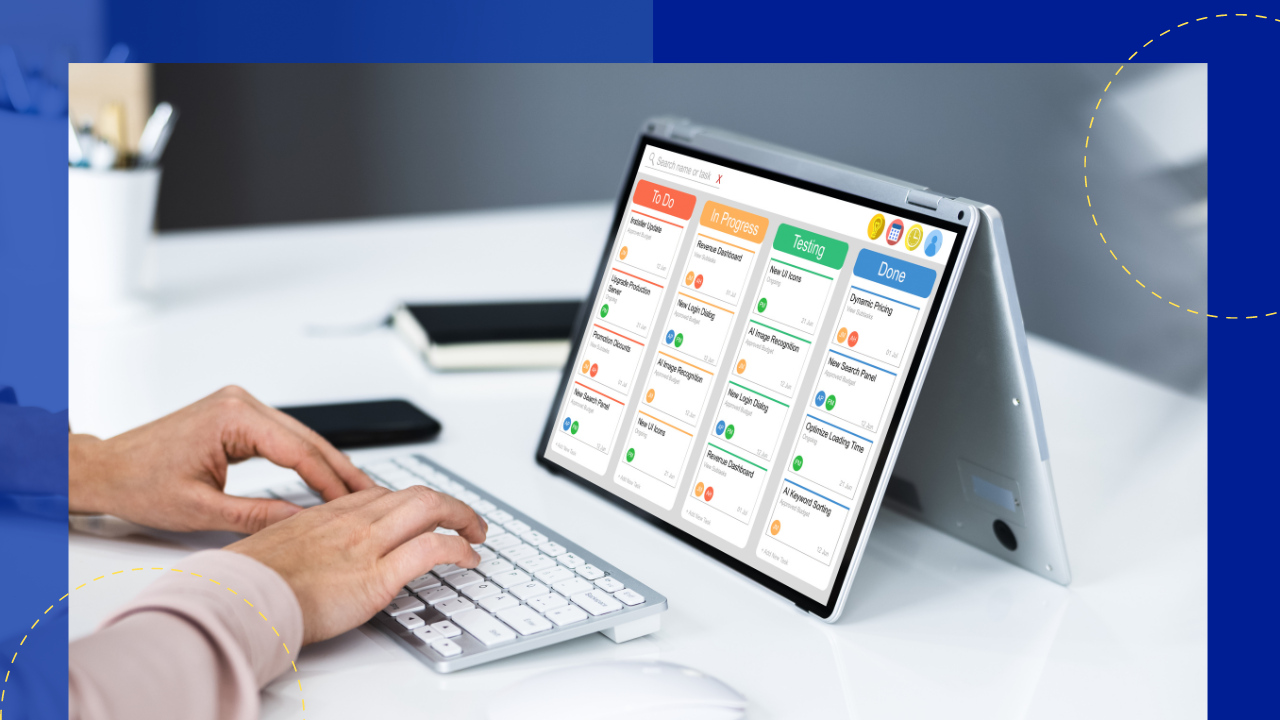 List of project manager tools 
Efficient project management relies on the seamless orchestration of tasks, resources, and team collaboration. 
To that end, project manager tools have become indispensable for streamlining workflows, boosting productivity, and ensuring project success. With abundant options available in the market, finding the perfect tool that aligns with your project requirements can be daunting. 
In this article, we delve into the world of project manager tools, exploring the key factors to consider and presenting a curated selection of top-notch solutions. 
Whether you're a seasoned project manager or a newcomer navigating the project management landscape, this guide equips you with the knowledge to make informed decisions and unlock the full potential of your projects.

What tools do project managers use? 
Project management tools are software programs that help you manage projects and tasks. They can be used by individuals, teams, or entire organizations. These tools help you track what needs to be done, who is doing it, when they're doing it, and how much it costs.
Project management tools are often divided into three categories:
Project management software

. These products offer a combination of features from all three categories above. They're often used by larger organizations, freelancers, or self-employed individuals.

Time tracking software

. These products are designed to

track time

spent on projects. They can be used to generate reports for billing clients or for internal use by managers who want to see how their teams spend their time.

Task management software

. Task management tools are typically used by individuals or small teams who want to keep track of their work without using a full project management system.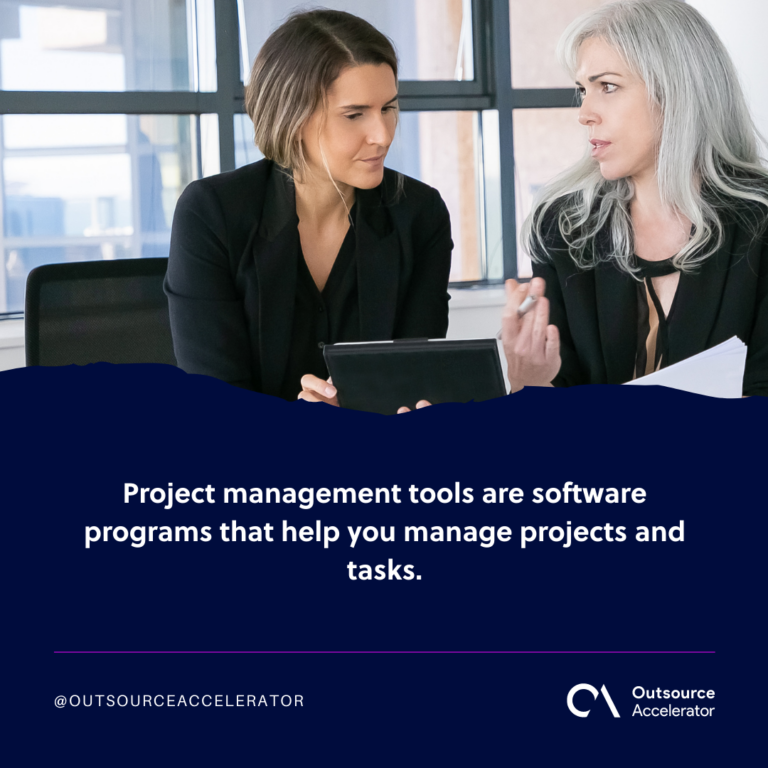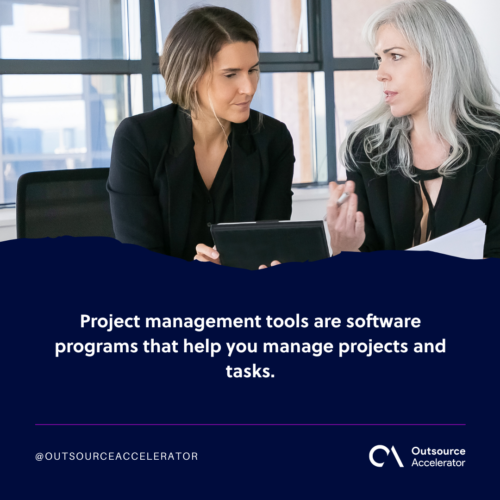 Essential features of project manager tools
Project manager tools are vital to the project management process. They help plan, monitor, and control the schedule, cost, quality, and risks in order to achieve a successful project outcome.
There are several features that make for good project manager tools:
Task management

– This allows you to create, assign, and track tasks throughout the project lifecycle. 

Collaboration and communication

– Effective collaboration among team members and stakeholders is vital for project success.

Scheduling and time management

– Project manager tools should enable you to create project schedules, set milestones, and allocate resources effectively. 

Document management

– A good project manager tool should offer features for document storage, version control, and easy access to files. 

Reporting and analytics

– Access to project data and performance metrics is essential for monitoring progress and making informed decisions. 

Integration capabilities

– Project manager tools should seamlessly integrate with other essential software and platforms your team uses. 

Customization options

– A flexible project manager tool allows

customization

to adapt to specific workflows. 

Mobile accessibility

– Ensure that the project manager tool has a mobile app and a responsive web interface that allows you to project data on the go. 
Top 10 project manager tools 
Without further ado, let's explore the cream of the crop when it comes to project manager tools:
Pricing: 
Free

Unlimited: $9/month

Business: $19/month

Business Plus: $29/month 

Enterprise: Contact sales
ClickUp is the ultimate project manager tool. It brings together all your teams to plan, track, and collaborate on any project all in one place. Maximize your team resources and organize projects at a glance. 
The software comes with custom templates that are designed to save you time, as well as customizable, productivity-boosting features and capabilities. You can even fast-track your projects with its new ClickUp AI tool. 
ClickUp gives you several customizable views, including List, Gantt, and Board. Move team ideas to action and never miss a beat. 
Pricing: 
Free 

Team: $9.80/user/month 

Business: $24.80/user/month

Enterprise: Contact sales

Pinnacle: Contact sales
With Wrike, it's easy for users to manage their projects in real-time. This project manager tool comes with a powerful platform that allows you to plan, execute, and complete. 
Wrike is equipped with advanced features that make project management pain a thing of the past. Managers can streamline workflows, automate tasks, predict risks, and easily optimize resources. The software can even be customized to adjust to your team. 
Take control of your resource management using real-time data and analytics and constantly-updating dashboards. Wrike comes with easy-to-use features that ensure your resources are used when they're most needed. 
Pricing: 
Free

Standard: $5/user/month

Premium: $10/user/month

Enterprise: $17.50/user/month
Trello advertises itself as a productivity powerhouse. This project manager tool makes use of three features to ensure you get a clear view of what needs to be done: 
Boards

– Keep tasks organized and work moving forward by transferring tasks to the appropriate boards.

Lists

– Outline the different steps and stages of a task and build a custom workflow for your team's needs. 

Cards

–

Represent ideas and tasks using cards with all the information you need to complete the job.

As you progress through the project, move the cards across lists and boards to get a real-time perspective. 
Its custom fields are an effective way to save time and meet the demands of any project. This works at its best when combined with automation. 
Trello monitors every aspect of your project from initiation to completion. 
Pricing: 
Basic: Free

Premium: $10.99/user/month

Business: $24.99/user/month
With Asana's project management feature, you can handle your projects efficiently, even if your priorities shift. It becomes easy to increase efficiency to hit results and reach your goals every time. 
Asana's strength lies in reducing the silos between teams and tools. It understands that your most important work happens cross-functionally, and so it helps you create repeatable processes to keep everything aligned. 
Asana lets you see your work in one place, from product launches to software deployment. This allows you to anticipate any roadblocks and hit deliverables every time. 
Pricing: 
Free 

Basic: $8/seat/month 

Standard: $10/seat/month

Pro: $16/seat/month

Enterprise: Contact sales
Monday.com combines all aspects of work into one complete solution. This project manager tool allows teams to focus on executing tasks, projects, and processes efficiently to achieve shared goals at scale. 
Monday.com's features are designed to build powerful workflows that support your unique needs. Visualize your tasks with custom views and real-time dashboards, and choose from over 200 pre-built automation recipes to get work done faster. 
The app has built up an impressive reputation. Clients cite a 29% increase in candidates for their recruitment process, a 95% Objectives and Key Results (OKR) adoption rate, and have saved over 3500 hours yearly. 
Pricing: 
Free

Starter: $5.99/user/month 

Deliver: $9.99/user/month

Grow: $19.99/user/month

Scale: Request a demo
Teamwork comes with trusted task management tools and software that create detailed tasks to help you and your team hit targets. Plan your workload, track task progress, and optimize reports with an unmatched level of granularity and customization.
Teamwork brings you several useful templates to help all types of teams save time, improve processes, and get more done. This project manager tool is also available as a mobile app, so you can work from anywhere at any time.  
The software also grants you a full breakdown of its time tracking feature, as well as automation templates to let you estimate better time management. 
Pricing: 
Essential: $45/month

Ultimate Control: $89/month
ProofHub is an ideal task and project management software that utilizes Kanban boards and a robust table view to break tasks down into doable workflow stages. 
Keep your projects on course with ProofHub's project management solutions. This state-of-the-art project manager tool lets you do all of the following:

Define project-specific goals 

Estimate project scope

Get regular feedback and updates 

Streamline communication 

Design a schedule 

Assign tasks

Deliver value to clients 
You can create custom project workflows and get a bird's eye view of your progress. This allows you to plan every step effectively with ProofHub's wide variety of features. 
Pricing: 
Basecamp: $15/user/month

Basecamp Pro Unlimited: $299/month, unlimited users
Both plans come with 30-day free trial periods. 
Basecamp offers refreshingly simple project management solutions. 
Its project manager tool software has been refined over two decades to fundamentally reduce complexity and make project management less of a chore. Basecamp has everything organized in one centralized place compared to other platforms that utilize separate platforms. 
Say goodbye to long email threads with Basecamp's message board, and use their Campfire chat feature to communicate within specific projects. Its Card Table allows you to view your progress and full team visibility. 
Pricing: 
Free 

Plus: $10/seat/month 

Pro: $20/seat/month

Enterprise: Contact sales
Airtable presents itself as your new platform for building connected apps. Discover this project manager tool's ability to have teams build their own apps to connect work across the entire organization. 
Preconfiguring your apps will get your teams to drive results faster than ever before. This strategy also ends silos to unite data and workflows. 
Airtable also comes equipped with its own AI that lets you do all of the following:

Generate product specs 

Predictively categorize user feedback 

Instantly close the loop with customers

Accelerate with automation  
Pricing: 
Free

Pro: $7/user/month 

Business: $25/user/month

Enterprise: Contact sales
Smartsheet delivers powerful project management that puts people first. It organizes everything onto a single platform, empowering your teams to work better with the right people, processes, and information. 
Client reviews have credited Smartsheet with a 60x faster project setup time, a 70% increase in productivity, and more than 4000 hours saved per year. Combine this project manager tool's rich library of features with flexibility, simplicity, and ease of use.
With Smartsheet, everyone works and collaborates in real time. This method gives the whole team a better understanding of the project's progress and how they can contribute to its overall success.