Wages in the Philippines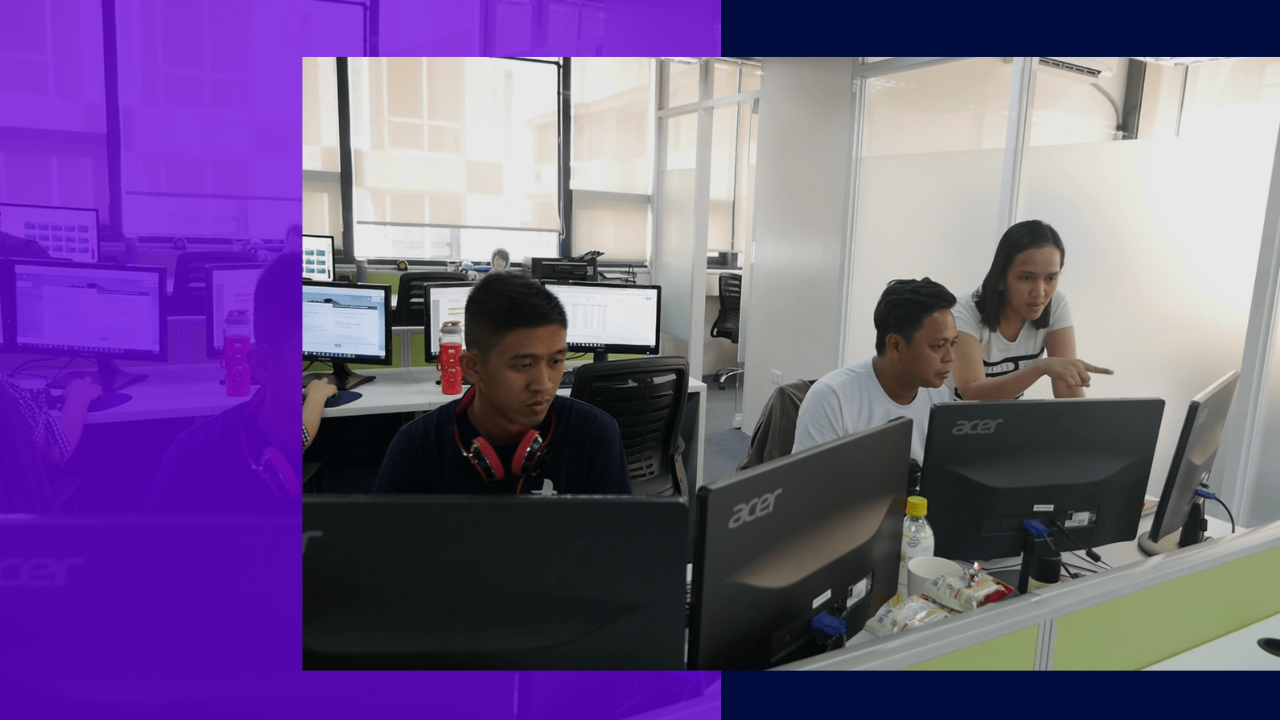 What every employer should know about wages in the Philippines
Jobs in the Philippine BPO industry pay above the minimum wage, and most start with an average base salary of USD 300 per month or around USD 3,600 per year. That's really cheap from a business perspective, but is it humane? In a country with a low cost of living like in the Philippines, yes.
A monthly salary of USD 300 can provide a person with a good standard of living. According to the Philippine Statistics Authority, a family of 5 needs a minimum of USD 177 per month to cover their food and non-food needs.
In another 2015 survey, the agency revealed that a Filipino family spends an average of 4,150 per year or USD 345 monthly.
While USD 300 may fall below the average monthly family spending, it's worth knowing that this amount is considered a good basic salary for someone just starting out in their career.
Many of the most common job titles in the Philippine BPO industry receive much higher annual rates.
What can a PHP 30,000 monthly salary afford?
While a PHP 30,000 or USD 579 monthly salary may not look much from a Western standpoint, this amount can provide individuals who are living in the Philippines with a decent standard of living.
This amounts to around PHP 360,000 or USD 6,948 per year. Let's take a look at how this works for regular employees:
According to the 2015 Family Income and Expenditure Survey released by the Philippine Statistics Authority in October 2016, the average Filipino family spends a total of PHP 215,000 or USD 4,150 every year or PHP 18,000 or USD 345 every month.
Those living in the NCR are revealed to have the highest annual average income of PHP 424,964 or USD 8,202 and the highest annual average expenditure of PHP 348,901 or USD 6,753.
Food takes up the top spot in the list of expenses, consuming 41.9% of the annual budget. This is followed by house rent at 12.19%, utilities like water and electricity at 7.91%, miscellaneous expenses at 6.34%, and transportation at 6.21%.
In short, a PHP 30,000 salary can go a long way in providing individuals and families with their essential needs and opportunities to improve their living conditions.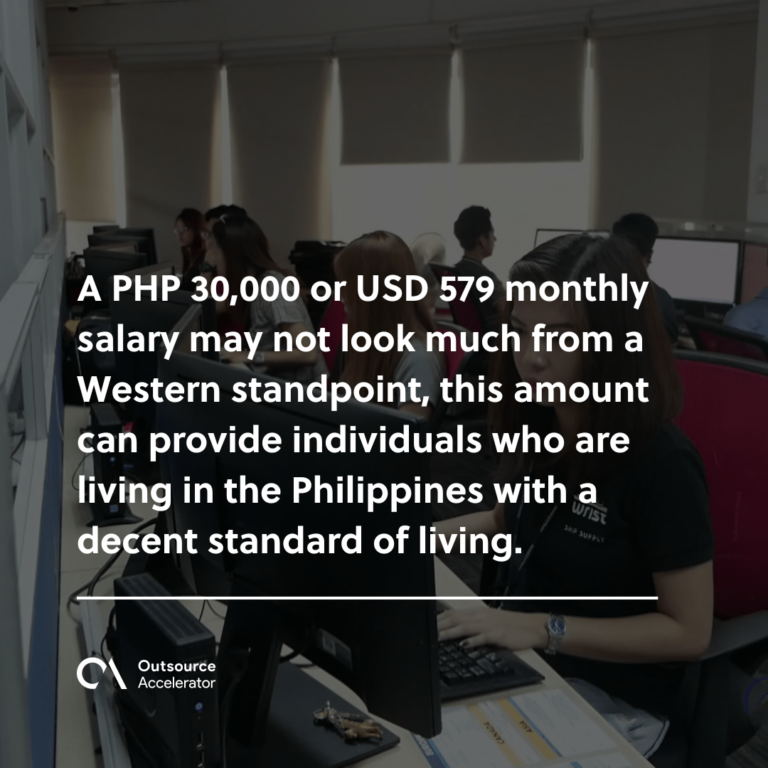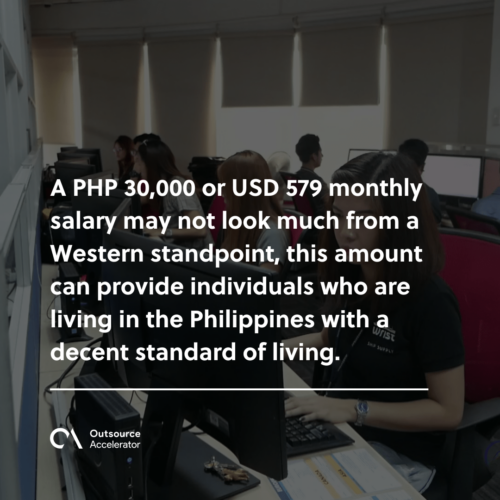 Minimum wages in the Philippines
A PHP 30,000 monthly salary is much higher than the minimum wage in the Philippines. Data from the Department of Labor and Employment (DOLE) website shows that the country's minimum daily wage ranges from PHP 306 to PHP 570, depending on the region.
The National Capital Region (NCR) has the highest daily minimum wage range at PHP 533 to PHP 570, or PHP 11,556 to PHP 12,350 monthly.
Livable wages in the national capital region
Most of the outsourcing operations in the Philippines are centered in Metro Manila, the country's capital region. It is here that Filipino professionals from different provinces flock to benefit from the higher-than-the-national-average minimum wages that BPO firms provide.
In a recent report by the IBON Foundation, a non-profit research organization, a family of five living in Metro Manila must spend at least PHP 1,161 per day (PHP 25,248 monthly) in order to live comfortably.
As BPOs are a well-known source of above-average income in the country, it's no wonder that many Filipinos choose to work for outsourcing companies in the country's capital region.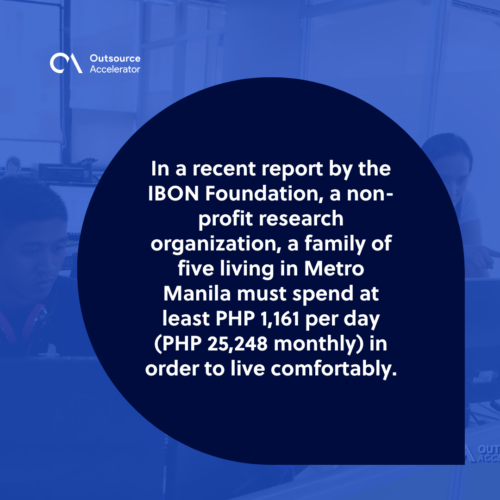 Reduced labor costs and decent wages
Clearly, the Philippine BPO industry is providing Filipinos with good salaries. At the same time, it affords businesses a chance to significantly reduce their labor costs and help employees sustain decent living conditions.
From this perspective, outsourcing to the Philippines is a win-win solution for both employers and employees.
Beyond basic wages: human resource management
Aside from an employee's basic pay, an employer must also pay attention to the following when items when computing an employee's take-home pay.
Labor laws
In the Philippines, the law is very much "pro-employee." Contracts and laws are geared towards the benefit of the employee, although if you read everything, it is pretty fair and will also benefit the company.
In this article, we will discuss the basic labor laws in the Philippines.
Employment
Just like other countries, the Philippines has a minimum employable age. You can apply for a professional job if you are 18 years old and above, although young adults aging from 15 – 18 can apply for certain jobs as long as the workplace or the work itself is considered non-hazardous
When it comes to overseas employment, employers from different countries are not allowed to hire workers directly. They have to go through the board and entities that are authorized and certified by the Secretary of Labor.
Rest days
Employees are entitled to at least 24 hours of consecutive rest per week. This is determined by the employer and should be discussed before the employee comes on board.
In the Philippines, though, companies usually give their employees 2 rest days per week. The days depend on the job description, the company, and the agreed schedule, but this is usually discussed even before the employee signs the contract
If an employee is required to come in on a Sunday or any rest day, they are entitled to an additional 30% on top of their regular daily pay.
Companies should also respect the employees' additional rest day requests regarding to their religious beliefs. Something that you should consider when building your virtual workforce
Employer termination
In the Philippines, the employer can terminate an employee at any time if they fail to meet the standards. Some of the most common reasons for termination are the following:
Serious misconduct or disobedience to the employer
Neglect of duties
Commission of a crime by the employee
And other reasons deemed by the company as unacceptable
It is best to get a certified lawyer or attorney when dealing with labor law cases in the Philippines, whether you are an employee or an employer.
Attendance
There are a lot of Philippine holidays every year – it's good to know when these are to prepare and align with staff requirements.
If the employee is entitled to a vacation leave and decides to file it before or after a regular or special holiday, then the employee shall be paid for the holidays, even if they do not come to work on that same day.
However, it is the company and the manager's discretion if they will approve of such leaves.
On the other hand, if the employee is not yet entitled to paid vacation leaves and decides to take a leave without pay before or after the holiday, then they might not get paid if they do not come to work during the holiday.
Tardiness is often deducted from the employee's salary. It is the company's discretion what amount they want to deduct from their employees. Be sure to factor this in your employee handbook about your company's rules on tardiness.
Leaves
Employees usually come in for probationary employment, which lasts for 6 months. After 6 months, the company shall decide if they want to extend the probationary period, cease employment, or regularize the employee.
Once the employee becomes regularized, they are entitled to more or less 10 paid vacation and sick leaves.
Maternity leaves are given to a pregnant employees. They are then entitled to a maternity leave benefit of 78 days for cesarean delivery and 60 days for normal delivery.
60 days shall also be given to pregnant employees who have had a miscarriage. The employee shall receive a part(or her whole salary) of her monthly salary, which will be reimbursed by SSS to the company eventually.
Paternity leaves are granted to married men in the Philippines. They will be given a 7-day leave to care for their spouse after their delivery or miscarriage. This will, however, not be reimbursed by SSS.
Solo parents are also entitled to a 7-day leave as long as they have been working for the company for at least a year.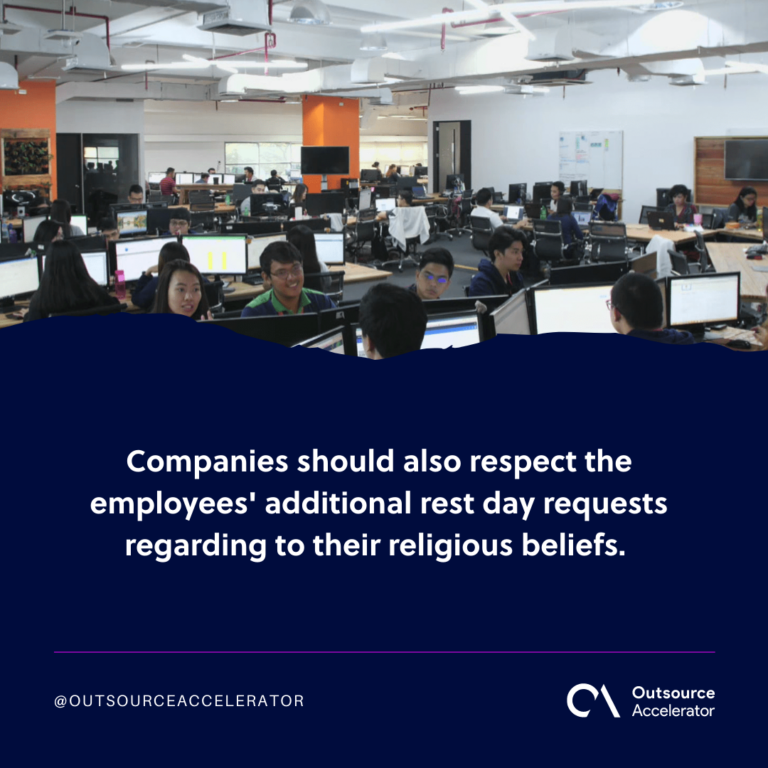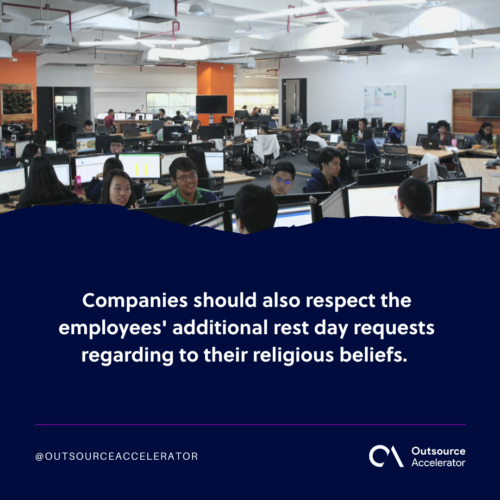 Different kinds of leaves in the Philippines
Every employee who has stayed with the company for at least 1 year is entitled to a service incentive leave (SIL) with 5 paid days. This leave may be used for sick leaves and vacation leaves.
At the end of the year, unused SIL may be converted to cash.
Parental leaves

There are 3 kinds of parental leaves. These are:
Maternity leave – A pregnant employee is entitled to a 60-day maternity leave for normal delivery or miscarriage or up to 78 days for cesarean delivery. This leave is applicable to up to 4 pregnancies. During this type of leave, the employee receives a fraction of her regular monthly salary, which the SSS will reimburse the employer. The leave may take effect at least 2 weeks before the employee's due date.
Paternity leave – Married male spouses are entitled to a paternity leave of up to 7 days when their legitimate spouse, whom they are living with, delivers or miscarriages. Paternity leaves are shouldered by the company and applicable to up to 4 pregnancies.
Solo-parent leave – Solo parents who have been with the company for at least a year are entitled to 7 leaves per year.
Other leaves
Gynecological leave – This leave, which follows a surgery that addresses gynecological disorders, is for employees who have rendered at least 6 months of service in the past 12 months. It entitles the employee to a special 2-month leave benefit with full pay.
Leave for women and their children who are victims of violence – Victims of violence are entitled to a special paid leave of up to 10 days, but it can be extended as needed.