A closer look at BPO industry wages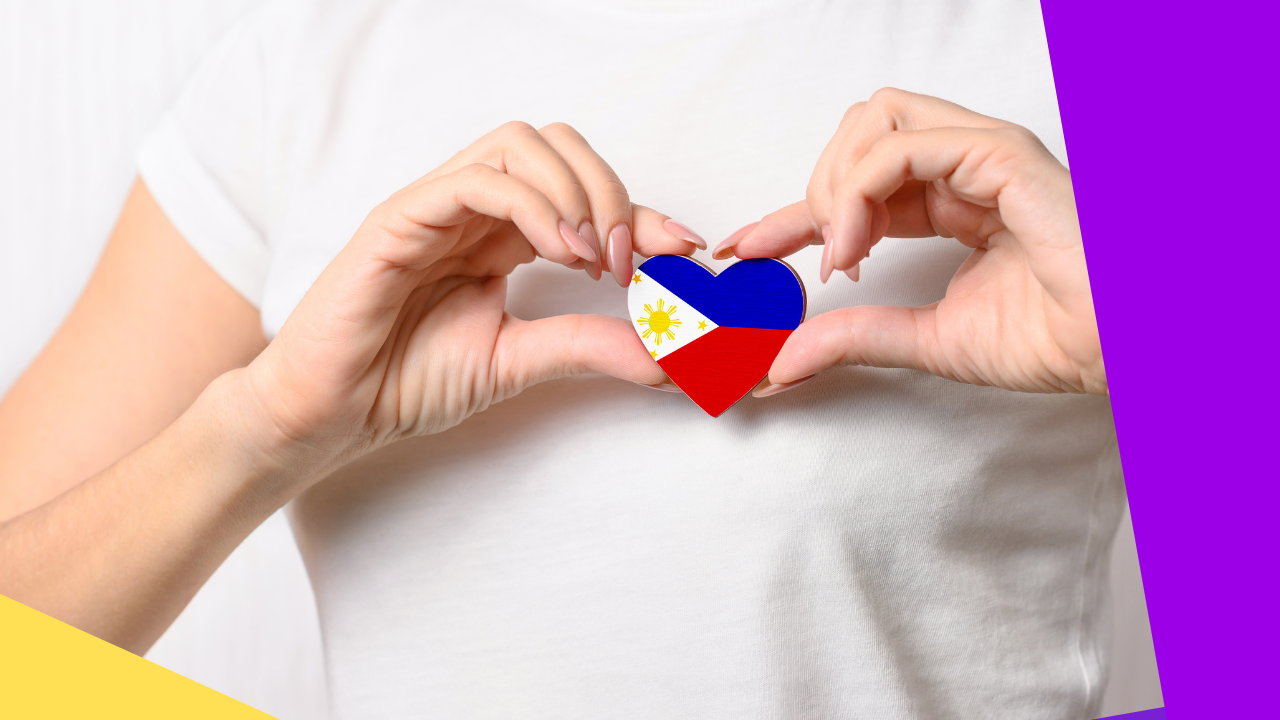 A closer look at BPO industry wages
Projected to join the top 20 largest economies in the world by the year 2050, the Philippines is currently the 2nd fastest growing economies in East Asia in 2017 with a gross domestic product (GDP) annual growth rate of 6.60%.
Trading Economics estimates that the country's GDP per capita will reach USD 2,970 by the 4th quarter of 2018 and USD 3,170 by 2020.
Among the major contributors to this growth are the country's high public infrastructure spending, which reached a record high of USD 17.7 billion in 2017, as well as older economic drivers such as overseas remittances, consumer spending, and its strong and ever expanding information technology and business process management (IT-BPM) industry.
IT-BPM is at the top of the list of industries in the Philippines when it comes to offering jobs and hiring people. At the same time, the industry is also one of the largest contributors to the country's economy.
The 2014 Annual Survey of Philippine Business and Industry (ASPBI) – Business Process Management (BPM) Activities for All Employment Sizes, a survey conducted by the Philippine Statistics Authority and involved a total of 1,461 BPM establishments, revealed that the industry created a total of 525,867 jobs in the same year.
Jobs like customer relationship management employed the most number of people, leading the list with over 354,000 jobs. In the far second and third places are the sales and marketing and computer programing activities, each with over 72,000 and 35,000 jobs respectively.
According to the said survey, the average annual compensation for those employed in the industry is USD 7,605. Those employed under the software publishing sector received the highest annual compensation per employee at an average of USD 22,788, followed by those in finance and accounting activities at USD 15,724, and administrative support at USD 12,592.
Those employed under document processes activities have the lowest recorded annual salary in the industry, taking home an average of USD 4,033 annually.
It should be noted, however, that the data provided by the survey is quite dated and the industry has taken great steps to diversify the services offered in the country in the wake of the wide AI adoption.
For more recent information, one can look at the data provided by Jobstreet, one of the leading online job portals in the country. The company's Salary Report 2017 reported that the BPO industry offered the most number of jobs last year, with over 71,000 openings.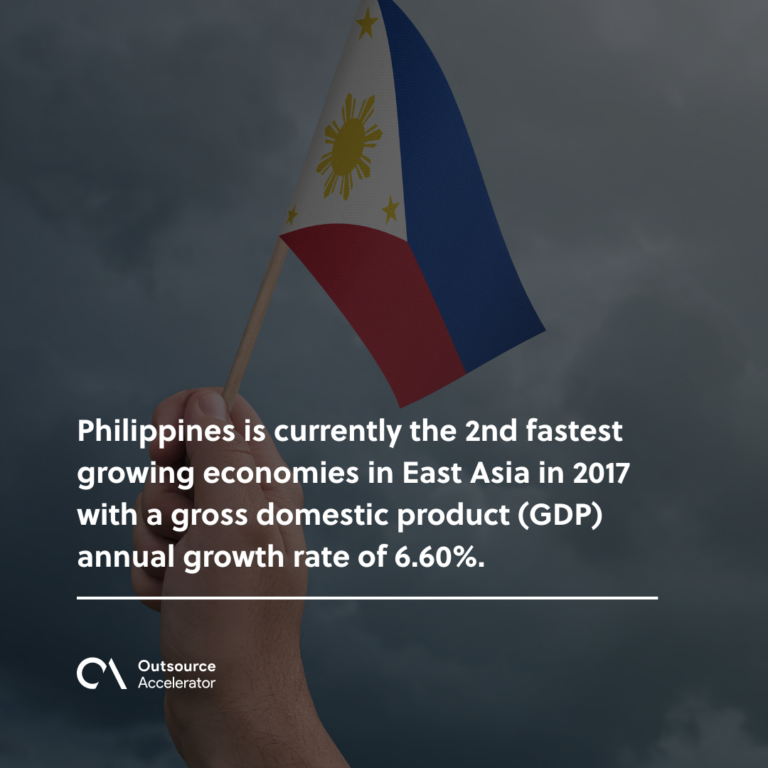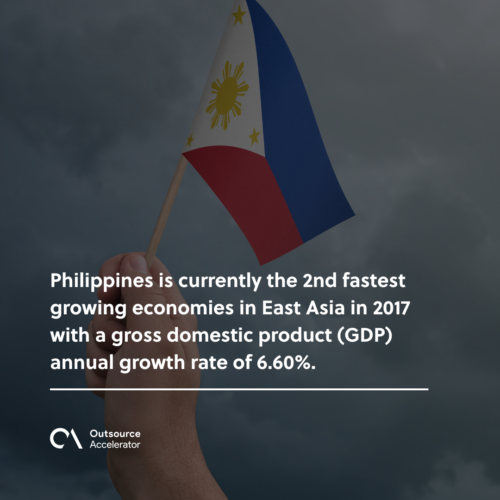 Basic wage
In the Philippines (and in other countries as well), basic wages usually range differently for different types of jobs.
For Non-Agricultural members or workers who live or work in the National Capital Region (ie Makati), the basic wage as of October 2017 is $10 per day.
For NCR workers who are working in Agriculture, Retail/Service Establishments who has 15 or fewer workers, and manufacturing establishments employing less than 10 workers, the basic minimum wage is $9 per day
For the past couple of years, the BPO industry has been booming. The industry is known for spoiling its employees with wages that are higher than the usual, packaged with loads of benefits such as health cards, vacation and sick leaves, bonuses, and so much more.
According to PayScale, Customer Service Representatives or CSRs get about $3,000-7,000 per annum. Operations Managers that are working in the BPO Industry ranges from $7,000-27,000  per annum. For Data Analysts, the range is about $2,000-8,500 per annum.
It's always a win-win situation for people belonging to the BPO industry. Foreign companies can save up to 70% with salaries if they choose to outsource to the Philippines. Wages in the Philippines are much lower compared to the USA, the UK, and Australia, which is why more and more foreign companies are choosing to employ Filipinos.
On the other hand, this situation is also a great opportunity for Filipino workers, as this only means more jobs will be available, and the pay will be higher compared to other jobs.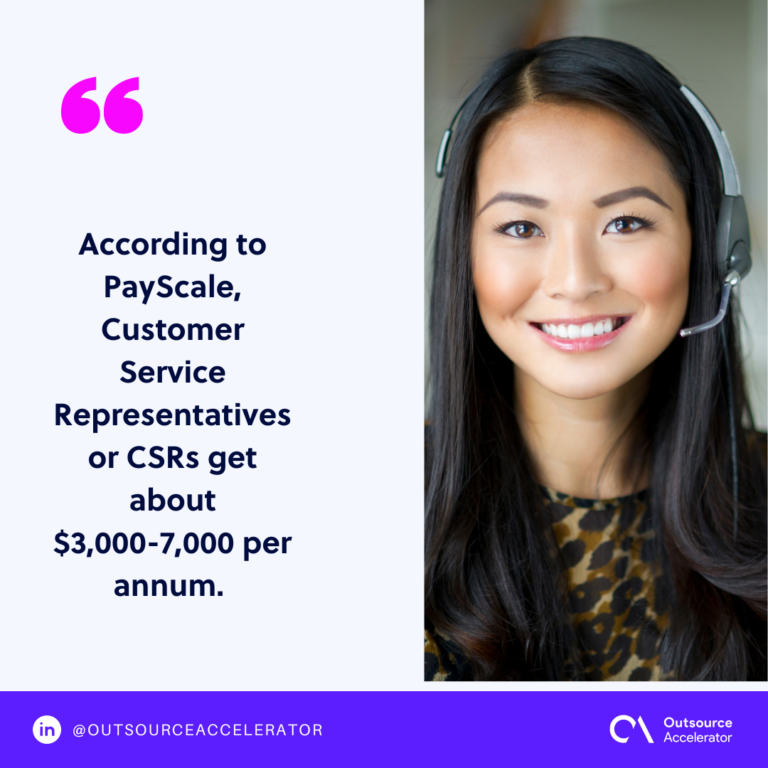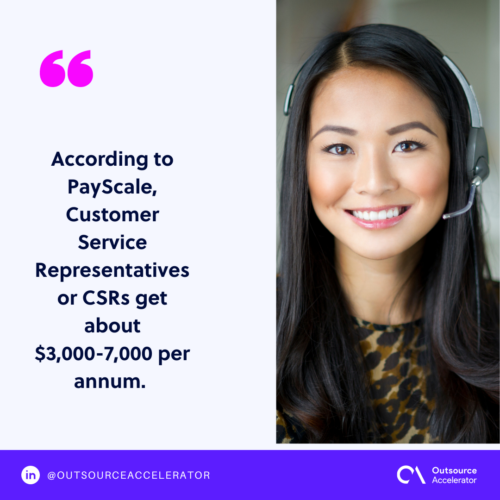 Entry level
According to Payscale, an entry-level tech support specialist based in the Philippines can earn USD 4,487 per year. Entry-level technical support representatives can earn an average of USD 4,142 annually. Customer service representatives who are just starting out in their careers take home USD 4,098 per year.
Information technology specialists earn USD 4,534 on the average.
JobStreet defines junior executive level positions as those that require less than 5 years of work experience. The company's Salary Report 2017 revealed that the highest paid junior executives in the country are employed in IT-related sectors, with an average monthly salary of USD 703.
Customer service-related work, on the other hand, placed 9th in the list of highest earning sectors in this job level, taking home an average of USD 470 per month.
It should be noted that the IT-BPM industry is also aggressively hiring in other specializations like healthcare and finance. Legal services is 2nd in the list of high-earning junior positions at USD 559, banking and finance junior executives are 4th with an average monthly salary of USD 516, and healthcare related work is 7th with an average monthly salary of USD 506.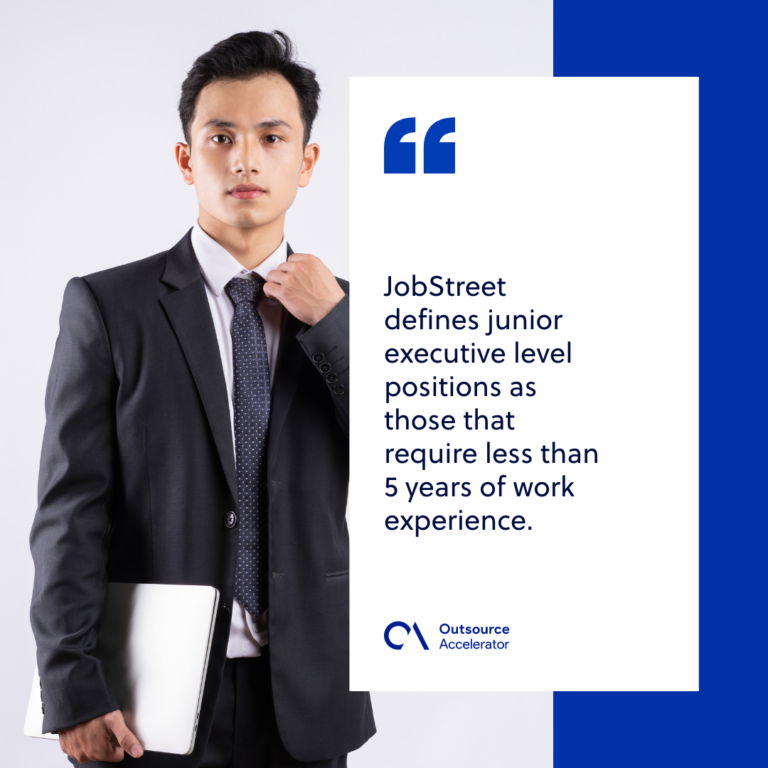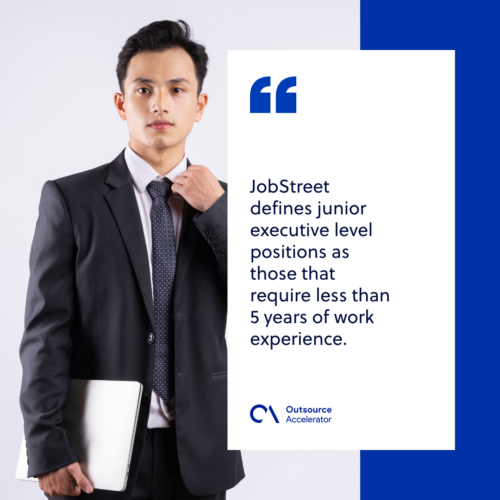 Supervisory level
Supervisor level positions refer to jobs that require 5 to 10 years of experience.
According to JobStreet, experience in the same line of work has generally increased in the past year. Still leading the list of highest paid workers are IT specialists at USD 1,305 monthly. Law and legal services is in 3rd place with an average of USD 912 monthly, and banking and finance services is in 5th with USD 738.
Technical support representatives and technical support specialists in this phase of their careers take home an average of USD 5,414 and USD 5,730 annually, respectively.
Customer service representatives earn USD 5,340, and information technology specialists earn USD 6,727 per year.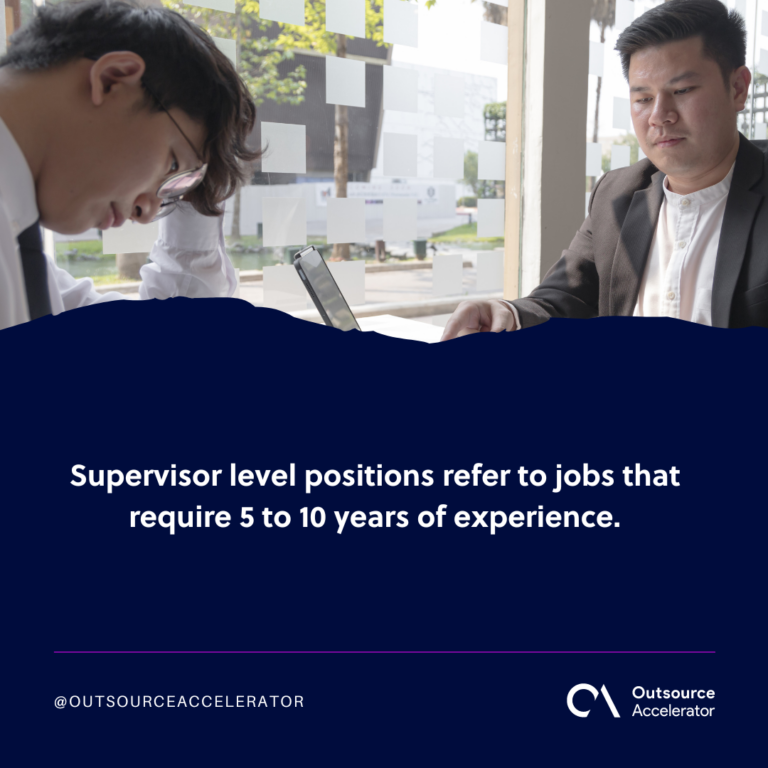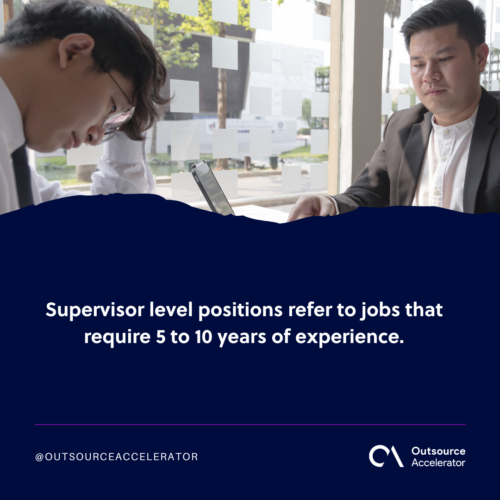 Managerial level
Last but definitely not the least are those in managerial positions, which require more than 10 years of experience. Those in corporate strategy are the highest paid in this category, with an average monthly earning of USD 2,392, followed by those in IT-related professions at USD 1,730.
Customer service-related managerial positions occupy the 5th place in the highest paid in this category, earning USD 1,535 per month.
Payscale's annual wage data for professionals in this career level are as follows: technical support representatives at USD 6,096, technical support specialists at USD 5,839, customer service representatives at USD 5,842, and IT specialists at USD 12,685.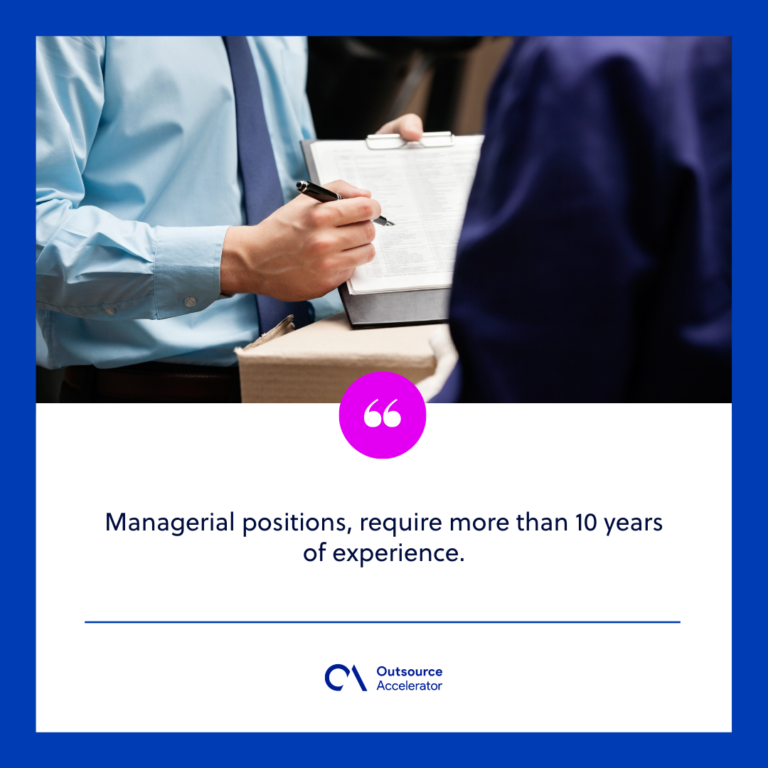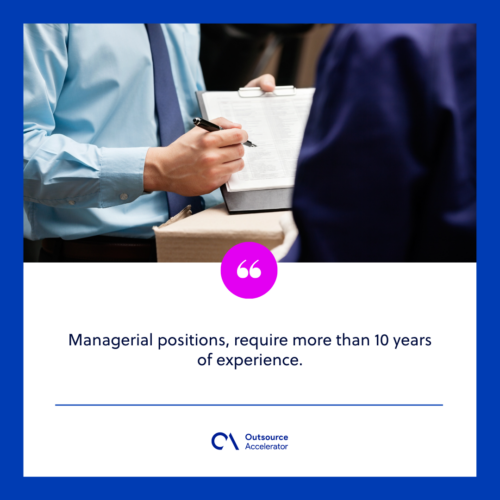 Freelancer rates
The Philippines is also a top destination for companies that employ freelancers.
Consultants and freelancing professionals usually charge by the hour, but they also often search for work using online platforms that charge clients or employers depending on the milestones they achieve towards completing the project.
Single projects may be paid a flat fee, while others, like data encoding and translation work, can be paid by the number of words.
Often, tasks like mobile app development, content marketing, and media editing are contracted to freelancers.
Some of the more common freelancing gigs in the country include virtual assistance, search engine optimization (SEO), and creative work.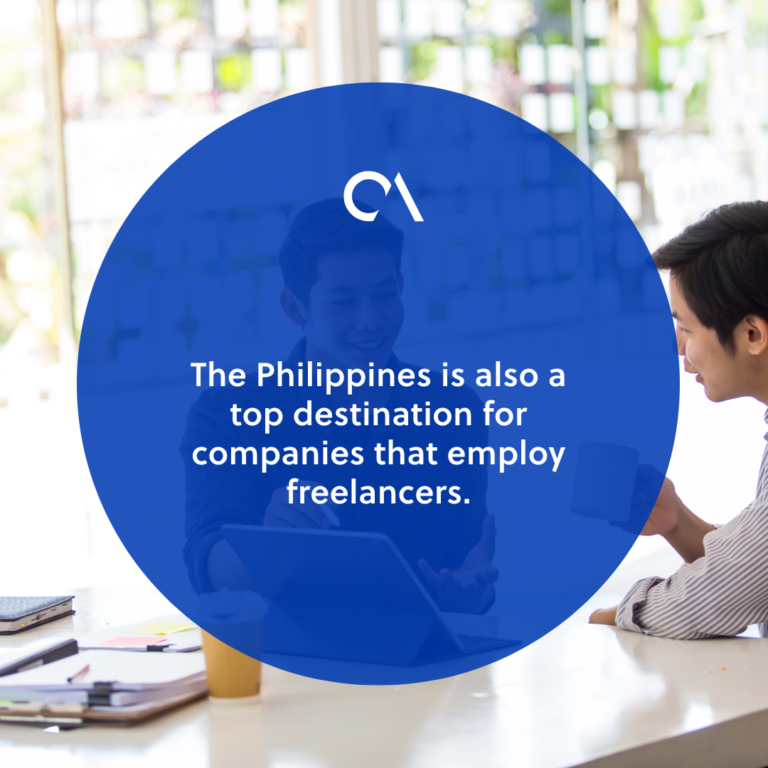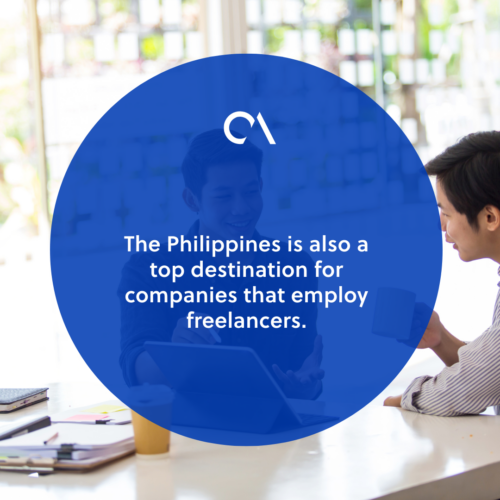 More from Outsource Accelerator: Find out why outsourcing is a win-win solution for your business and the Philippines!
On the average, virtual assistants in the country earn a starting salary of USD 4,330 and a mid-career salary of USD 6,672 annually. This job typically involves administrative tasks like email filtering, blog management, transcription, data entry, and hotel and flight bookings.
SEO specialists are concerned with keyword research, website optimization, link building, and market research.
They typically take home USD 4,655 at the start of their career and USD 5,581 with a few years of experience. Content writers develop media content and start with a median annual salary of USD 4,166, which can reach an average of USD 7,837 by their midlevel.
Graphic artists create visual concepts and develop production design and overall layout. They earn an average annual salary of USD 3,448 at entry level and reach USD 3,955 midcareer, and USD 5,489 with enough experience.
Wage trends
In general, IT-related specialists continue to receive the best salaries for both the entry level and supervisory level, and BPO jobs continue to flourish across all levels in the country.
In particular, there are still plenty of positions for customer services and technical-related jobs, but there have also been a lot of job openings in other BPO-related specializations, signaling an increase in the diversity of jobs found within the industry.

Chart showing average annual salary in the Philippines for common roles
Job Title

–Entry Level–

Average Annual Salary in USD

–Junior Level–

Average Annual Salary in USD

–Senior Level–

Average Annual Salary in USD

Accountant
 $               4,742
 $               7,025
$               7,782
Call center agent
 $               3,706
 $               4,587
$               5,633
Copywriter
 $               4,629
 $               5,845
$               7,483
Graphic artist
 $               3,468
 $               4,029
$               5,523
HR manager
 $               6,957
 $               9,504
$             11,290
Project manager
 $             10,270
 $             13,949
$             21,198
SAP consultant
 $               9,418
 $             17,805
$             27,214
Software developer
 $               6,668
 $             10,676
$             14,601
Systems administrator
 $               6,877
 $               9,023
$               9,734
Systems analyst
 $               6,728
 $             11,966
$             13,759
Team leader
 $               7,230
 $               9,106
$             13,759
Technical support representative
 $               4,169
 $               5,448
$               6,134
Virtual assistant
 $               4,039
 $               6,714
$               8,682
These figures may not seem much from a western perspective, but it allows workers to fully support themselves and their families and save money for investments and emergencies. In addition to a basic wage, workers also get health benefits and are enrolled in various programs that can offer them financial assistance in times of calamity, sickness, or other similar events.