Virtual project management explained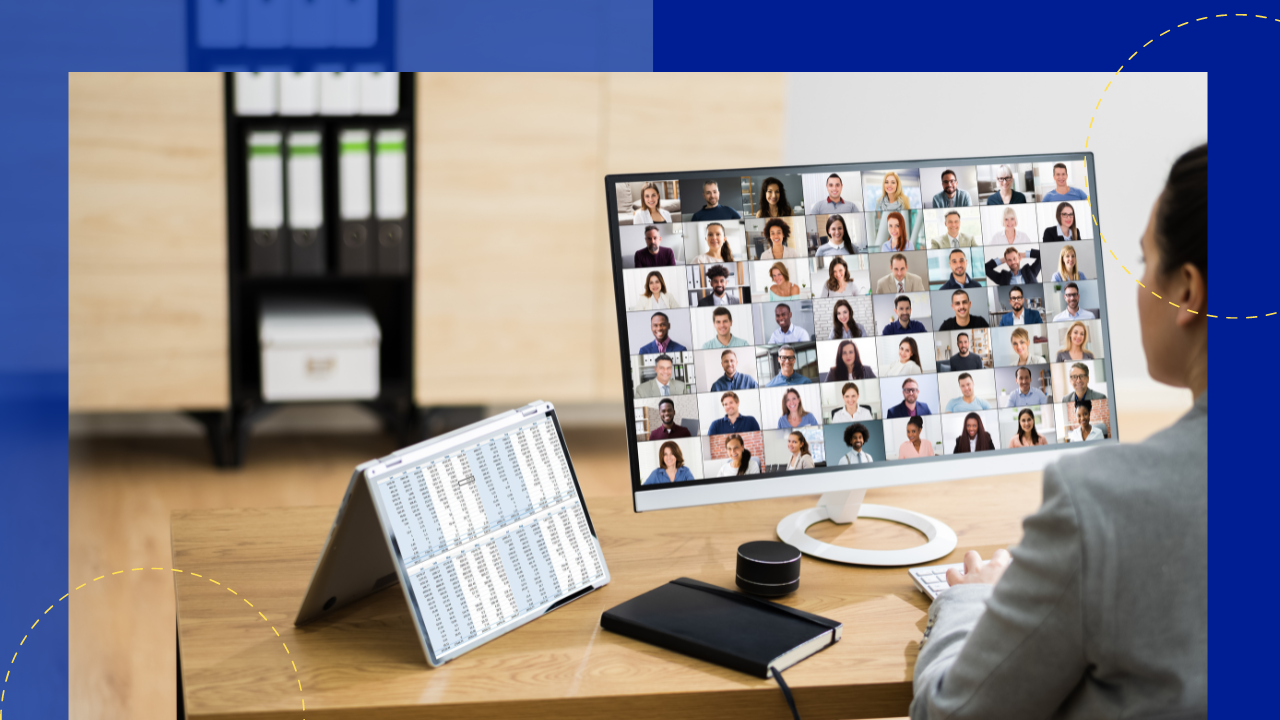 Planning and carrying out business projects demand a lot of resources. It was not so many years ago when project managers needed plenty of time and energy to accomplish just one project. 
The rise of the internet made it more accessible, so much so that critical tasks and collaborations can now be done remotely. 
Remote working has been a practice for many organizations across the globe because of the numerous benefits it offers. Virtual project management allows business owners to organize and execute business projects and guarantee an earlier completion. 
Outsourced is a leading outsourcing firm in the Philippines that offers dedicated offshore experts in project management that handle any project and ensure it is completed successfully so that businesses can focus on their core competencies.
This article outlines virtual project management, its advantages, how organizations can adopt it, and what it entails. 
Defining virtual project management
Virtual project management is a system through which individuals in different time zones and locations collaborate remotely for a set amount of time. It involves tracking and monitoring assigned tasks and other activities in real-time to ensure that everything stays on schedule.   
The virtual project management team members may come from different places but have complementary skills, share the same work ethic, and possess mutually dependent performance goals. This makes the project a result of collective yet remote performance. 
The virtual project manager's job is to ensure that the team fully recognizes and understands the company's objectives. They also take complete accountability for the outcome of the project.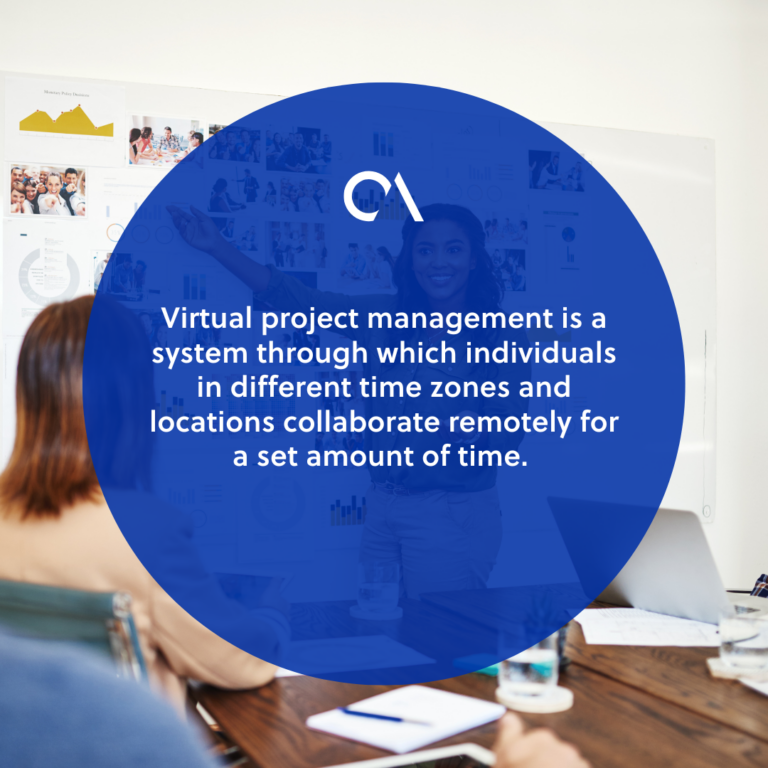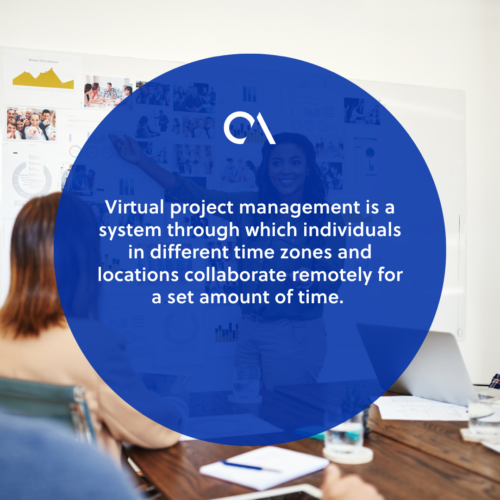 Benefits and Challenges of Virtual Project Management
Digitalization has made remote work the future of businesses, including project management. While this transition is good and offers many benefits, it also comes with several challenges. Here are some of them.
| | |
| --- | --- |
| Benefits | Challenges |
| Reduced operational expenses | Issues in building trust |
| Increased productivity | Monitoring progress |
| Increased efficiency | Barriers in office culture |
| Working with a global talent pool | Slow communication |
Benefit: Reduced operational expenses
Working with virtual teams means there is no need for them to operate in the physical business location. The company can lower its operational costs, including office space, equipment and furniture, and employee salary and benefits. 
Managing projects remotely take away expenses otherwise spent in a traditional setting. This allows organizations to save more money without making significant changes to their business models.
Challenge: Building trust
Lack of trust can be a massive issue in remote working. Companies should be able to trust that their virtual teams can complete their tasks as efficiently as possible. 
Business owners sometimes think that because their staff is not in the office with them, these people won't be as thorough as they would if they were being watched.
Building trust takes time, and it can take a while if the stakeholders are in a work culture that has just been introduced or adjusting to the virtual project management system.
Benefit: Increased productivity.
When given flexibility and support, remote workers can produce more output than traditional employees. Virtual workers usually have dedicated and quiet workspaces with no interruptions. Sometimes, they tend to work long hours too. 
The dynamics of remote working make it possible for organizations to run continuously, a considerable advantage, especially for SMEs.
Challenge: Monitoring progress
Progress tracking and monitoring ties into the trust issue. Even if business owners have complete confidence in the team to put in a lot of effort, any project manager worth his spreadsheet knows that without performance metrics, things may quickly spiral out of control.
It is more difficult to oversee and track progress while managing virtual teams. Leaders cannot just drop by their office to ask for an update or to learn where they are in the process.
Benefit: Increased efficiency
Virtual project management increases efficiency because remote workers can save time by skipping regular duties like physical meetings and seminars, non-work-related assignments, correspondence and encounters, and daily back-and-forth commutes to the office.
Their positive attitudes toward their work make remote workers more effective. They can work on their interpersonal obligations, such as working out, resting, or spending more time with loved ones during their spare time instead of interacting with colleagues in the traditional setting. 
Challenge: Barriers in office culture
The office culture in an organization can be an advantage or a disadvantage. Virtual project management can be disadvantaged if the company transitions from an analog to a digital workplace.
Old habits die hard, and if stakeholders do not believe in remote working, it will most likely fail.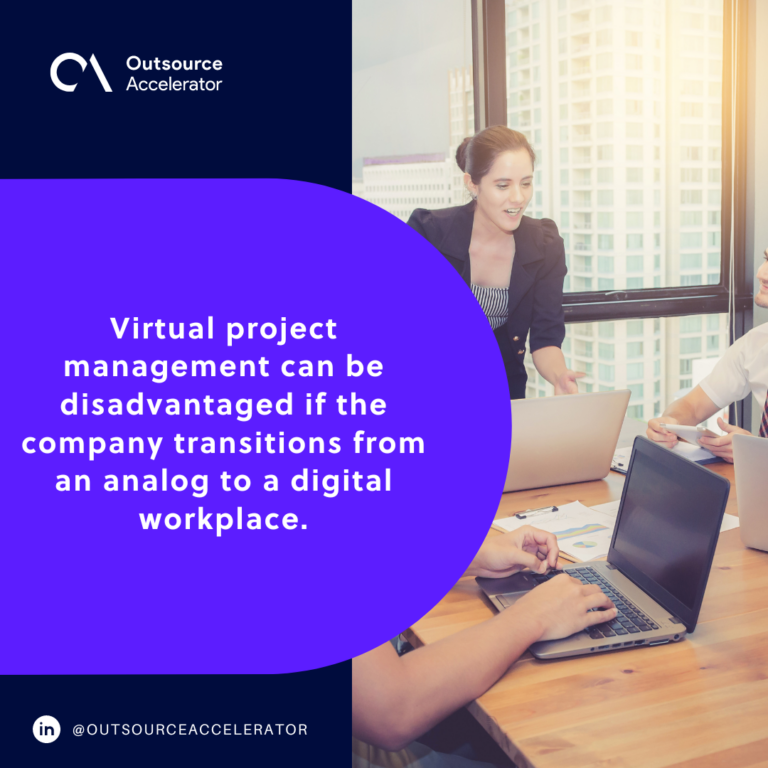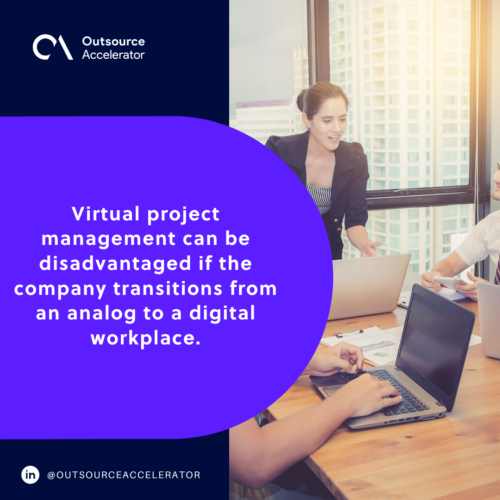 Benefit: Work with a global talent pool
Team leaders can access a vast talent pool from anywhere in the world with virtual projects, as there are no longer any geographical limitations. A global talent pool can offer an organization some fresh viewpoints on the challenges it might be experiencing.
The hiring and onboarding process is also easier because the human resource staff can virtually identify and evaluate potential candidates. This recruitment technique makes it possible to find plenty of workers with the necessary skill set and aptitude for the job.
Challenge: Slow communication
One constant constraint of any project is time. Projects work more effectively when processes are streamlined. However, when working with virtual teams, the time between assigning a task and having it carried out can frequently be delayed. 
Regular communication between team members is also essential for any project. Thus, using an instant messaging tool aside from email is important. 
Tools for virtual project management
There is no general guideline for choosing the best virtual project management tools. After all, there is no all-inclusive software that meets all the requirements of a virtual team.
Since different tools provide different functionalities, the virtual team should first identify its needs before choosing the best software that suits them. Here are some of the project management tools that remote teams commonly use.
Formerly G Suite, Google Workspace is all the office tools rolled into one. It comes with Gmail, Calendar, Docs, Meet, and other office tools that businesses need. It also has Drive where everything can be stored online, making file sharing easier for the team. 
Microsoft 365 also provides all the tools that virtual workers might need. It is the best alternative to Google Workspace as it has Outlook for emails, Calendar, Word, and Teams.
Meanwhile, team members can store and share files via its cloud storage, OneDrive.
Trello is a widely known, user-friendly collaboration tool that allows virtual teams to organize projects and other things associated with them into boards.
Trello enables team members to quickly understand the details of the project, the tasks that are being worked on, who is working on a specified task, and the project's progress. 
Asana works like Trello, indicating the projects in progress, the details and tasks needed for completion, and the person assigned to work on a specified task.
Compared to other project management tools, Asana allows much easier tracking of its user's assigned tasks, making it easier to prioritize and meet deadlines. 
Monday.com has a single dashboard that displays the project's status currently in progress. Planning workloads and task designation are made more accessible with this software. 
Team members are notified via desktop or mobile device when new tasks are assigned or if there are comments on their progress. 
Airtable is a virtual project management software that can be an easy choice for those who love and understand the true essence of spreadsheets.
It is Google Sheets, only made more fun and with tons of project management features, including a Kanban board, task lists and collaboration, and project schedules. 
Make task management easy through ProofHub. This all-in-one project management platform allows task and subtask creation for easy delegation and multiple task lists under a single project.
It has various templates for task management, workflows, and reports, plus features like internal chat, discussions, reports, and online proofing. 
Wrike is a cloud-based app with time and budget tracking capabilities and a Gantt chart timeline. Quick communication is made possible by the live activity feature and email and calendar integration.
Its other features include live editing, file management, and extensive request forms, which boost performance and efficiency.
An award-winning project and task management software program, ProjectManager is best suited to address the requirements of project management teams comprising virtual and non-virtual members.
Its features, like the time-tracking tools, resource management, cloud-based project planning, and workflow management, allow flexible collaboration throughout the entire work cycle. 
Keys to successful virtual project management
Keep consistency in contacting the virtual team.
Regularly check in with the team to see if they need help and guarantee everything is going as planned on the project. To help the virtual teams understand their responsibilities, remind them of the tasks, ideas, or upcoming events. 
Establishing checkpoint sessions via routine phone calls and designated communication channels in the notification system may be helpful. Calls should ideally be brief and to the point.
Establish a welcoming environment.
A supportive workplace can develop by encouraging trust among team members. Make sure everyone can depend on one another to accomplish the shared objectives.
Continuous engagement helps organizations that support their staff in their daily tasks reach their goals more quickly.
Teamwork also thrives when virtual team members have the same level of confidence in the project manager as they have in one another. This can be accomplished by organizing different team-building activities to energize remote teams.
Teamwork may also be improved on a social level by treating every person properly and appreciating their contributions to the company.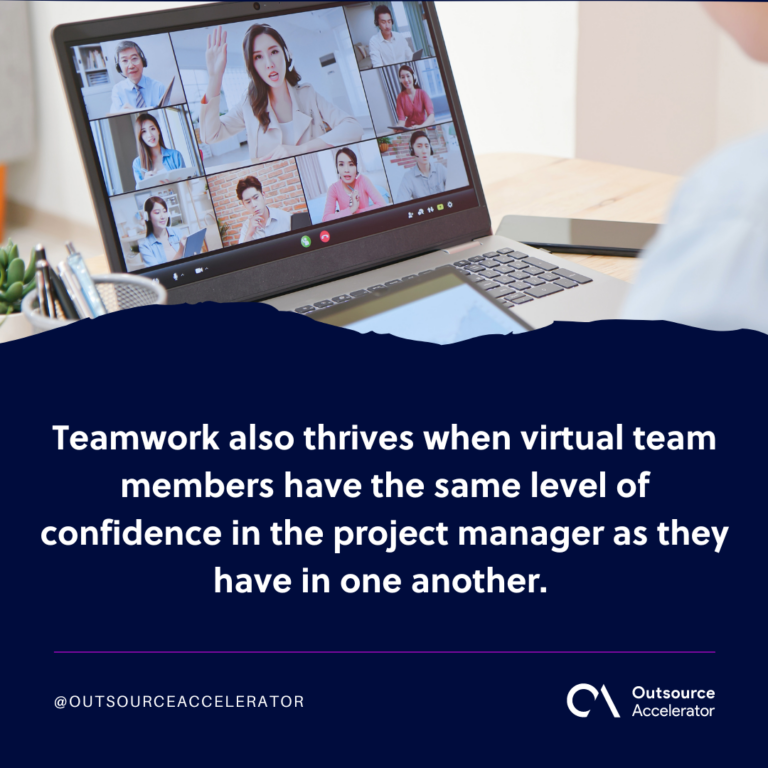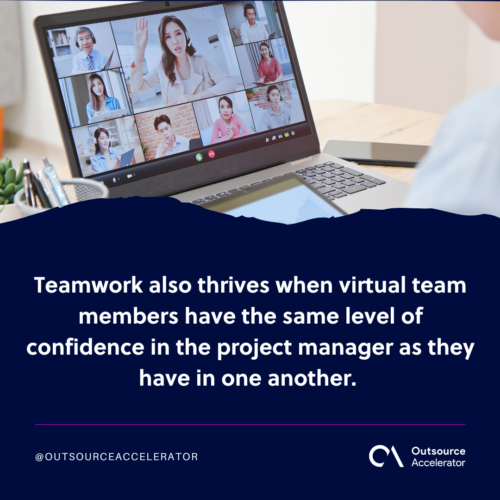 Use a variety of communication channels.
It is advisable to conduct weekly team meetings to review the deliverables or send daily updates using a platform like Skype. The communication methods can be diversified by employing numerous techniques to get in touch with the team.
Diverse communication styles can improve engagement within virtual project management teams. These variations allow the discussion of significant issues with all team members, including those who might find it challenging to speak up during regular meetings. 
Let each team member decide on their deliverables.
Virtual workers increase their sense of accountability when they design their schedules as they are more inclined to follow them.
Ask each team member for an estimated time frame for their assigned tasks for the week. Additionally, some tasks can be set to staff members, and when appropriate, encourage them to do the same. 
Developing this flexibility could reduce stress and increase the effectiveness of your team.
Maximize the use of project management software.
Investing in the appropriate project management tools to collaborate effectively with every team member is a must, especially when working with people in various time zones and places.
These tools ensure project managers and their teams stay focused on the goals by delivering frequent reminders about important tasks and milestone alerts. 
Pick a tool that enables quick team member onboarding and gives updates on project schedules.