Impact Sourcing, AI & Humans in the Loop – with Iva Gumnishka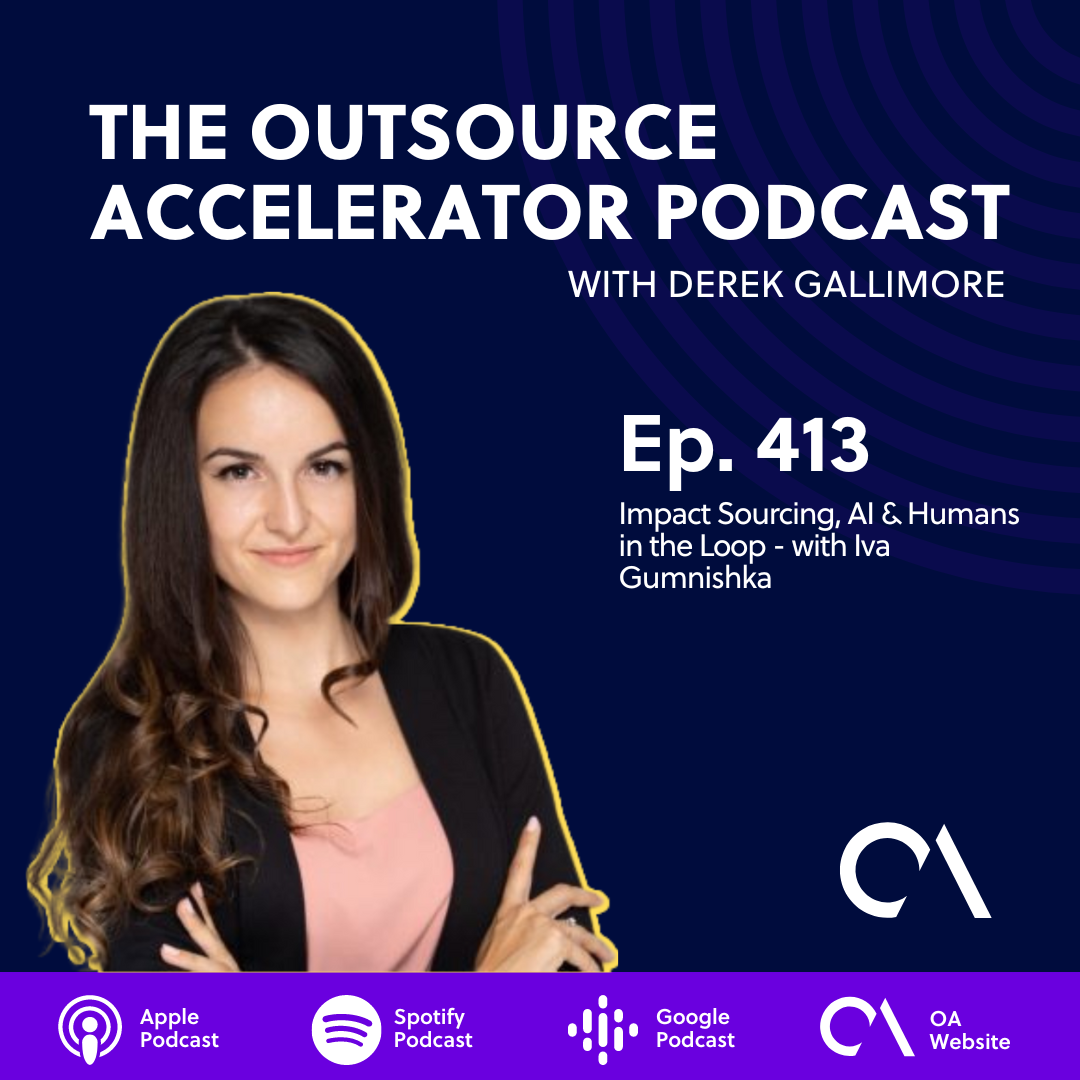 Humans in the Loop
Derek Gallimore talks with Iva Gumnishka, CEO of Humans in the Loop.
Humans in the Loop is an AI annotation company that employs refugees and other disadvantaged individuals from around the world.
The company is "a part of the impact sourcing industry [with a] mission to provide remote work opportunities to refugees and conflict-affected people in the Middle East … and other locations as well."
Humans in the Loop provides help to underprivileged people through employment opportunities with the remote work it offers.
The company's name was chosen in part because "it's very useful for SEO and for people finding [the company] as they're looking up what Humans in the Loop AI is," and partly because "it includes the social element of including humans in society and integrating them into the market."
In this episode, Derek and Iva cover impact sourcing and how it helps the less privileged.
The pair also discusses the importance of integrating the human element into AI processes, particularly AI annotation.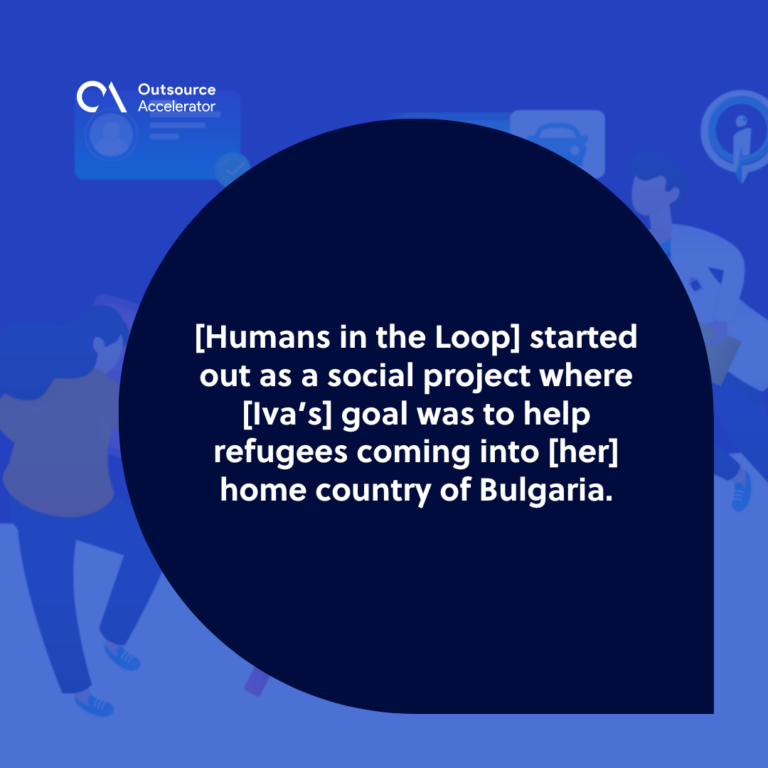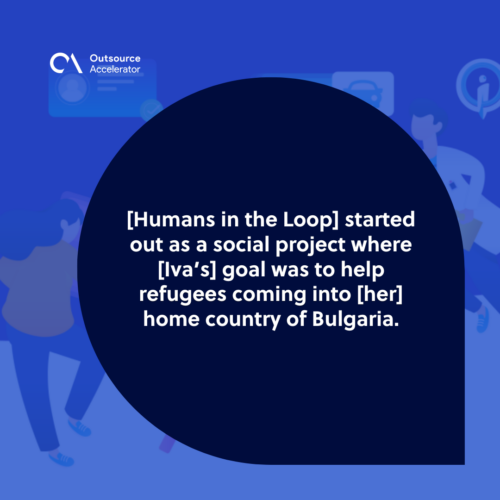 The impact of impact sourcing
Impact sourcing – the industry that Humans in the Loop is part of – is a type of socially responsible business process outsourcing (BPO)
The company "started out as a social project where [Iva's] goal was to help refugees coming into [her] home country of Bulgaria."
Iva wanted to "help [the refugees] access the labor market and increase their skills."
She initially "[looked] for something easy that [the refugees] can start working on in order to earn some money while they were improving their skills and going through training."
Eventually, Iva "came across AI annotation, which is kind of like data entry [and] a super easy type of job that almost anyone can do, but it taps into [the] really enormous market of AI services."
Iva noted that there is a "growing demand by companies for more and more data."
This is where Humans in the Loop come in.
The company is "trying to create more and more ways to include humans in [the] entire process of training systems and then just doing the adaptation prior to training the AI and model systems."
Humans in the Loop's credo has always been "to make [their] tasks and projects as accessible as possible to people, even if they do not speak English [and] prior training and education."
The company "really is trying to target those who do not have job opportunities, even if it's more difficult to work with them [and] even if it requires additional investment and training … because this is the essence of impact sourcing."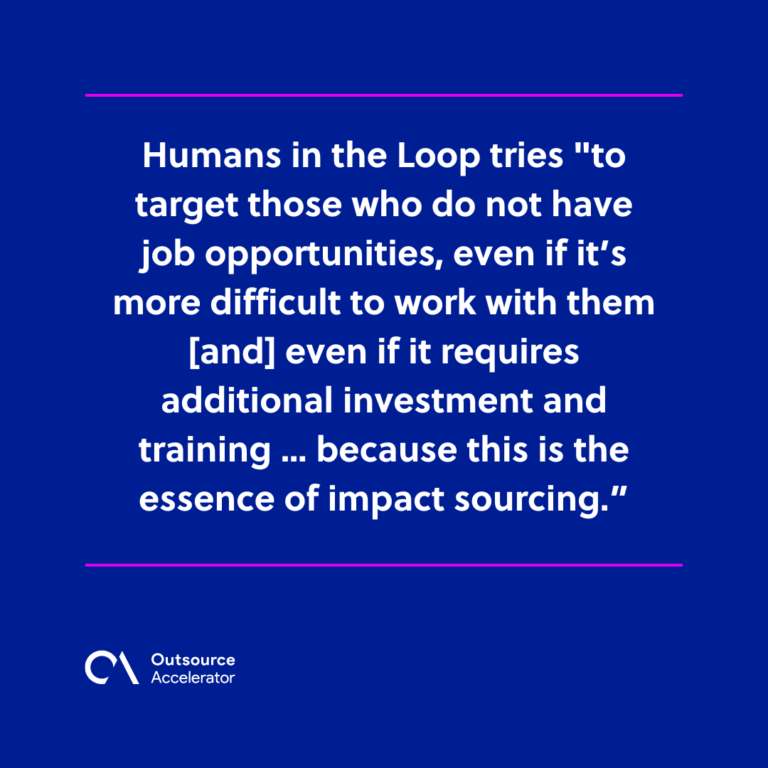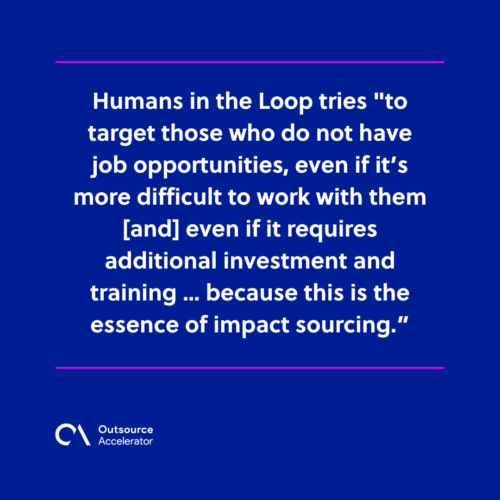 Importance of having humans in the loop
The human element cannot be discounted in the AI process.
Particularly in Humans in the Loop's AI annotation specialization, computer vision, having human supervision as an added security measure is paramount.
This fact was made more apparent when Derek raised a hypothetical question about a self-driving car and ambiguous external stimuli that an AI may have trouble interpreting.
Iva answered that "what is happening right now … is that they have safety drivers that are available and … basically, whenever the car is unsure about a specific situation, it switches to the safety driver who guides it through the problematic situation."
Iva's company is "also working on other examples of high-risk systems [like] doing live monitoring of patients in hospitals … the data there is fully anonymized … but essentially we're doing monitoring for falls in case one of the patients fall out of their beds because it's really risky."
Iva cited "[wanting] to avoid too many false positives … and too many false negatives" as another example of why the human element is still vital in AI processes.
Iva can be reached through her LinkedIn profile.
Humans in the Loop is also present on various social media platforms, including Instagram and Twitter.
Listen to more podcast episodes here: