6 reasons you need a virtual medical scribe for your practice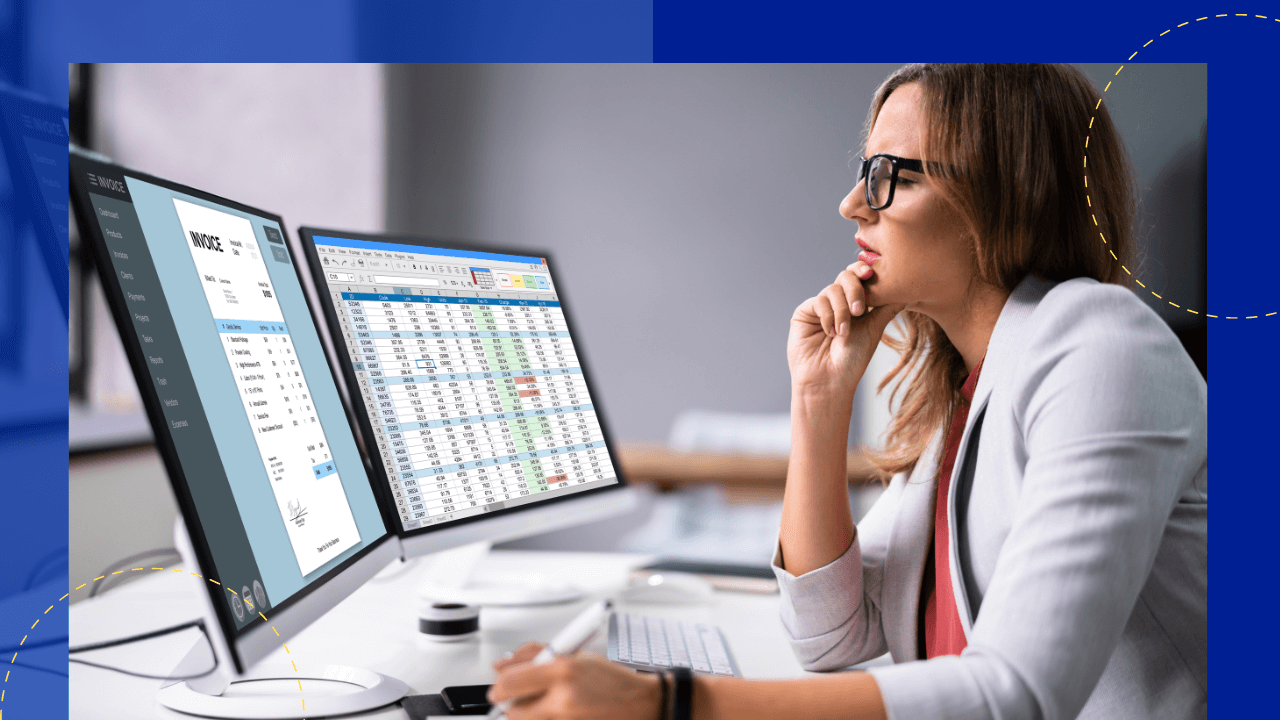 Starting your own practice can be fulfilling and exhausting at the same time.
While you are free to take care of your patients in your accord, it also comes with tons of paperwork and documentation required to keep your practice running.
According to studies, while physicians spend more than 66% of their time caring for their patients, 44.9% is spent using the EHR alone.
In turn, many experience physician burnout, which can impact the quality of care they provide.
This is where virtual medical scribes step in as indispensable partners. They help alleviate the documentation burden and streamline your practice's workflow.
Whether you're a seasoned practitioner or just embarking on your entrepreneurial journey in the medical field, the advantages of enlisting a virtual medical scribe are both substantial and transformative. 
This article delves into why integrating a virtual medical scribe into your practice could be a game-changer.
What is a virtual medical scribe
A virtual medical scribe is a highly trained professional who remotely provides real-time documentation support to healthcare providers.
Through secure technology platforms, virtual medical scribes assist healthcare providers by:
Documenting patient encounters

Transcribing medical notes

Managing administrative tasks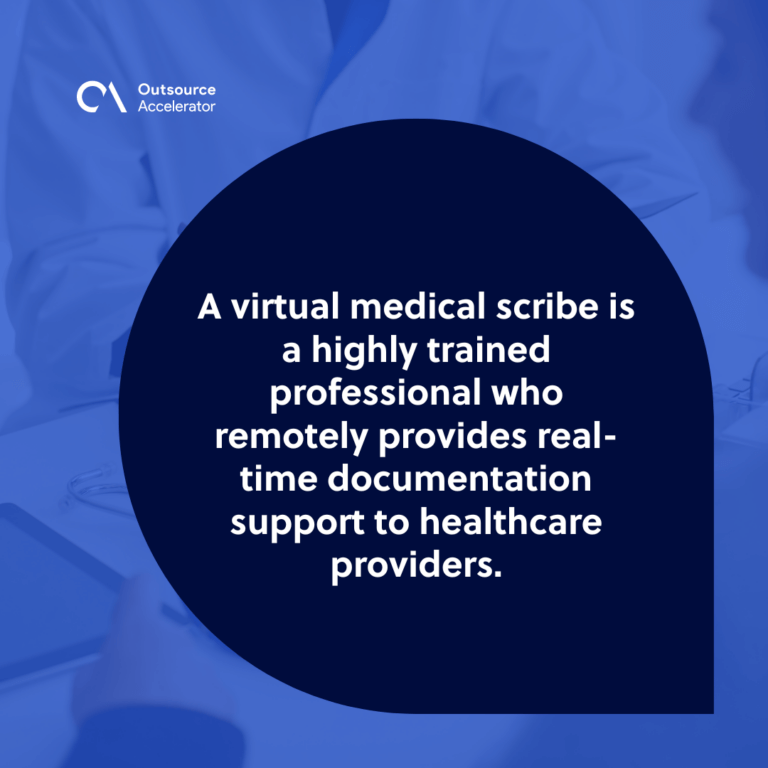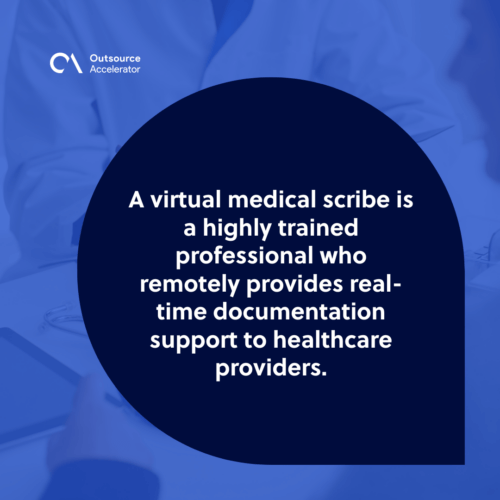 Responsibilities of a virtual medical scribe
A virtual medical scribe possesses the following responsibilities:
Documentation 
Virtual medical scribes are tasked to document patient interactions and medical procedures in real time. They serve as the physician's note-taking ally, ensuring accurate and detailed records.
EHR management
Virtual medical scribes are experts in navigating electronic health record (EHR) systems. They input information, update records, and organize data to maintain a comprehensive and up-to-date patient history.
Patient interaction support
Apart from assisting physicians, they extend their support to ensure smooth patient interactions during telehealth appointments. 
They capture important details and prepare them for the physician beforehand.
Maintaining confidentiality
A vital aspect of their role lies in maintaining patient confidentiality and privacy. A virtual medical scribe adheres to HIPAA compliance, maintaining patient data security.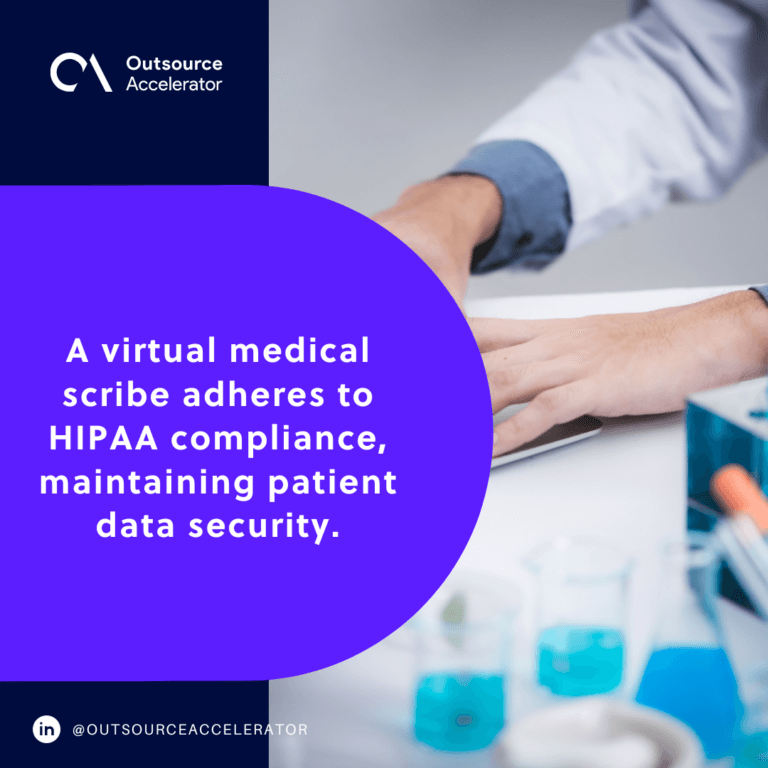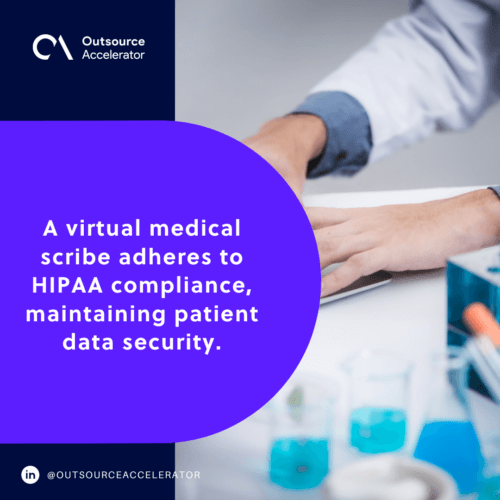 Accuracy advocate
In addition, virtual medical scribes ensure that every piece of medical information is accurately captured. Part of their responsibility is updating duplicate records as much as possible.
Time management
Virtual medical scribes juggle multiple tasks in a fast-paced environment. They manage and maximize their time to provide real-time documentation support.
Quality assurance
Lastly, a virtual medical scribe conducts thorough quality assurance reviews. This remote professional ensures that medical notes are complete, coherent, and meet quality standards.

6 reasons to hire a virtual medical scribe
As a physician and entrepreneur, you should focus primarily on quality patient care and expansion strategies for your practice. 
Here are some of the reasons you should hire a virtual medical scribe:
1. Enhanced patient care
Virtual medical scribes allow healthcare providers to dedicate more time and attention to their patients.
By handling healthcare documentation, scribes ensure healthcare professionals can actively engage with patients without having to multitask everything.
2. Reduced burnout
The demanding nature of healthcare can lead you to physician burnout.
Virtual medical scribes can help alleviate stress and reduce burnout among healthcare providers. This ultimately leads to a more sustainable and positive work environment.
3. Increased revenue
The assistance of virtual medical scribes can contribute to increased revenue for your practice. 
With healthcare providers seeing more patients, the practice can accommodate a larger patient base, resulting in improved financial performance.
4. Cost-effective solution
Virtual medical scribes present a cost-effective solution for practices compared to hiring an on-site scribe. You can work with your virtual scribe without compromising quality by eliminating the need for physical workspace and other expenses.
5. 24/7 support
Virtual medical scribes provide the flexibility to support healthcare providers remotely.
This ensures on-demand coverage regardless of the practice's physical location, allowing for seamless patient care and continuity.
6. Scalability
As practices grow, the need for additional documentation support also increases. 
Virtual medical scribes offer scalability, quickly accommodating practice expansion without the need for hiring and training new staff internally.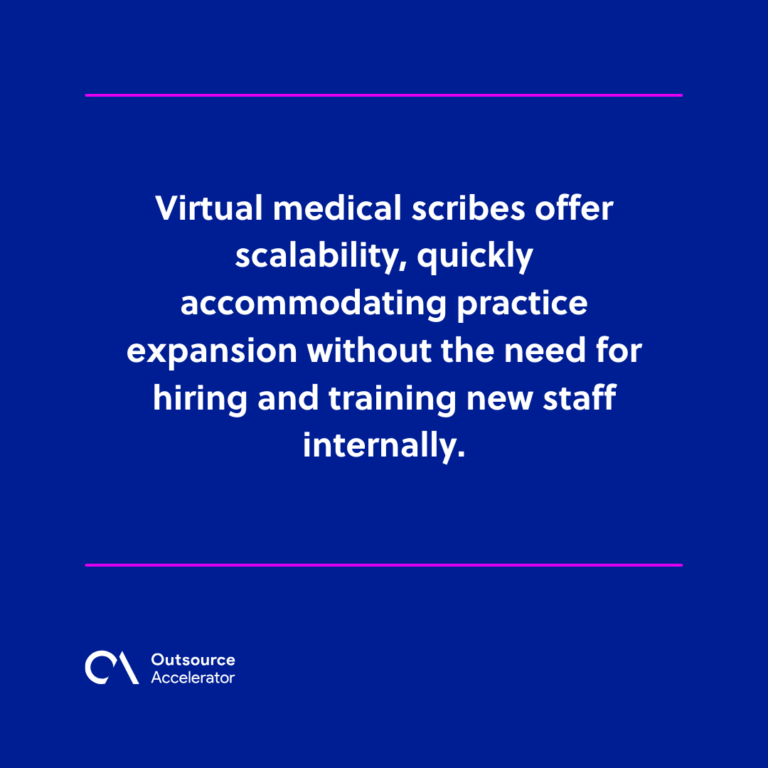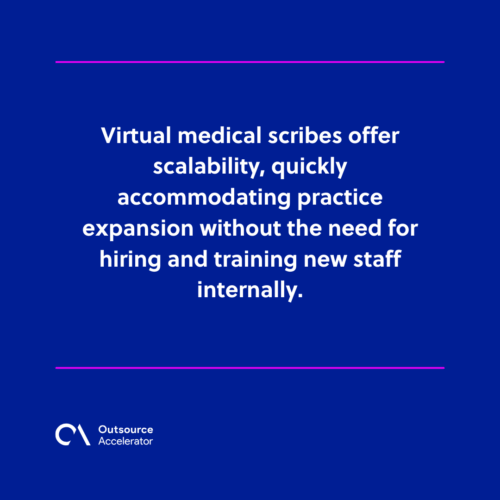 Your options in hiring a virtual medical scribe
When considering hiring a virtual medical scribe, there are various options available:
Outsourcing companies
Healthcare outsourcing companies specialize in providing virtual medical scribe services. 
These companies offer trained scribes, technology platforms, and comprehensive support to integrate virtual scribes into the practice seamlessly.
EHR integration
Some EHR vendors offer virtual medical scribe services as an add-on. This gives healthcare providers a convenient solution that seamlessly combines their EHR system and virtual scribe capabilities.
Remote hiring
Practices can also hire virtual assistants to help in medical scribing. This option allows for greater customization and control but requires additional recruitment and onboarding efforts.
Virtual medical scribes play a crucial role in modern healthcare practices. With a multitude of benefits, hiring a virtual medical scribe offers increased revenue, cost savings, flexibility, and scalability.
Whether through outsourcing companies, EHR integration, or remote hiring, practices have multiple options when implementing virtual medical scribe services.