Future-proofing healthcare technology with electronic health records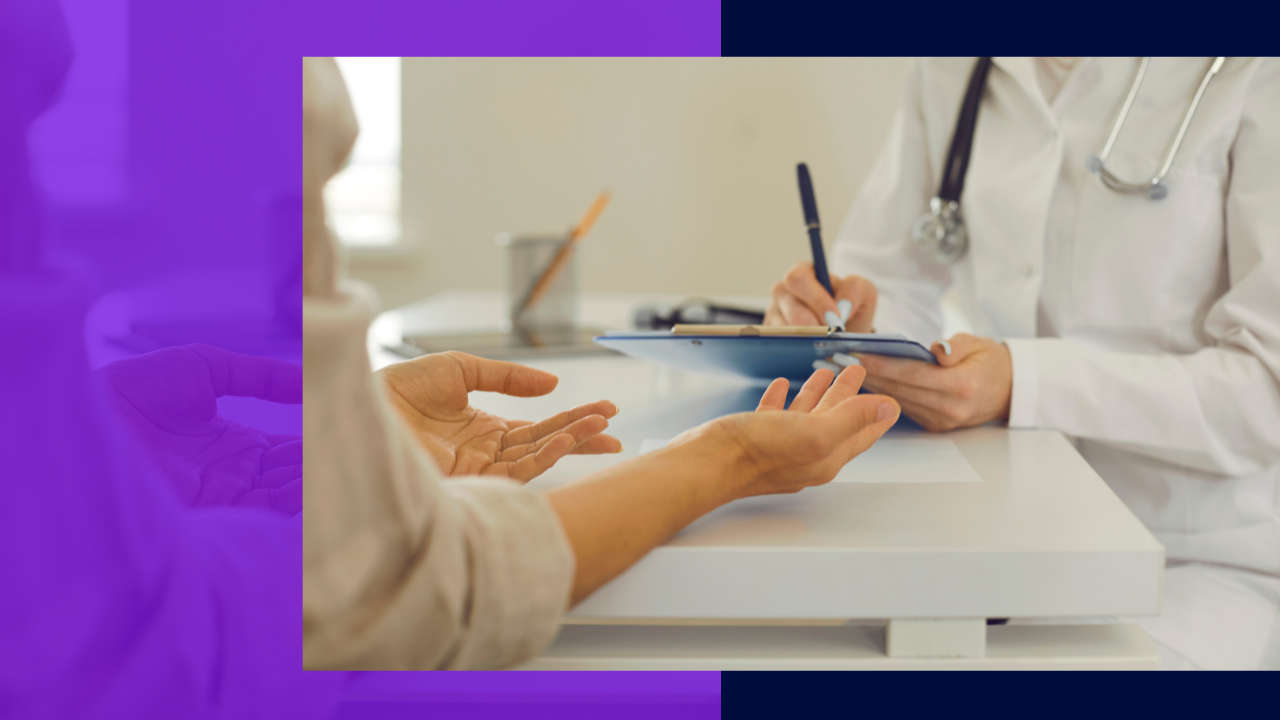 As cliché as it sounds, technology is truly advancing daily and revolutionizing every part of our lives.  This technological evolution extends to healthcare.
Electronic health records (EHRs) are a critical technology altering the healthcare business. EHRs can make healthcare technology more future-proof by reducing hospital procedures.
In 2021, approximately 78% of office-based physicians and 96% of virtually all non-federal acute care hospitals had implemented electronic health records. This indicates EHRs' rising importance in modern healthcare systems.
This article discusses electronic health records' major roles and importance, innovations and trends, and tips for future-proofing healthcare technology with EHRs.
What are electronic health records (EHRs)?
Electronic health records are digital repositories that hold a patient's full medical history, including a wide range of health-related information.
Diagnoses, treatments, prescriptions, test findings, vaccination records, allergies, and demographic data are all included in these records.
An electronic health record provides significant advantages over traditional paper-based health records. Unlike traditional health records, it gives a full patient data overview. This allows healthcare practitioners to rapidly and efficiently access and examine it.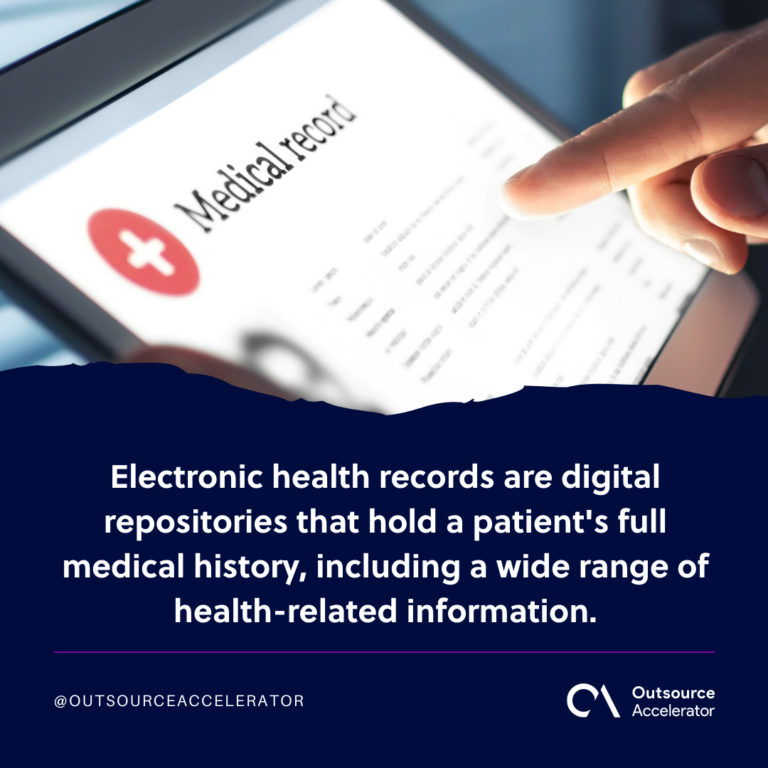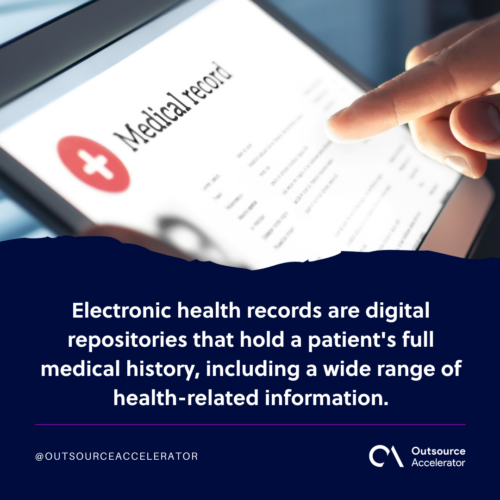 Major roles of EHRs in future-proofing healthcare tech
Here's how electronic health records can support the future of the healthcare industry:

Enhancing interoperability and data sharing
This is one of the major roles of electronic health records. Interoperability allows diverse healthcare systems and providers to communicate patient information in real-time.
Remote healthcare workers may instantaneously access patients' medical information despite their physical location, enabling more efficient decision-making.
Enabling advanced analytics and predictive capabilities
Another key role of electronic health records is their ability to support sophisticated analytics and predictive capabilities.
The massive quantity of data stored in EHRs may be used to uncover patterns, trends, and correlations that will help healthcare providers make correct diagnoses.
Empowering patients through telehealth services
Electronic health records play a vital role in patient empowerment by supporting the implementation of telehealth services.
Telehealth allows people to access healthcare from a distance, removing geographical restrictions and giving more accessible treatment alternatives.
EHRs allow virtual patient consultations, remote monitoring, and electronic prescriptions. This combination of EHRs with telehealth services increases patient satisfaction and access to treatment.
Electronic health records: Innovations and trends
EHRs have been constantly changing to meet the demands of the current healthcare landscape. 
Technological innovations and trends have opened the path for game-changing breakthroughs, transforming how healthcare is delivered and experienced. 
These advancements improve EHR system functioning and capabilities and significantly influence patient care, data security, and healthcare outcomes.
Let's look more closely at these advancements and their possible ramifications for the healthcare business.
AI-powered decision support systems
AI is revolutionizing healthcare, and electronic health records are at the forefront of this transformation.
AI-powered decision support systems can analyze vast amounts of patient data from EHRs, assisting healthcare professionals in predicting treatment responses.
These AI systems can also identify potential drug interactions, flag medication errors, and ensure patient safety.
Blockchain technology
Blockchain technology, known for its security and transparency, holds great promise for electric health records.
Blockchain can ensure health records' integrity, privacy, and interoperability by providing a decentralized and tamper-proof system. It allows patients more control over their data, granting permission-based access to healthcare providers.
Furthermore, blockchain can facilitate secure data exchange between healthcare institutions, improving care coordination and seamless care transitions.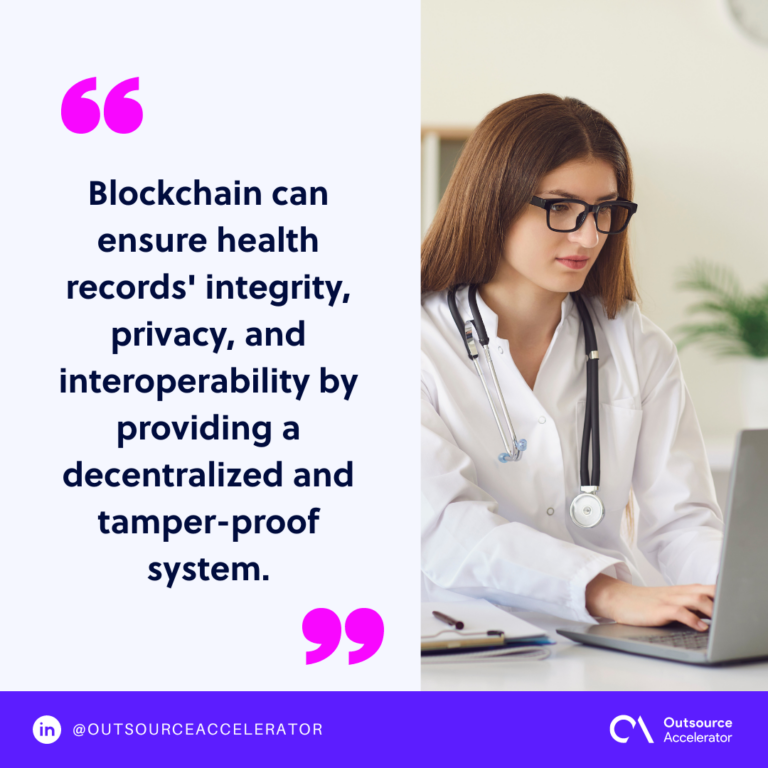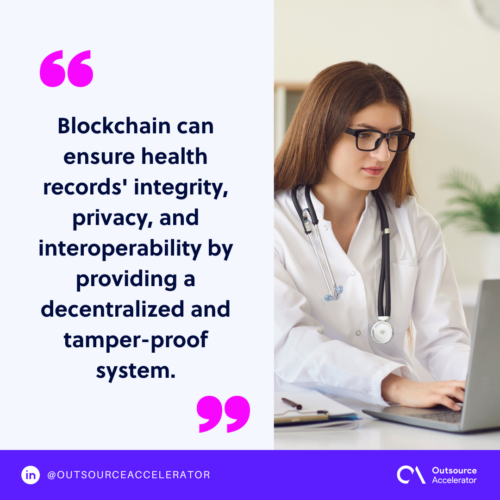 Internet of Things (IoT) integration
The Internet of Things revolutionizes healthcare by connecting devices and enabling real-time data collection.
When integrated with electronic health records, IoT devices can continuously monitor patient vitals, collect data, and transmit it to healthcare providers for analysis.
This integration allows for the early detection of health issues. For instance, IoT devices can monitor a patient's glucose levels, blood pressure, or heart rate—alerting healthcare providers to abnormalities and enabling timely interventions.
By incorporating IoT into EHRs, healthcare technology becomes more proactive, preventive, and patient-centric.
Tips to continue innovating electric health records
It is essential to consider strategies to help healthcare organizations continue innovating in this rapidly evolving field.
Follow these tips to help you drive innovation and optimize the utilization of electronic health records:
Utilize big data analytics
Healthcare firms should use big data analytics to continue developing electronic health records. Big data analytics may aid in identifying areas for improvement in EHRs' usability, system performance, and data quality.
Implement robust encryption 
Implementing strong encryption techniques protects the security of patient information against illegal access and breaches.
To remain ahead of evolving threats, healthcare institutions should use advanced encryption standards (AES) — strong data encryption – and continuously upgrade security safeguards.
Design user-friendly interfaces
User satisfaction and productivity may be considerably increased by designing user-friendly interfaces that are intuitive, efficient, and simple to use. Regular user feedback may help develop a straightforward electronic health records interface.
As such, healthcare businesses should invest in user-centered design concepts, which include integrating end users in the design and development process.
Electronic health records: Eliminates the need for paper-based records
The conversion of paper-based data to digital formats has various advantages, including:
Reduced storage space

Less chance of loss or damage

Faster access to patient information
Electronic records can be quickly searched, shared, and updated, boosting overall healthcare operations efficiency. By leveraging the power of electronic health records, healthcare companies may improve patient care and results.