The Internet of Medical Things: A new look at digital healthcare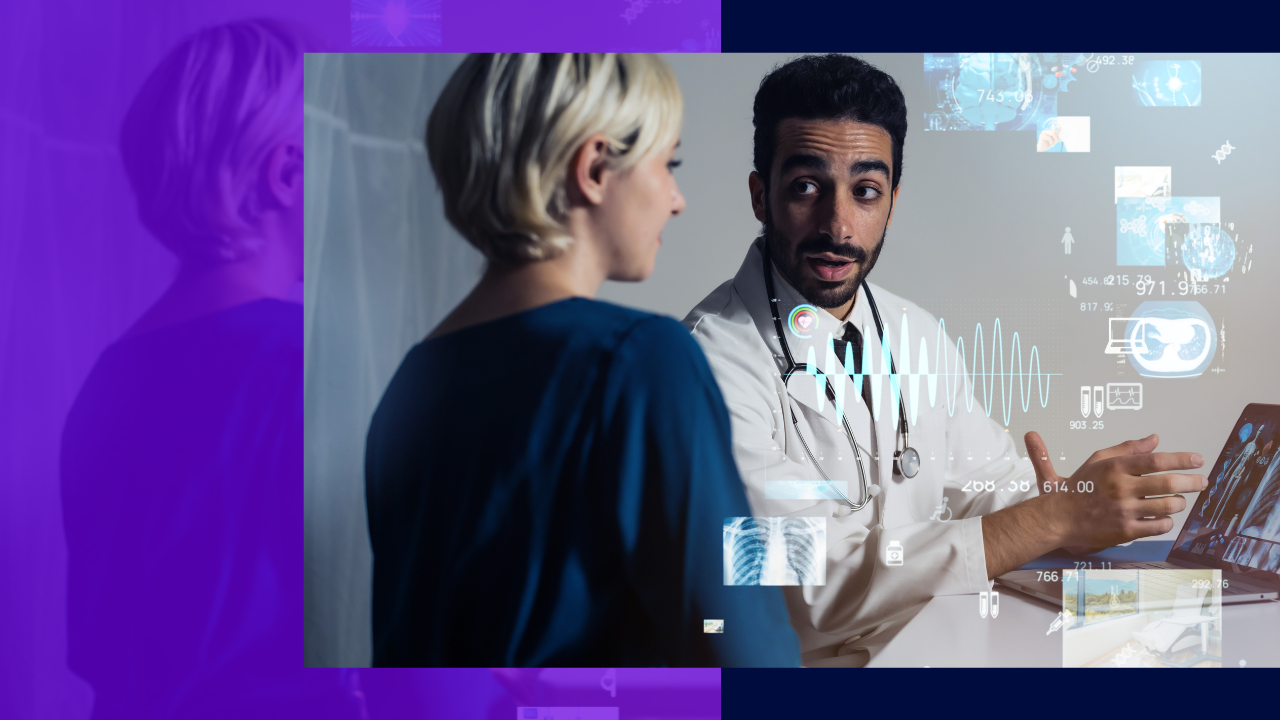 Digital healthcare is a fast-developing industry. It refers to using advanced technology, including artificial intelligence (AI), big data and blockchain, and the Internet of Medical Things (IoMT) to improve healthcare delivery. 
After being valued at 211 billion USD in 2022, Grand View Research projects that the digital health market will grow at a compound annual growth rate (CAGR) of 18.6% from 2023 to 2030. 
The Internet of Medical Things is being developed in response to the rising cost of healthcare. Current systems are expensive, inefficient, and often inaccessible because they're not designed with patients in mind. 
The applications of IoMT are numerous– from treatment based on real-time monitoring to reducing medication errors. 
What is the Internet of Medical Things? 
The Internet of Medical Things (IoMT) describes the expanding number of medical devices and technologies connected to the Internet. IoMT's vision is to share data between applications for better decision-making and improved care for patients. 
The Internet of Medical Things is changing how we live, work, learn, and play. In this emerging internet-connected world, digital communication is more quickly disseminated than ever before.  
Connected devices are becoming increasingly important to our everyday lives, from smartphones to smart homes to wearable technologies and smart health devices.

Internet of Medical Things (IoMT) and Internet of Things (IoT)
The Internet of Medical Things is the latest extension of the Internet of Things (IoT) concept. IoT encompasses all the smart devices, machines, and sensors embedded within our physical environment. 
IoMT takes the concept further by developing advanced medical technology to improve healthcare quality and benefit patients through the IoT network.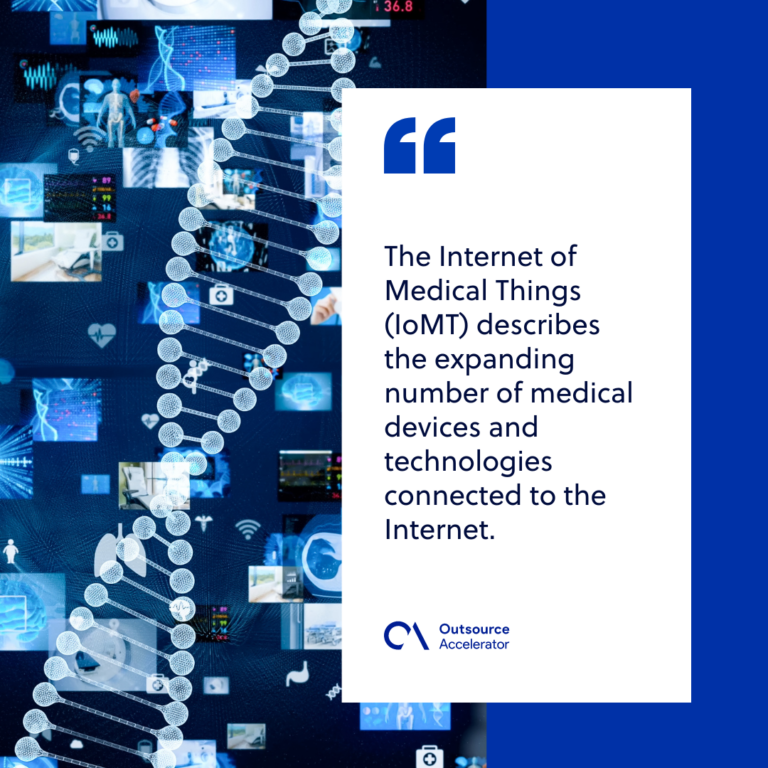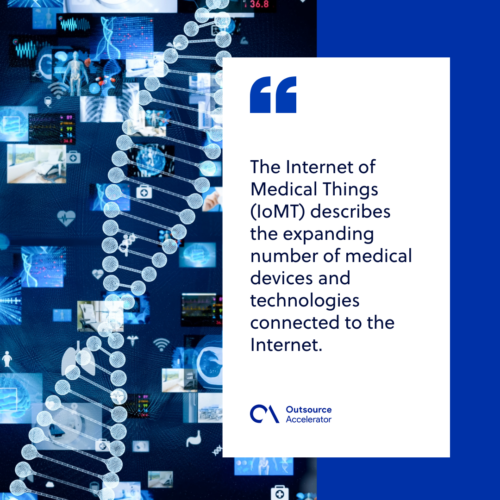 Types of IoMT services
Depending on how each is installed, there are four main types of Internet of Medical Things services:
In-home IoMT 
This IoMT service provides remote monitoring and care for patients unable to visit a medical facility. It can also replace or reduce the need for home visits by doctors and other medical professionals. 
The patient places sensors on their body or home to monitor their health status. IoMT equipment collects data from these sensors and sends it to physicians for review. 
Patients may also check their health records from home using their smart devices. All data is stored on the cloud for easy retrieval.  
On-body IoMT 
On-body IoMT specifically refers to wearable devices like watches or clothing. 
These technologies collect data by scanning your body processes and sending it to a remote server. An application processes and analyzes the data to determine if any abnormalities are present. 
In many cases, these gadgets provide real-time feedback to users by displaying notifications or vibrating when a health problem is detected. 
Community IoMT
This IoMT category consists of services that improve the health of communities and populations at large. These may include public health initiatives like vaccination programs, disease surveillance systems, and population monitoring. 
Community IoMT installs technologies in public settings and services, enabling populations to become smarter and more connected. Members of the community also participate in monitoring and improving overall health. 
In-hospital IoMT
In-hospital IoMT specifically addresses the needs of interred patients, particularly those with life-threatening conditions. 
This type of IoMT service uses the medical facility's own IoT network for more complex healthcare tasks. Hospitals are also increasingly using IoMT technology to help manage staff schedules, patient flow, and bed availability.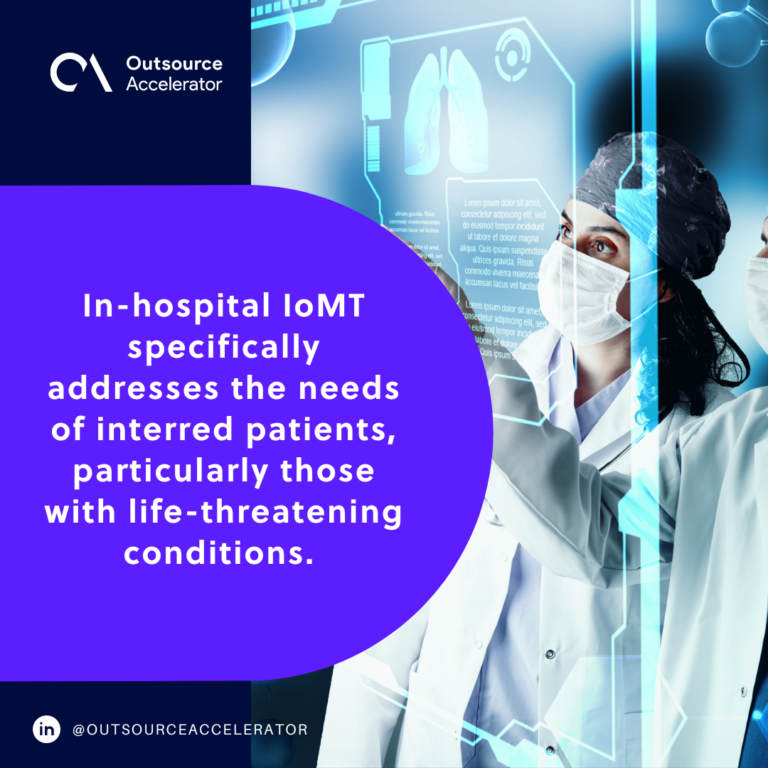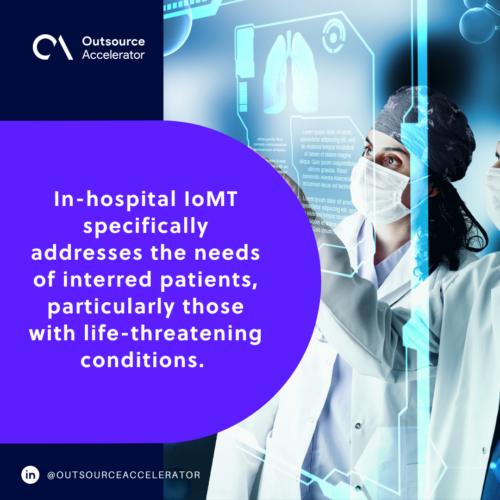 Primary benefits of the Internet of Medical Things 
As a disruptive innovation in healthcare, the Internet of Medical Things is poised to bring several benefits, including: 
Improved diagnosis and treatment
Diagnostic tools in the IoMT can help doctors provide better care by enabling access to more information about patient conditions. This also allows doctors to test and observe treatment remotely. 
Real-time monitoring 
The IoMT allows patients to track their health data in real-time and make better decisions about how to personally manage their condition or disease. Doing so also lets doctors provide more personalized care. 
Faster doctor response time 
IoMT has the potential to improve doctor response times in emergencies greatly. For example, if a patient goes into cardiac arrest or needs emergency surgery, doctors will be alerted immediately through their IoMT device. 
Faster communication between patients and physicians results in faster medical attention, improving quality of life. 
Ensures adherence to physician's instructions
The IoMT enables physicians to monitor patients remotely through telemedicine. By remotely accessing patient data, they can determine whether someone is following instructions properly. Prescribed diets, for example, can be checked through the IoMT. 
Better data collection and research
It's expected that IoMT will bring usher in better data collection and analysis for research purposes. This is especially true for developing countries with fewer resources. 
This would assist researchers in discovering new treatments for diseases affecting these populations and finding ways to prevent them from developing. 
Remote medical assistance
IoMT technology can help medical professionals perform remote consultations with patients who need immediate care. Doctors can conduct assistance without needing to physically visit. 
Promotion of preventive care
The Internet of Medical Things helps physicians identify early warning signs for chronic diseases. Sensors can detect indications before complications can occur. 
On the other end, IoMT can also help patients better understand their health by giving them more information about their personal data. People can use this to take better control over their own health.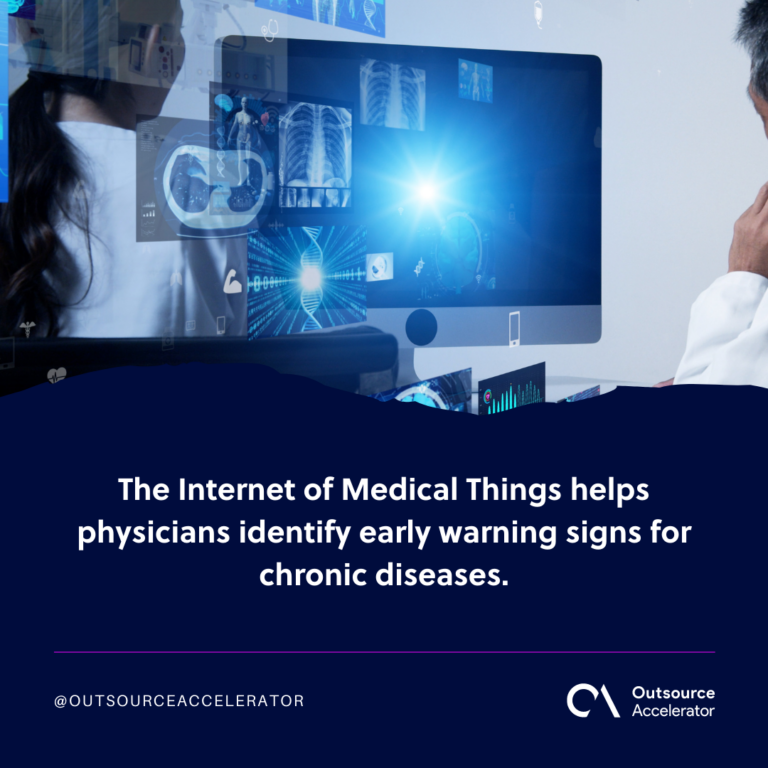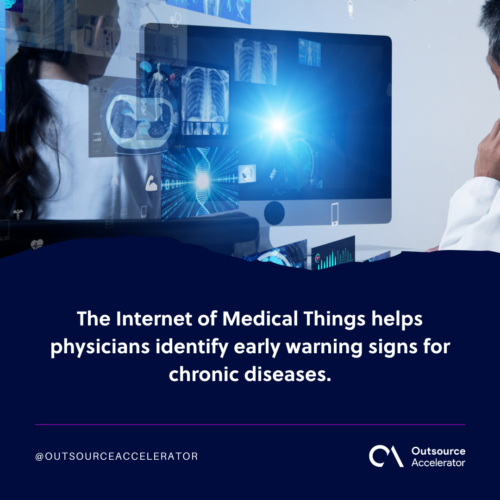 Asset management 
Asset management focuses on the planning, acquisition, maintenance, and disposal of an asset to ensure it provides value over its lifetime. 
The ability to maintain assets over their useful life cycle can be improved through IoMT tracking. This can help facilities avoid costly breakdowns. 
Reduced costs 
The Internet of Medical Things can help reduce waste by identifying when treatments aren't necessary or if they should be given earlier. This reduces unnecessary expenses for both patients and providers. 
Goldman Sachs estimates that focusing on IoMT technology could save America 300 billion USD.  
Enhanced patient satisfaction and engagement
Patients want to be informed and engaged in their healthcare decisions but also want to be empowered by technology. This is especially true with self-monitoring tools like fitness trackers or health apps. 
Using the Internet of Medical Things to connect patients with their physicians allows them to take an active role in their own care while giving doctors the means to treat more effectively.