How disruptive innovations in healthcare work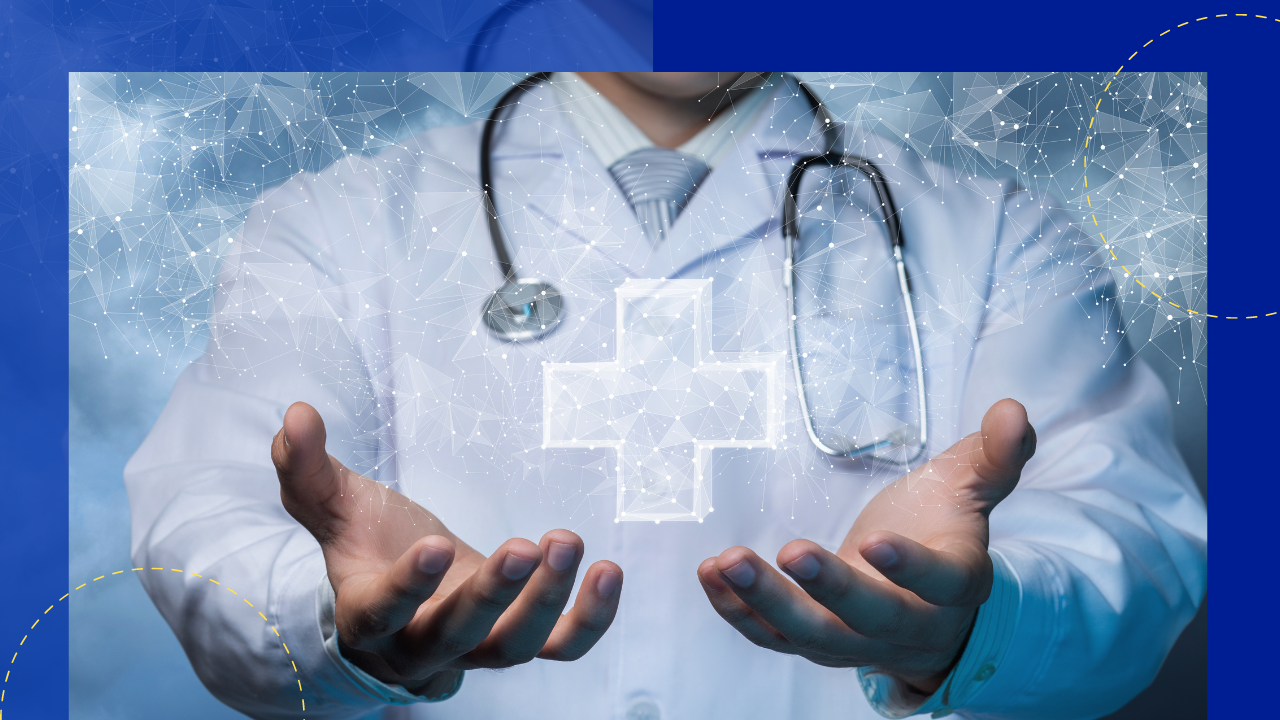 How disruptive innovations in healthcare work
The world has come a long way from grinding up plants to treating injuries. While this is still done on a basic level, healthcare technology and software have made huge leaps in the last decade alone. 
A large part of this change is due to disruptive innovations in healthcare. It may sound chaotic, but the truth is that it was and will continue to be responsible for positive transformations. 
Today, the trend of disruptive innovation has been to make use of the internet. Applying "smart" technologies[1] to healthcare practices has made the entire system itself smarter and upgraded. 
What counts as a disruptive innovation in healthcare? 
Disruptive innovations in healthcare are developments aimed at fulfilling needs and solving problems that were not previously addressed by the market. 
Their main characteristic is their ability to bring about fundamental changes, creating new markets and value networks.
Disruptive innovations are a new way of thinking about or doing something different from the status quo. They often begin as low-end products and services that can disrupt markets and transform entire industries.
How disruptive innovations in healthcare happen
Disruptive innovations in healthcare happen when a new technology, service, or process offers a different consumer experience. This experience is more convenient and at a lower cost. 
Specifically, there are two processes that facilitate consumer experience: 
Decentralization
Decentralization[2] is a recurring element in disruptive innovations. It's commonly viewed as a means to improve the efficiency and quality of services. It also promotes accountability and local governance of a healthcare system. 
In practice, decentralization refers to a transfer of power and accountability. Instead of having a single authority with power radiating from one location, there will be multiple locations handling themselves. 
In the nature of healthcare, everyone is a consumer. Disruptive innovation shifts healthcare from happening only within hospitals, clinics, and office-like settings, and even to homes. Thus, lower levels will be more equipped to deal with healthcare problems. 
Transference of skills
Transference of skills matches the medical professional's skill level with the difficulty of the problem. Whereas previously, certain skills were only taught to highly-trained, expensive personnel, now more affordable providers are given the skills. 
This also has the effect of promoting a more collaborative culture within the healthcare system. Teaching other professionals how to improve daily practices achieves cost reductions and enhanced quality.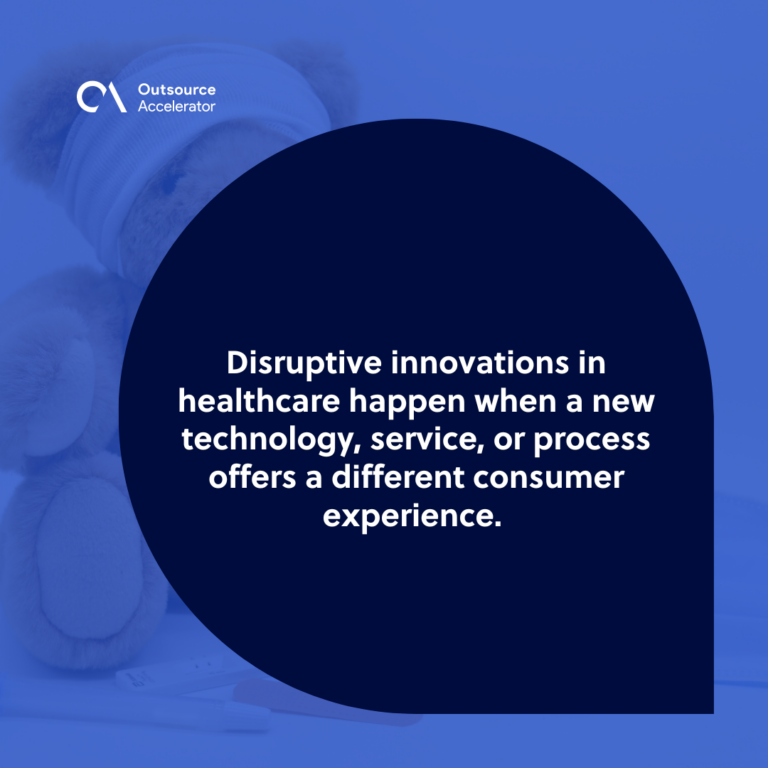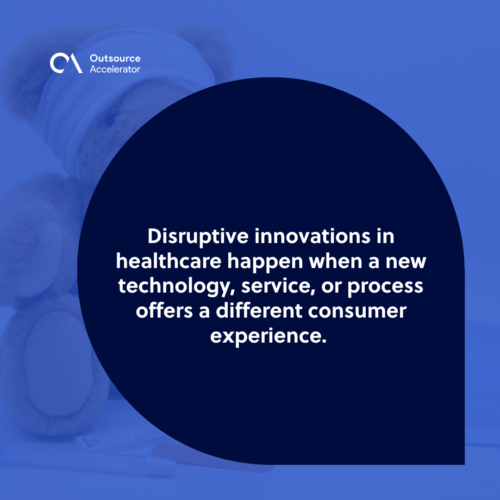 Examples of disruptive innovations in healthcare 
These are a few of the common disruptive innovations in healthcare that are poised to develop in significant ways in the near future:
Internet of Things  
Internet of Things (IoT) is the concept of a future in which physical devices, vehicles, buildings, and other items are linked via the Internet.
 The IoT will consist of billions of connected devices all communicating with one another. With the growing popularity of IoT, it's not surprising that healthcare providers are using it to improve patient care.  
This technology helps them keep tabs on their patients' well-being and detect any potential problems as they arise. It also gives doctors access to more data than ever before, helping them make better decisions about treatment options and outcomes.
Telemedicine and mHealth
The use of mobile devices to provide health services is becoming more common each year. Telemedicine and mHealth are two disruptive innovations that are changing the way we deliver care. 
Telemedicine is the use of telecommunications technology to provide medical care. Similarly, telehealth describes both the use of telecommunication technologies to support long-distance clinical communication or consultation between healthcare professionals and patients.
Telemedicine uses a wide range of technologies, including videoconferencing, social media, mobile devices, email, and text messages. 
mHealth refers to mobile health applications that help patients manage their own health conditions through self-monitoring, reminders, and encouragement (e.g., pedometers).
Artificial intelligence and machine learning 
Artificial intelligence (AI) and machine learning are two disruptive innovations that will have a profound impact on healthcare.
AI is a field of computer science emphasizing the creation of intelligent machines that work and react like humans. Machine learning is a subset of AI that focuses on enabling computers to learn without being explicitly programmed.
AI is already being used to help doctors diagnose diseases like cancer more accurately and identify patients at risk for developing certain conditions. It can also help determine which treatments work best by analyzing data from others who have undergone similar procedures or treatments.
Machine learning algorithms are used in nearly every industry today, including healthcare. They have been used to improve diagnostics, treatment plans, patient outcomes, and population health management.
Virtual reality and augmented reality 
Virtual reality and augmented reality are both disruptive innovations that can be used to create immersive experiences in healthcare. 
Virtual reality is a simulation of a 3D environment generated by a computer. Meanwhile, augmented reality is a combination of real-world elements with computer-generated content.
Virtual reality is used for a variety of applications in healthcare, including surgical training, medical education, and diagnosis. 
Augmented reality is also being used for diagnostic purposes as well as for treatment planning, where it can be helpful to visualize a medical procedure before it takes place.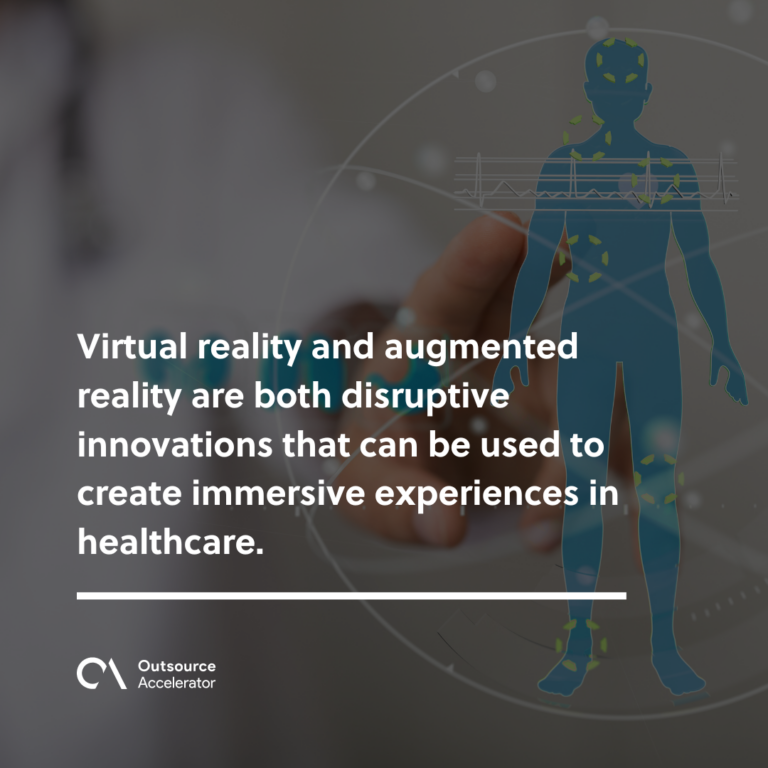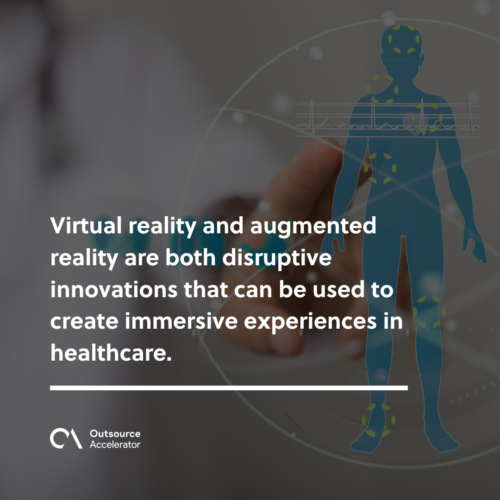 Consumer devices, wearables, and apps  
Consumer devices, wearables, and apps have been widely adopted by patients and caregivers, but they are not yet widely used in clinical settings. These tools are making it easier for people to monitor their own health conditions at home.
Patients are increasingly using personal devices and apps to monitor their health and share the data with their doctors. They want more control over the information about themselves that is collected and shared. And they want more transparency about how it is used by their providers.
Why disruptive innovations in healthcare are important
Disruptive innovations in healthcare are important because they improve the quality of life and increase patient satisfaction.
These innovations help reduce healthcare costs while improving efficiency and lessening waste. They can also help improve the quality of care by providing more effective treatment options.
The healthcare landscape is constantly evolving. Disruptive innovations will always try to shake up the healthcare environment for the better. They are crucial for the industry to move forward, all for the benefit of patients. 

References
Smart technologies.

Tian, S., Yang, W., Le Grange, J.M., Wang, P., Huang, W. and Ye, Z., 2019. Smart healthcare: making medical care more intelligent. Global Health Journal, 3(3), pp.62-65.