12 types of recruitment methods every recruiter must know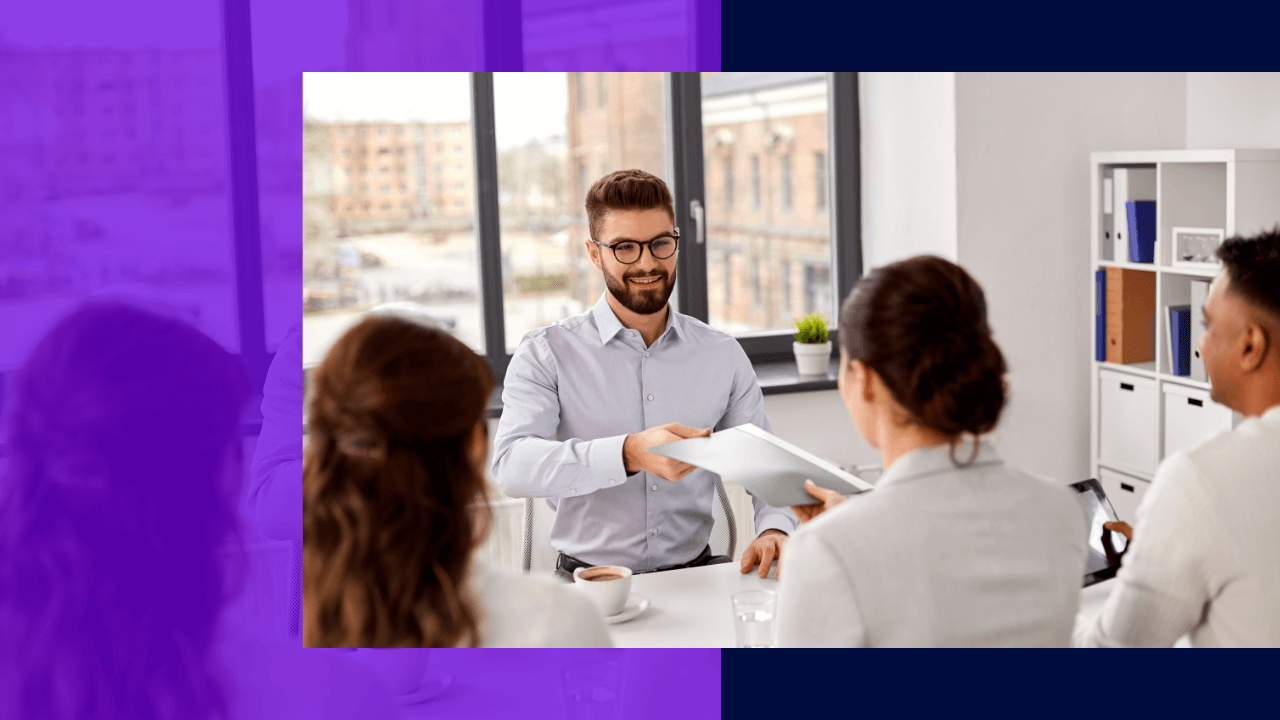 A big factor in the success of every company comes from its hardworking employees. Having the right talents to back your organization's growth and development will always start from your recruitment process.
And with the ever-competitive job market, there will always be an abundance of candidates vying for a particular role. At the same time, employers will also be contending for the best people to join their expanding companies. 
You need to be creative and incorporate different strategies into your recruitment process. This can help you find not just the right candidates but also hidden talents. 
Your recruitment shouldn't always have to be dull and humdrum. Get to know the 12 types of recruitment methods you can include in your process to secure the most suitable candidates. 
Internal recruitment vs external recruitment
While there are various types of recruitment methods [1] you can utilize, you need to choose which kinds match your requirements. To attract the right applicants, you also have to apply the kind of strategies that match your organization's environment. 
The different types of recruitment methods can be divided into two classifications – internal recruitment and external recruitment. 
Internal recruitment
Internal recruitment is when you source a specific job role within your organization. This can be both money and time-saving as you no longer have to go through all the processes of recruitment, interview, and onboarding.
More so, your employees are already familiar with your working environment and company culture. Internal recruitment is also a great way to show your staff that they are valued. 
However, one downside to this category is that sourcing within your actual workforce may hinder your organization from acquiring fresh and innovative ideas, including diversity. 
Examples of internal recruitment are – promotion, internal transfer, employee referral, and internal job ads.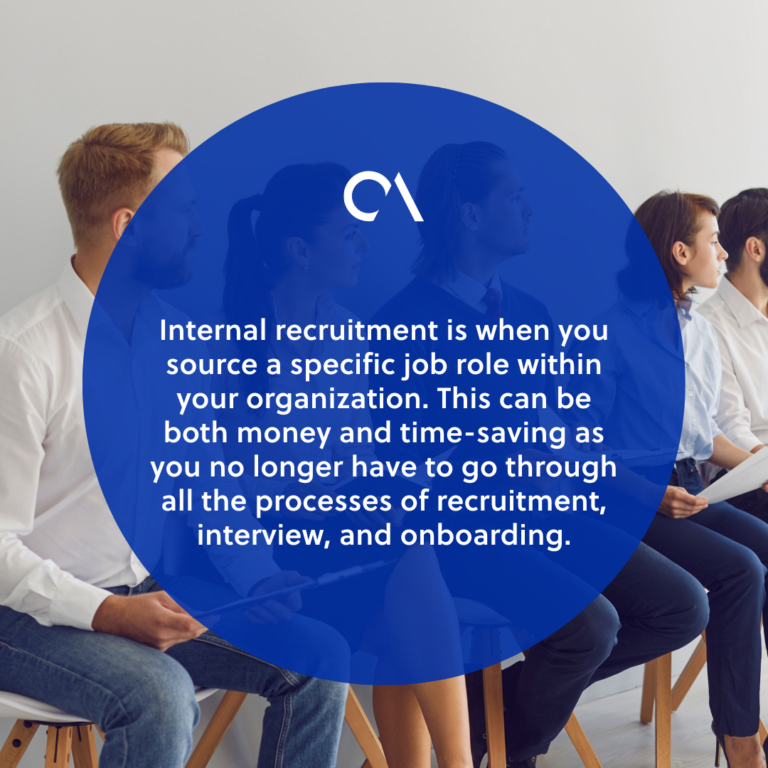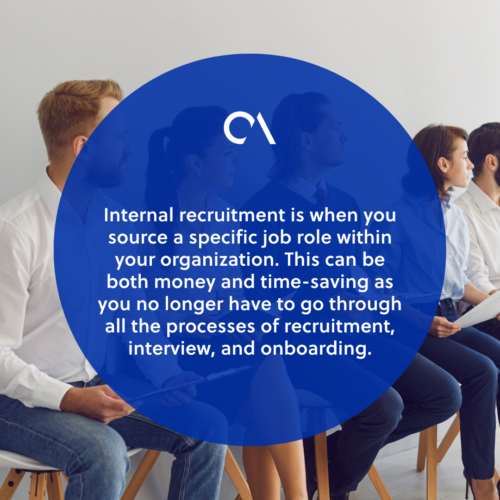 External recruitment  
On the other hand, external recruitment is when you source candidates outside your organization. This is also the most commonly used by many recruiters. 
Bringing in new hires can give your in-house teams brand-new ideas and approaches that can help the company. But external recruitment can be pretty costly and laborious. This involves sourcing, interviewing, assessment, and verification before making a decision. 
Examples of external recruitment are – career events, networking meetings, and job postings.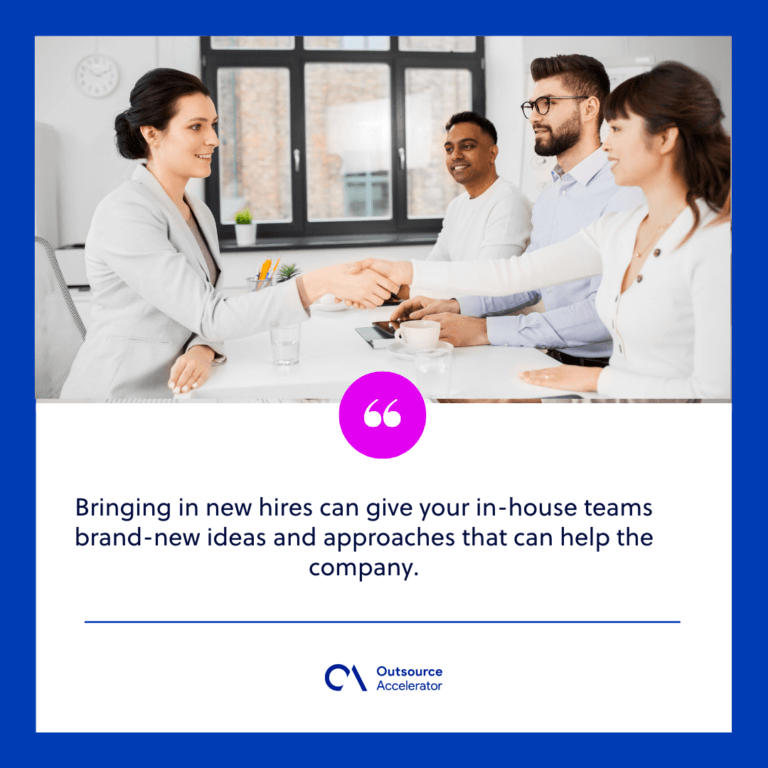 Why hiring the best talents is essential
Hiring outstanding talents will impact your organization's efficiency and productivity. More importantly, it can support your organization with the following: 
Helps drive business value and growth
Hiring the best talents can serve as your long-term business investment. It can significantly help reduce the amount of time and money that you will spend in having to hire more staff to back your business. 
Skilled and knowledgeable candidates who are passionate about their roles will contribute well to the company. Not just that, but they will also be eager to grow their career as the organization thrives. 
Highlights your employer brand 
You attract top talents if you already have the best employees. If you are constantly looking for new talents, it will give you a poor employer brand impression — especially when people you have just hired easily come and go. 
Candidates also do a background check of a company before they apply. According to a survey conducted by Glassdoor, 65% of applicants check for employer branding before deciding on a company.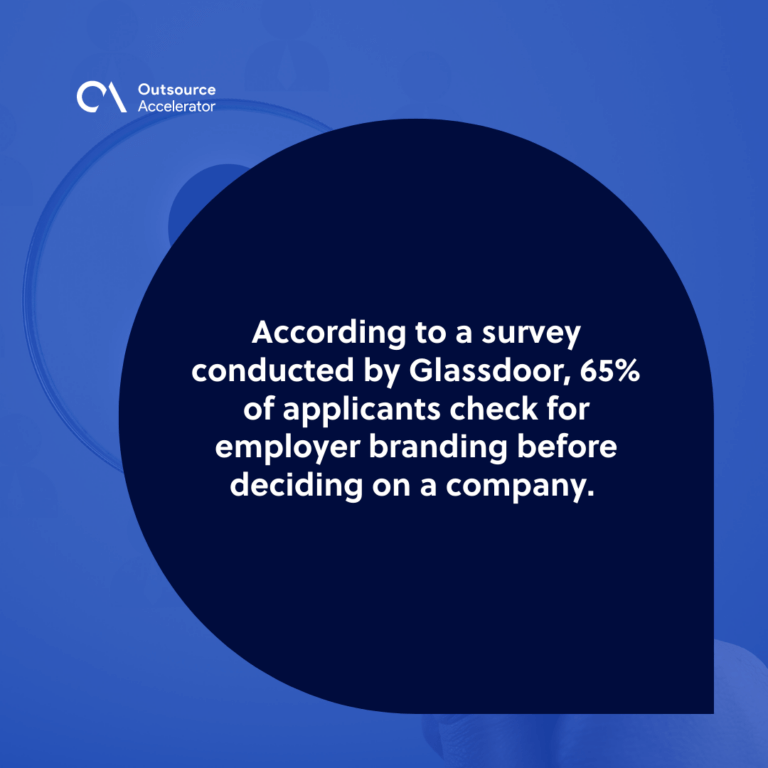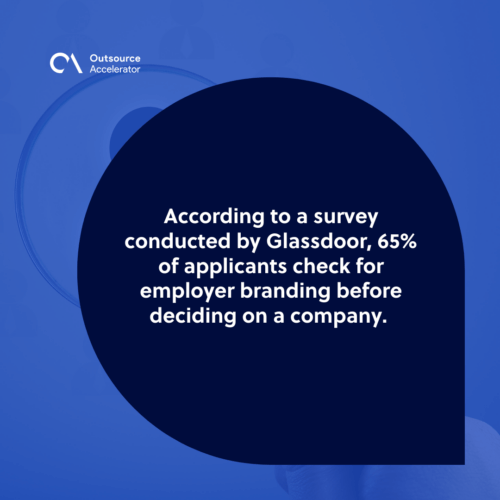 Maintains employee morale
Poor hire will always have an impact on your work environment, especially if they do not fit your work culture. In turn, it will influence your employee morale as problems may arise within the office both in work output and colleague relationships. 
Hiring the best talents will boost your company's morale. Therefore, inspiring other employees to step up and improve their overall performance.   
Top 12 types of recruitment methods   
As a recruiter, you cannot just settle with LinkedIn or any other recruitment platforms to seek great talent. Sometimes, it can also be pretty challenging to select which types of recruitment methods you should use that will be effective for the company. 
Good thing you have a wide selection to choose from. Below, we have outlined 12 types of recruitment methods to help your organization out. 
1. Employment referrals
Most organizations implement an employee referral program, and it is one of the most effective types of recruitment methods. It is also a mix of internal and eternal hiring as your staff can refer existing employees and people outside the organization. 
This type is not just cost-effective — organizations can also be assured that they will refer suitable and reliable candidates. 
2. Direct advertising 
Direct advertising is a perfect way to put the news out there and attract applicants. You can post job adverts on career sites, social media channels, job boards, and other industry publications. 
This is also one good way of showcasing your employer branding to a much wider audience effectively. At the same time, it can also be a big help in establishing your reputation. 
But then again, direct advertising can be a bit pricy compared to other types of recruitment methods. More so, if the placement of your ads does not properly target the right audience, you will end up attracting unsuitable candidates. Or worse, only a few people will reach your job ads. 
3. Talent pool databases
Your talent pool database can also come in handy when searching for appropriate candidates to fill a job role. 
In most cases, hiring decisions are usually made while choosing between two or three candidates. So when the time comes that you open more job vacancies, it will be worth going through your talent pool databases. 
Thus, it will also enable you to save more of your precious time so that you can focus more on other important matters of the company.  
4. Recruitment agencies 
Outsourcing has always been one strategic solution that growing businesses today have been taking full advantage of. Renowned outsourcing providers typically offer a full-cycle recruitment service on behalf of your organization.
This approach is an excellent choice if you do not have enough HR resources to handle your recruitment and hiring processes. Recruitment agencies, particularly BPO companies, can also help your management seek top-notch talents for hard-to-fill positions that you urgently need. 
ConnectOS is a premier company that helps businesses of all kinds access the best talent, providing the highest quality recruitment services that seamlessly integrate their onshore teams in a cost-effective, simpler, and thorough process.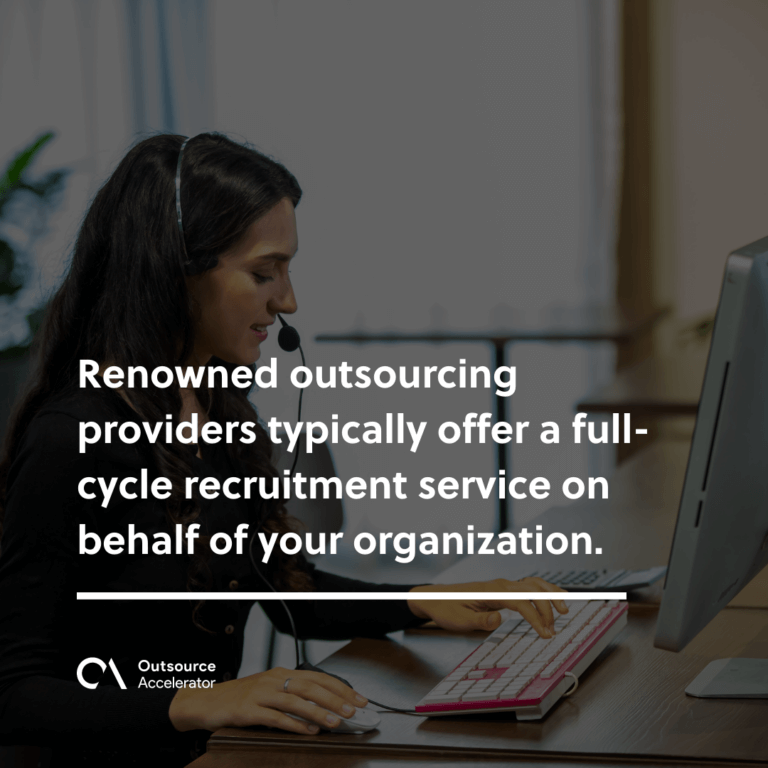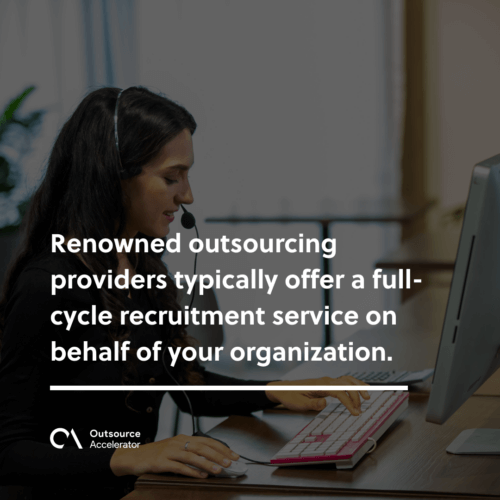 5. Promotions 
Promotion is perhaps the simplest, most cost-effective, and fastest way of recruitment. On top of that, you can also fill specifically needed job roles without exerting much effort. What's more, you are also able to fulfill employees' dreams, which is to move up the corporate ladder.
As for your employees' end, acquiring promotions means added compensation and benefits. However, it also equates to added work and responsibilities. 
6. Internal transfers 
Promotion and internal transfer may have the same concept, but they are not quite the same thing.
As opposed to promotion, internal transfers do not involve a pay raise or added responsibilities. It is considered a specific employee's parallel shift within the organization. An example of this is when you transfer one employee to a different branch or region while retaining the same position. 
7. Employment exchange 
Employment exchange is a government-run initiative that aims to provide jobs to qualified unemployed individuals. What happens is that the government keeps a tab on the job seekers in their respective countries.
Employers will then hand over their list of job vacancies to the exchange office. From there, they will be given information regarding suitable candidates. Job roles that are usually available on employment exchange are artisan, agriculture, and factory works. 
8. Internships and apprenticeships
Internships and apprenticeships can be an excellent starting point to upskill and train individuals to fill future roles in the company. As individuals render their internships and apprenticeships, you can also evaluate and identify their strengths and what they can potentially bring to the company. 
Every great leader has to start from something, and that is from an entry-level position. Internships and apprenticeships can be breeding grounds for illustrious leaders and talents in the future.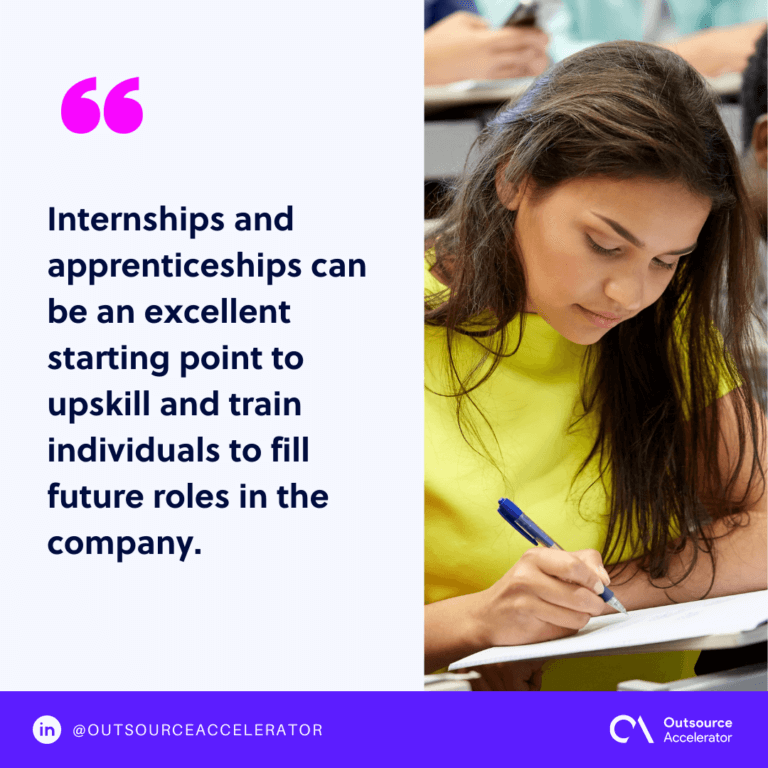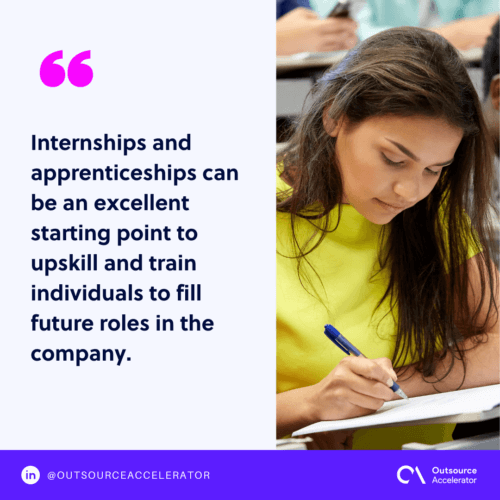 9. Professional organizations
Professional organizations can be your primary source of exceptional professionals. Connecting with a professional organization can give you access to the kind of expertise that your company needs. 
Some roles require candidates to be members of particular organizations to be qualified in a particular job function. There are also organizations wherein professionals can voluntarily join as it helps boost their credibility and eligibility for job vacancies in companies. 
10. Rehiring former employees
This means rehiring former employees who have performed well in the company and left on good terms. This kind of rehire is also known as boomerang employee.
Doing so can relieve you and your recruitment team from going through the long and tedious process of sourcing candidates. Moreover, rehiring employees also means that you are already aware of their skills and abilities. Likewise, they are already familiar with the company and the culture. 
11. Bulletin boards
Bulletin boards are still a thing despite today's innovations. This type of recruitment method is commonly used in factories and agricultural establishments. 
Many unemployed workers often wait and check bulletin boards in factories to see if there are available jobs they can apply to. The same goes with agricultural firms; seasonal workers gather in these establishments to see if there are jobs available from local farms. 
12. Word of mouth 
Word of mouth works well with reputable brands as they are already highly distinguishable in the market. 
If you have a well-esteemed employer brand, you are most likely to be the employer of choice to many. All you have to do is to put the word out there and wait as seasoned candidates start applying to your company. 
Reference:
1. Cole, M. (2007) "From employment exchange to Jobcentre Plus: the changing institutional context of unemployment," History of the human sciences, 20(4), pp. 129–146. doi: 10.1177/0952695107082495.