8 best practices in talent acquisition you should adopt in 2024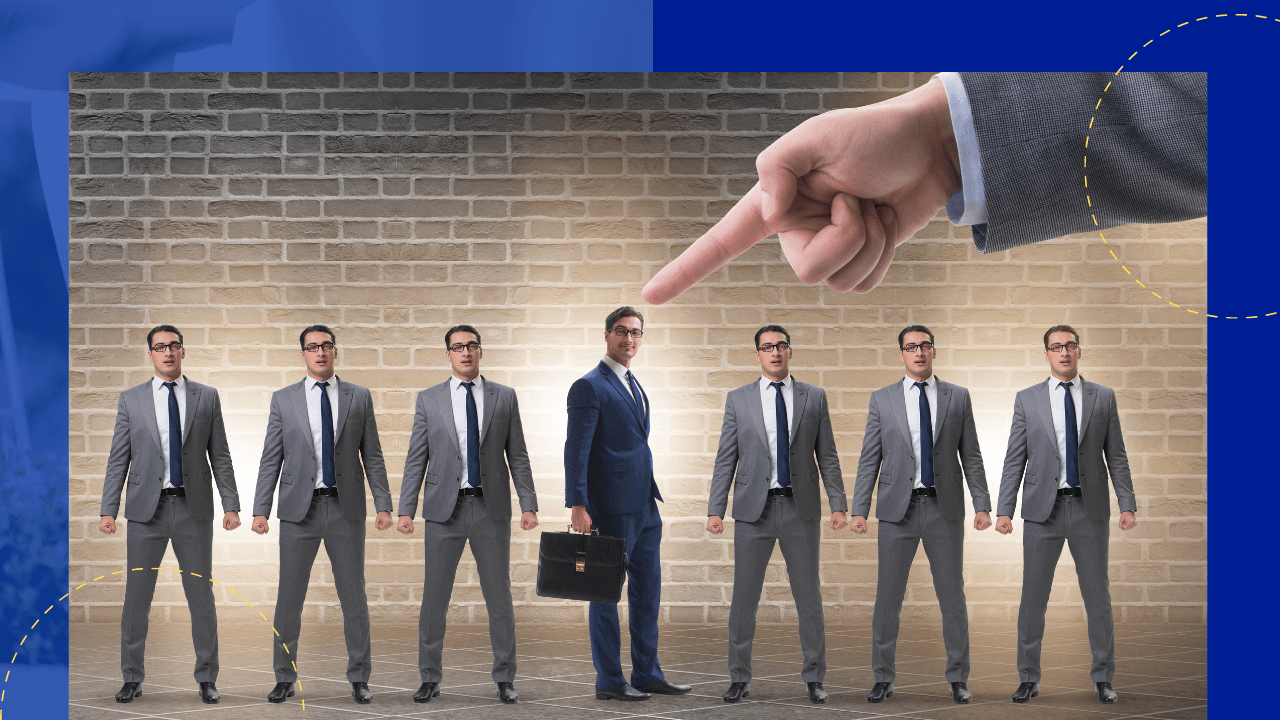 It's safe to say that every company aims to hire the best talents to support their growth and development. 
For companies to fill in a job vacancy, they would need strong planning and a more strategic approach to attract the right candidates. And this is made evident by implementing talent acquisition. 
In this article, we will discuss how talent acquisition helps in recruiting, tracking, and evaluating applicants, and how it's different from recruitment. We will also reveal the eight best practices in talent acquisition you should consider in 2024. 
What is talent acquisition?
Talent acquisition refers to the entire process of gathering, evaluating, and hiring the best candidates for your required job role. 
Some companies' talent acquisition work with their human resources as one team, while others have a dedicated department for it. Although it is a separate team, talent acquisition still works collaboratively with the HR department.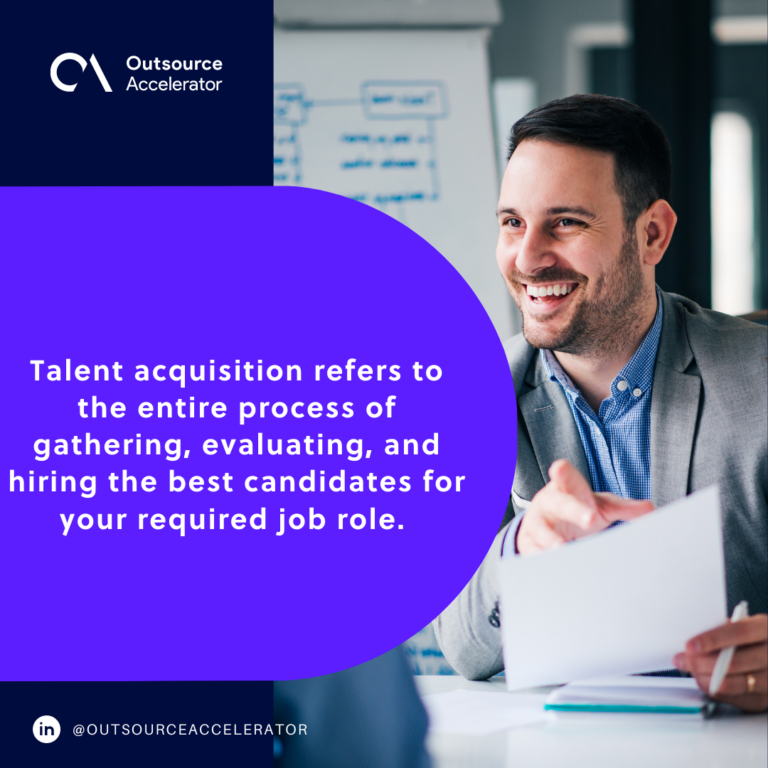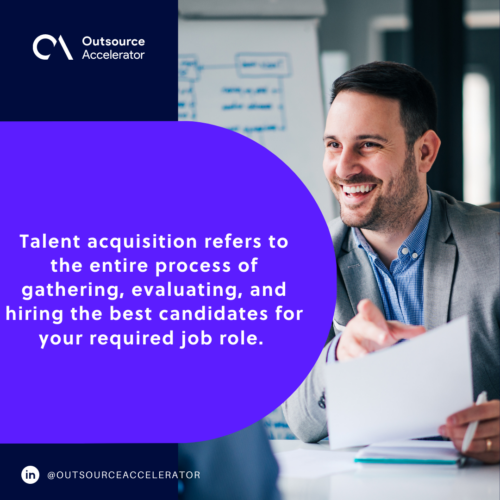 Part of the responsibilities of your talent acquisition team is the following:
Cultivate employer branding 

Diversify your organization's labor force

Create a strong applicant pipeline

Maintain each candidate's life cycle

Maintain continuous resource planning 

Improve

employee retention

Strengthen employee engagement and morale 
Before we discuss the talent acquisition best practices, it is also important that you know how it is done. A talent acquisition process typically involves lead generation, recruitment, candidate interview, evaluation, candidate selection, hiring, and onboarding. 
Talent acquisition vs recruitment 
Although talent acquisition and recruitment have the same goal — to hire the right individual for a particular job title — these are still two different roles. 
Recruitment revolves around filling in job vacancies, which is usually a result of staff turnover. It aims to cater to the immediate needs of the company and is typically a short-term process. 
On the other hand, talent acquisition is a continuous process of seeking the best experts, professionals, and future leaders of a company. Unlike recruitment, it involves long-term goals and strategic processes in finding talents with particular skill sets.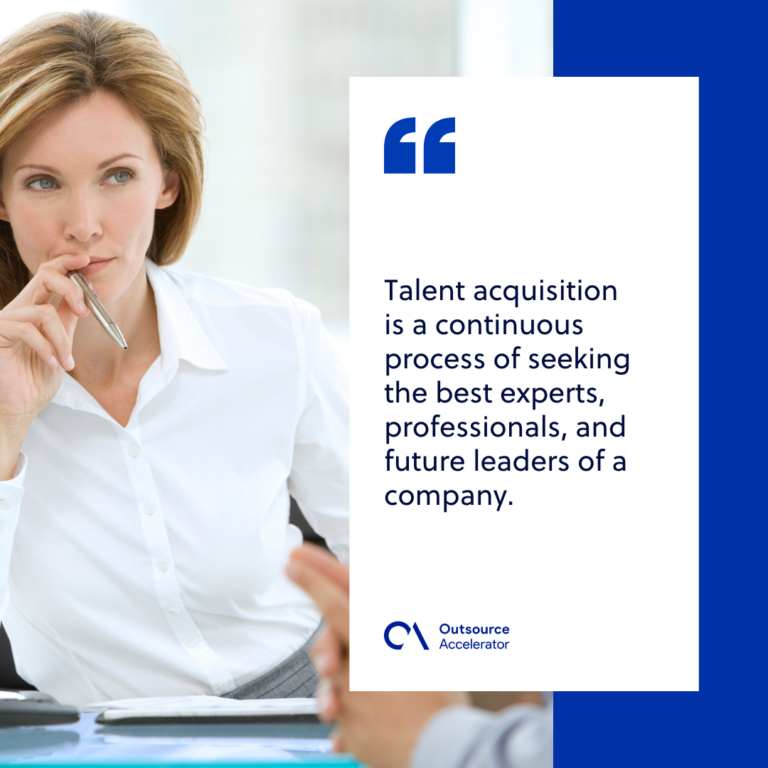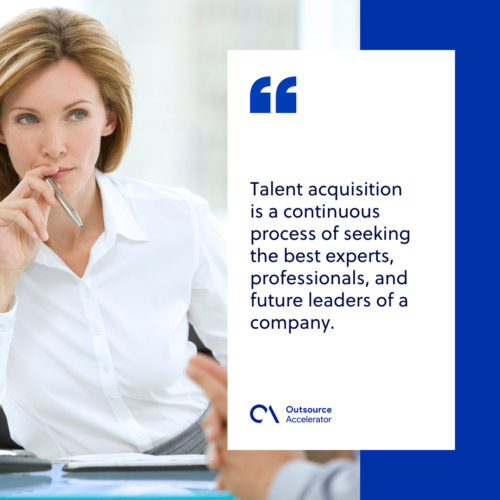 8 talent acquisition best practices to adopt in 2024
To help you with your talent acquisition, we have the eight best practices in talent acquisition you can implement this year: 
1. Identify what you need 
Before you proceed with the talent acquisition process, you have to know exactly what you need. 
This refers to the particular role/s you desire to hire and what specific skill set, competencies, or experiences it requires. Have an organized plan and determine your target niche. 
2. Utilize succession planning 
Your employees may also have the qualities and types of skills you are looking for in a particular job role. In this case, you should also consider investing in succession planning. 
Know that the right employees can also be trained in preparation for leadership roles. It can be a more viable solution instead of going through the long process of hiring someone. 
Internal hiring is much more cost-effective, and it will also give you a competitive edge over your market adversaries. 
3. Optimize your career website 
Apart from utilizing other employment websites, you should also invest in optimizing your website. In most cases, you will be interacting with possible candidates through your website. Ensure that applicants can easily navigate through your website. 
Keep in mind that candidate experience is vital in attracting job seekers. More so, it will remain an employment trend in today's talent acquisition process. 
4. Make use of an applicant tracking system (ATS) 
Apart from investing in your website, you should also utilize an applicant tracking system to aid with your hiring process. 
An ATS is more than just tracking applications. It lets you schedule job interviews, send automated emails to your chosen candidates, and create job postings and job offers. An ATS serves as an end-to-end tool in managing applicants.  
5. Always track your talent pool 
It is also important that you keep a list of all your shortlisted candidates for your future reference. Do not forget to send them notifications and keep them posted regarding your job openings. 
This will make it easier for your hiring team to look for the best people to join your organization. 
6. Get everyone involved 
Among the best practices to ensure effective talent acquisition is to have your entire organization on board with your hiring objectives. You may also implement an employee referral program and provide incentives for the employees responsible. 
7. Acquire candidate feedback 
Acquiring candidate feedback will help you determine which areas of your entire hiring process need improvement. Knowing and understanding candidates' recruitment experience can also expose certain issues that need to be addressed. 
8. Talent management 
Lastly, the success of your talent acquisition doesn't stop once you've onboarded newly hired employees. 
Even if you already have the best employees that are well suited for their roles, know that there is always room for improvement. Providing continuous training is one of the best practices that will help them develop their skills and career growth. 
In terms of hiring the right people, note that you always have the option to outsource your recruitment process anytime!