Demand generation vs. lead generation: All you need to know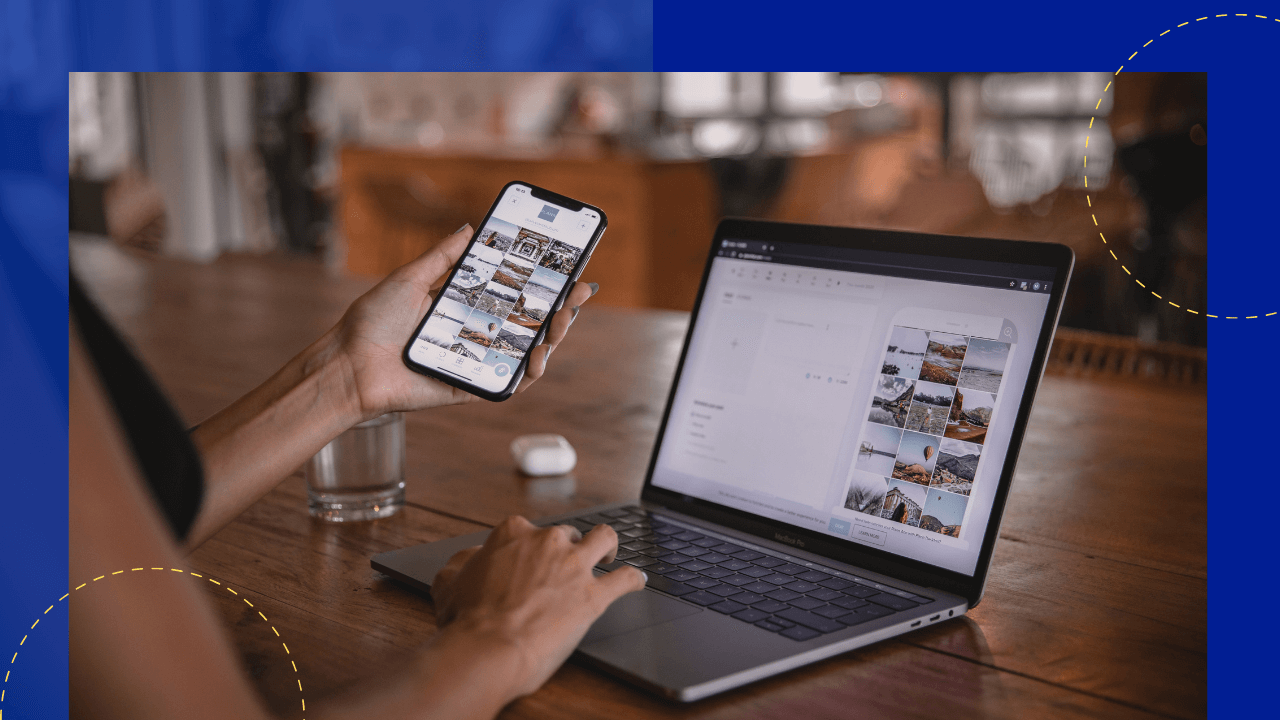 Demand generation and lead generation seem interchangeable, seeing that they are both critical components of B2B marketing strategies.
Once you understand the similarities and differences between demand generation and lead generation, it'll be easier for you to choose which strategy best fits your company.
What is demand generation?
Demand generation is how marketers assess and develop a prospect's interest in purchasing a brand's products or services. 
Demand generation increases awareness and demand for your website or business in order to attract more visitors. This approach builds a long-term relationship between a company and a prospective customer through campaigns and marketing tactics. 
The content of demand generation should showcase the benefits of your products or services. Some of the best platforms for demand generation are social media and blog posts.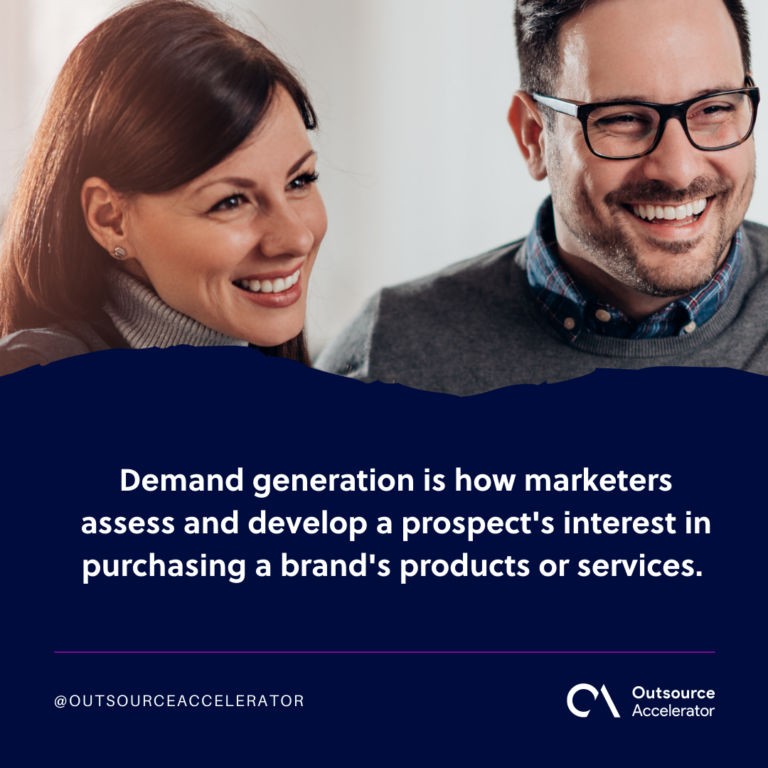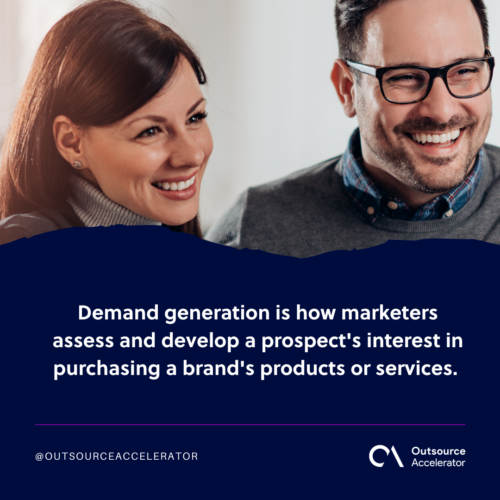 Demand generation ideas
A good content marketer can maximize the effectiveness of demand generation through different campaigns.
The following are examples of demand generation content:
Personalized email 
When it comes to demand generation marketing, personalized email is one of the most straightforward strategies. Personalized emails have interactive content that is dependent on data gathered from the prospects' online activities.
Personalized emails will quickly detect the most relevant products for each customer and send them out at the scheduled time. It will surely save you time and effort.
Guest Posts
The process of writing a blog article for another popular and established site similar to your field is known as guest posting. The contributor in guest posting provides work to a publisher.
Nowadays, guest posting is one of the most successful methods in marketing to get links and connections.
Make SEO-friendly content
Creating content that your target audience is already looking for is one method to raise visibility. SEO-friendly content is the type of content designed to be on the top of the search list.
This type of content uses keywords that your prospects type on search engines.
What is lead generation?
Lead generation is the process of stimulating leads' interest. Lead generation is the next step in your demand-generating process. It involves driving a customer toward a possible sale. 
Lead generation works by building interest established during the awareness stage and leading the prospect into decision-making.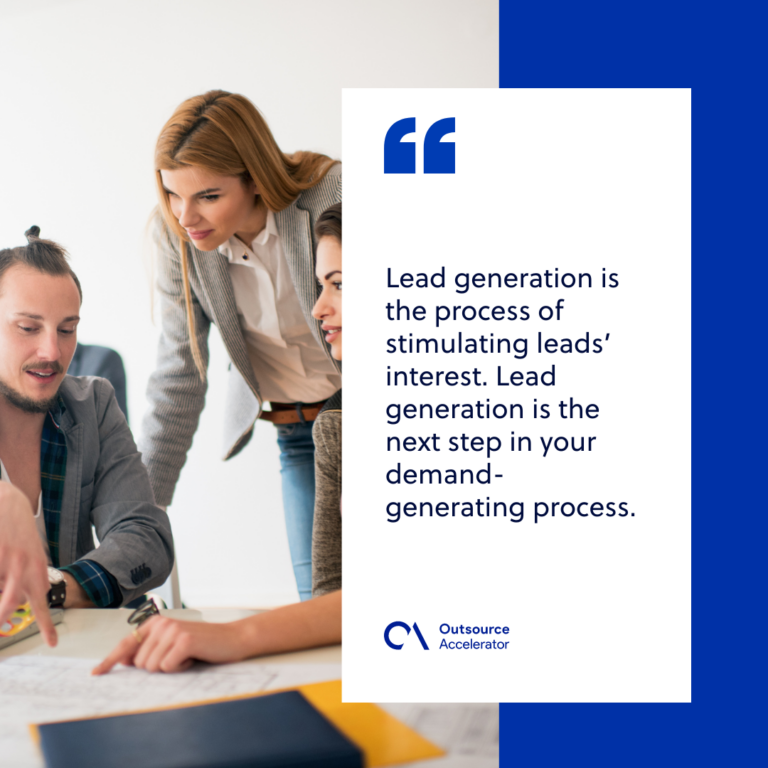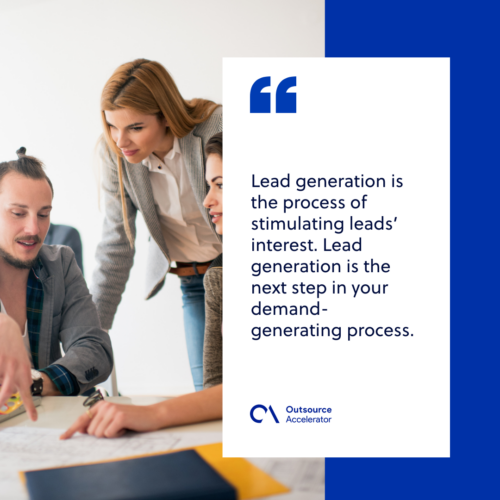 Types of lead generation
Lead generation is beneficial to any type of business, regardless of size or industry. It can also be used in B2C and B2B marketing.
Different types of lead generation include the following:
Gated content
Gated content is helpful for marketers to attract leads. They provide valuable information in exchange for their basic contact information such as name, email address, and occupation.
The most common examples of gated content are eBooks, product demos, white papers, videos, and PDF.
Free trials
To leverage the leads you obtain, offering free trials is an effective marketing technique. Free trials can be for a specific amount of time or a particular number of products.
Free trials are a great way to get people interested. This is especially effective when you're launching a new product.
Some advantages of offering a free trial are: 
It increases your customers' ideas and opinions about your product and service reliability.

It allows consumers to identify your product to your competitors.

Customers can become familiar with your new items without spending money to try them, which most customers think is beneficial.
Email subscriptions
An email subscription is a website feature that enables users to sign up for email updates. Any email marketing strategy's fundamental component and starting point is email subscription. 
Visitors must fill out a subscription form with their email addresses to subscribe. The website will be able to send them updates and fresh letters once they have enrolled. It is like consent from the visitor to have a connection with the website.
What is the difference between demand generation vs. lead generation?
Demand generation includes lead generation. Demand generation is the process of raising awareness and attracting new customers to your company.
At the same time, the goal of lead generation is to turn prospects into new leads which can be developed into customers.
Here are the other distinctions of the two marketing campaigns:
Content
To identify if the method is demand generation or lead generation, you can look at the type of content.
Demand generation focuses on engagement with non-gated material supplied through social media channels. On the other hand, lead generation utilizes gated materials to convert visitors into customers.
Contact information
Another obvious difference between a demand generation campaign and a lead generation campaign is the contact information. 
Lead generation campaign is asking for contact details of its target audience. The goal of this marketing strategy is to convert visitors who are engaging with your content to leads. 
Its primary concern is to acquire as many leads as possible.
Demand generation's goal is to get as many individuals to participate in their campaigns as possible. They usually feature easily accessible material, allowing visitors to learn more about the company, understand your services, and consider why they want to purchase your offer.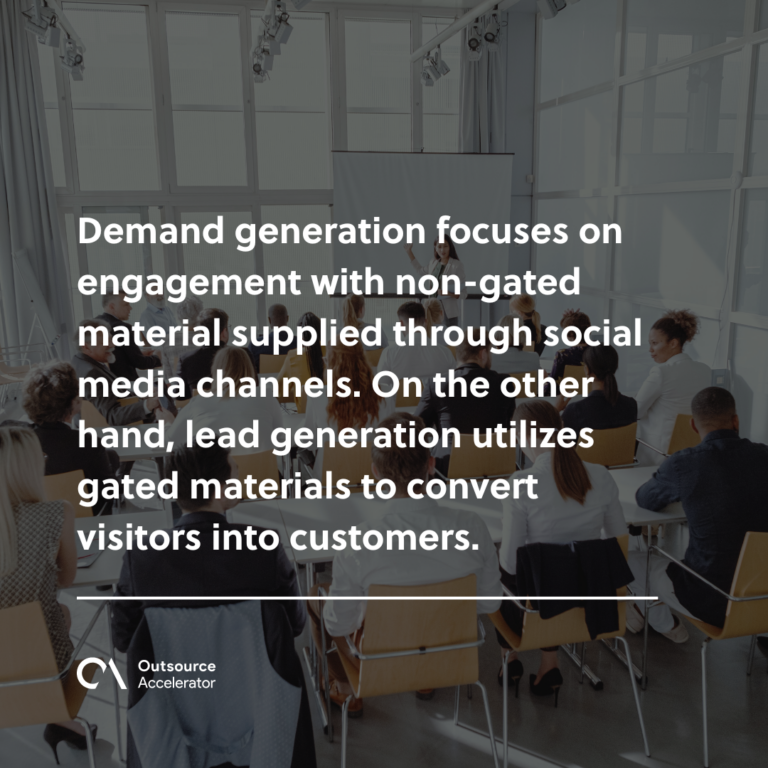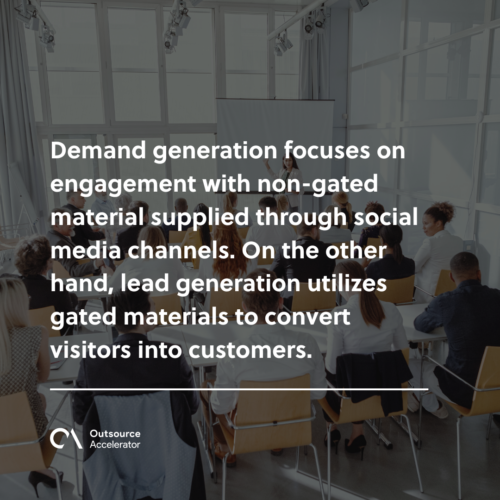 Demand generation vs. lead generation: How they work hand in hand
Both lead generation and demand generation initiatives rely primarily on content marketing. They both need in-depth research, building trust, and addressing consumer concerns. 
In marketing, you are constantly delivering solutions and building relationships among your target audience. This will help generate leads and secure more deals. 
After all, lead generation relies on your demand generation efforts to attract and educate potential customers. You can't produce leads efficiently or sustainably unless you're also creating demand.
Further, demand creation loses a lot of its value if you can't turn it into leads.
When it comes to generating leads or demand, turning to well-experienced outsourcing firms like SixEleven often proves to be highly advantageous.